July 7
–
16, 2021
Explore Charles Darwin's "Living Laboratory of Evolution" from distinct perspectives on this combined land and cruise adventure. First, embark on the new Tip Top V, a deluxe 16-passenger catamaran, and sail among pristine, uninhabited islands home to specially adapted flora and fauna. Next, spend three nights at Scalesia Eco-Lodge, a luxury tented camp in the highlands of Isabela, the perfect base for exploring the geology and biodiversity of the archipelago's largest island. Enjoy the best of both worlds as you learn about the threats to these fragile ecosystems and the work being done to protect them. You'll come away with a deeper understanding and appreciation for this extraordinary place and its people.
Trip Highlights
Climb Prince Philip's Steps and observe nesting colonies of

frigatebirds,

boobies,

gulls,

and other

seabirds on Genovesa Island.

Walk among the tall Opuntia cactus forests on

Santa Fé,

looking for the pale yellow land iguana

species found only on this island.

Visit Los Humedales,

where the sheltered sandy

beaches,

rocky shores,

and mangroves provide a

nursery for young marine animals.

Spend a full day hiking at Sierra Negra Volcano

and enjoy expansive views of

the caldera and

surroundings.

Learn how the Arnaldo Tupiza Breeding Center

is working to ensure the survival of

the islands'

endangered giant tortoises.
Pricing and Cancellation
REGISTRATION IS CLOSED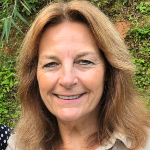 Debbie Jordan
Specialty Travel Consultant at Holbrook Travel
866-748-6146
Debbie@HolbrookTravel.com
Debbie coordinates and customizes incredible travel experiences for the Foundation. She is happy to answer any questions that you may have about this trip and help reserve your spot.