June 12-21, 2020
Explore the birds of Iceland on a journey to the land of fire and ice. This 10-day birding adventure offers both expert and novice birding enthusiasts a comprehensive introduction to Icelandic breeding and non-breeding bird populations. From the waterfowl of Lake Myvatn to the iconic Atlantic Puffins, the program provides opportunities to observe a wide variety of species including auks, petrels, cormorants, gannets, gulls, terns, waders, stilts, and birds of prey. This program includes visits to some of the country's unique geological features, plus birding hikes and boating adventures designed to enrich your understanding of the natural history and diverse birds of Iceland.
Trip Highlights
Discover Iceland's avifauna. Learn how Iceland's birds have adapted to environments including volcanic systems, freshwater systems, and marine environments.
Explore the rugged landscape. Follow the fjords of northwest Iceland and see the majestic cliffs iconic to Iceland's rich seabird population.
Search for whales. Enjoy a whale-watching tour, where you may see humpback, blue or minke whales and white-beaked dolphins.
Witness Europe's largest bird cliff. Thousands of auks, murres, puffins, razorbills, and kittiwakes inhabit the rocky cliff edges..
Travel with a small group. This trip is limited to 13 travelers. We think the small-group atmosphere allows you to get closer to your guide, each other, and, most importantly, nature.
Pricing
The base cost is $5,375 per person. Cost includes accommodations, activities and in-country transportation as mentioned in the itinerary, internal flights, meals, full-time guide for duration of program, donation to NRF, departure tax, and carbon offset. Price does not include international airfare, gratuities, or items of a personal nature.
REGISTRATION CLOSED.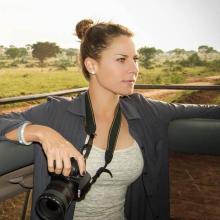 Stephanie Plein
Travel Consultant at Holbrook Travel
877-910-6548
Stefanie@HolbrookTravel.com
Stefanie coordinates and customizes incredible travel experiences for the Foundation. She is happy to answer any questions that you may have about this trip and help reserve your spot.