Raptor Migration in Panama

October 26 – November 3, 2021
Join the Natural Resources Foundation of Wisconsin on a week-long adventure in Panama during the extraordinary raptor migration, and witness hundreds of thousands of raptors soaring over Ancón Hill to South America. Spot migrating Swainson's Hawk, Mississippi Kite, and Broad-winged Hawk, as well as resident raptors including Gray-lined Hawk, Crested Caracara, and Peregrine Falcon. Observe birds from a diversity of settings, including rainforests, cloud forests, and mangrove ecosystems. This trip is limited to 12 travelers.

Trip Highlights
Count birds with Panama Audubon Society on the famous Ancón Hill,

and keep an eye out for Turkey Vulture and Broad-winged Hawk.

Search in the cloud forests for Black-and-yellow Tanager, Plain Antvireo, and Rufous-

collared Sparrow at Panama's oldest national park,

Altos de Campana.

Journey to Soberanía National Park and continue bird counts from the

Canopy Tower, where you may spot the elusive Aplomado Falcon.

Visit the Rainforest Discovery Center located at the world-famous

Pipeline Road for the unique chance to observe birds residing in

the upper stratum of the rainforest including Keel-billed and Yellow-

throated Toucans, Blue Cotinga, and Masked Tityra.
Pricing and Cancellation
The base cost is $3,695 per person. Cost includes meals and non-alcoholic beverages, accommodations, activities as indicated in the itinerary, in-country transportation, expert naturalist guide, entrance fees, bottled water on the bus, carbon offset, departure tax, and part of your trip cost goes to support the Natural Resources Foundation. Single room supplement is $365.
A deposit of $200 is required by participants to register and reserve a space on the program. Reservations made less than 95 days prior to departure require full payment.
95 or more days before departure: $100 cancellation fee; remaining balance is refunded.
94 -0 days before departure: 100% of program price is forfeited.
Deadline to register is June 28, 2021.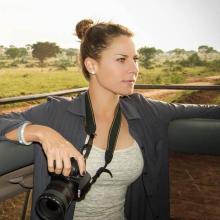 Stephanie Plein
Travel Consultant at Holbrook Travel
877-910-6548
Stefanie@HolbrookTravel.com
Stefanie coordinates and customizes incredible travel experiences for the Foundation. She is happy to answer any questions that you may have about this trip and help reserve your spot.