October 18-23, 2021*
Each fall, polar bears congregate on the western shore of Hudson Bay, waiting for the ice to form and seal-hunting season to begin. You can be there to witness them, on a nature encounter like no other! This small-group, 6-day tour to Churchill, Manitoba offers you more chances to see polar bears, in exceptional comfort and safety, than any place else on Earth. And you're sure to go home an ambassador for their protection as you learn about the challenges that northern wildlife face in a warming Arctic.
Trip Highlights
Observe the world's greatest concentration of polar bears as they wait for Hudson Bay to freeze.
Travel in custom-designed tundra vehicles with oversized windows, open-air viewing platforms, and maximum comfort and safety features.
Experience a dogsled ride through the boreal forest with a local musher and his team.
Enjoy evening presentations from Churchill residents on the local culture, wildlife, and Arctic environment.
Pricing and Cancellation
The base cost is $7,890 per person.* Cost includes accommodations, activities and in-country transportation as mentioned in the itinerary, meals including non-alcoholic beverages, full-time guide for duration of program, dogsled excursion, carbon offset, and a portion of the trip fee supports the Foundation. Price does not include international airfare, gratuities, or items of a personal nature.
*Date and price may change slightly for 2021.
All cancellations by individual travelers must be made in writing and received in the NHA office. Cancellation dates and fees are as follows:
Outside of 120 days prior to departure: $100 cancellation fee
From 120 days to 60 days prior to departure: 50% of program fee
From 59 days prior through departure: 100% of program fee
Deadline to register is June 15, 2021. You will need to specify that you are registering for the 6-day excursion with the Natural Resources Foundation.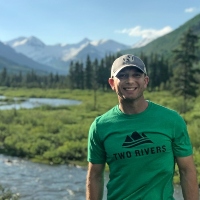 John Holahan
Adventure Specialist at Natural Habitat Adventures
800-543-8917
johnh@nathab.com
John coordinates and customizes incredible travel experiences for the Foundation. He is happy to answer any questions that you may have about this trip and help reserve your spot.