This year marks the 50
th
Anniversary of the
Nelson Institute for Environmental Studies
, the globally respected institution at the University of Wisconsin-Madison named after former Wisconsin Governor and U.S. Senator Gaylord Nelson, the author of renowned environmental legislation and founder of Earth Day (also celebrating 50 years!)

The Nelson Institute's interdisciplinary education and research is helping to address the most critical environmental issues today, by training tomorrow's leaders and innovators and fostering environmental conversations across boundaries and communities.
As an alumna of the Nelson Institute, I was lucky to experience this first hand. During my masters research, I had the opportunity to travel to Central Africa and study human-elephant conflict. The Nelson Institute is such an amazing community of talented, passionate people who are transforming the field of conservation in Wisconsin and beyond!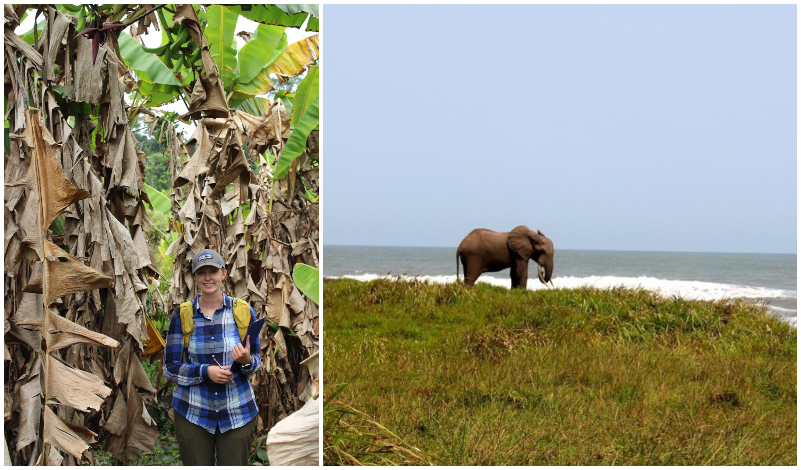 (Left) Cait Williamson in Gabon, Africa studing banana damage by elephants 
At the Natural Resources Foundation, we've been honored to partner with the Nelson Institute for Environmental Studies in several different ways:
Providing internship opportunities at NRF for current Nelson Institute students
Connecting Nelson Institute graduate student research to real-world Wisconsin conservation projects, such as monarch butterfly conservation, climate adaptation and resiliency, and diversity, equity and inclusion in conservation
Helping support flagship Nelson Institute events like the Earth Day Conference and the Jordahl Public Lands Lecture (mark your calendars for this year's virtual Jordahl Public Lands Lecture on Tuesday, October 8th)
Partnering with the Nelson Institute to advance the work of initiatives like WICCI, the Wisconsin Initiative on Climate Change Impacts.
Happy anniversary to this important organization and my fellow alumni (including several of my colleagues at the Natural Resources Foundation: David Clutter, Sarah Cameron, student intern Lindsey Taylor, and Camille Zanoni). 
You can learn more about the Nelson Institute by visiting 50.nelson.wisc.edu.
On Wisconsin!
Written by Caitlin Williamson, Director of Conservation Programs