Resources for Current Grant Recipients
Congratulations on receiving a grant from the Natural Resources Foundation of Wisconsin!
Please keep us updated on your progress, and of any significant changes to your grant proposal. We look forward to learning about your impact on Wisconsin's natural resources.
Reporting
A report is due within one year of receiving your grant, or as noted in your grant award letter. Please include high quality photos that we can use to share with donors and in our communications materials.
Communications
We want to celebrate your project successes with you! Please share your news with us on social media and follow us to see what other exciting projects are happening.
When possible and relevant we hope that you will recognize the Foundation's support at events, on social media, in publications, press releases, and other outreach materials.
If you receive any media coverage please let us know. We are happy to share with our network, provide a comment for an article, help review a press release, or provide any other assistance you might need.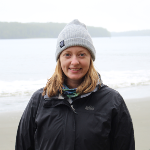 Caitlin Williamson
Director of Conservation Programs
(608) 409-3109
Caitlin.Williamson@WisConservation.org
Cait oversees the Foundation's grant programs and initiatives for conservation and environmental education, ensuring that our investments are science-based, strategic, and impactful. Cait's work encompasses conservation science and planning, partnership development and capacity building.