Resources for Field Trip Leaders
Field Trip leader resources for 2020
This page was created especially for NRF Field Trip leaders, with info you will need to conduct your trip in 2020.
*Due to the severity of the current COVID outbreak in Wisconsin, we ask that leaders and participants wear face coverings. Leaders, it's especially important you set the tone by wearing a mask as participants are arriving, and whenever the group is gathering close together. If you would like to remove your mask while giving your presentation(s), please first ask participants if they are comfortable with that. Thank  you!*
Print and bring along to your trip these 3 items: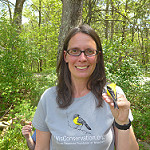 Christine Tanzer
Director of Field Trip Program
(608) 409-3123
FieldTrips@WisConservation.org
Christine coordinates the many facets of the Foundation's vibrant Field Trip Program. Passionate about showcasing Wisconsin's amazing natural treasures, she has organized well over 2,000 Field Trips since joining NRF in 1997.