Deadline for 2022 Field Trip submissions: Friday, December 3
Be a Field Trip leader!
Do you have passion for Wisconsin's natural resources and want to share it with engaged and interested people in a profound and meaningful way? We'd love you to consider leading a Field Trip!
Since 1994, the Natural Resources Foundation has offered a vibrant statewide Field Trip Program engaging over 5,000 adults and youth annually in learning about various aspects of Wisconsin's lands, waters, and wildlife. Leading a field trip for the NRF is a great way to share your passion and knowledge of Wisconsin's incredible places and creatures with others.
We are open to most all Field Trip ideas, so feel free to be creative! Trips can be geared toward adults only or families with children. From simple hikes to biking trips, paddling adventures or wildlife research, we are open to a whole breadth of possibilities.
Field Trip Safety & COVID-19
Our 2022 season will begin with the safety guidelines below:
These are subject to change depending on 2022 CDC, State or local guidelines.
Group sizes: Up to 25 participants.
Indoor trips: Allowed and face masks may be required.*
Outdoor trips: Face masks are optional, though we ask that you bring one for time when social distancing is not possible.*
Sharing vehicles & buses: Allowed with all wearing face masks.
Social distancing: Will follow 2022 guidelines; likely spacing 6' apart for leaders and participants of different households.
* Face masks may be required on some Field Trips due to leader preference or local/ facility policies.
Not sure what kind of a trip you want to lead? 
Get ideas and inspiration by looking through our 2021 Field Trip Guidebook!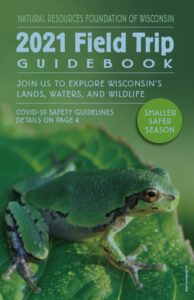 Program Summary and Leader Expectations
Trips
Trips occur from May to October, are generally 2 or more hours in length, and can be varied in the experiences they offer to participants. If you are doing something special to protect or conserve an animal or ecosystem, we would love if you would share your passion! From simple hikes to biking trips, to canoeing and kayaking, or even to wildlife research, we are open to a whole breadth of possibilities.
Participants
In general, our participants are adults ages 45-70; respectful, interested, outdoorsy and educated folks. We are very open to offering trips designed for kids (accompanied by a responsible adult) and families– please indicate this on the online form.
Fees
Please know that the NRF charges participants a $18 per person ($8 for kids) registration fee to attend any trip, this pays for the overhead of running the program. Any fees that you ask for will be paid by participants above and beyond this amount. Also, anyone who registers must be, or become, a NRF member to join us on our field trips.
Leader Expectations
If canoe/kayak rentals are needed for your trip, you as the leader are responsible for coordinating these rentals. The NRF will collect the money from participants during registration to cover the costs of these rentals (see the question on the form), and then the NRF will pay any invoices that you incur (just make sure the invoices are sent to us).
Cancellation Policy
OUR TRIPS RUN RAIN OR SHINE. However, there may be situations where leaders need to delay, end a trip early, or cancel the day of the trip due to severe weather. We do not recommend canceling prior to the day of the trip as weather forecasts frequently change.
Visiting DNR Properties
Please let property managers know you will be visiting their property for your field trip. If your trip is on a State Park, please let Park Managers know about your trip date/time. Also, participants will pay the park entrance fees themselves as they enter the park. If the property you visit is owned by The Prairie Enthusiasts, please alert the property manager of your trip plans.
Timing of the Program
Fill out the online survey with your Field Trip details, and someone from the NRF will email you to review the details and fill in any holes.
The trips will be written up and be put into a booklet that is sent out to NRF members in February. Some trips may also be included in the April edition of Wisconsin Natural Resources magazine.
Registration for trips starts around April 1st. Most trips fill up in the first few weeks of registration. Yes, even for those trips that happen in the fall!
The NRF will send out an email to participants of your trip with the details and directions of your trip about 2 weeks prior to your trip date.
A few days before the trip the NRF will send you a roster that participants will need to sign for their liability waiver. Please return the signed roster to NRF after your trip is complete so we have a record of who attended.
T-Shirts!
In gratitude for your leading a trip, we send you a snazzy t-shirt with a fresh design each year. We request that you wear the shirt when you are leading your field trip.
Questions Asked about your Trip
Leader and co-leader contact information*
Title of Field Trip*
Date of trip including start and end times*
Maximum number of participants that can be accommodated on this trip*
Paragraph describing the Field Trip*
Rate how physically strenuous the trip is on a scale of 1-5*
If the trip is strenuous, what should participants know before signing up?
Costs (if any) you, as the leader, may need for the Field Trip*
Which of the following themes does your trip best fit into? WI public lands, citizen based monitoring, State Natural Area, birding, endangered species, family friendly (geared toward participants 10 and under- then tell us the appropriate age)
Nearest town to meeting place*
County in which trip will take place*
Trip meeting address*
Specific driving directions to the meeting place
Cell phone number where you can be reached on the day of the trip (this will only be shared with staff and trip participants)
Web link to a Google map of the meeting location (if you have or can make one)
What should participants bring and wear on the trip?*
Are there bathroom facilities on the trip?*
Are there any additional web links or information that may be useful to participants?
Are you fluent in Spanish and feel comfortable conducting your Field Trip in either Spanish or English?
Would you attend a Diversity, Equity & Inclusion (DEI) workshop if offered by the Foundation?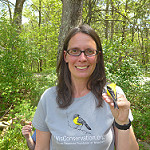 Christine Tanzer
Director of Field Trip Program
(608) 409-3123, extensions 1023 and 1083
FieldTrips@WisConservation.org
Christine coordinates the many facets of the Foundation's vibrant Field Trip Program. Passionate about showcasing Wisconsin's amazing natural treasures, she has organized well over 2,000 Field Trips since joining NRF in 1997.