Connecting students and teachers with the outdoors
The Go Outside Fund provides funding that helps connect students and teachers with outdoor, nature-based learning experiences. Teachers or partner organizations may apply for funding to purchase field supplies, or pay for transportation, substitute teachers, or educator costs. Grants up to $500 are available.
Grantmaking Priorities:
Projects that demonstrate a clear connection to classroom learning and standards.
Projects that have a significant component of outdoor activity.
Projects must directly engage children in outdoor, nature-based activities and learning.
Eligibility:
Applicant must be one of the following: a nonprofit organization with approved 501(c)(3) status; a federal, state, or local governmental unit, an Indian tribe; or an accredited school, college, or university.
Project must directly engage children age pre-K – 12.
Project activities must take place after the Go Outside Fund due date.
Project expenses may not have incurred prior to submitting the application.
How to Apply:
Determine if your project addresses our grantmaking priorities and meets our eligibility requirements.
Complete the application.
Include proof of IRS tax-exempt status.
Submit all materials to Caitlin Williamson by March 31st, June 30th, September 30th, or December 31st.
Applicants will be notified six weeks following the submission deadline.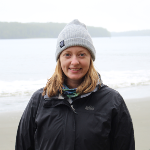 Caitlin Williamson
Director of Conservation Programs
(608) 409-3109
Caitlin.Williamson@WisConservation.org
Cait oversees the Foundation's grant programs and initiatives for conservation and environmental education, ensuring that our investments are science-based, strategic, and impactful. Cait's work encompasses conservation science and planning, partnership development and capacity building.