Isle Royale: Wilderness tour

September 2-8, 2019
Back by popular demand! Tour Isle Royale with naturalist Paul Regnier of Door County Nature and Travel along with other members of the Natural Resources Foundation as we explore the pristine beauty of the largest island in Lake Superior. Located just 18 miles off the coast of Ontario, Canada, Isle Royale is accessible only by boat or float plane; as such the 210-square-mile island is relatively untouched by outside influences. Exploring Isle Royale is a unique experience that many are drawn to for the solitude, wilderness, and the lush splendor of this little-known gem in the Midwest.
Trip Highlights
Learn from an experienced guide. Paul Regnier, naturalist and owner of Door County Tours, is a veteran explorer of Isle Royale, having led numerous nature tours to this wilderness park.
Travel with a small group. We limit our travel groups to just 15 – 20 travelers. We think the small-group atmosphere allows you to get closer to your guide, each other, and, most importantly, nature.
Observe wildlife. Designed for wildlife enthusiasts and nature lovers, we will have multiple opportunities for wildlife viewing. You can see everything from a 1,000-pound bull moose to a fox family.
Bird with the best. Harboring numerous nesting and migrating birds like bald eagles, peregrine falcons, ospreys, loons, and numerous ducks, the island provides excellent birding.
Enjoy unique excursions. Explore the wonders of the island by land and water on hiking and boats trips. One boat trip will take you to visit the historic Rock Harbor lighthouse.
View the Northern Lights. Enjoy the colorful, late night display of the northern lights while learning about the history of wolves on Isle Royale.
Pricing
REGISTRATION IS CLOSED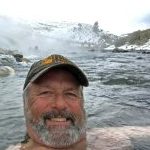 Paul Regnier
Door County Tours
(920) 493-1572
DoorCountyPaul@gmail.com
Door County Tours
PO Box 136
Baileys Harbor, WI 54202
Paul Regnier owns and operates Door County Tours LLC, which specializes in customized group travel focusing on programs highlighting natural and cultural history. He is a frequent traveler and professional naturalist. He received his B.S and M.S. from the University of Wisconsin – Stevens Point.