Learn all about Wisconsin's natural wonders right from your living room!
1 Minute Field Trips
Join us out in the field during your coffee break! These 1 minute videos give you a glimpse of what it's like to attend one of our Field Trips.
Rejuvenate your energy and attitude through Forest Bathing with Field Trip leaders Mary Binkley and Sumire Kawamoto Williams.
Explore Peninsula State Park with Field Trip leaders Eric Hyde, Jennifer Birkholz, and Krista Lutzke.
Hike one of the rarest ecosystems of Wisconsin with Field Trip leaders Jake Koebernik, Josh Martinez, and Julie Hawkins-Tyriver.
Experience an oasis of art and nature at Adams Garden Park with Field Trip leaders Sharon and Larry Adams.
Paddle among the large fragrant blooms of American lotus with Field Trip leaders Jan Axelson and Timothy Baker.
Virtual Field Trips
Most of these videos were made during the pandemic when our Field Trip season was canceled and folks couldn't get outside with us. Hear some of our favorite Field Trip leaders talk about their conservation topics or see videos taken on previous NRF Field Trips.
Learn about the American kestrel, Wisconsin's smallest falcon, with Beaver Creek Reserve Scientists!
Join Field Trip leader and consulting ecologist Neil Diboll from Prairie Nursery, Inc. on a tour of native prairie plants.
Hear from Ruth Forsgren, naturalist with Beaver Creek Reserve, as she hikes the woods of Northwestern Wisconsin in search of blooming wildflowers.
Join author and writer Lauren Koshere to learn about and practice nature writing.
Get out in the field at The Ridges Sanctuary in Door County with leaders Jane Whitney and Julie Knox.
Visit Silver Mound, Wisconsin's oldest and largest archaeological site with Danielle Benden and Ernie Boszhardt of Driftless Pathways LLC.
Tour the Mounds View Grassland in Southern Wisconsin with Field Trip leader Eric Preston via trail cam footage.
Take a bog walk with Field Trip leaders Jim Reinartz and Danielle Bell as they explore this picturesque State Natural Area gem!
Search for frogs and turtles just emerging in springtime warmth with conservation biologist Andrew Badje.
Banner photo by Barb Barzen.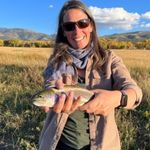 Christine Tanzer
Field Trip Program Director
(608) 409-3123
Christine.Tanzer@WisConservation.org
Christine has been at the helm of NRF's Field Trip program since 1997. She has coordinated over 3,000 trips, helping tens of thousands of people explore Wisconsin's most special places.