Learn all about Wisconsin's natural wonders right from your living room through our Virtual Field Trips!
Join us every Friday, beginning April 17, 2020 and continuing on until we can safely be out in the field together again. These short videos will feature highlights of past Field Trips, webinars on interesting natural resource topics, and leaders sharing in their favorite natural places. It's a great opportunity to discover Wisconsin, virtually! 
Look for a new video every #FieldTripFriday 
Explore WisConservation Field Trips
May 29, 2020
Who Croaks There? Frog ecology at The Ridges Sanctuary
Trip Leaders: Jane Whitney and Julie Knox

Join us out in the field at The Ridges Sanctuary in Door County with leaders Jane Whitney and Julie Knox. Learn interesting frog facts, how to identify some of Wisconsin's frogs, and listen to the calling of spring peepers and gray treefrogs.
1:42 Wood frogs, spring peepers, toads, leopard frogs
3:22 Tree frogs, green frogs
4:14 What do frogs do in the winter?
8:29 Northwoods Frog Call Phenology chart
May 22, 2020
Archaeology of Silver Mound
Trip Leaders: Danielle Benden & Ernie Boszhardt, Driftless Pathways LLC

This week's Virtual Field Trip brings us out in the field to Silver Mound, Wisconsin's oldest and largest archaeological site. Learn the craft of flint-napping, see ancient quarry pits, and explore rock shelters with relic carvings and paintings.
Please note, Silver Mound is privately owned and not open for public access.
1:02 About Silver Mound
5:08 Flint-napping
11:17 Dwyer rockshelter
12:55 Hixton Silicified Sandstone
14:08 Geske rockshelter and pictographs
15:36 Rainy Day rockshelter
May 15, 2020
Springtime foray for frogs and turtles
Trip Leader: Andrew Badje

This week's Virtual Field Trip brings us out in the field with conservation biologist Andrew Badje as he searches for frogs and turtles just emerging in this springtime warmth.
0:28 How to find amphibians and reptiles
0:59 Leopard frog egg mass
1:57 Snapping turtles
2:59 Spiny softshell turtle
3:14 Wood turtle
4:17 More photos
May 8, 2020
WEBINAR: A virtual tour of State Natural Areas we know and love
Location: Southern Wisconsin
Trip Leaders: Jared Urban, WDNR conservation biologist 

Enjoy a special presentation hosted by WDNR conservation biologist Jared Urban sharing highlights of his favorite State Natural Areas of Southern Wisconsin, how to explore them, and the unique plant life you'll find there.
3:33 Intro to SNAs
6:53 How are SNAs cared for and SNA volunteer program
9:25 How SNAs are funded
20:16 Cherish Wisconsin Outdoors Fund
22:28 Visiting during a pandemic
23:42 Lulu Lake
31:52 Rocky Run Oak Savanna
40:10 Maiden Rock Bluff
45:55 Blue River Sand Barrens
51:49 Blue River Bluffs
56:59 Cassville Bluffs
59:18 Dewey Heights Prairie
1:02:23 Q&A
1:06:33 More Resources
May 1, 2020
Discover Wildlife at Mounds View Grassland
Location: Iowa County, WI
Trip Leaders: Eric Preston

This week our Virtual Field Trip tours the Mounds View Grassland in Iowa County of southern Wisconsin. Watch a compilation of trail camera footage that shows the amazing biodiversity of this prairie ecosystem, including badgers, coyotes, upland sandpipers, yellow warblers, and more!
1:37 Start of trail highlights footage
4:14 Badger
April 24, 2020
A Tour of Hoo's Woods Raptor Center
Location: Milton, Wisconsin
Trip Leaders: Dianne Moller, Executive Director of Hoo's Woods

This week our Virtual Field Trip tours Hoo's Woods Raptor Center in the town of Milton in Southeastern Wisconsin. See raptor education birds up close and tour the facility where they house and rehabilitate injured birds. Fingers crossed we can visit Hoo's Woods together on our scheduled Field Trip if/when we open the Field Trip program this year.
See time stamps below to jump to specific parts of the tour!
1:41 Meet Clark, a Barred Owl
2:15 Meet Wesley, a Snowy Owl
2:46 Tour the outdoor aviaries for larger birds
3:19 Tour the Eagle aviary
3:52 See "the Clinic," the first stop for the birds when they are admitted to the center
April 17, 2020
American Kestrels: Ecology and Banding
Location: Jackson County, WI
Trip Leaders: Beaver Creek Reserve Scientists

Learn about Wisconsin's smallest falcon—the American kestrel! Enjoy this video footage taken on a field trip led by Beaver Creek Reserve scientists in 2018. Watch as they discuss the distinct markings of an adult female kestrel and get a close-up look at banding a young kestrel chick.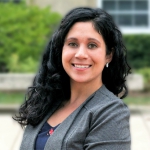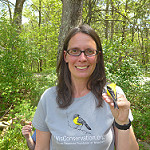 Christine Tanzer
Field Trip Director
(608) 409-3123
FieldTrips@WisConservation.org
Christine coordinates the many facets of the Foundation's vibrant Field Trip Program. Passionate about showcasing Wisconsin's amazing natural treasures, she has organized well over 2,000 Field Trips since joining NRF in 1997.