Through our grant programs, we partner with hundreds of nature centers, schools, land trusts, and other organizations to support conservation and environmental education projects in Wisconsin.
Follow the links below to learn more about each program and apply for a grant.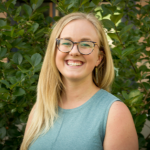 Lindsey Taylor
Conservation Programs Coordinator
(608) 409-3145
Lindsey.Taylor@WisConservation.org
Lindsey supports the Foundation's conservation programs, including coordinating our grant programs, initiatives, and partnerships that benefit Wisconsin's lands, waters, and wildlife.