Join the Wayfarers!
We are the young professionals of the Natural Resources Foundation of Wisconsin. Join us as we paddle, hike, bike, learn about, and explore our state's amazing natural wonders.
Wayfarers connects young professionals to opportunities to Wisconsin's outdoors, with the goal of fostering the next generation of conservation stewards, while building affinity with the Natural Resources Foundation of Wisconsin.
Our trips and events are led by some of the most knowledgeable scientists, ecologists, and naturalists in Wisconsin who generously share their favorite places and knowledge of Wisconsin's outdoors. Wayfarers events are geared towards 20- and 30-somethings, but everyone is welcome!
Sign up for Wayfarers updates.
Stay in the loop! Sign up for the Wayfarers email list to get updates on upcoming trips, happy hours, volunteer workdays, and other WisConservation news.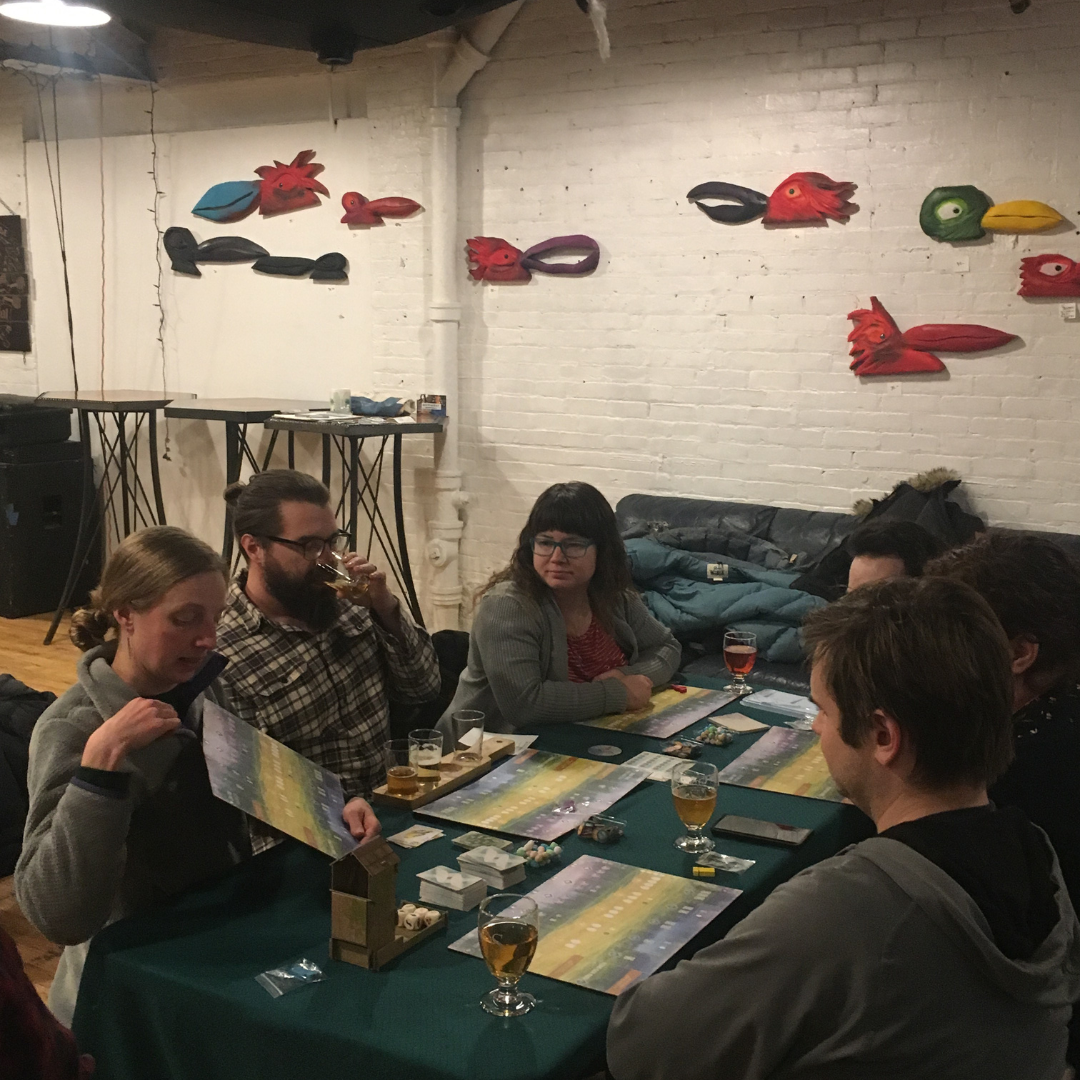 Wayfarers Game Night
Join us on Wednesday, February 8th from 6-9 p.m. for an evening of nature-themed board games at Roll Play at Garver Feed Mill! Compete with other Wayfarers to visit the most national parks, attract diverse birds to your wildlife reserve, build 3D biomes, grow your dream arboretum, and much more! All participants will be entered to win some great outdoor adventure prizes. If you come hungry, Roll Play has delicious Asian street food including bibimbap and boba tea available for purchase. You can also purchase beer at Ian's Pizza (in the same building) and bring it in. RSVP not required – we hope to see you there!
Photo by Caitlin Williamson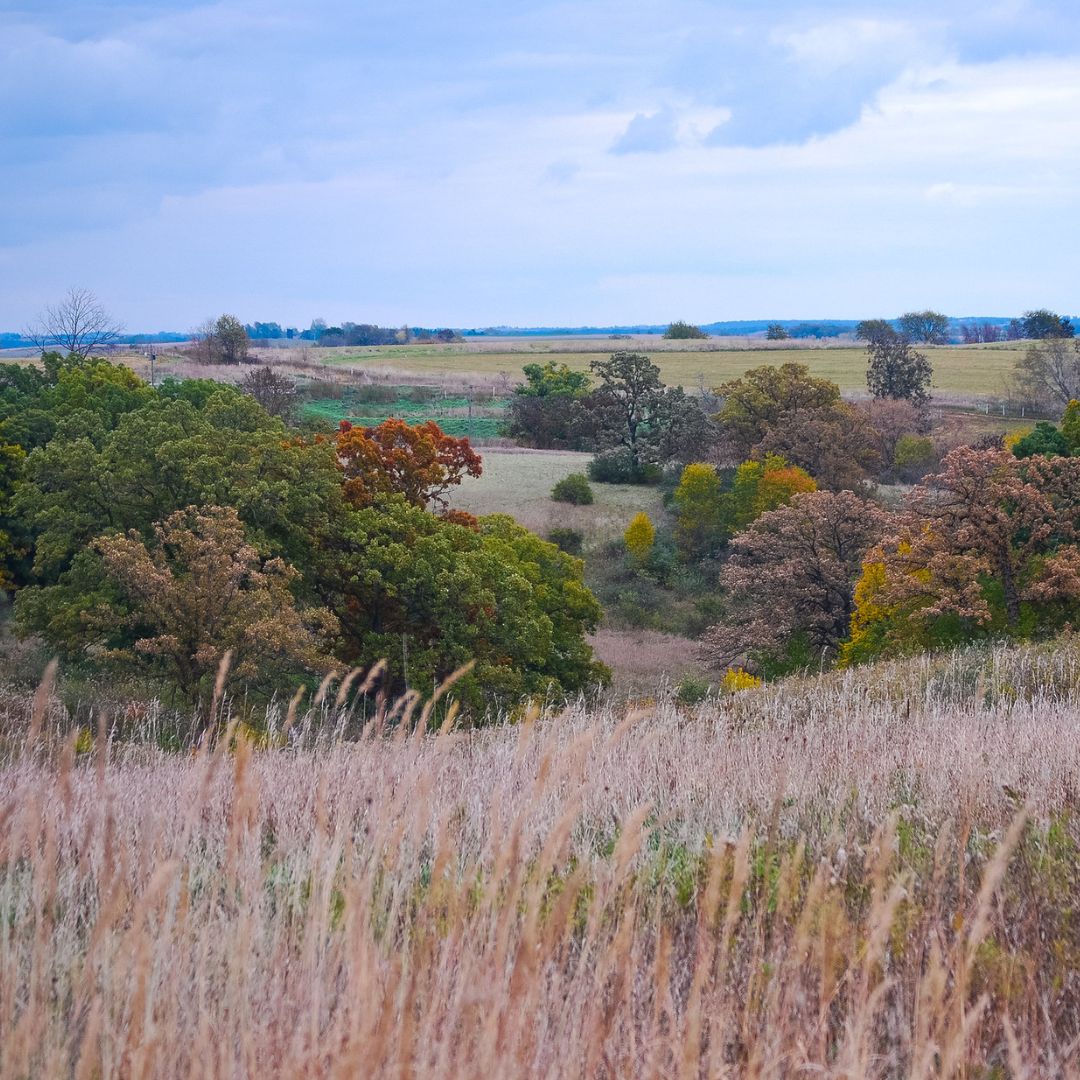 Seed Collecting at Yellowstone State Park
This event has passed

Join us on October 29th, 2022 for a fall work party at one of the Foundation's priority conservation sites: Yellowstone Lake State Park! You'll help collect seeds that will be used to restore habitat for pollinators, grassland birds, and other wildlife. Additionally, you'll meet fellow outdoor and conservation enthusiasts, learn plant identification skills, and hear from an expert from the Wisconsin DNR about ecological restoration and pollinator conservation. Experience the calming zen and rejuvenation that comes with seed collecting!
Photo by Joshua Mayer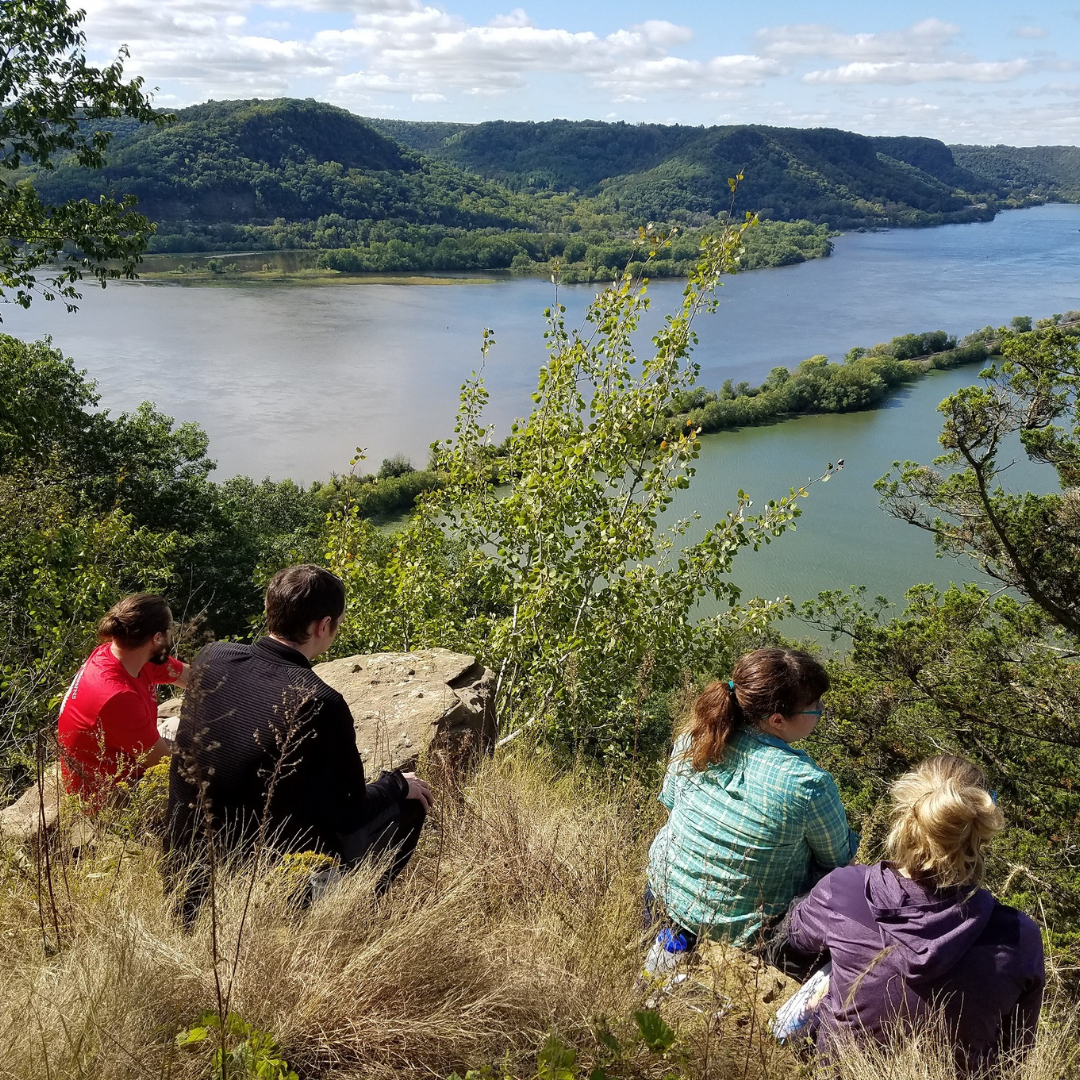 Saunter on the Mountain
This event has passed
Join Wayfarers member and DNR Conservation Biologist, Justin Nooker, and High School Ecology Teacher, Dan Winkler, as we explore Trempealeau Mountain on Saturday, May 21 from 10am to 3pm.
Trempealeau Mountain is a unique and sacred State Natural Area. This field trip will explore many plants, birds, and natural communities, as well as the geology and history of the Mountain. After our saunter we will have the opportunity to enjoy a local winery: Elmaro Vineyard!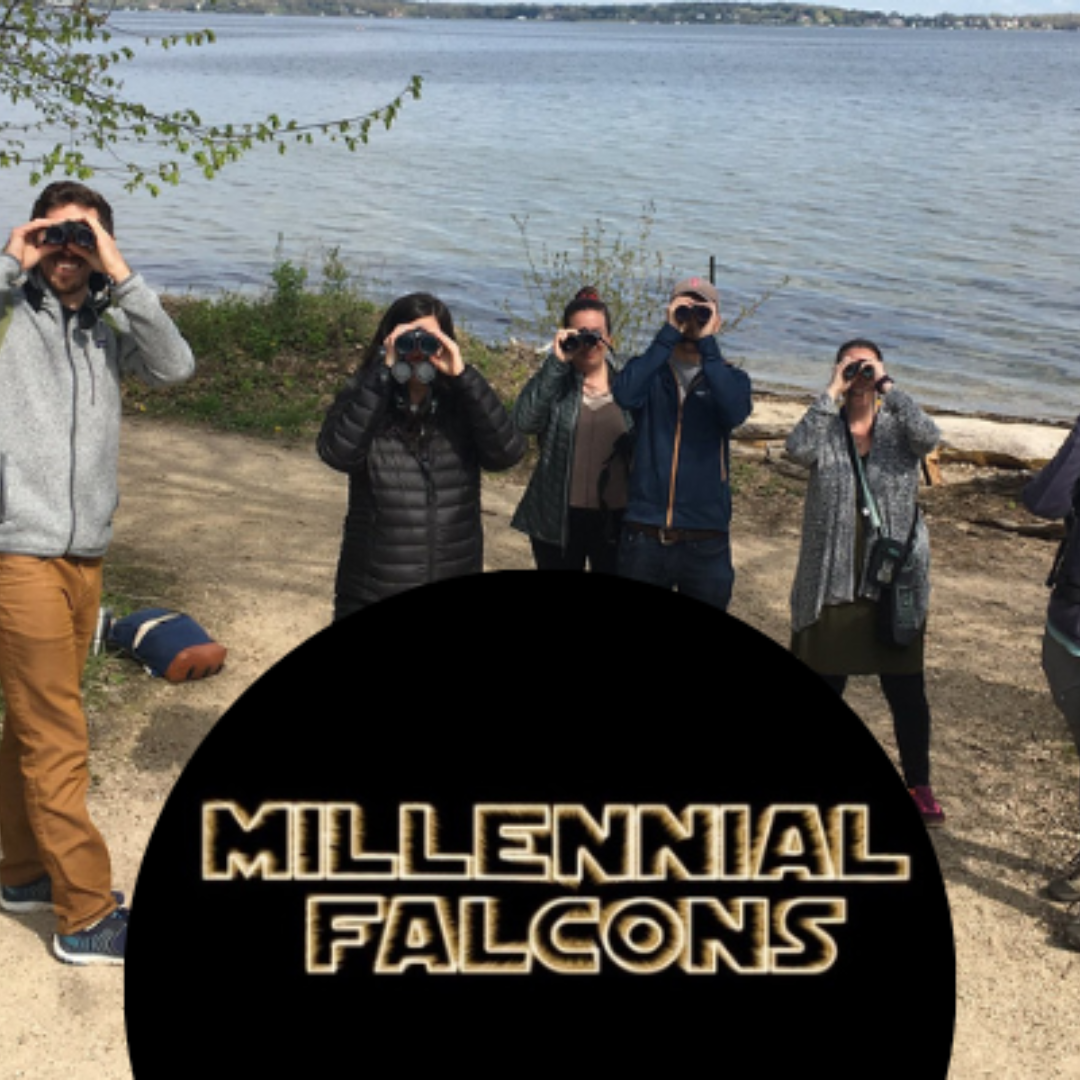 Millennial Falcons Birdathon
This event has passed
The Great Wisconsin Birdathon is back and our Wayfarers team, the Millennial Falcons, is returning for our sixth year! Join us as we go birding for a cause. The birds of Wisconsin need us, and protect them, we must.
On Saturday, May 7th the Millennial Falcons will be using the Force to identify birds while moving at a pace that is very far from light-speed (i.e. casual). Our goal is to find some of our favorite birds, get outside at some fun Wisconsin destinations, and raise $1,234 to protect the birds of the galaxy. 💫
Where are we heading? Here's a rough plan of our day (times may flex a little):
9am-11am:

 

Birding at Spring Green Preserve ("Wisconsin's Desert" aka "Tatooine")
11-12:30pm:

 

Picnic Lunch + birding at Tower Hill State Park 
1pm-2pm:

 

Birding at Ferry Bluff SNA 
2-3pm:

 

Birding from the patio of Vintage Brewing in Sauk City, over some post-Birdathon beers (or beverage of choice)
Sign up if you'd like to bird with us and enjoy a historic day of scope-saber duels, blue-wing blasters, red-tailed aerial displays of Jedi heroics. You're welcome to join for all or just a portion of the day's events.
Want to support our team with a donation? Visit our fundraising page here.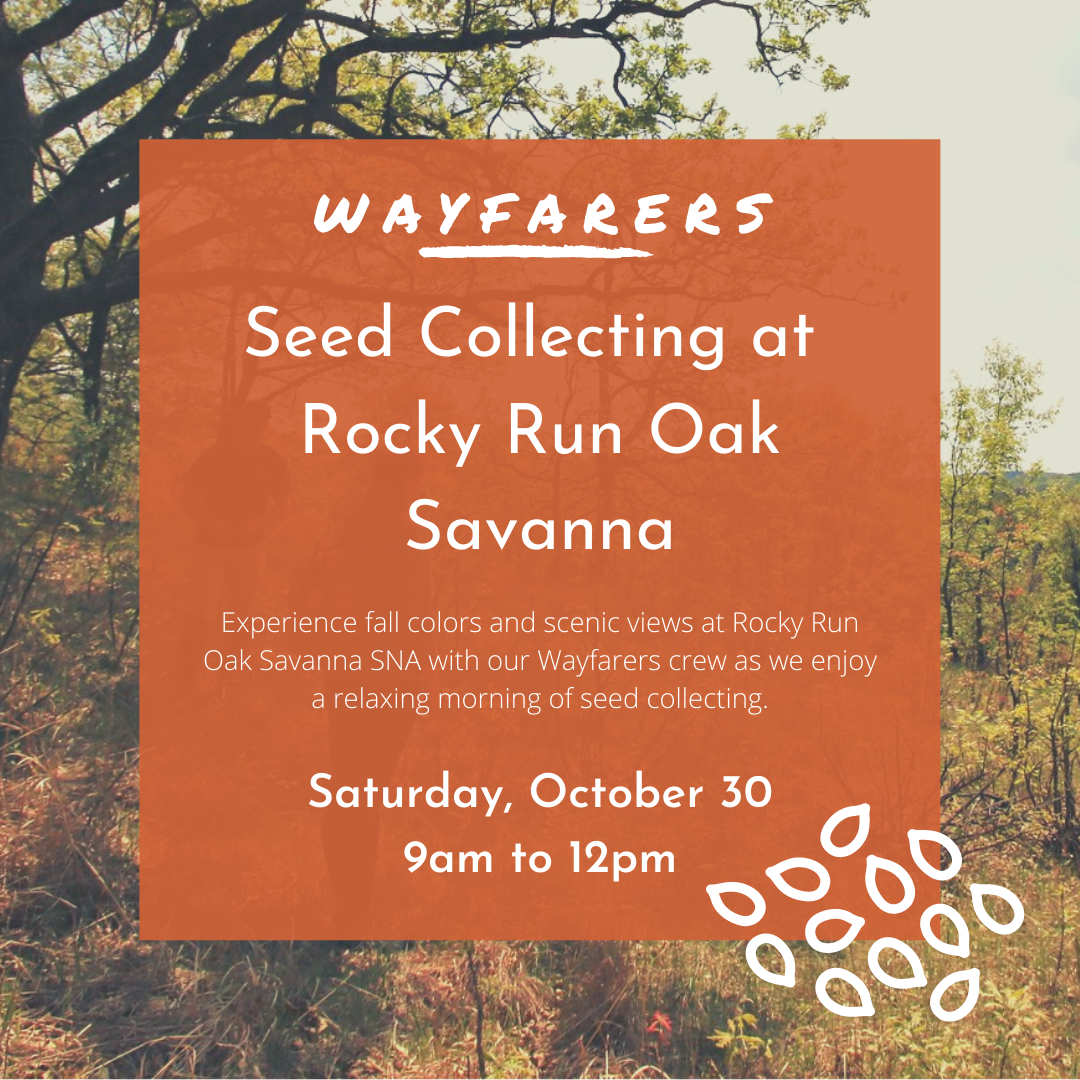 Seed Collecting at Rocky Run Oak Savanna
This event has passed
Join Wayfarers for a fall work party at Rocky Run Oak Savanna SNA, a priority state natural area that the Natural Resources Foundation of Wisconsin supports. We'll be collecting seeds that will be used to restore an oak barren, a globally imperiled ecosystem, which will provide habitat for rare animals that are present at this unique SNA.
You'll learn plant ID skills, hear from an expert from the WI DNR about the restoration work being done at Rocky Run, meet fellow conservation enthusiasts, and experience the calming rejuvenation that comes with seed collecting. 🍂
Take a break from the world and spend some time with seeds. You won't regret it.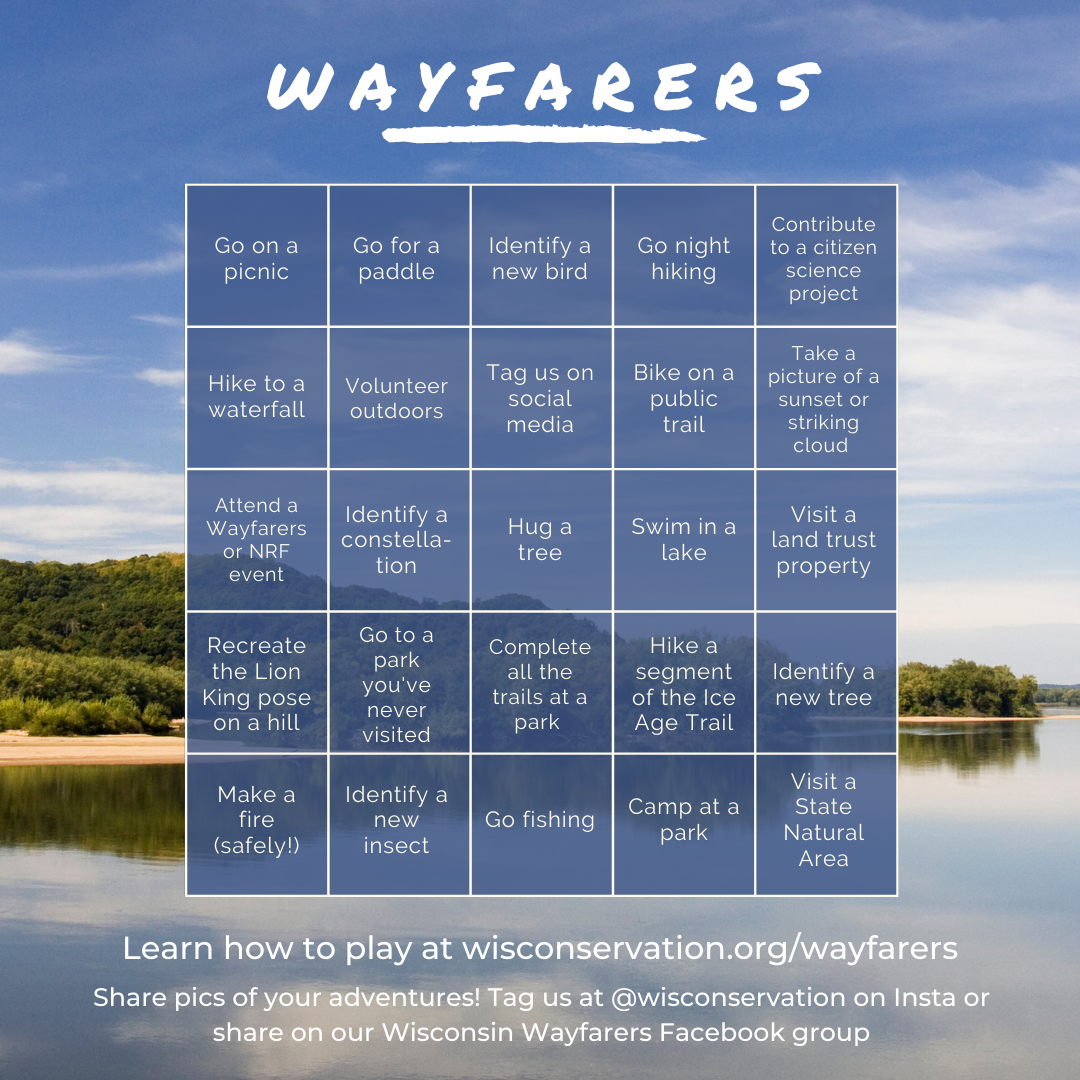 Play #WayfarersBINGO!
This challenge has passed — congrats to our winners and thanks to everyone who played!
Add a little challenge to your summer fun by playing BINGO with us! Anyone who completes a BINGO before September 1 will have a chance to win one of three prizes.
What are we giving away? 

a Deuter-brand summit pack (a small, lightweight backpack)
a $25 gift card to Fontana Sports
a Kirtland's warbler coffee mug and a bag of locally roasted coffee from Drift Coffee in Mt. Horeb
We encourage everyone to share photos of their BINGO adventures on our
Wisconsin Wayfarers Facebook group
, or tag us
@wisconservation
on Instagram.
If you complete a BINGO
, please fill out the Google Form linked below so you can be entered to win one of the three prizes! You can enter more than one BINGO to increase your chances of winning, so go fill up that card!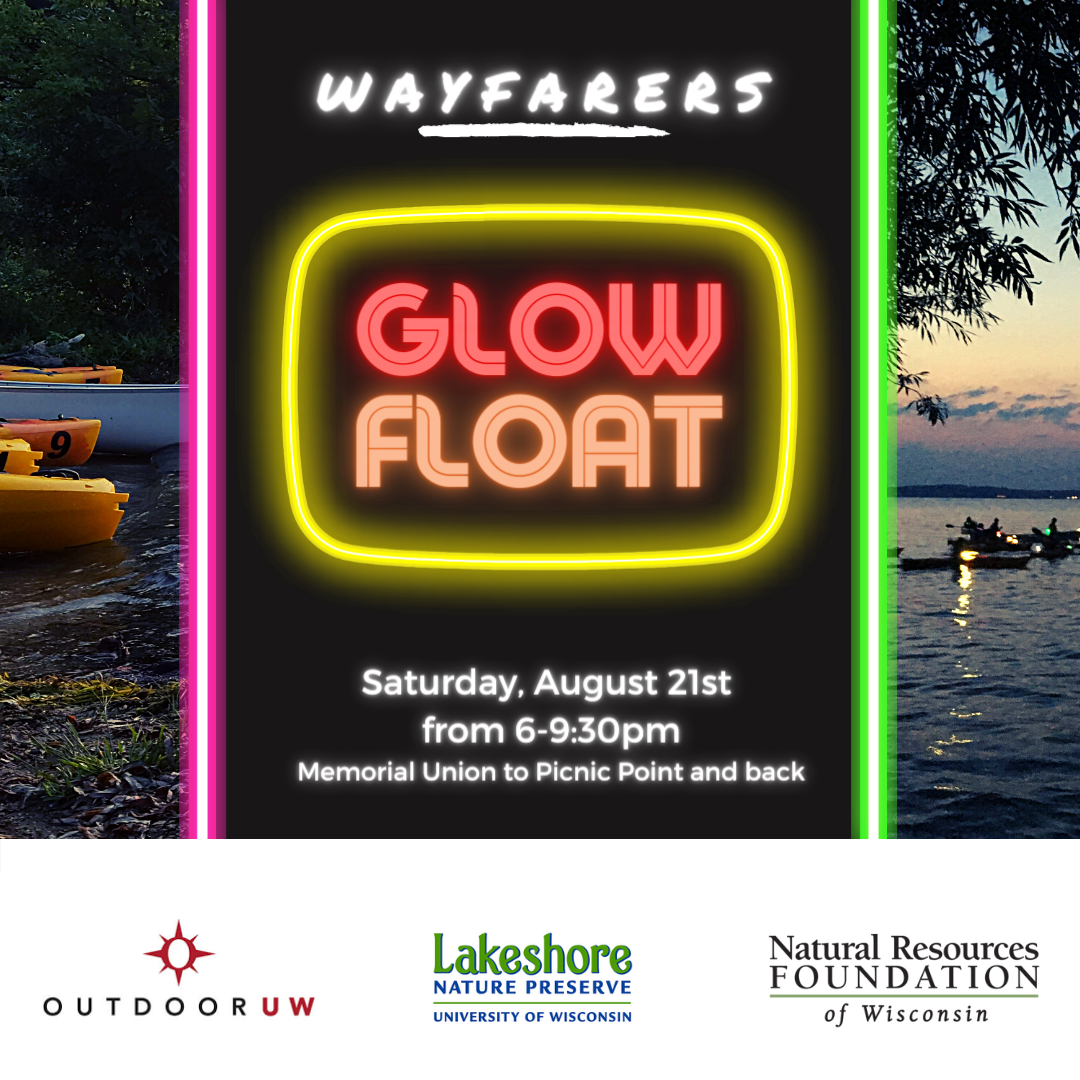 Glow Float 4.0
This event has passed
Join us for our popular Glow Float! A Wayfarers classic, this event went on hiatus last year but it's now returning for it's fourth iteration on Saturday, August 21st from 6-9:30pm.
Enjoy a 6-mile roundtrip paddle from Memorial Union to Lakeshore Nature Preserve's Picnic Point and back again. Boat rental is included in your $20 fee (as is some "glow!"). We'll stop at Picnic Point for a special talk on the history and significance of the Lakeshore Nature Preserve as we watch the sun go down. On the way back to Memorial Union, we'll light up lanterns, adorn some glow, and paddle leisurely back to the docks as Terrace onlookers delight in the floating glow of our flotilla!
 
Registration is required.

 

This event is capped at 15 attendees, not counting trip leaders from our partners at

 

Outdoor UW

 

and

 

Lakeshore Nature Preserve.

 

Register by August 18th at 11:59pm.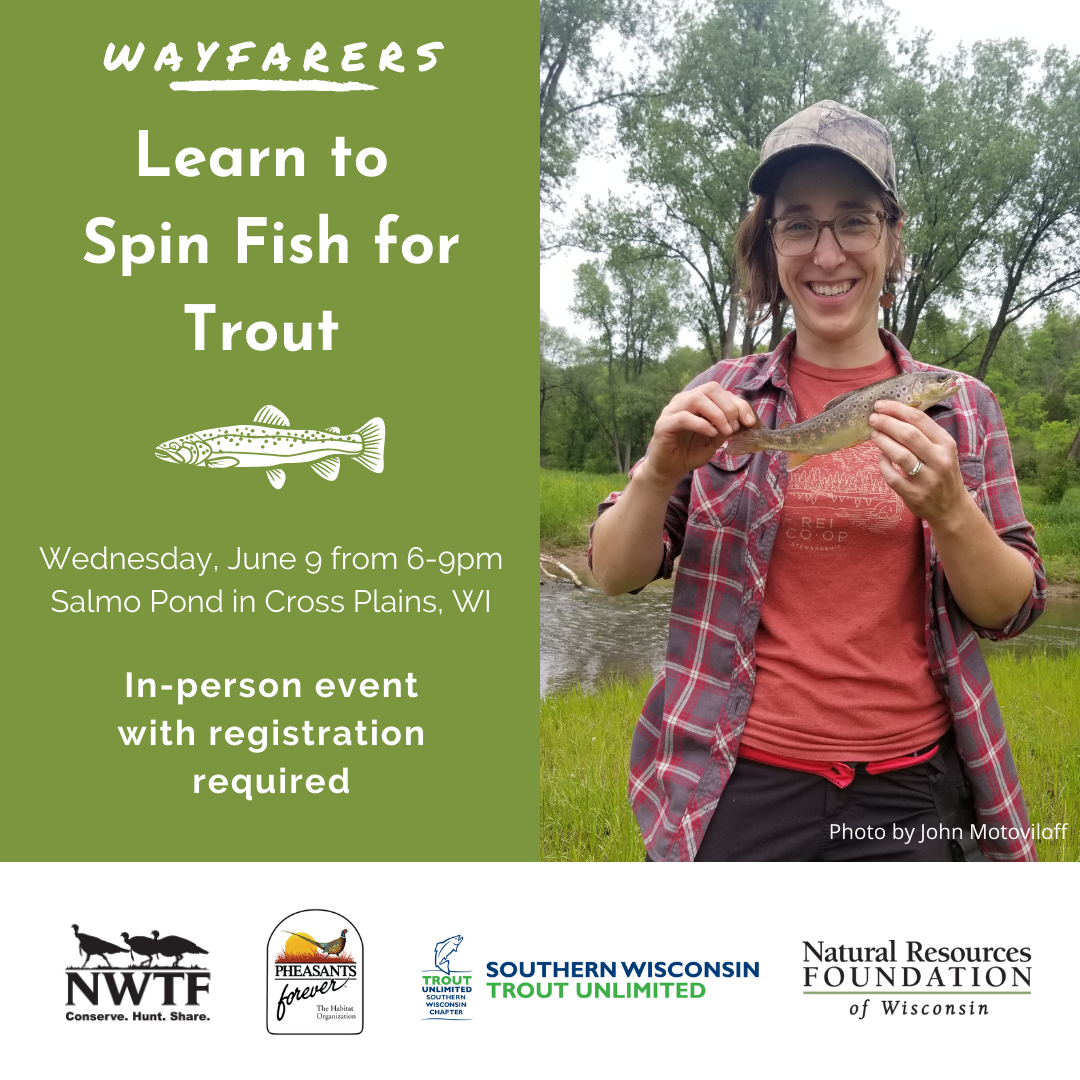 Learn to Spin Fish for Trout
This event has passed
We've got a great follow-up to our online trout presentation—and it involves getting your hands on a rod and reel! This is a great opportunity to give trout fishing a try before you invest in the gear.  
We'll be joined by Marty Moses of Pheasants Forever, John Motoviloff of the National Wild Turkey Federation, and Zach Olufs of Southern Wisconsin Trout Unlimited.
They're all expert fishermen and ready to help us "test the waters" of trout fishing. We'll learn how to spin fish (one style of trout fishing), but they're ready to answer questions about fly fishing too. Additionally, you'll also learn how to clean and prepare your freshly caught fish. 
All the fishing gear you need will be provided. You show up and catch some fish! 🐟🐟🐟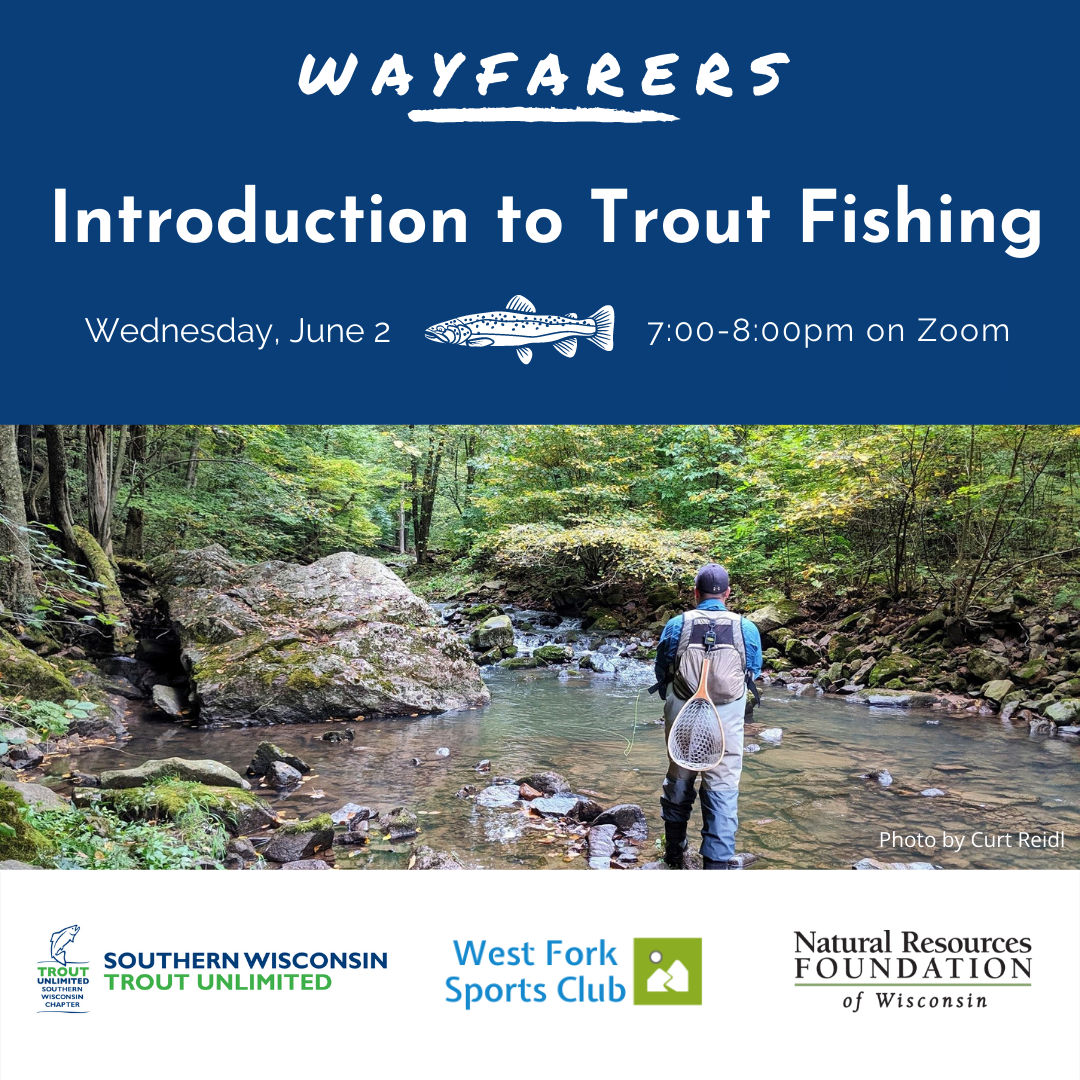 Introduction to Trout Fishing
This event has passed
Have you been curious about trout fishing, but unsure where to start? Join us for an online presentation by Curt Riedl, avid trout fisherman and board member of both Southern Wisconsin Trout Unlimited and West Forks Sports Club (a fishing and camping destination you should know about!)
Curt is going to share information about Wisconsin's amazing trout streams, trout species in WI and where to find them, the different types of trout fishing, equipment you need to get started, and a whole host of resources to make your fishing adventures a breeze.
Come with your questions! Even if you're not into fishing, this is a great chance to learn about Southern Wisconsin Trout Unlimited's impressive stream restoration work—which benefits far more than just fish!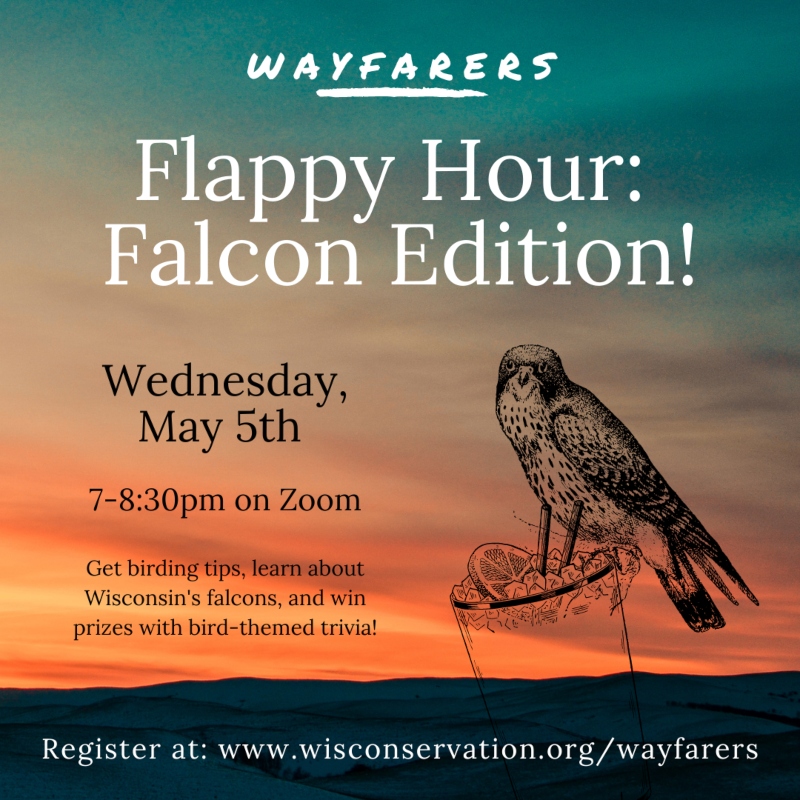 Flappy Hour: Falcon Edition!
This event has passed
Do you have spring migration fever yet? Or maybe you're bird-curious and wondering what all the fuss is about? Get your bird fix with some falcon knowledge at our May Flappy Hour!
We'll learn all about Wisconsin's falcons, share tips and resources for beginning birders, and play a round of bird-themed trivia—with prizes, of course! You'll also learn more about how you can join the Millennial Falcons, our Wayfarers team for the Great Wisconsin Birdathon.  
If you're looking to meet more bird nerds and win some birdy swag, this event is for you. Bring a beverage for a night of bird talk and falcon-themed fun!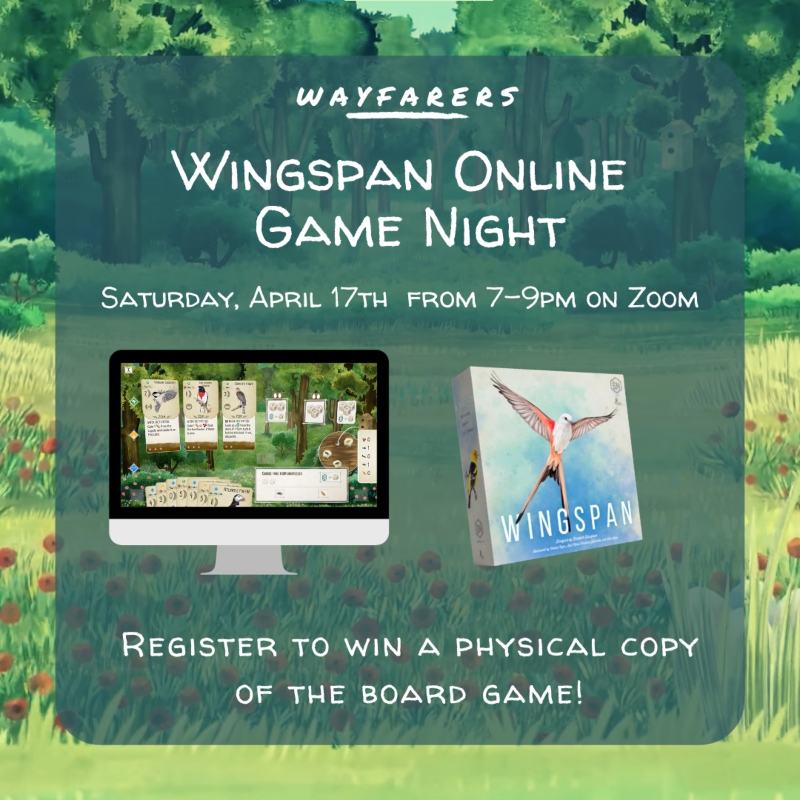 Wingspan Online Game Night
This event has passed
Join your fellow Wayfarers for a virtual game night! We'll be playing the online version of Wingspan, the 2018 award winning board game, where we play as bird enthusiasts seeking to discover and attract the best birds to our network of wildlife preserves.
All attendees will have a chance to win a physical copy of the Wingspan board game. Prizes for game winners abound, too—we've got Kirtland's warbler coffee mugs and Bird Collective patches and stickers to give away!
This is the perfect opportunity to meet more nature-loving board game enthusiasts. Even if you haven't played Wingspan before, we'll have experienced players ready to help you learn as you go.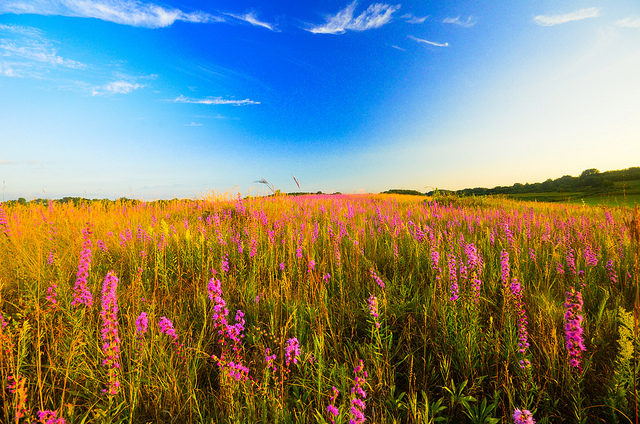 In addition to our scheduled trips, we host happy hours and pop-up adventures. Sign up for our email list using the form below, and join our Facebook group to stay informed of the latest events.
Stay In the Loop
Sign Up for Wayfarers Updates
Join other 20- and 30-somethings across Wisconsin for updates on Wayfarers events, trips, and more.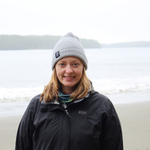 Caitlin Williamson
Director of Conservation Programs
(608) 409-3109
Caitlin.Williamson@WisConservation.org
Cait oversees the Natural Resources Foundation's grant programs and initiatives for conservation and environmental education, working closely with partners across the state to ensure that our Foundation has the most significant impact possible on Wisconsin's lands, waters, and wildlife through strategic, science-based investments.