Frequently Asked Questions
2021 Field Trips now available for viewing
Christine Tanzer has been coordinating the Foundation's Field Trip Program since 1997. Since then the program has expanded from 30 trips a year to well over 200 trips a year! Christine poured through her emails from Field Trip participants like you to create this resource answering some of your most frequently asked questions.
I just became a member online. How can I see the current 2021 Field Trip Schedule?
Field Trip Guidebooks were mailed to most of our current members in early March. If you just became a member with an online donation, a Guidebook will be mailed to you—though it can take a week or more to arrive in your mailbox.
Until then, view the entire guidebook online.
Should I bring and wear a face mask on my Field Trip?
We require that everyone who attends our Field Trips brings and wears a face mask, especially at check-in at the start of the trip and if/when the group gathers together. Face masks are an important part of stopping the spread of COVID-19, and keeping one another safe.
I am a member, can I register a guest with me that is not a member?
In 2021 with the COVID-19 pandemic, we ask that you only register guests that are within your family or household. This will ensure safety with contact tracing and the increased COVID-19 liability.
As usual, please do not register a group, club or troop. The spirit of the program is for families to register and attend together.
Are there changes to Field Trips due to COVID-19?
We are taking a cautious approach, as COVID-19 remains a dynamic situation. Currently Wisconsin outdoor gatherings are permissible in small groups with social distancing, and we have updated our trips to adhere to this recommendation. If current safety standards change, we will adapt accordingly and cancel trips as necessary.
We care about your health and safety. COVID-19 adaptations include:
Outdoor only trips with small group sizes.
Social distancing of 6' apart for leaders and participants of different households.
We require that everyone wears a face mask during their Field Trips.
We will avoid exchanging physical objects (pens, binoculars, spotting scopes, equipment, etc.).
Do not attend a trip if you have a fever, other symptoms, or an active COVID-19 infection.
See our Current COVID-19 Guidelines webpage for more details, and view our additional COVID-19 waiver.
I donated at the $25 Basic-level. Can I still register my family to attend trips with me?
A donation of $25 or greater enables you to register yourself and family to attend trips together.
Can I register a grandchild or other minor to attend a Field Trip with me?
In 2021, we ask that you do not register a child of which you are not the parent or guardian.
*Note, children must be accompanied by a registered adult on every trip they attend.
Can I attend more than 2 trips this year?
There is an initial limit of 2 trips per person. After April 15 you may register for additional trips (beyond your initial 2) as space allows.
Wait-listed trips do not count towards your 2-trip limit.
Do my wait-listed trips count towards the 2-trip limit?
No, wait-listed trips do not count toward your limit of 2 trips per person.
Where can I find the Liability Waiver? Is there a special Liability Waiver for COVID-19?
We do have two waivers you will be asked to sign at the start of your Field Trip:
1. Our General Liability Waiver- you can view and download this liability waiver here.
2. A COVID-19 Liability Waiver Addendum- you can view and download this liability waiver here.
How do I cancel my reservation? Are trip fees refundable?
I'm sorry, but trip fees are not refundable if you cancel your reservation.
To cancel a trip- please email FieldTrips@WisConservation.org or call the Field Trip phone line: 608-409-3123. Leave a message with the # and name of the trip and the names of the people in your party who are canceling.
Please note – Refunds will be available upon request for Field Trips canceled by the Foundation due to COVID-19 precautions. You can also decline your refund and allow your trip fee to continue supporting the Field Trip program.
I saw your Field Trips listed in the Wisconsin Natural Resources magazine. Does my magazine subscription or Conservation Patron's license count as a membership to the Foundation?
I am sorry, your magazine subscription or Conservation Patron's license does not include a membership to the Foundation. We are a separate non-profit and not a part of the DNR. You will need to become a member of the Foundation to register for Field Trips. Note, your membership today not only supports our mission, but ensures that you will receive via mail the full Field Trip Guidebook when it is published in March.
I added myself to a waiting list for a trip. Now what?
It is always a good idea to put your name on the waiting list! We often have registrants cancel, and will call or email you if space becomes available for you (and your guests) to attend a trip.
If trips fill so quickly, why not just add more sessions?
Our Field Trips are often led by people who are volunteering their time amidst a busy professional work schedule, and they only have time to lead just one trip a year. There are instances when we have a very long waiting list, and that a trip leader can add on another session. If so, we will contact people from the waiting list first to attend before opening up to new registrants. 
Some trips say they are fundraisers. Are they tax deductible?
Yes, there are a few trips where some of the fees are tax deductible. We will send an email in early December if you have an eligible trip, that you can to use as a receipt for your tax filing.
Note: most Field Trip registration fees are not tax deductible.
What do my registration fees cover?
We do our best to keep our fees to a minimum, while offering a great value for your money. Your fees cover the online registration software, printing and mailing of the Field Trip Guidebook, program staff and other administrative costs. Some trips have higher costs that cover bus or boat rentals, or are fundraisers for important ecological programs, properties, or research.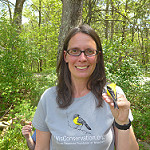 Christine Tanzer
Director of Field Trip Program
(608) 409-3123, extension 1023
FieldTrips@WisConservation.org
Christine coordinates the many facets of the Foundation's vibrant Field Trip Program. Passionate about showcasing Wisconsin's amazing natural treasures, she has organized well over 2,000 Field Trips since joining NRF in 1997.