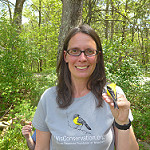 Christine Tanzer has been coordinating the Foundation's Field Trip Program since 1997. Since then the program has expanded from 30 trips a year to well over 200 trips a year! Christine poured through her emails from Field Trip participants like you to create this resource answering some of your most frequently asked questions.
Frequently Asked Questions
I just became a member online. When will I receive my 2020 Field Trip Guidebook?
Field Trip Guidebooks were mailed to our current members around March 1st. Registration opens to our members later March. If you just became a member with an online donation, a Guidebook will be mailed to you- but please note, that can take up to a week for you to receive. Until then, view the entire guidebook online.
I am a member, can I register a guest with me that is not a member?
As a member of the Foundation you can register your family and a friend or two on trips with you—but not a group, club or troop.  The spirit of the program is for families to attend (with our understanding that a close friend is like family). If your guest is an adult and they enjoy their experience, please encourage them to support our mission with a membership of their own.
The limit is 4 trips per person. Do my wait-listed trips count towards that limit?
No, wait-listed trips do not count toward your limit of 4 trips per person.
My Membership is at the $25 Basic-level. Can I still register my family to attend with me, or do I have to donate at the $40 Family-level to register my whole family for Field Trips?
You do need to be a member of the Foundation with a donation of $25 or greater in order to register for our Field Trips. Members at any level can register their family and a friend to attend trips with them. Your support of the Foundation is always appreciated!
Can I register a grandchild or other minor to attend a Field Trip with me?
Yes! We love having multiple generations out in the field together. The online registration site will prompt you with the question "Are you the parent?" and just click "yes" regardless if it is true. (This is originally a summer-camp registration software and unfortunately we cannot disable this question.) *Note, children must be accompanied by a registered adult on every trip they attend.
I love Field Trips, can I attend more than 4 trips this year?
There is an initial limit of registering for 4 trips per person. But, after April 15, the cap is lifted and you may add additional trips to your registration at that time.
I added myself to a waiting list for a trip. What happens now?
It is always a good idea to put your name on the waiting list! We often have registrants cancel, which can open up room for "wait-listers" to make it onto the trips of their choice. And sometimes a trip leader is able to offer an additional session, and wait-listers are the first to be offered the opportunity to attend. We will call or email you if space becomes available for you (and your guests) to attend a trip.
I now cannot attend a trip I registered for. How do I cancel my reservation?  Are trip fees refundable?
I'm sorry, but trip fees are not refundable if you cancel your reservation.
To cancel a trip- please email FieldTrips@WisConservation.org or call the Field Trip phone line: 608-409-3123. Leave a message with the # and name of the trip and the names of the people in your party who are canceling.
Some trips in the Guidebook each year are indicated as fundraisers. Are they tax deductible?
Yes, there are some select trips where a portion, or majority, of the trip fees are tax deductible. If your Field Trips are eligible, I will send you an email in early December that you can print out, to use as a receipt for your tax filing. We appreciate your support of these important projects. Only those indicated as such in the booklet are tax deductible; your regular Field Trip registration fees are not tax deductible.
What do my registration fees cover?
We do our best to keep our fees to a minimum, while offering a great value for your money. Your fees cover the online registration software, printing and mailing of the Field Trip Guidebook, program staff and other administrative costs. Some trips have higher costs that cover bus or boat rentals, or are fundraisers for important ecological programs, properties, or research.
Where can I find the Liability Waiver?
You can view, download, and print the liability waiver here.
I have been going on your Field Trips for years and I'd like to get more involved.
We hope our Field Trips inspire you to do more for our natural resources! You can get involved with citizen-based monitoring, where people help our state's scientists gather information about a wide variety of species and places–from frogs to fireflies and forests to fens. You can also become a Wisconsin Master Naturalist and gain skills in education, stewardship and citizen science.
I love going on Field Trips. What can I do to support the Field Trip Program?
I am delighted to hear this! If you'd like to make a donation to support the Field Trip Program, you can do so through our online donation system. Just select Field Trip Program from the menu in the Special Purpose section.
Or, if you are able, consider joining our Sojourners Society with an annual gift of $500 dedicated to support the Field Trip Program. This Society will provide sustainable funding to ensure that Field Trips remain accessible and affordable for all members. In appreciation, Society members receive early Field Trip registration, and first chance at registering for our international excursions.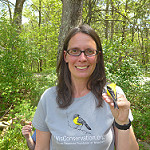 Christine Tanzer
Field Trip Director
(608) 409-3123
FieldTrips@WisConservation.org
Christine coordinates the many facets of the Foundation's vibrant Field Trip Program. Passionate about showcasing Wisconsin's amazing natural treasures, she has organized well over 2,000 Field Trips since joining NRF in 1997.