C.D. Besadny Conservation Grants
Investing in grassroots conservation and education
The C.D. Besadny Conservation Fund was established to invest in grassroots conservation and education projects that benefit Wisconsin's lands, waters, and wildlife, and that connect people to Wisconsin's natural resources. Grants range from $500 to $2,000.
Grantmaking Priorities:
Proposals should address one or more of the following priorities:
Projects that benefit Wisconsin's most imperiled natural communities and native plant or wildlife species.
Projects that engage and impact underserved communities in Wisconsin and/or support diversity, equity and inclusion efforts within Wisconsin's conservation and environmental education sectors.
Projects that build climate resiliency of Wisconsin's natural resources through natural climate solutions or climate adaptation.
All projects should demonstrate measurable outcomes. We encourage innovative projects that leverage resources and partnerships.
Eligibility:
Applicant must be one of the following: a public charity with approved 501(c)(3) exempt status (under section 509(a)(1), 509(a)(2), or 509(a)(3) Type I and Type II); a federal, state, or local governmental unit, an American Indian nation or tribal community; or an accredited school, college, or university. The following types of organizations are not eligible for funding: individuals; businesses; section 509(a)(3) Type III supporting organizations; private foundations; and private operating foundations.
Projects must benefit Wisconsin's natural resources or people.
The total project budget may not exceed $10,000, and overhead costs shall not exceed 15% of the grant.
Project expenses may not have been incurred prior to submitting the application.
A one-to-one match is required. Match may include in-kind support such as volunteer hours or donated materials.
Only one application will be accepted per organization per grant cycle.
How to Apply:
Determine if your project addresses our grantmaking priorities and meets our eligibility requirements.
Complete the application (paper copies of applications are not accepted).
Include proof of IRS tax-exempt status (IRS form 501c3 tax determination letter).
Submit all materials by email to Lindsey at NRFgrants@WisConservation.org by September 1st.
Applicants will be notified within six weeks following the submission deadline.
Congratulations to our 2022 Besadny Grant recipients!
Access Ability Wisconsin Inc — Outdoors Access 4 All! Serving Individuals Living with Mobility Issues in Underserved Populations
Beaver Creek Reserve — American Kestrel Nest Box Host Program
DNR – Parks & Recreation — Check Out Wisconsin's State Parks at Your Library
Douglas County Land Conservation Department — 2023 Stop Spiny Regional Prevention Campaign
Edgewood Campus School — Edgewood Campus School Pollinator Garden
Ferry Bluff Eagle Council — Prairie du Sac Eagle Overlook Summer Interpretive Panels
Friends of Schlitz Audubon Nature Center — Diversifying Access – Establishing a Volunteer Transportation Fund at Schlitz Audubon
Friends of the Blufflands — Lookout Prairie Restoration 3
Friends of the Cedarburg Bog — Bioacoustic Breeding Bird Surveys in the Cedarburg Bog
Golden Sands Resource Conservation & Development — Council Educating Youth about Wisconsin's Wildlife
LaFollette High School Arboretum Club — LaFollette Arboretum Trail
Madison Audubon— Nature is for Everyone – Now Where ARE We?
National Society of Colonial Dames of America – State of Wisconsin — Stewarding a Historic Landscape
Outdoor Heritage Education Center — Connecting the Urban Community with Outdoor Skills through MOHEE Milwaukee
Riveredge Nature Center — Building an Urban Education & Food Garden for LUMIN Students
Root-Pike Watershed Initiative Network — Pollinator Patch Program
Southeastern Wisconsin Invasive Species Consortium — Invasive Plant Management Workshops
Wisconsin Wetlands Association — Promoting Tribal Wetland Conservation Leadership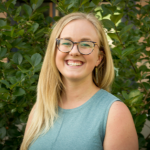 Lindsey Taylor
Conservation Programs Coordinator
(608) 409-3145
Lindsey.Taylor@WisConservation.org
Lindsey supports the Foundation's conservation programs, including coordinating our grant programs, initiatives, and partnerships that benefit Wisconsin's lands, waters, and wildlife.