CD Besadny Conservation Grants
Investing in grassroots conservation and education
The C.D. Besadny Conservation Fund was established to invest in grassroots conservation and education projects that benefit Wisconsin's lands, waters, and wildlife, and that connect people to Wisconsin's natural resources. Grants range from $500 to $2,000.
Grantmaking Priorities:
Innovative projects that leverage resources and partnerships.
Projects that have measurable outcomes.
Projects that engage and impact underserved communities in Wisconsin.
Eligibility:
Applicant must be one of the following: a public charity with approved 501(c)(3) exempt status; a federal, state, or local governmental unit, an Indian tribe; or an accredited school, college, or university.
Projects must benefit Wisconsin's natural resources or people.
The total project budget may not exceed $10,000.
Project expenses may not have been incurred prior to submitting the application.
A one-to-one match is required. Match may include in-kind support such as volunteer hours or donated materials.
Only one application will be accepted per organization per grant cycle.
How to Apply:
Determine if your project addresses our grantmaking priorities and meets our eligibility requirements.
Complete the application.
Include proof of IRS tax-exempt status.
Submit all materials by email to Caitlin Williamson by September 1st.
Applicants will be notified within six weeks following the submission deadline.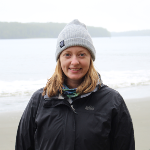 Caitlin Williamson
Director of Conservation Programs
(608) 409-3109, extension 1009
Caitlin.Williamson@WisConservation.org
Cait oversees the Foundation's grant programs and initiatives for conservation and environmental education, ensuring that our investments are science-based, strategic, and impactful. Cait's work encompasses conservation science and planning, partnership development and capacity building.