Foundation operations during COVID-19
Until further notice our office headquarters will be closed, in accordance with state directives. However, our team is working from home and will be available during regular office hours by email or phone.
Please allow for delays for processing mailed checks and membership renewals or requests until our office reopens. If possible, we ask that donations and gifts be made online until our office reopens.
Thank you for your support and patience during these unusual circumstances!
Join the Community
When you join the Natural Resources Foundation, you join a conservation community of more than 5,000 members who share a passion for protecting Wisconsin's lands, waters, and wildlife. Your membership makes our state a better place to live, now and in the future.
Becoming a member is easy – with an annual tax-deductible gift, you support the Foundation's work year-round. Consider making a recurring donation through secure, automatic monthly donations to have the biggest impact.
Conservation Steward Society
Conservation Steward Society members provide the invaluable operational support the Foundation relies on to continue its core functions and activities. Those who choose to join this Society are affirming their deep-felt commitment to the Foundation's mission, and their long-term dedication to our work and continuance.
Giving levels within the Society are defined at $1,000, $2,500, $5,000 or $10,000 per year. 
To join the Conservation Steward Society, please contact Development Director Camille Zanoni at Camille.Zanoni@WisConservation.org.
Give a Gift Membership
We all know people who seem to have everything, or maybe just aren't interested in receiving material gifts on special occasions. Give them something that will enrich their lives while also making them a part of Wisconsin's conservation legacy.
A Gift Membership to the Natural Resources Foundation of Wisconsin is a perfect gift for the adventurer, the life-long learner, the conservationist, the birder, or the woods woman (or man) in your life. When you purchase a Gift Membership they will receive all the benefits of membership as well as a letter from us notifying them of your gift.
Please allow 3 weeks for your Gift Membership to process. The 2021 deadline for Gift Memberships is December 1, 2021. Any gift membership made after this time may not be received until January 2022. 
Member Benefits
There are so many great benefits of being a member of the Natural Resources Foundation of Wisconsin:
Knowledge that your support stays completely in Wisconsin, to protect the lands, waters, and wildlife right here in our state.
The chance to join us on our members-only, expert-led Field Trips to see Wisconsin's most incredible wildlife and landscapes. Along the way you'll learn about conservation and research being done to protect these places.
The exclusive chance to travel with NRF and other NRF members as we explore natural wonders around the world. Our domestic and international travel experiences venture to places as far-flung as Patagonia and as close-to-home as Isle Royale. All trips are limited to small groups (never more than 20 and usually fewer than 15) and are led by local conservation experts.
Conservation news and stories from our members-only magazine, Bridges, published three times a year, along with monthly updates from our WisConservation Enews – delivered to your email in-box each month.
Other special premiums based on membership level.
Membership Levels
$1,000+ Conservation Steward Society
$500 Stewardship Leader
$250 Biodiversity Defender
$150 Conservation Patron
$100 Resource Protector
$50 Contributing Membership
$40 Family Membership
$25 Individual Membership
Member Gifts
At the $50 and higher level, our members are entitled to certain premium benefits such as:
Beyond the Bird Feeder (minimum $50): Receive a copy of the "Beyond the Bird Feeder, Creating a Bird-Friendly Yard with Native Wisconsin Plants," by Foundation member and former Wehr Nature Center Director Mariette Nowak.
Summer's Song (minimum $100): Receive "Summer's Song," a book of outdoor essays by Don Johnson, former outdoor writer for the Milwaukee Sentinel.
Wisconsin State Park sticker (minimum $250): Receive a Wisconsin State Parks annual admission sticker.
Wisconsin Natural Communities book (minimum $500): Receive the book "Wisconsin's Natural Communities" by Randy Hoffman. This guide will help you recognized the variety and beauty of the natural communities that make up our state.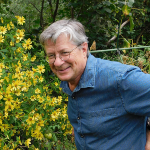 John Kraniak
Membership Director and Data Analyst
(608) 409-3106, extension 1006
John.Kraniak@WisConservation.org
John Kraniak has served as membership director of the Foundation since 2006. He maintains the Foundation's database, develops financial reports and projections, creates MS Access programs and handles membership renewals.