How To Reset Your Active.com
Login Password
If you registered online for NRF Field Trips since 2018, you created a login password with our registration platform Active.com. You will need this to register this year for Field Trips.
Don't remember your registration system login password?
We recommend that you reset your password before opening of registration on April 4.
  Reset your Active.com password:
1) Click on this link to go to Active Login
2) Click on Forgot my password in the bottom right corner of the pop-up box
3) Enter your email address and click on the orange button Send password link
4) In about 5-10 minutes you will receive an email to reset your password. (Note, check spam/junk folder)
5) Change your password, then close the window or logout
IMPORTANT: Use the registration link posted on our website or in our emails. Do not go back to
Active.com to register for Field Trips.
Note, this is different than your Member Access-code printed in the green box on the back of your Guidebook.
During registration your Active login password is entered at the start of your registration, and member access-code is entered later in check-out (use the same access-code for everyone in your party).
New to NRF Field Trips? Don't do anything before registering. There is no pre-making an account, and there is no benefit to having an account prior to registering for Field Trips. You will make an account with Active as you register for your 2023 Field Trips. 
Banner photo by Michael Anderson.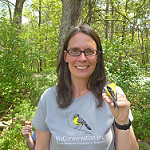 Christine Tanzer
Field Trip Director
(608) 409-3123
FieldTrips@WisConservation.org
Christine coordinates the many facets of the Foundation's vibrant Field Trip Program. Passionate about showcasing Wisconsin's amazing natural treasures, she has organized well over 2,000 Field Trips since joining NRF in 1997.