Wisconsin Rare Plant Preservation Fund
Preserving Wisconsin's most precious and imperiled plants
The Wisconsin Rare Plant Preservation Fund was established to support projects that protect Wisconsin's rare plants and lichens through monitoring, inventorying, and preservation. Grants range from $500 to $1,000.
Grantmaking Priorities:
Projects that involve monitoring, inventorying, or preservation of Wisconsin's rare plant or lichen species listed on the Wisconsin Department of Natural Resources' Natural Heritage Working List.
Projects that leverage resources and partnerships.
Eligibility:
Applicant must be one of the following: a public charity with approved 501(c)(3) exempt status; a federal, state, or local governmental unit, an Indian tribe; or an accredited school, college, or university. Individuals interested in funding must work with a nonprofit or other qualified exempt organization of their choice.
Indirect costs are not permitted.
Preference will be given to projects that demonstrate matching funds.
Projects involving invasive species removal, gardening, or education are not eligible.
How to Apply:
Determine if your project addresses our grantmaking priorities and meets our eligibility requirements.
Contact the fund's donor advisor, Jim Bennett (Jim.Bennett@wisc.edu), to discuss your project.
Complete the application. Please reference the specific plant or lichen species your project will support in your application.
Include proof of IRS tax-exempt status. For projects that take place on a State Natural Area include a letter of support from Wisconsin Department of Natural Resources' State Natural Areas program. For projects on other public properties include a letter of support from the property manager.
Submit all materials to Caitlin Williamson by February 1st. 
Applicants will be notified within six weeks.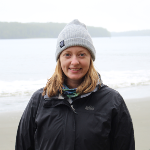 Caitlin Williamson
Director of Conservation Programs
(608) 409-3109, extension 1009
Caitlin.Williamson@WisConservation.org
Cait oversees the Foundation's grant programs and initiatives for conservation and environmental education, ensuring that our investments are science-based, strategic, and impactful. Cait's work encompasses conservation science and planning, partnership development and capacity building.