Nonprofit Endowment Funds
Building long-term capacity for Wisconsin's conservation organizations.
Through the Wisconsin Conservation Endowment, your nonprofit organization can establish an agency endowment fund with the Natural Resources Foundation to provide permanent, sustainable financial support for your important conservation work. An agency endowment fund provides a source of perpetual income, allowing your organization to grow, sustain your operations, and make a deeper impact on Wisconsin's lands, waters, and wildlife.
Why create your agency fund with us?
Wisconsin-based, conservation focus
The Natural Resources Foundation is not affiliated with a larger, national organization; all of your contributions stay right here in Wisconsin. And because we are a conservation nonprofit organization, even your fund's administrative fee is put to work helping to protect Wisconsin's natural resources. The Foundation shares your organization's conservation mission and has connections to a broad base of like-minded conservation experts and potential donors to your fund.
Long-term financial stability
By creating a permanent source of funding for your organization, you are improving the sustainability of your organization, ensuring that you can work to achieve your mission long into the future. Agency endowment funds also attract donors who wish to ensure permanent, meaningful support for your organization.
Low fees
The Foundation uses passive investment fund management with TIAA. As a result, our investment fees are often lower than other fund managers that use active fund management. Because we are a conservation nonprofit organization, our low administrative fee of 1% goes right back to supporting Wisconsin's natural resources. Nonprofits can establish an agency endowment fund with a minimum amount of $15,000.
Professional financial services and competitive fund returns
Our investment manager, TIAA, is one of the largest asset managers in the world. The Foundation's board and investment committee bring a wealth of expertise to the oversight and management of our Wisconsin Conservation Endowment, which has generated competitive returns across our investment portfolio.
Recognition and visibility
Your fund will be held by the Natural Resources Foundation of Wisconsin, a respected and trusted statewide conservation organization. Your fund will be listed on our web site and in our communications that are distributed to a broad network of conservation supporters statewide. You will join organizations such as Madison Audubon Society, the River Alliance of Wisconsin, and the Southern Wisconsin Chapter of Trout Unlimited, who have agency funds with the Foundation.
"Our organizational budget is modest and being able to cover even some of our operational expenses with the endowment will free up our time to focus on the work we're here to do."
Questions?
You can learn more about agency endowment funds by reading our frequently asked questions. If you would like to speak with someone at the Foundation about the possibility of establishing a fund or if you have other questions, please reach out – our contact information is below.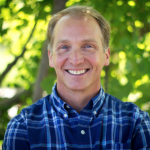 David Clutter
Executive Director
(608) 409-3120
David.Clutter@WisConservation.org
With staff, board and NRF members, David helps build an inspiring vision to create a vibrant, durable and highly effective Foundation that provides critically needed funding to support Wisconsin's lands, wildlife, and waters. David is responsible for overseeing the administration, strategic direction, and impact of the Foundation.
Banner photo by Ken & Barb Wardius.