Our Supporters and Funding Partners
Together we make a difference for Wisconsin.
The Natural Resources Foundation of Wisconsin offers many ways for your business or organization to reach people who are committed to protecting the state's natural resources, enjoy exploring the outdoors, and feel a strong connection to Wisconsin. We customize benefits that complement your marketing priorities, targeted markets and philanthropic goals, and that increase your visibility in the communities that matter to you.
A Partnership with NRF Will:
Maximize your conservation impact by working with a trusted, Wisconsin-based organization that provides professional conservation expertise, and can direct your financial support to important on-the-ground conservation projects;
Meet your sustainability and corporate social responsibility goals;
Provide volunteer opportunities and outtings for your employees to explore Wisconsin's natural heritage.
"First Business Bank has been a longtime supporter of nonprofit organizations benefiting the communities we live in. We support statewide conservation organizations and their efforts to preserve and protect our state's valuable natural resources. The reputation that NRF has built over the last 30 years with its members and partners is a wonderful example of how one organization can exponentially impact the preservation and improvement of public lands and their wild inhabitants for current and future generations of Wisconsin citizens."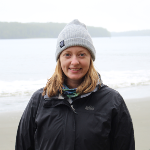 Caitlin Williamson
Director of Conservation Programs
(608) 409-3109 extension 1009
Caitlin.Williamson@WisConservation.org
Cait oversees the Natural Resources Foundation's grant programs and initiatives for conservation and environmental education, working closely with partners across the state to ensure that our Foundation has the most significant impact possible on Wisconsin's lands, waters, and wildlife through strategic, science-based investments.