There's room for you on a Field Trip!

Our 2022 season is underway, and there are some top-notch trips that still have spaces available.

Click on the trip titles to view specific Field Trip details and to register.
Field Trips with open spaces                Updated 10/17/22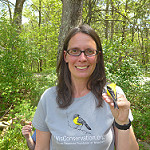 Christine Tanzer
Director of Field Trip Program
(608) 409-3123
FieldTrips@WisConservation.org
Christine coordinates the many facets of the Foundation's vibrant Field Trip Program. Passionate about showcasing Wisconsin's amazing natural treasures, she has organized well over 2,000 Field Trips since joining NRF in 1997.