Open Spaces on Field Trips
There's room for you on a Field Trip!

 Our 2023 season is underway, and there are some top-notch trips that still have spaces available.

The map below only includes Field Trips with 4+ spaces. There are more trips with 1-3 spaces available.
This map includes fives tabs that correspond to the physical demand of each trip. For more information on the physical demand ratings visit our Field Trip accessibility page.
Note: the locations on the map are approximate. When you register for a trip, the exact location of the trip will be emailed to you about two weeks prior to the trip dates.
A select list of stellar Field Trips that still have open spaces!

Click on the title for more information and to register: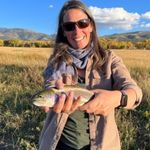 Christine Tanzer
Field Trip Program Director
(608) 409-3123
Christine.Tanzer@WisConservation.org
Christine has been at the helm of NRF's Field Trip program since 1997. She has coordinated over 3,000 trips, helping tens of thousands of people explore Wisconsin's most special places.
Banner photo by Patty Henry.