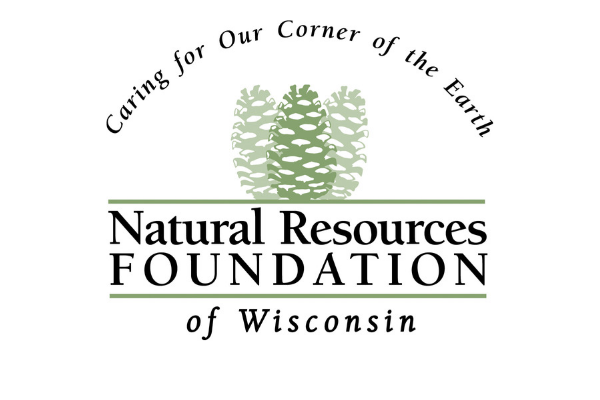 Media Contacts:
Caitlyn Schuchhardt, Outreach Coordinator
Natural Resources Foundation of Wisconsin
PHONE: (608) 409-3144
FOR IMMEDIATE RELEASE
Madison, WI
April 13, 2021
Birding for a cause: Wisconsinites come together for bird conservation
Wisconsin's largest fundraiser for bird conservation returns, connecting bird enthusiasts across the state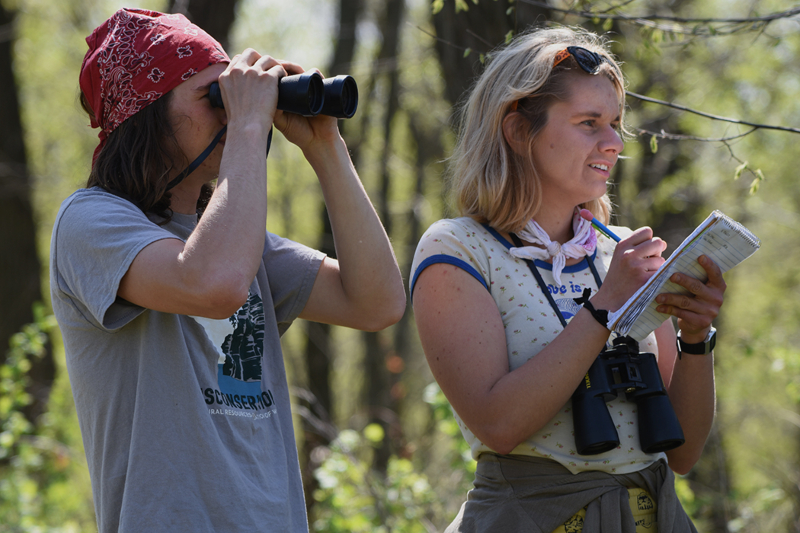 Team members of the Reckless Wrens look for birds during the 2020 Birdathon. Photo by Richard Armstrong
Every spring hundreds of bird-loving Wisconsinites participate in the Great Wisconsin Birdathon, the largest bird conservation fundraiser in the state that takes place during peak bird migration between April 15 and June 15.
For the past 10 years, teams ranging from kindergarten classrooms to expert birders have joined in the fun, challenging themselves to see how many birds they can spot in a single day. Teams collect donations from family and friends to support high priority bird conservation projects in Wisconsin, but the focus of the Birdathon is not on who can find or identify the most species—it is about coming together in support and appreciation of Wisconsin's birds.
Dave Sisler, a fourth-grade teacher at Windsor Elementary in DeForest, participated with his students in last year's Birdathon. "Kids love to help," says Sisler. "The Great Wisconsin Birdathon gave them the means to protect precious habitat as beginner bird watchers. Because of this experience I hope my students will always regard birding and conservation as one passion."
The Great Wisconsin Birdathon is coordinated by the Natural Resources Foundation of Wisconsin and has raised over $500,000 since the fundraiser was created in 2012. With the recent study pointing to the three billion bird loss in North America since 1970, and reduced populations of once common Wisconsin birds, efforts like the Birdathon are more critical than ever.
In 2020, the Birdathon had a record-breaking year, raising over $104,000 for the Bird Protection Fund which benefits priority bird conservation projects. Past projects include the Wisconsin Breeding Bird Atlas II, the Neighborhood Habitat Improvement Project, and the Neotropical Flyways Project. Birdathon funds also support organizations that commit to habitat restoration, reintroduction, management, and conservation of endangered or threatened species like Kirtland's warblers, piping plovers, whooping cranes, and birds that depend on Lake Michigan habitat.
Participants in 2020 wrote that the Birdathon gave their birding "a purpose" and treasured how it "felt like we were making a difference for the birds that we were hoping to find." Others explained how the Birdathon "brought us together around a common cause in our backyards." The Birdathon makes it easy for individuals to turn their small actions into big results through fundraising for the Bird Protection Fund's highest priority projects.
In addition to supporting priority bird conservation, the Birdathon continues its tradition of giving back to the community. Non-profit organizations that participate in the Birdathon are eligible to keep half the funds they raise for their own organization, to be used however they feel are most needed. Caitlyn Schuchhardt, Outreach Coordinator at the Foundation, explains, "This is a one-of-a-kind opportunity for organizations to support Wisconsin's birds, connect with their staff while enjoying Wisconsin's outdoors, and simultaneously raise funds for their own cause—all in one day."
Last year, over 65 teams from across Wisconsin participated—made up of families, friends, classrooms, organizations, bird clubs, and more. The Birdathon adapted to the pandemic to ensure participants stayed safe and practiced social distancing guidelines. Some teams took creative approaches to backyard birding, staying close to home. Some split up to fly solo, birding in separate locations but remaining virtually connected to share their sightings. This year the Birdathon continues to advocate for safe outdoor outings, as COVID-19 rates and vaccination progress remain a dynamic situation.
Connection and community are as key to the Great Wisconsin Birdathon as the birds are. Birdathon Coordinator, Sarah Cameron, says "We hope the Birdathon can serve as a reminder of the incredible strength we have when we come together with our communities to make a difference."
Registration for the Great Wisconsin Birdathon is now open. To make a donation, register your 2021 Birdathon team, or learn more about the Bird Protection Fund and projects supported by the Birdathon, visit www.WIBirdathon.org.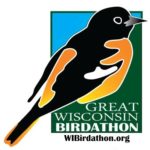 The Great Wisconsin Birdathon began in 2012 and since then has raised more than $500,000 for bird protection in Wisconsin. The funds are collected and managed by the Natural Resources Foundation of Wisconsin through the Bird Protection Fund.
The Natural Resources Foundation of Wisconsin is a statewide nonprofit organization that connects generations to the wonders of Wisconsin's lands, waters, and wildlife through conservation, education, engagement, and giving. Since 1986, the Foundation has contributed more than $8 million to public and private conservation efforts, and currently holds more than 100 endowment funds with over $10 million in assets dedicated to conserving lands, protecting wildlife, and promoting conservation in Wisconsin in perpetuity.
###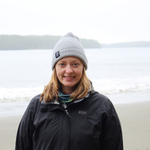 Caitlin Williamson
Director of Conservation Programs
(608) 409-3109
Caitlin.Williamson@WisConservation.org
Cait oversees the Natural Resources Foundation's grant programs and initiatives for conservation and environmental education, working closely with partners across the state to ensure that our Foundation has the most significant impact possible on Wisconsin's lands, waters, and wildlife through strategic, science-based investments.