Your support is leading the way for climate adaptation across Wisconsin landscapes.
Taking Action Against Climate Change in Wisconsin
There's no getting around it: climate change is impacting Wisconsin. Luckily, we know that conservationists and the public can take action to help make Wisconsin's lands, waters, and wildlife more resilient to a changing climate.
With the help of our partners, NRF is working to prepare Wisconsin's incredible landscapes for warmer, wetter weather and more unpredictable weather events.
Together, we are protecting large diverse landscapes, using science to inform habitat management, and coordinating climate adaptation projects.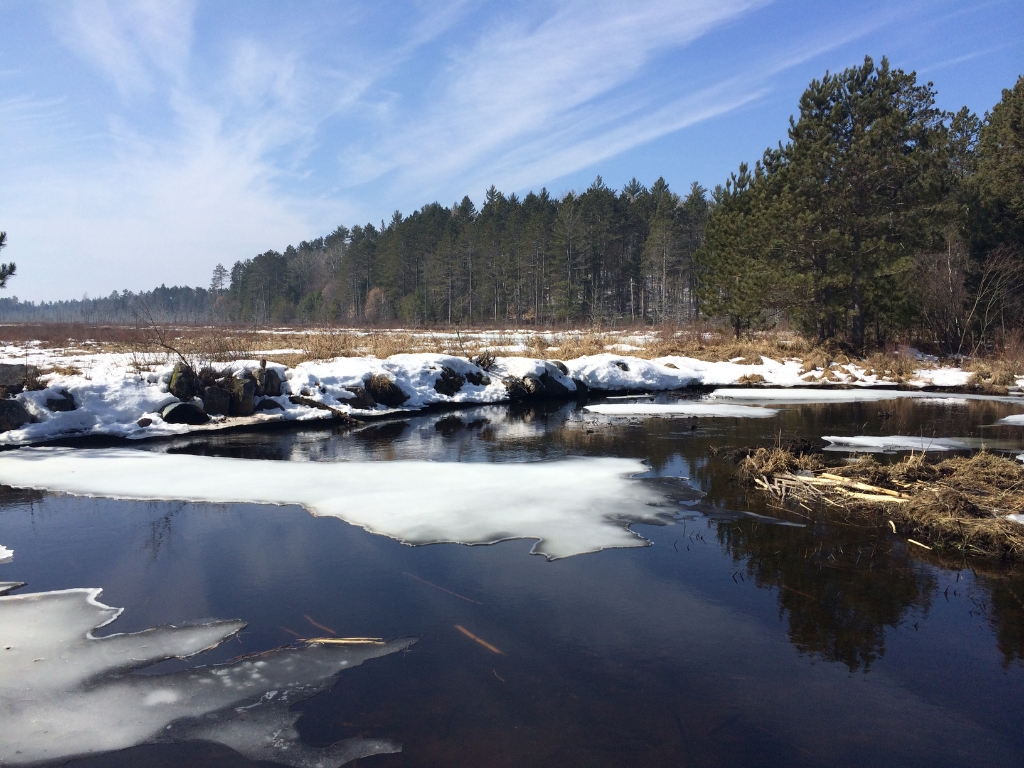 A body of water with melting ice on it surrounded by a field lightly covered in snow and tall pine trees at Squirrel River Pines State Natural Area. Photo by Lindsay Renick Mayer
What is climate adaptation?
We know that certain climate changes are already happening, such as warmer temperatures and more frequent and extreme storms. Knowing this, what can we as conservationists do to prepare nature and people for these changes?
Climate change adaptation is the process of taking action to prepare our landscapes for the actual (or expected) effects of climate change.
Key opportunities in Wisconsin for wildlife, plants, and natural communities include:
      1. Protecting large, connected, and diverse landscapes
      2. Making changes to land management by using science-based, climate adaptation-focused management to help native habitats and wildlife
"Healthy and diverse habitats can better absorb the stresses of a rapidly changing climate."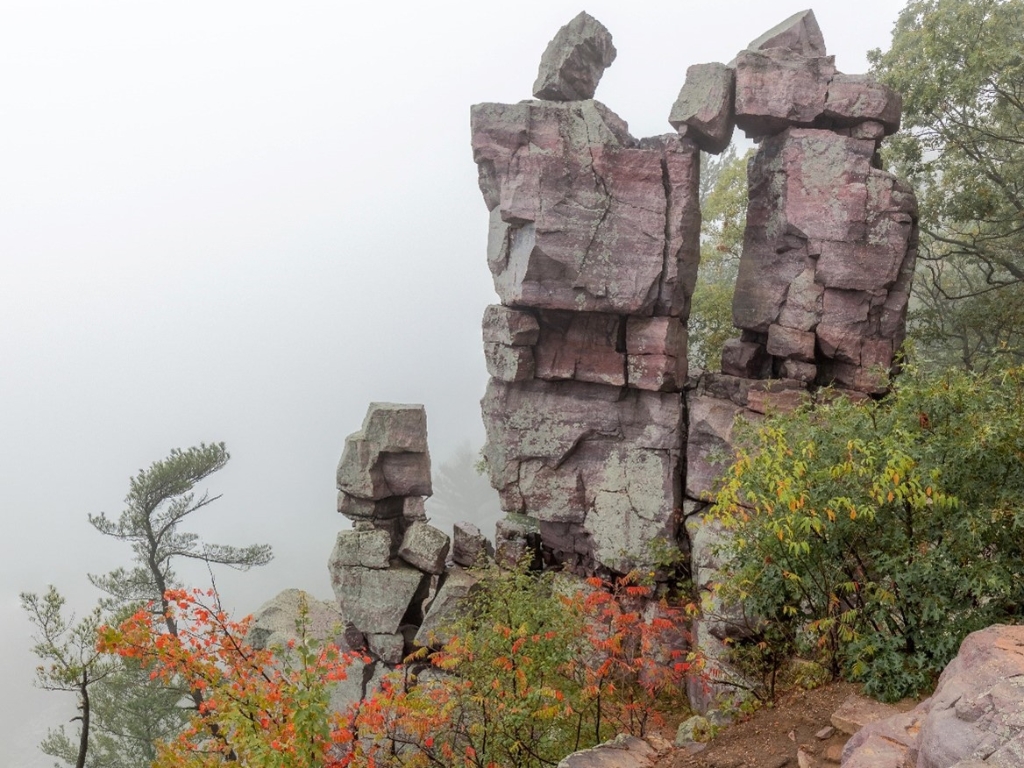 The South Bluff/Devil's Nose State Natural Area within Devil's Lake State Park is the site of the first project funded by Wisconsin's Climate Response Fund. Photo by Dave Hoefler
If we take action now, Wisconsin's landscapes can stay diverse and complex, and wildlife can continue to flourish. Along with our partners, in the last few years we have:
Established Wisconsin's Climate Response Fund (WCRF), which provides ongoing, sustainable support for climate impact conservation and education projects in Wisconsin. The first WCRF distribution is helping the South Bluff/Devil's Nose part of Devil's Lake State Park become resilient to a changing climate.

Helped create the Wisconsin Initiative on Climate Change Impacts (WICCI) 2021 Assessment Report. 10 years after the original report was published, new data show continued warming, increases in snow, and more extreme rainfall. WICCI's 2021 report explains the issues and impacts of our warming climate on Wisconsin residents. Additionally, it describes the scientific progress made toward solutions.

Worked with partners to create climate adaptation demonstration sites, including Spur Lake and Rush Creek. At these sites, land managers are implementing methods to make them more resilient to changing climate conditions, such as using climate-smart planting lists. Hopefully, other land managers will start adopting similar practices that identify expected climate impacts and specifically address them.
We are grateful to NRF members Ed and Patty Neumueller, who are leaders in supporting climate resiliency work, including establishing the WCRF. Thank you also to the Brico Fund, the Wildlife Conservation Society's Climate Adaptation Fund, Caerus Foundation, the Wisconsin Coastal Management Program, and many others who support this important work.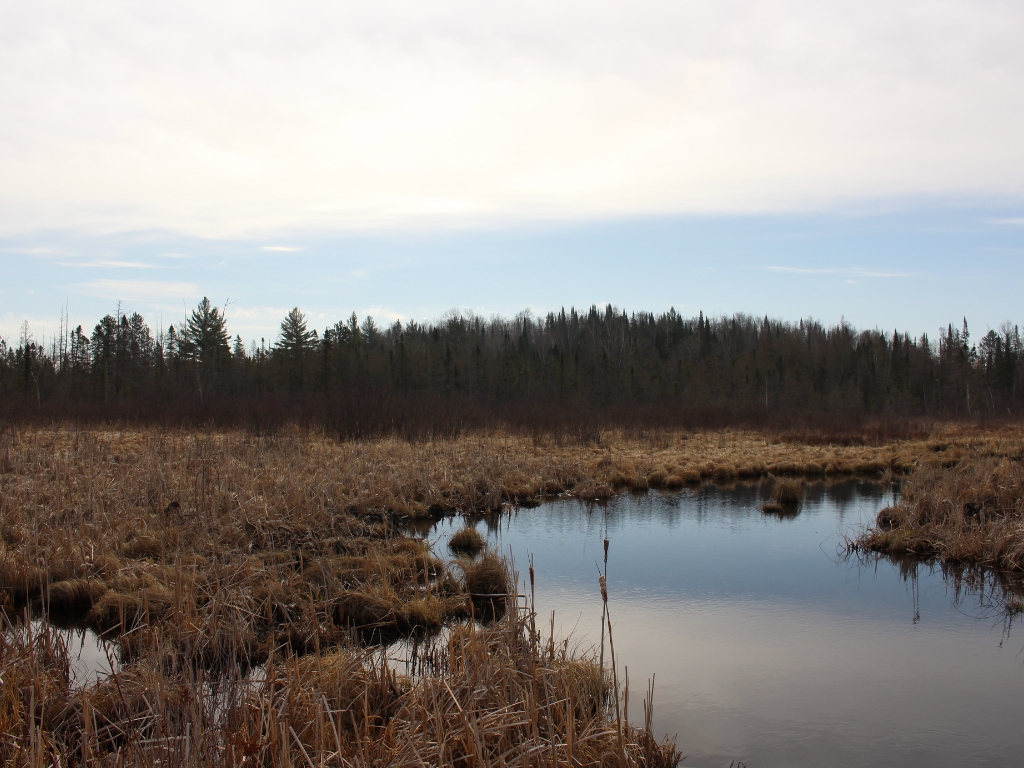 Spur Lake State Natural Area in Oneida County is one of the sites where NRF and our partners are collaborating to make the site more resilient to changing climate conditions. Photo by Caitlin Williamson
Climate Change in Wisconsin
Habitat loss and fragmentation, invasive species, the removal of fire from landscape, and more are already threatening Wisconsin's native landscapes. The latest report from the Wisconsin Initiative on Climate Change Impacts shows that climate change is amplifying those threats.
The past two decades have been the warmest on record in Wisconsin, and the past decade has been the wettest. Rising temperatures, shorter winters and earlier springs, more extreme weather, and competition from non-native species are threatening Wisconsin's unique landscapes. Consequently, wildlife will have to move, adapt, or face extinction.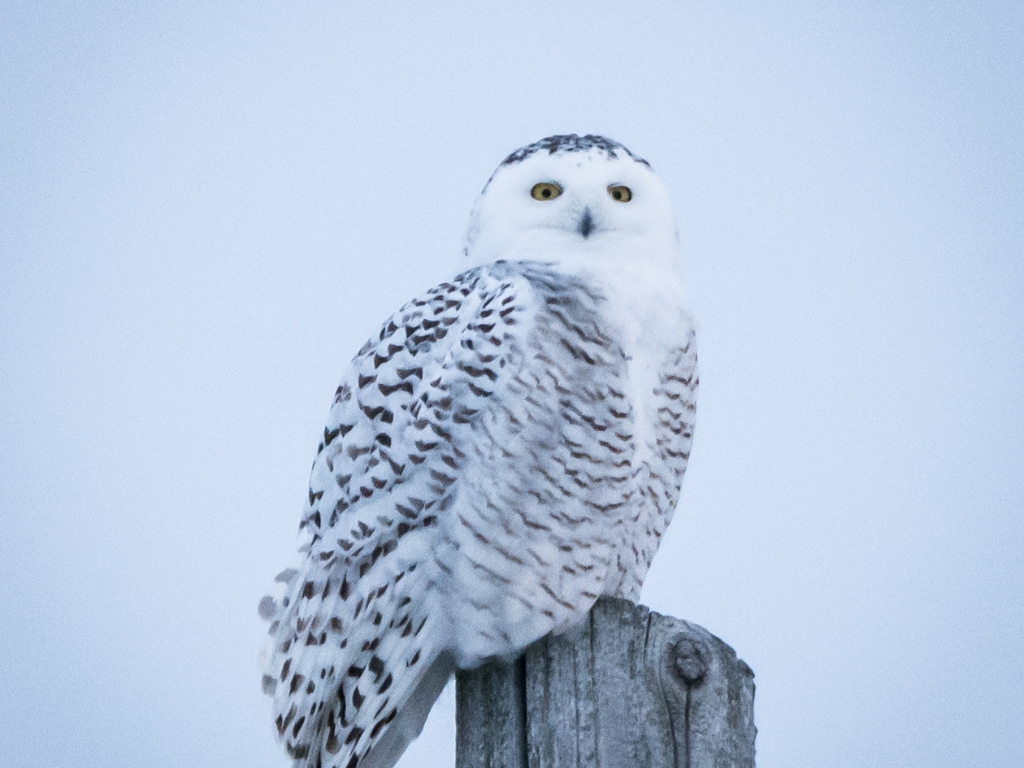 Climate change will affect our snowy owl's rodent prey base, which will impact the owl's winter range, according to National Audubon's Climate Report. Photo by Nydia Kien
How Wisconsin's Wildlife is Adapting to Climate Change:
As climate change impacts their habitats, Wisconsin's wildlife must adapt. These adaptations include:
Shifting species ranges: The range of a species is the geographic area where it can be found during its lifetime. Climate plays an important role in determining range for plants and animals. Climate change forces species to leave native areas to follow prey populations, for example, so they can survive and reproduce. In Wisconsin, many species are shifting their ranges northward. Furthermore, range shifts have already been documented for numerous species, specifically butterflies and birds.

Invasive species, pathogens, and pests: Changing climate conditions also shift the ranges of invasive species, pests, and diseases. Subsequently, this increases the risk of disease transmission in wildlife and is another threat to native wildlife. For example, warmer water in the Great Lakes has contributed to an increase in botulism and significant die-offs of waterbirds.

Phenology: Due to rising temperatures, the timing of annual biological events is shifting. Everything seems to be happening sooner, including the budding of trees and the return of migratory birds. The earlier arrival of spring is one of the most well-documented changes in the last two centuries. Timing matters, especially for species that rely on a specific food source or habitat.

Ecosystem changes: Climate change also impacts the complex interconnections within ecosystems as species shift. One example is the decline of wild rice, an early indicator of climate change. Wild rice is culturally important to Native Americans in Wisconsin, including the Ojibwe. Fluctuating water levels, warmer winters, and more humid days and nights threaten this culturally and ecologically important plant. Additionally, it also changes the overall makeup of some wetland communities in Wisconsin.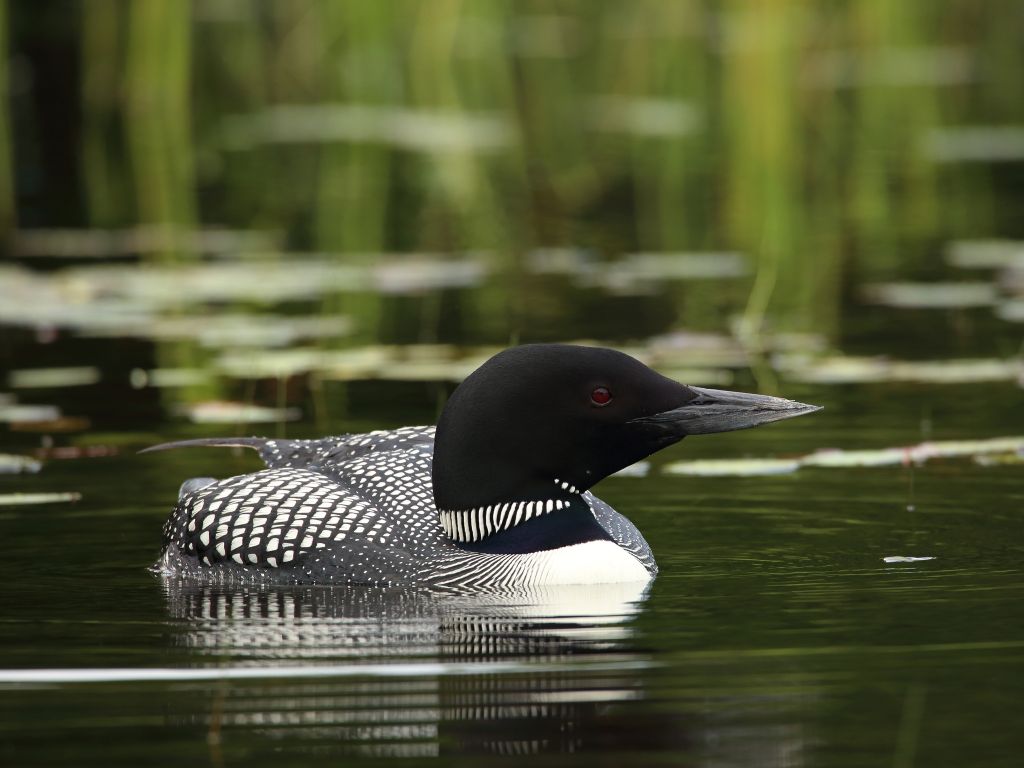 Milder winters and intense summer rain will likely affect the Common Loon in Wisconsin. Photo by Trent Arend
Let's take a look at how climate change is impacting some iconic Wisconsin species:
Bobolink
Grassland birds, such as the bobolink, are some of the fastest declining species in Wisconsin and the U.S., due to habitat loss and climate change. Therefore, when these birds are pushed into smaller grasslands, they are more susceptible to heat waves and summer flooding.
Brook Trout
If summer temperatures rise as expected, scientists project that by 2050 brook trout habitat in streams will decline across Wisconsin by 68%
Common Loon
Increasing lakeshore development significantly impacts the loon population in Wisconsin. Also, they face threats from milder winters and intense summer rain.
Eastern Massasauga Rattlesnake
The federally endangered eastern massasauga rattlesnake faces multiple threats. Unfortunately, they must adapt to wetland habitat loss, increased summer flooding, and snow cover loss.
Ruffed Grouse
Deep snow provides important refuge for ruffed grouse, keeping them warm during the winter months. The shallower and more infrequent snowpack can increase stress levels in grouse and decrease their survival rates over the winter. Furthermore, it may even impact their typical population cycles.
Snowshoe Hare
Winter-adapted species typical of northern Wisconsin, like the snowshoe hare,
are declining and retracting out of the state. Seasonal snow cover provides important camouflage for species like the snowshoe hare. Therefore, shorter winters means that these species are increasingly mismatched with a snowless background and less likely to survive.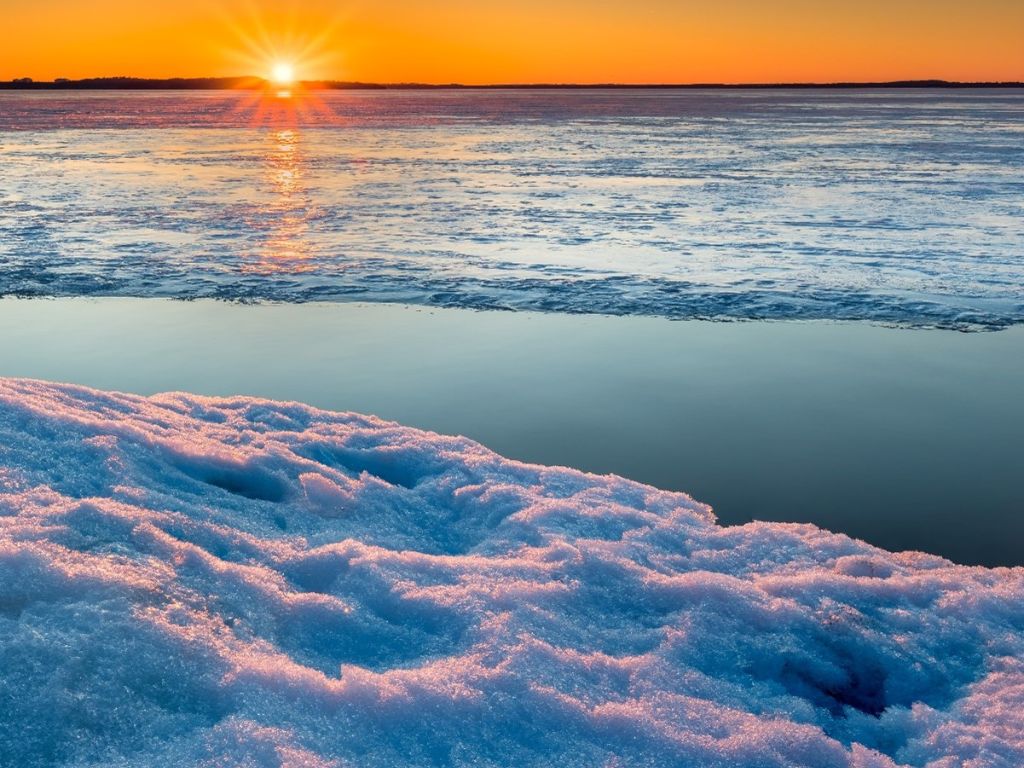 An orange sun and sky reflects on a half frozen Lake Mendota in Madison with snow and ice in the foreground. Photo by Dave Hoefler
We know there are lots of opportunities to make our incredible state of Wisconsin more resilient to the changing climate. Here are some ways that you can get involved and support these efforts:
Written by Caitlin Williamson, Director of Conservation Programs