A group of conservation partners in Wisconsin's Driftless Area are coming together to make a plan. Together, they're determining the top priorities for protecting the region's unique features and biodiversity.
The Driftless Area is a 24,000 square mile region in southwestern Wisconsin, plus parts of Minnesota, Iowa, and Illinois. The region lacks glacial deposits, also known as glacial drift. That's where the region gets its name—it is "drift-less." Instead, the limestone bedrock has been weathered and eroded by streams. As a result, this unique landscape is one of the most biodiverse places in Wisconsin, featuring rare and unique natural communities that provide habitat for numerous wildlife species.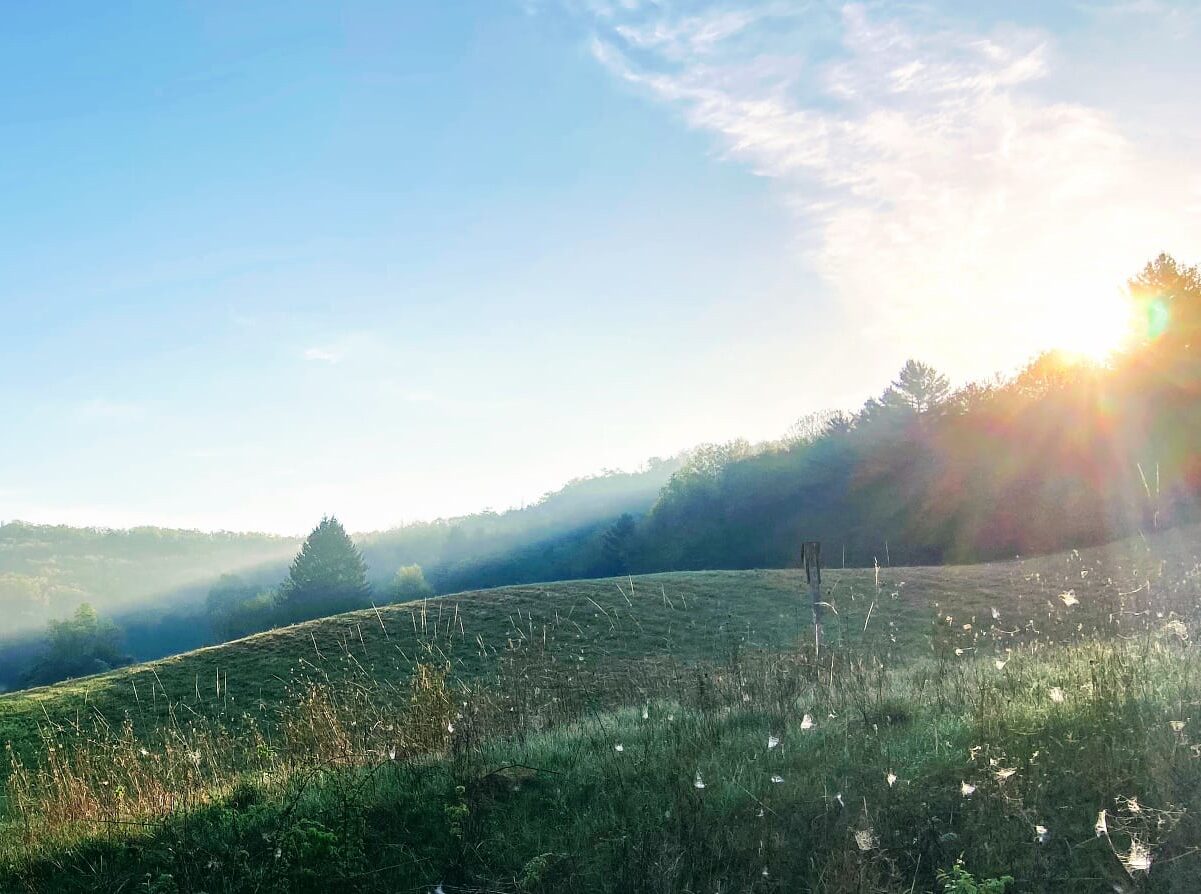 The Driftless Conservation Plan focuses on barrens and savannas, prairie communities, and surrogate grasslands, which support threatened and endangered pollinators and grassland birds. Photo by Emily Landmann/Driftless Area Land Conservancy
However, human activities are changing the landscape and threatening the Driftless Area's natural heritage. What once were wide open oak savannas, prairies, and barrens are now quickly filling in with invasive and native woody shrub species. Fires that once kept the landscape open with native grasses and wildflowers no longer keep shrubs at bay. Residential and commercial development continues to degrade and fragment the landscape.
Grasslands are also disappearing at an alarming rate, causing a decline in habitat for threatened and endangered grassland birds and pollinators. Climate change is compounding all these issues, making these rare natural communities even more vulnerable.
Bringing Conservation Organizations Together
To help address these key threats to the Driftless Area's most imperiled landscapes and species, the Natural Resources Foundation of Wisconsin (NRF) secured a grant from the Eddie Schwartz Conservation Fund of the Windward Fund to create a collaborative conservation plan for the Driftless Area in Wisconsin. This plan uses an international evidence-based planning framework, the Conservation Standards, and focuses specifically on conserving the Driftless Area's biodiversity within its rarest habitats: barrens, oak savannas, prairies, and grasslands.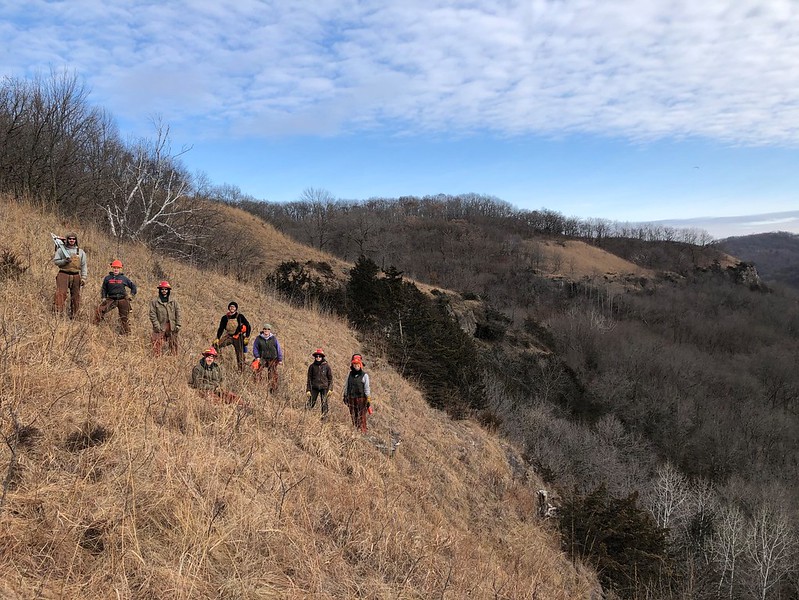 Savanna natural communities, like this one at Limery Ridge State Natural Area, are one of the community types the Driftless Conservation Plan focuses on. Photo by Justin Nooker
Thanks to the grant funds and NRF's members, we've been able to lead a new collaborative effort in the region. Last summer and fall, we convened a working group of conservation partners representing the region – including Driftless Area Land Conservancy, Landmark Conservancy, Mississippi Valley Conservancy, Pheasants Forever, The Nature Conservancy, and the Wisconsin Department of Natural Resources. The Foundation also contracted with Foundations of Success—an international conservation planning organization—to guide and create this unique regional planning effort. Co-led by NRF's Conservation Programs Coordinator Lindsey Taylor, the group completed the preliminary phase of this effort using the Conservation Standards planning process.
The plan leverages the knowledge and expertise of multiple conservation partners who are working in the region. Together, we have developed a common understanding of the priority threats in the Driftless. We have then identified opportunities to work together strategically and effectively to have a landscape-scale impact.
Landscape Level Planning in the Wisconsin Driftless Area presentation by Lindsey Taylor, Conservation Programs Coordinator
The Conservation Standards is an internationally-recognized process for tackling complicated conservation issues more effectively to have a larger impact.
The five key steps to the Conservation Standards process are:
Assess the conservation situation—we need to make sure we understand what's happening!
Create a plan and prioritize strategies
Implement the plan
Analyze and adapt—what's working? What's not? How can we do better?
Share what we've learned!
The Driftless Conservation planning process is still underway, but key findings to-date include:
The biggest threats to the savannas and barren communities, prairie communities, and surrogate grasslands are invasive species, fire suppression, and residential & commercial development.
Prescribed burning was ranked as the most feasible, most impactful, and most urgent strategy to save and restore these landscapes.
Other top strategies include creating easements and financial incentives for landowners to protect and manage their land. Invasive species control and continued land management and restoration were also ranked highly for each of our natural communities.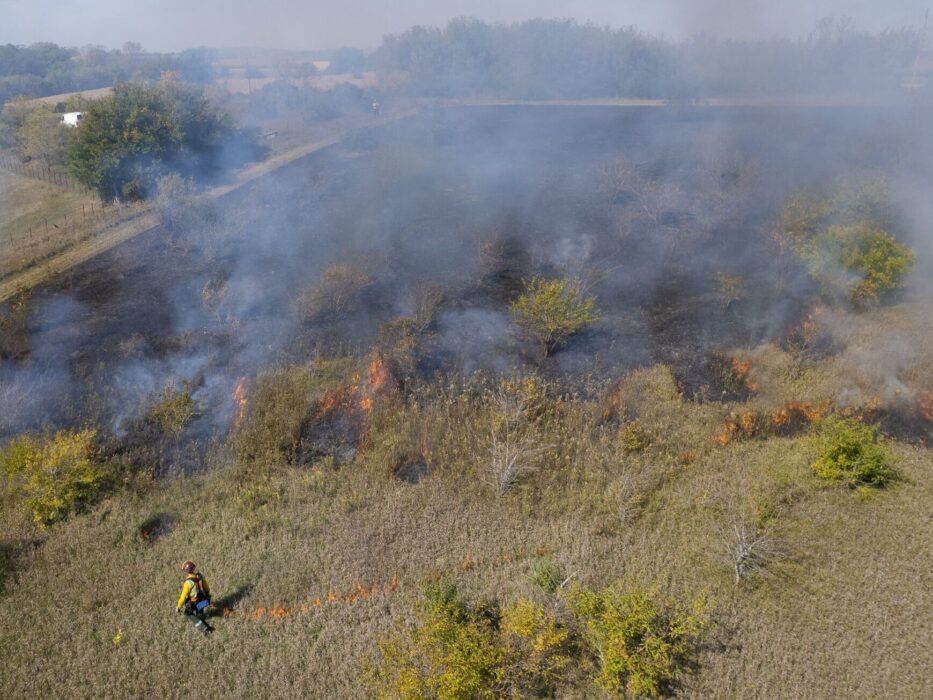 Lack of fire on the landscape was one of the key threats identified in the Driftless Conservation Plan. Here, a team of Wisconsin DNR professionals conduct a prescribed burn at Southwest Grassland. Photo by Michael Kienz
When the Driftless Conservation Plan is complete, the Natural Resources Foundation and our partners will use this guiding document to inform conservation efforts in the Driftless Area. It will help us prioritize which actions will have the most significant impact on the most threatened regional landscapes. We also hope that this evidence-based planning process can be brought to other conservation projects across Wisconsin in the future.
Thanks to the willingness of partners and stakeholders, we will have more impact throughout the Driftless Area together than we will separately. Collaboration in conservation is key to achieving our goal: to restore and protect the Driftless region's unique features for generations.
We are grateful to the Windward Fund of the Eddie Schwartz Conservation Fund, Foundations of Success, NRF's members, and our many partners who are working with us on this important effort.
Prepared by Lindsey Taylor, Conservation Programs Coordinator