Did you know that 82% of land in Wisconsin is privately owned? At NRF, we've always loved and protected our public lands – but if we want to boldly protect biodiversity in our state, private landowners will play an important role, too.
Private land restorations can make a huge impact on the conservation landscape. And whether you've got 100 acres, 1/10 of an acre, or a planter at your window, you can help improve habitat in Wisconsin.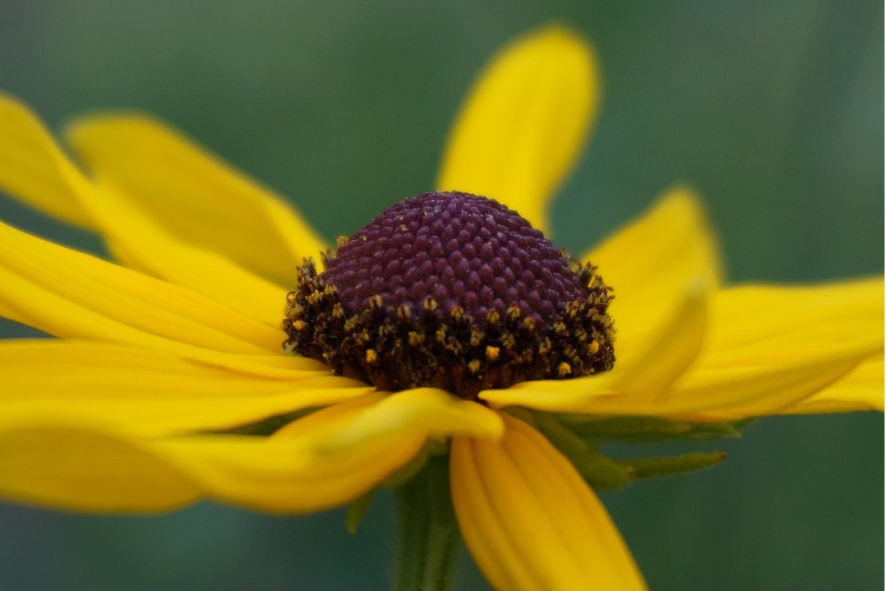 Black-eyed susans are beloved by gardeners, and by native pollinators like butterflies and bees. Are you an apartment dweller? Try growing one in a pot on your balcony.
The Power of Private Land Restoration
If you own land, you have an enormous opportunity to support Wisconsin's wildlife on your property.
75 percent of Wisconsin's wetlands, which are crucial for many of our most beloved species, are in the hands of private landowners. The Wisconsin Department of Natural Resources (WNDR) has tools and resources to help you improve wetlands on your land.
57 percent of Wisconsin's forestland (which covers almost half of the state) is privately owned. Do you have forest on your property? Speaking with a WDNR forester can help you manage your woods sustainably.
What about prairies? Less than 10,000 acres in Wisconsin is native prairie – and historically, that figure was 2.1 million acres. If you have a remnant prairie on your land, make a plan to protect, restore, and expand it! Learn more from our partners at the Southern Driftless Grasslands.
Land owned by an NRF member along the Namekagon River in Northern Wisconsin, six weeks after a prescribed burn. Photo by Damian Vraniak.
If you have a backyard or an apartment patio, you can help improve wildlife habitat in Wisconsin, too. The bees and butterflies would love a few potted native plants on your balcony, for example!
Here are some low-lift ways for city-dwellers to help:
NRF will be sharing more information and tips on social media about how you can help pollinators in Wisconsin during Pollinator Week!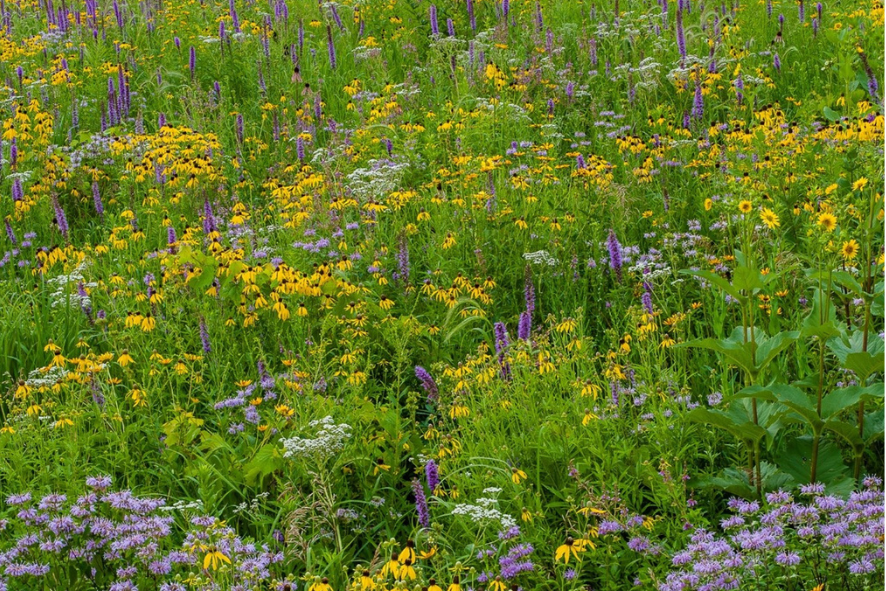 Having a prairie teeming with wildflowers is one of the goals of many private land restoration projects. Photo of Mounds View Grassland by Eric Preston.
Field Trips Featuring Private Land Restoration
Learn how to best care for your prairie, wetland, forest, or savanna by attending our special selection of 22 Field Trips this year that showcase private land restoration and management. Here are a few examples:
#17: Stream Monitoring at Cates Family Farm
Spring Green, Iowa County
Discover how cattle and trout coexist in harmony on this Driftless Area gem! Hear this land's fascinating story from First Settlers to the current farmstead, where the Cates family rotationally grazes cattle on 100+ acres of perennial grasslands. Get hands-on with Water Action Volunteers to monitor the water quality of Lowery Creek, a Class 1 trout stream. Led by Eric Cates and Richard Cates
Tuesday, May 9, 12-3PM
#121: Private Lands Restoration: Karner Blue Butterflies
Dakota, Marquette County
A restoration success story! Discover how a private landowner's restoration efforts on 40+ acres of native prairie and oak savanna provides critical habitat for the federally endangered Karner blue butterfly. Learn how the U.S. Fish and Wildlife Service is lending a hand, and how partnerships of this nature have helped endangered species and grassland birds, and improved water quality throughout the state. Led by Brendan Woodall, Tom Gross & Dawn Marsh
Saturday, June 17, 10AM-12PM
#196: Private Lands Restoration: Driftless Wetlands
Steuben, Crawford County
Did you know that 75% of Wisconsin's wildlife species depend on wetlands? Wetland habitats are vitally important but create some unique management challenges for private landowners. Hear the story of one private landowner's restoration journey along a tributary of the Kickapoo River. Receive a free copy of the My Healthy Wetland handbook for wetland owners. Note: hike on uneven terrain. Led by Katie Beilfuss, Armund Bartz & Nicole Staskowski
Friday, August 18, 9:30AM-12PM
#201: Private Lands Restoration: West Dane Conservancy
Mazomanie, Dane Co.
Revel in the sights and sounds of a late summer prairie in peak bloom at a spectacular private land restoration. West Dane Conservancy is a 187-acre property with a diverse mix of native prairie, savanna, woodland, and wetland habitats. Learn the basics of management plans, conservation easements, and land management funding options. Led by Doug Steege, Kristine Euclide & Andy Sleger (One of the trip leaders, Kristine, is on our board!)
Tuesday, August 22, 8:30-11:30AM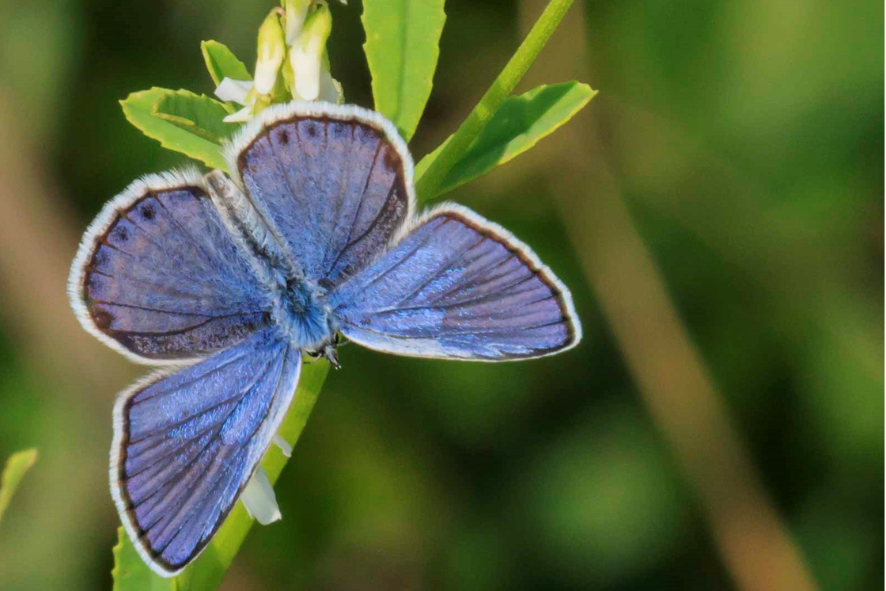 Private land restoration helps provide critical habitat for federally endangered species. Photo of Karner blue butterfly by Bruce Braun.
Other trips that feature privately-owned land restorations:
#33: Leopold's Shack & the Leopold Memorial Reserve (Baraboo, Sauk County) on 5/13
#35: Spring Ephemerals and Bog Walk (Crandon, Forest County) on 5/13
#36: Botanize the Blufflands – Eagle Rock Oaks (Readstown, Vernon County) on 5/14
#54: Prairie Promenading: Yellow-headed Blackbirds and Bobolinks along the Bark River (Cold Spring, Jefferson County) on 5/20
#84: Climate-Friendly Farming – Full Circle Community Farm (Seymour, Shawano County) on 6/4
#85: Private Lands Restoration – Ridgeway Pines (Ridgeway, Iowa County) on 6/5
#127: Explore the Core of the Southwest Grasslands (Primrose, Dane County) on 6/23
#156: Private Lands Restoration – Pine Relicts and Savanna (Ridgeway, Iowa County) on 7/15
#163: Ariens Company – Corporate Conservation at its Best (Brillion, Calumet County) on 7/18
#165: Exploring Christofer Farm and Gardens (Sheboygan, Sheboygan County) on 7/20 and 8/17
#171: Little Plover River – Community-based Wetland Restoration (Plover, Portage County) on 7/22
#176: Modern Agriculture Works with Wildlife (Jim Falls, Chippewa County) on 7/25
#178: Wetland Wonders at Woodland Dunes – Birds and Blooms of the Henry Restoration (Two Rivers, Manitowoc County) on 7/29
#190: Restoring Wetlands on a Working Farm (Cornell, Chippewa County) on 8/11
#202: Tallgrass Prairie Ecology and Restoration Workshop (Arlington, Colombia County) on 8/22
#208: Private Lands Restoration – Mineral Point (Mineral Point, Iowa County )on 8/26
#234: Building Bird Habitat at Any Scale (Port Washington, Ozaukee County) on 9/19
Written by Shelly Torkelson, Director of Communications