Imagine you're hiking in the woods at dusk. As you round a corner, you see a group of turkeys walking across the trail. A wonderful sight! Then you notice that this group of turkeys is approaching a large buck. They're peacefully foraging together in the same small glade.
This is a rare thing to see in person. Even if you spend countless hours exploring nature, you may never see two different large species interacting in the same physical space. However, sometimes the Wisconsin DNR's Snapshot Wisconsin staff and volunteers get a lucky glimpse into this secret world via trail-camera photos.
Read on to learn more about Snapshot trail cameras, the information they collect, and to see the team's favorite photos of interactions between two species.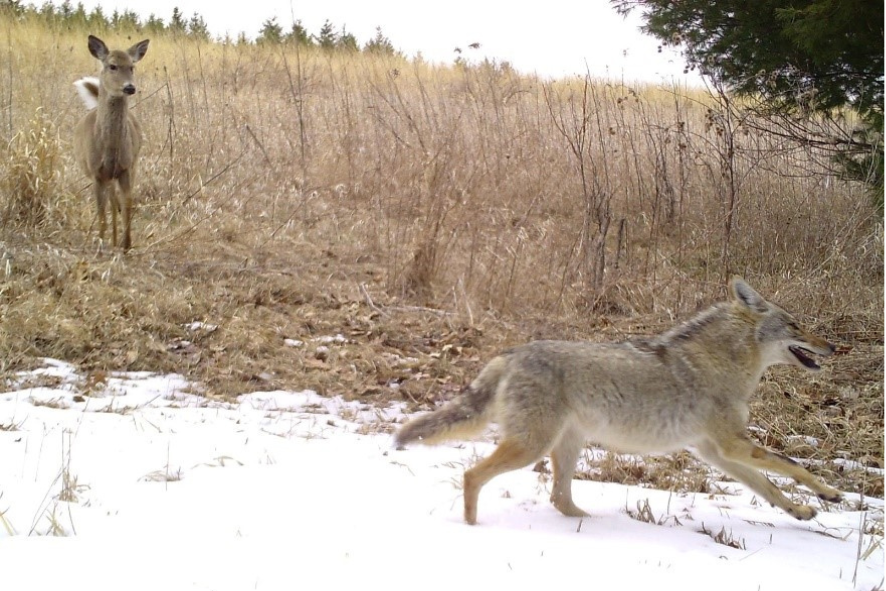 A deer standing in a dry field as a coyote runs across the snow covered ground in the foreground. Photo courtesy of Snapshot Wisconsin
The Snapshot Wisconsin Community
Snapshot Wisconsin is a community science program that uses a statewide network of trail cameras, maintained by volunteers, to help the Wisconsin DNR make wildlife management decisions. The project provides wildlife data metrics such as deer fawn-to-doe ratios, population trends, where species are located across the state, and rare species sightings. NRF is proud to partner with and support Snapshot Wisconsin!
The photos are important, but so is the volunteering experience. Many volunteers enjoy monitoring their camera as a family. Additionally, over 200 educators host cameras and incorporate their findings into their teachings, spreading appreciation and wonder for Wisconsin wildlife.
NRF board member James P. Bennett and his wife Janet L. Moredock share their experience hosting a Snapshot Wisconsin trail camera on their property in the Driftless Area:
We put the camera on a wildlife trail near Smith Conley Creek, which flows through our property. Since then, the camera has provided 12,300 photos of 17 species!
We have been thrilled to learn who uses our property. Our most abundant species is deer of course with 6,400 photos, followed by 2,900 raccoons, 1,600 turkeys and more. Our rarest species are badger, bobcat, mink, and short-tailed weasel.
Most of the visits seem to be at night because the camera, which is on all the time, takes photos with an infrared sensor. The rare species are usually seen at night, so we are capturing photographs of wildlife we would rarely see during the daytime.
Since the Snapshot Wisconsin camera stays in one place, we got our own trail camera which we move around the property to different spots including our pond, woods, and prairie. We see many additional species and photos with our own camera, which provides even more information for us about what species visit our property.
We are fortunate to have many fascinating wildlife photos, and we share them all the time with family and friends. Snapshot Wisconsin is a great program, and we recommend it to anyone with property in the country!
The science of coexistence
Of the 80 million photos that Snapshot Wisconsin has produced since the project started in 2014, only 0.06% contain multiple species of animal within the same frame. These photos often capture an inter-species interaction, meaning an interaction between animals of different species.
Can you imagine what sort of interactions these animals might be having?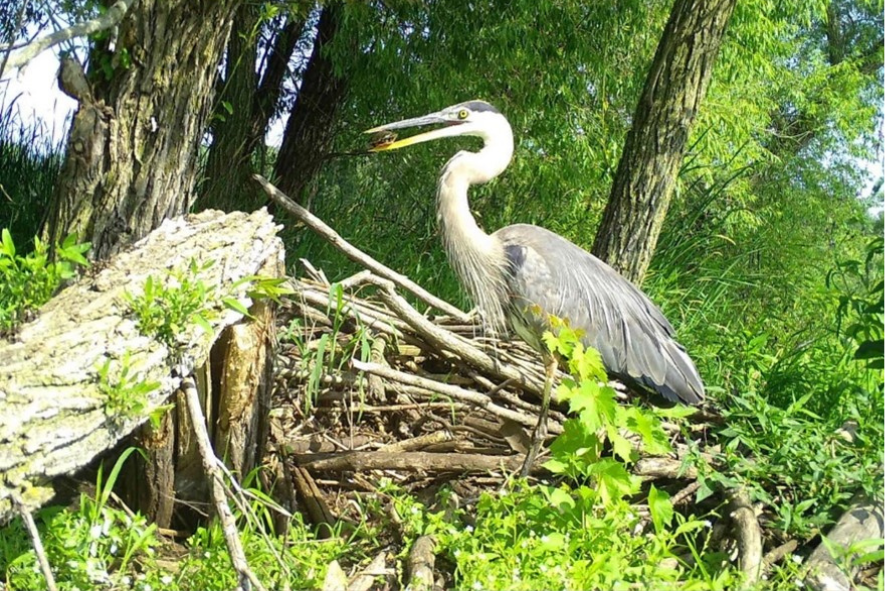 Great blue heron with a turtle in its mouth. Photo courtesy of Snapshot Wisconsin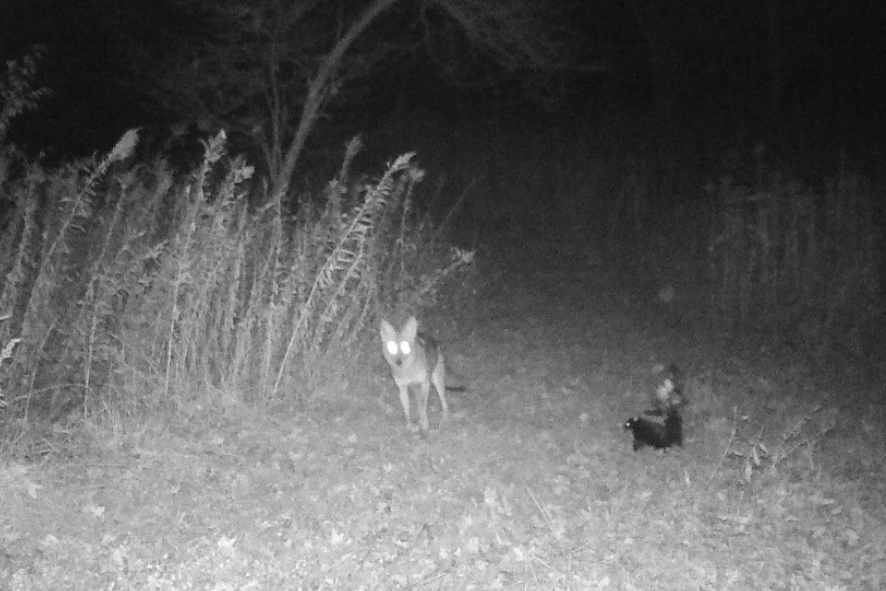 Coyote and striped skunk at night. Photo courtesy of Snapshot Wisconsin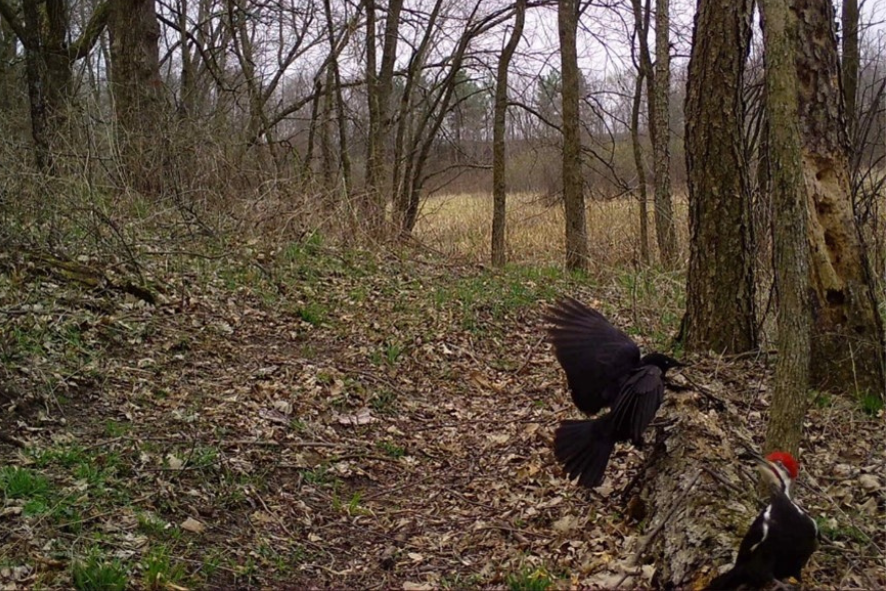 American crow and pileated woodpecker in a forest. Photo courtesy of Snapshot Wisconsin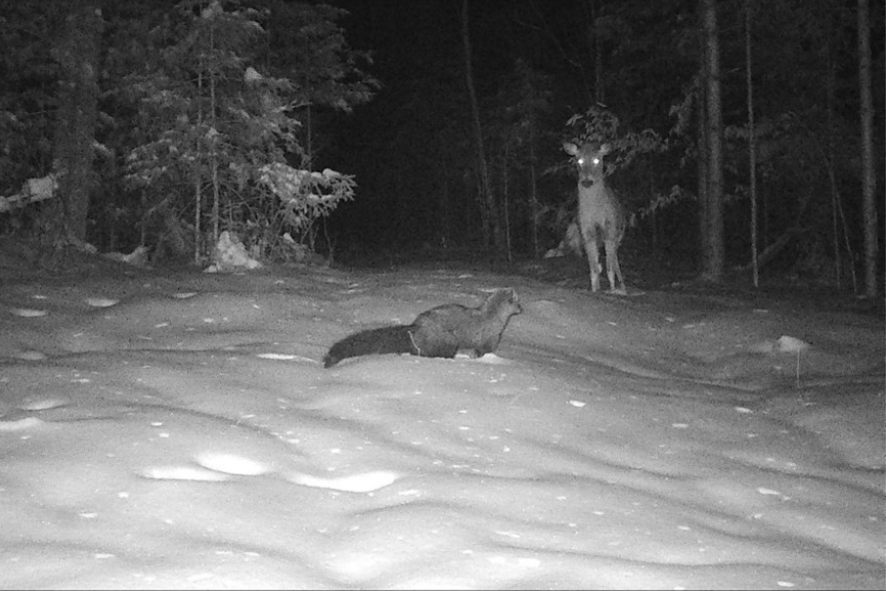 Deer and fisher standing in the snow at night. Photo courtesy of Snapshot Wisconsin
These multi-species photos are rare. Trail cameras capture many more photos of each species when they're alone. Luckily, researchers can also tell which species are willing to share space by looking at how many minutes apart the same camera takes a picture of two different species.
Snapshot Wisconsin supports research on animal interactions
Dr. Neil Gilbert, in collaboration with DNR scientist Dr. Jennifer Stenglein and UW-Madison researchers Dr. Jonathan Pauli and Dr. Benjamin Zuckerberg, explored the phenomenon of inter-species interactions in "Human disturbance compresses the spatiotemporal niche." In 2022, their research was published in the journal PNAS (Proceedings of the National Academy of Sciences). Using Snapshot Wisconsin photos, the study categorized 74 pairs of species as low (e.g., deer and turkey), medium, or high (e.g., deer and coyote) antagonism. Researchers compared the time between photos of animals within each pair in landscapes highly disturbed by humans (i.e., urban areas, agricultural land) to landscapes relatively undisturbed by humans (i.e., national forest lands). The results showed less time between photos of species in high-disturbance landscapes for all antagonism categories.
These findings suggest that species are more likely to "rub shoulders" in human areas, such as farms and towns. The effects of humans on these inter-species interactions will continue to be an interesting topic to explore. You can read more about Dr. Gilbert and his research in the June edition of the Snapshot Wisconsin Newsletter.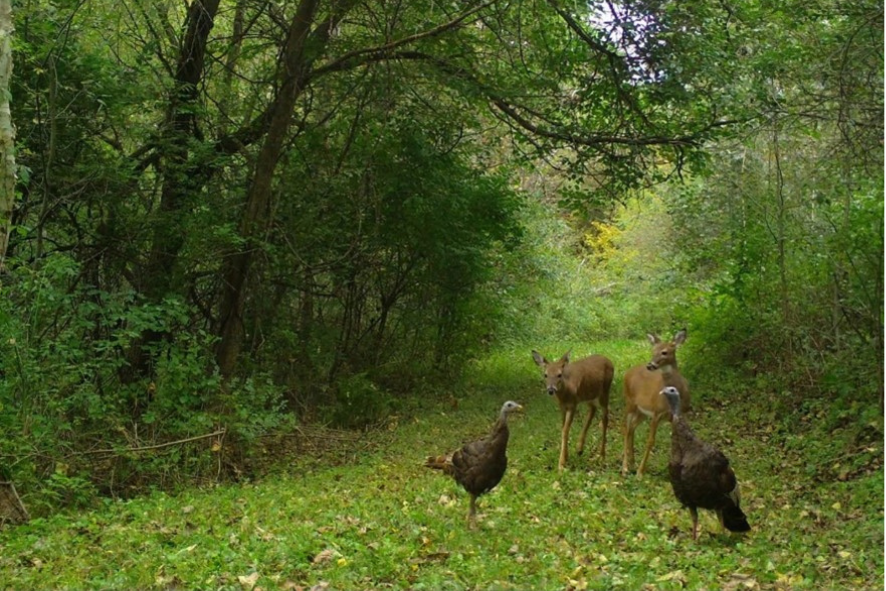 Two deer and two turkeys sharing the same forest path. Photo courtesy of Snapshot Wisconsin
Interested in joining the Snapshot Wisconsin community? There are multiple ways to get involved. To host a camera on private or public land, submit an application based on where you'd like to host the camera.
There are also opportunities to monitor trail cameras in the elk reintroduction areas in Clam Lake and Flambeau River State Forest. There is no cost to participate, and all equipment and training is provided.
Want to enjoy wildlife and contribute to science from the comfort of your home? Help classify photos on Zooniverse, a crowdsourcing platform where volunteers from all over the world help to identify the animals captured on camera. Wildlife-focused educational materials and activities for all ages are available, too.
Questions or concerns? Contact the team at DNRSnapshotWisconsin@wisconsin.gov or (608) 572-6103.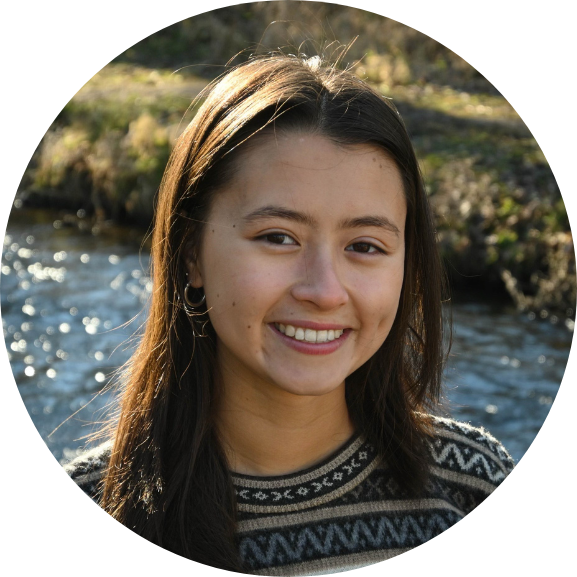 GUEST BLOGGER
Marie Jensen, Education Coordinator with Snapshot Wisconsin
Marie Jensen is part of the Volunteer Management team for Snapshot Wisconsin. She is passionate about environmental education, community science, and pollinator ecology – particularly monarch butterfly migration. Before joining the Wisconsin DNR, Marie interned for NRF from 2021 to 2022!
Photo courtesy of Marie Jensen.