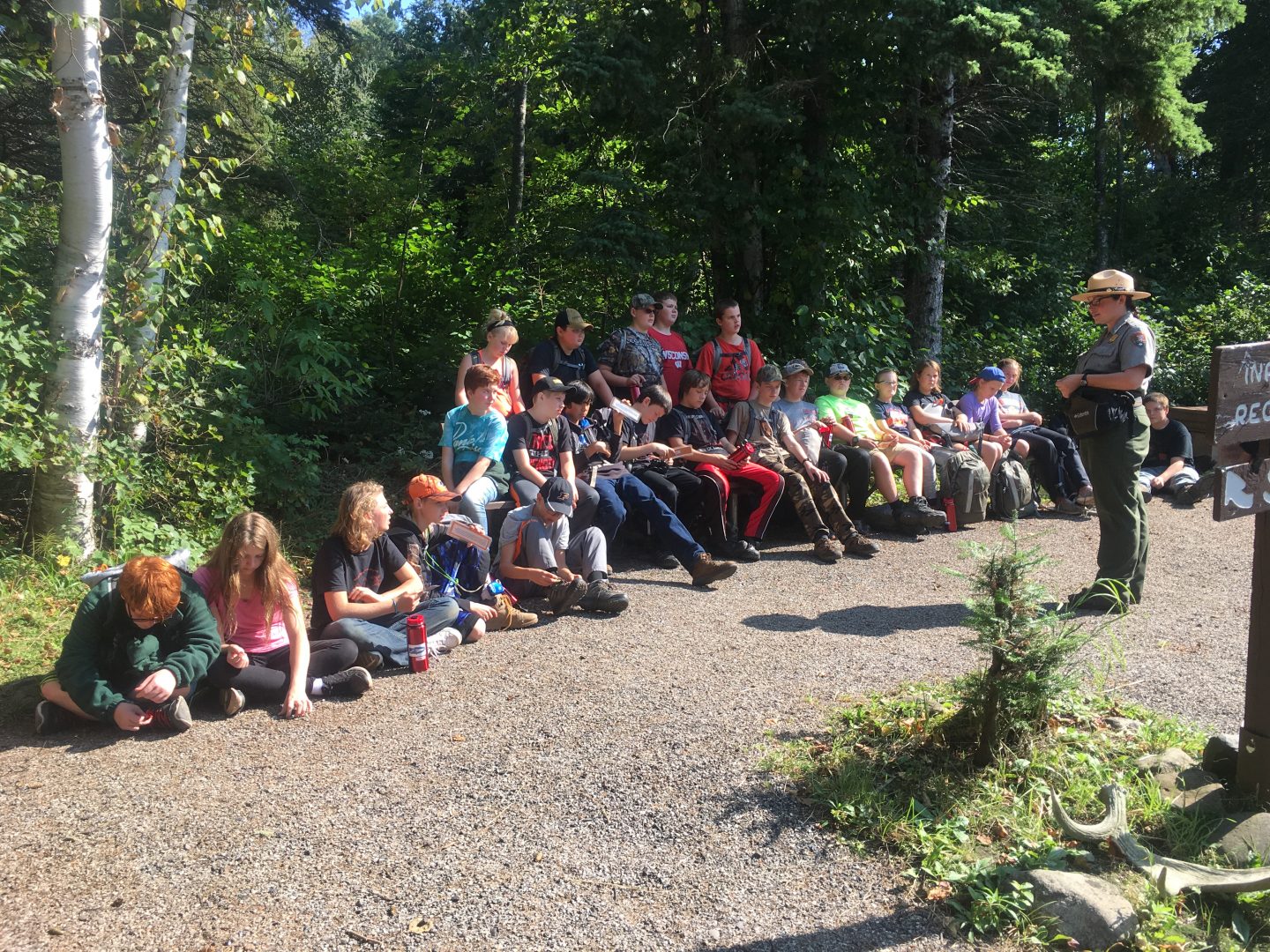 Isle Royale National Park is located on a rugged, isolated island surrounded by Lake Superior. At the corner of Michigan's upper peninsula, Isle Royale offers opportunities for reflection amidst the scenic beauty and quiet solitude of a place virtually untouched by humans.
The Natural Resources Foundation of Wisconsin helped fund a trip for seventh graders from Phillips Middle School to Isle Royale through the Teachers' Outdoor Environmental Education Fund. The trip is jointly offered by the Renewable World Foundation and the National Park Service as part of the Isle Royale Education Program.
The long ferry ride, getting out of the classroom, and the opportunity to go back to Isle Royale as mentors to first-time visitors are some reasons why students enjoy the IREP trip, according to Aneta Rietveld from Renewable World Foundation (RWF).
Last September, 25 students selected through an application process first met RWF staff at Clam Dam in Danbury, Wisconsin. They went on a tour of the hydroelectric dam and collected equipment for the days to come. Students also learned how to use solar panels and a generator to energize cameras to document their trip. The next day, students bussed to Grand Portage, Minnesota, where they took a ferry to Isle Royale.
Isle Royale Education Program (IREP) students participate in classes on renewable energy, environmental stewardship, earth science and history. RWF staff teach the basics of water filtering, camping, outdoor cooking and leave-no-trace ethics—how to visit wilderness with minimal impact on the landscape. Students also learn about animal and plant life, geology, history and renewable resources present on Isle Royale. On-site programs and hands-on activities allow the students to learn about the interconnection of natural and human systems and the importance of national parks.
"If [students] don't realize why National Parks and wild lands are out there while they are young," Rietveld said, "they will never think to use them or protect them when they are older and the country will lose some of its best features."
The goal of IREP is to expose middle school students to a wilderness that is virtually untouched. Students are asked to live on and hike the island leaving no trace that they were present so others can have the same natural experience.
By contributing to Isle Royale's continuous beauty through preserving what they see, students gain more of an appreciation for nature. IREP allows them to experience what life is like without access to businesses or technology. The students came back with a tangible understanding of conservation that they hopefully can mimic in their own lives.
Blog contributed by Phillips Middle School with additional reporting by Hibah Ansari