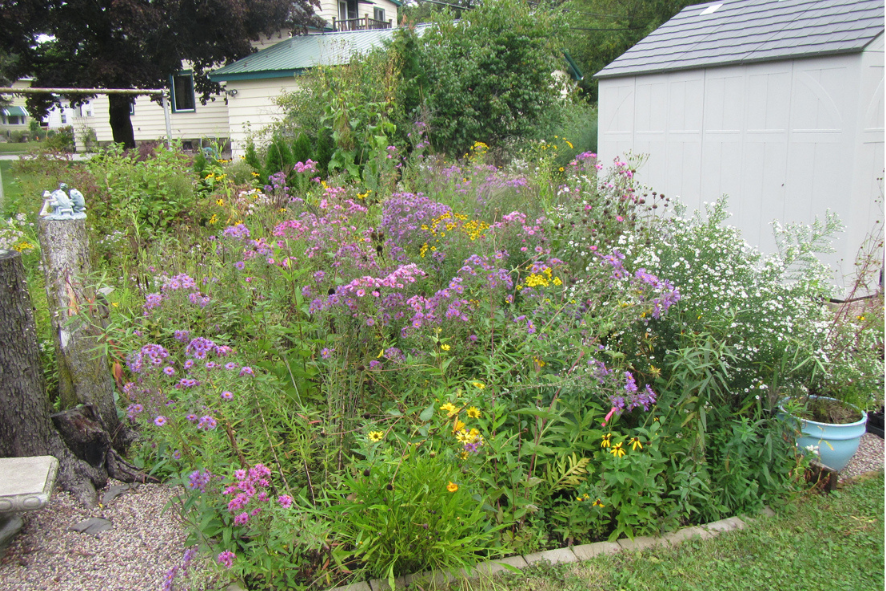 In honor of #PollinatorWeek, we're sharing five simple steps to create your own pollinator garden here in Wisconsin. Whether you have a community garden, apartment balcony, yard, or multiple acres, you have the power to help pollinators.
But before we get into the steps, let's remind ourselves about who these pollinators are and why their work is essential.
Pollination occurs when pollen is transferred from one flower to another, either intentionally or unintentionally, by animals, insects, wind or water. For example, when an animal is sipping nectar from the male part of a flower (stamen), pollen will attach to the animal's body. Then, when that animal travels to the female part of the same or different flower (stigma), the attached pollen falls onto it. This fertilizes the plant so it can produce fruits, seeds, and more plants!
Pollen is carried from one flower to another by birds, bees, butterflies, beetles, flies, wasps, and other small mammals (say that five times fast!). Wind and water also help transfer pollen, and some plants are even self-pollinating.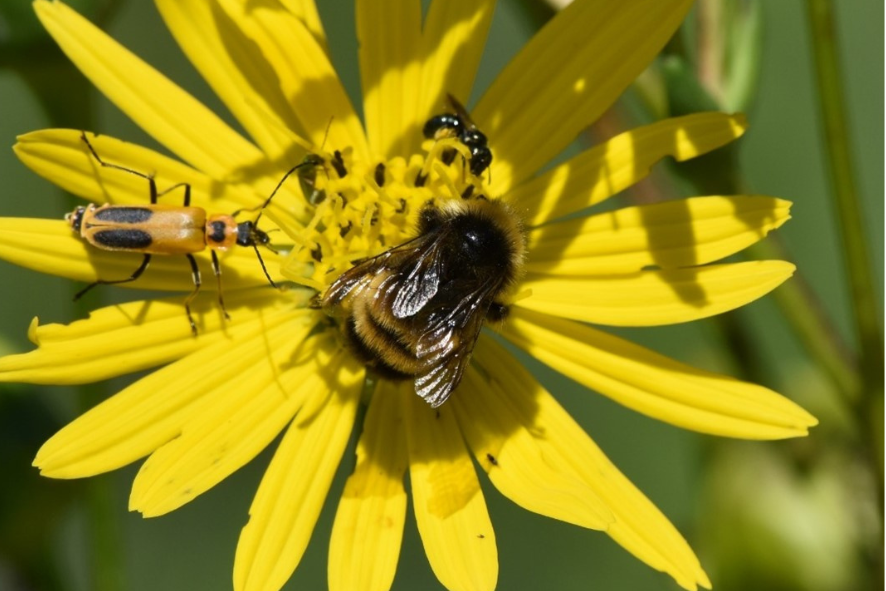 A male yellow banded bumble bee drinks pollen from a flower alongside two other insects. Photo by Jay Watson – WDNR.
Why pollinators are so important:
One in three mouthfuls of food and drink we consume is dependent on the work of pollinators.  Wisconsin crops that rely on pollinators (including apples, cherries, green beans, cucumbers, and cranberries) account for over $55 million in annual production.
According to the National Park Service, pollinators help the production of over 1,200 food crops, including various fruits, vegetables, and seeds. With 75% of the world's flowering plants needing pollination, pollinators help 180,000 different plants around the world survive and provide us with clean air, healthy soil, and oxygen.
Why pollinators need our help:
Pollinators need a variety of native plants to survive. Habitat loss, pesticide use, and the overabundance of grass lawns have taken a toll on pollinators and their habitat. There have been massive declines in both bird and insect populations over the past 50 years. As temperatures rise due to climate change, early blooms or insect hatches may result in flowers and pollinators arriving at different times.
Thankfully, there are a variety of ways we can all help provide more plants for pollinators. A planter on an apartment balcony, a patch in your front yard, or a multi-acre prairie – they all help pollinators thrive in Wisconsin.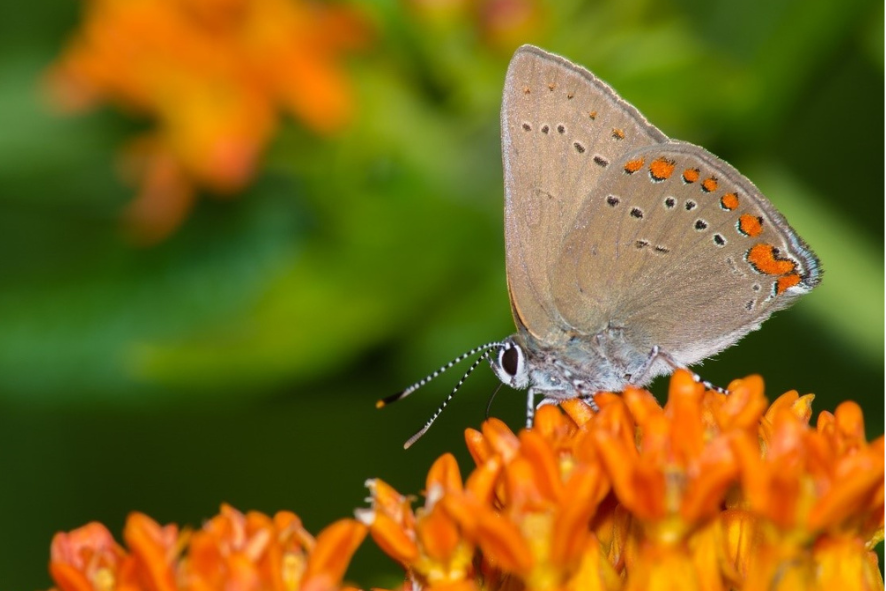 A coral hairstreak on butterfly milkweed. Photo by Eric Preston.
5 steps to planting a pollinator garden in Wisconsin
Step 1: Pick your pollinator plants
Before we can plant our pollinator garden, we need to pick out the right native plants for our area. Why native plants? Native plants are relatively low maintenance once established and are important host plants for many of our butterflies and moths. Find a local nursery that can help you pick out a variety of native plants that will thrive in your yard's soil, have a range of blooming times throughout the year, and have not been treated with pesticides. To find native plant nurseries throughout Wisconsin, visit the Wisconsin DNR's "Plant Native Plants to Help Nature" page.
Native prairie tip! Planning a large prairie restoration? Shop as locally as possible for your plants and seeds so you get plants with local genetics.
Need some recommendations for pollinator plants? Here are some staff picks to get you started!
For insect pollinators:
Swamp milkweed (more well-behaved than common milkweed and is better for smaller spaces)

New Jersey tea

Leadplant

Rattlesnake master

Anise hyssop

Pale purple coneflower

Native aster species

Native goldenrod species
For hummingbirds:
Wild columbine

Cardinal flower

Bee balm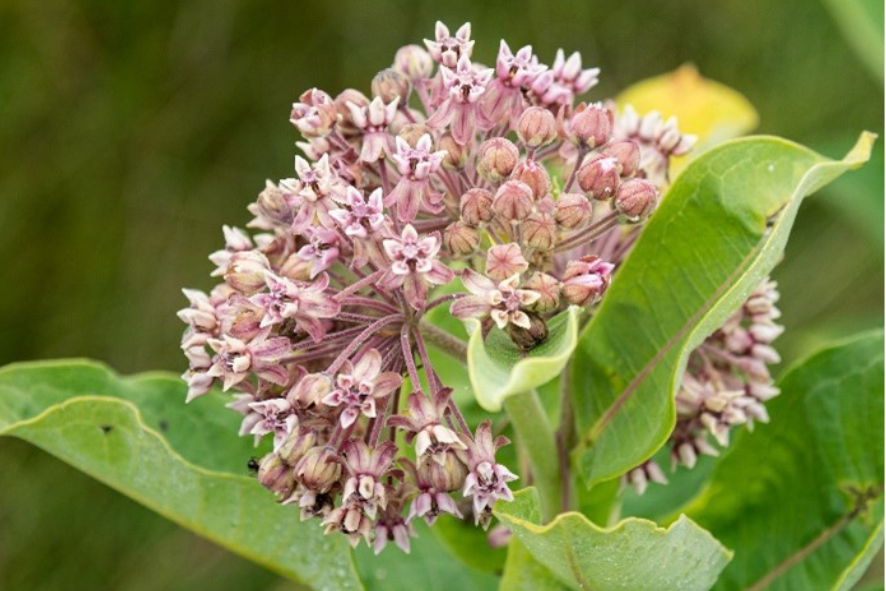 The common milkweed (Asclepias syriaca) is one of the 12 milkweed species native to Wisconsin. Photo by John Kalson.
Step 2: Prep your garden
Start by analyzing the light exposure and soil of your garden area. Keep in mind that pollinators avoid areas with harsh winds, as it makes it difficult to travel between flowers. If you are creating your pollinator garden on an existing garden or lawn, remove any current plant cover, especially invasive species. Then, you'll want to turn the soil over to loosen it up prior to planting. If you're digging, make sure to call Diggers Hotline first to have any utilities marked in your yard. It's free!
Step 3: Plant your garden
The best time to plant seeds is in the late fall or early winter as a freeze allows for the best seed to soil contact. The snow will also protect your seeds from being eaten by animals or getting blown away in the wind. Early spring rains will help germinate your seeds, as well.
If you are starting your garden with small plants, you can begin planting anytime between the last frost in the spring up to a few weeks before the first frost in the fall. Provide deep enough holes for the plant roots and cover with soil. Whether starting with seeds or small plants, make sure to plant in clusters as this helps pollinators find the flowers more easily.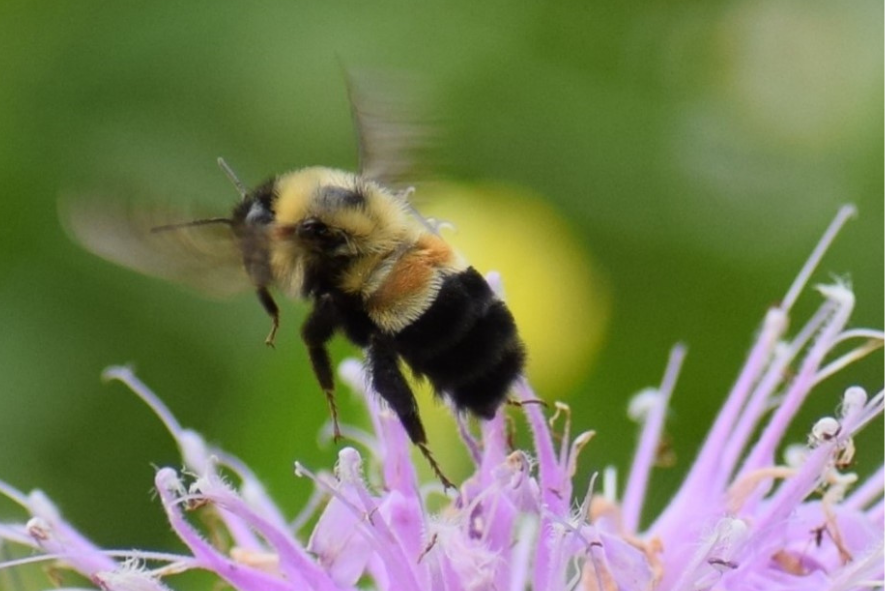 A rusty patched bumble bee at Governor Dodge State Park. Photo by Elizabeth Braatz.
Step 4: Water and care for your garden
After planting, it's time to water your pollinator garden. During the first year, your garden will need around an inch of water every week. Once your flowers are fully grown, less water is needed because the plant will cover more ground from the sun. Try gathering rainwater for this step!
Want to tackle weed growth? Try filling in the gaps between plants with bark mulch. Please never use pesticides or chemical fertilizers on your pollinator garden. Don't worry about caterpillars munching on some of your garden, either. They will soon turn into the butterflies you initially created your garden for.
Step 5: Allow your garden to stand through the winter season!
Leave the native plants standing through the winter so that the seed heads provide food for birds and other wildlife. Many homeowners want to clean up the garden in the fall, but by doing so important food sources are removed, and in some cases, overwintering insects, too.
Watch NRF's Communications Director follow these 5 steps and plant a pollinator garden in her yard!
There are many ways to help pollinators – find the one that works for you
Not ready to commit to a full pollinator garden? We get it, it's a big step. Here are some smaller-scale actions you can take to help pollinators in Wisconsin.
Grow native plants in a milk jug!
When we say everyone can help pollinators, we mean it! If you don't have the space for any size pollinator garden, try growing plants in a milk jug and donating them to community sites. Connect with your local schools, churches, or community organizations and offer to grow native plants that can then be transferred to their garden.
Community garden
Don't have an outdoor space at home? Get a plot at a community garden! This is a great way to create a smaller pollinator patch that also brings joy to your community. Search for community gardens in your area today!
Window box
Window boxes are perfect for people living in apartments or homes without yard space. To help the plants survive, we recommend getting as large and deep of a container as possible. Native plants love deeper soils! Secure your box safely outside your window and watch as pollinators start saying "how much is that pollen in the window?" Like any other pollinator garden, you'll want to consider sunlight and wind exposure when creating your window box. Want to be even more environmentally friendly? Create your box out of recycled materials!
Here are some native plants we suggest for your window box:
Columbine
Violets
Wild onions
Black-eyed susans
Let dandelions grow!
An early bloomer, dandelions are a tasty treat for pollinators in April and May when other flowering plants haven't bloomed yet. They also have long roots that loosen up the soil, improving its quality. So instead of thinking of them as a pesky weed, give dandelions the credit they deserve as an important food source for pollinators.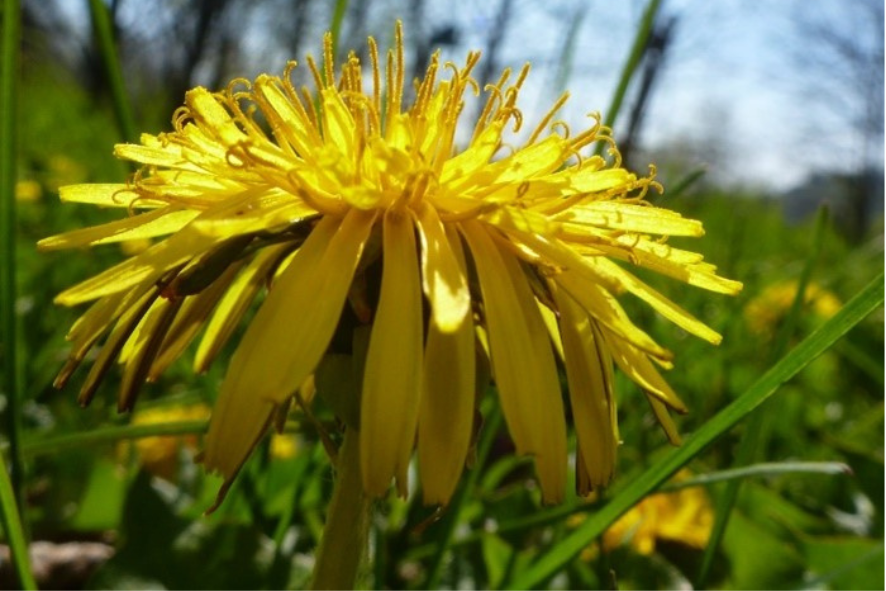 The sun shining down on a dandelion. Photo by Vince Aiello.
Start with a pollinator patch in your flower garden
If you already have a garden at home, start by incorporating pollinator flowers amongst your fruits and vegetables. Make sure to plant the same flower in clusters so it's easier for pollinators to spot.
Get involved with citizen science pollinator projects
Citizen science is a form of scientific research conduced by the general public, regardless of previous experience in research. This is a great way to learn about and support pollinators while also getting outside! Start by googling citizen science pollinator projects in your area. You can also check out the Wisconsin DNR's resources on community-based pollinator projects here.
NRF's support for pollinators
The Natural Resources Foundation of Wisconsin is involved in pollinator protection efforts across Wisconsin, including the following:
We hold the Wisconsin Pollinator Protection Fund, which supports pollinator habitat creation, research, education, and outreach efforts. Donations can be made to the Wisconsin Pollinator Protection Fund by visiting wisconservation.org/donate.
We partner with many groups across the state to create and enhance pollinator habitat, such as local nature centers, land trusts, community organizations, schools, farms, as well as Wisconsin State Parks and other WDNR properties through the Pollinators in the Parks program.
We are a proud supporter of the Wisconsin Monarch Collaborative, which is helping recover the monarch butterfly.
We support community science programs such as the Bumble Bee Brigade, Integrated Monarch Monitoring Program, and Journey North.
Thank you to NRF's members for protecting Wisconsin's lands, waters, and wildlife – and that includes pollinators!
Thank you also to our funding partners who support pollinator work, such as Monarch Joint Venture and the National Fish and Wildlife Foundation's Monarch Butterfly and Pollinators Conservation Fund (with funding support from the U.S. Fish and Wildlife Service, Shell Oil Company and Bayer Crop Science).
By Emma Schatz, Digital Communications Coordinator