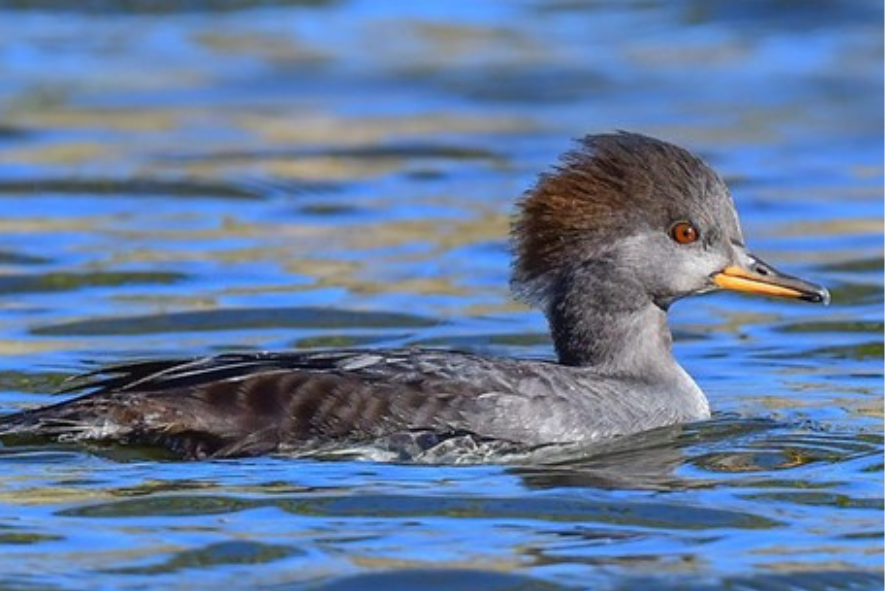 Hooded merganser hen on the water. Photo by Andy Raupp
The Great Wisconsin Birdathon brings together hundreds of passionate birders across Wisconsin each spring. Bird enthusiasts set out to see how many species they can find while raising money to support our state's highest-priority bird conservation projects.
Some teams choose a traditional Big Day of birding for 24 hours, while many others bird for just a few hours or even over the course of a few days.
With more than 70 teams joining statewide, each team has a unique experience with their Great Wisconsin Birdathon outing. Some go birding in the Northwoods, some check out the oak savannas in southern Wisconsin. Some visit forests, prairies, lakes, and rivers, and some bird right in their own neighborhoods.

Birding in Wisconsin's Northwoods
We chatted with two of our teams in northern Wisconsin to get a feel for birding in the Northwoods: the NWLTurkeys and the Up North Hammerheads!
The returning NWLTurkeys team represents the Northwoods Land Trust. Here's Frank Schroyer, team captain, on how they map out their birding:
"This was the Northwoods Land Trust's (NWLT) second year in a row participating in the Great Wisconsin Birdathon. NWLT is a nonprofit organization based out of Eagle River, WI, that seeks to protect the woods and waters of the Northwoods through voluntary conservation measures.
Our plan for birding was very similar to last year, but in 2023 we made it a point to stick together more than in 2022. Most of us live in and around Eagle River, so our knowledge of the area and its birding hotspots is expansive. This year, we decided to add an extra component to our Big Day by paddling somewhere. We settled on the Bittersweet Lake SNA."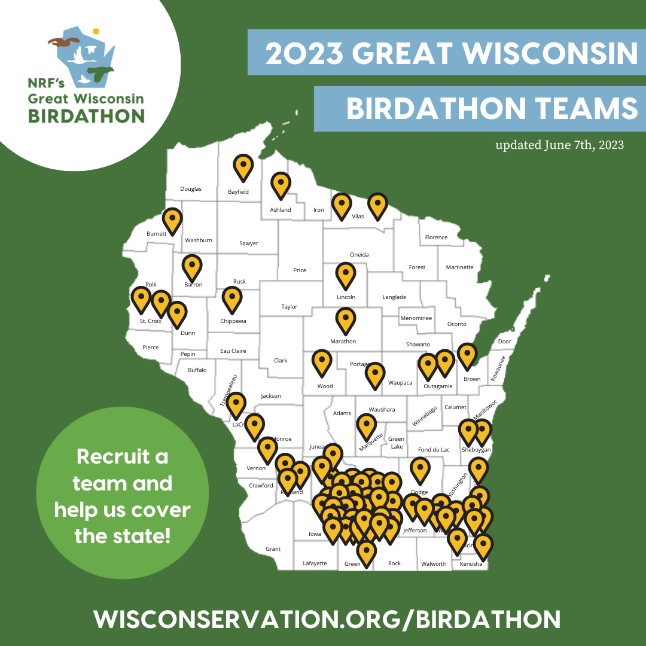 More than 70 teams and hundreds of individuals participated from across Wisconsin in the 2023 Great Wisconsin Birdathon. 
The Up North Hammerheads have their own unique plan perfected over the years. There's no one correct way to bird!
"This was our 8th year participating in the Great Wisconsin Birdathon. Many of us haven't missed a year since we first formed a team in 2016 — it's a favorite event for us! Our 'Birdathon Day' has taken shape similarly for all eight years except when we all had to bird individually in 2020 due to COVID restrictions. Our team of low-key (but enthusiastic!) birders hit birding hot spots in Iron, Vilas, and Oneida counties. 
Since we've been participating for a number of years now, we know what bird species are good possibilities for each stop we make. Eastern bluebird on our restroom stop. Common mergansers and ring-billed gulls on our picnic lunch stop. And chimney swifts when we wrap up our day in Minocqua," said Sarah Besadny, team captain of the Up North Hammerheads.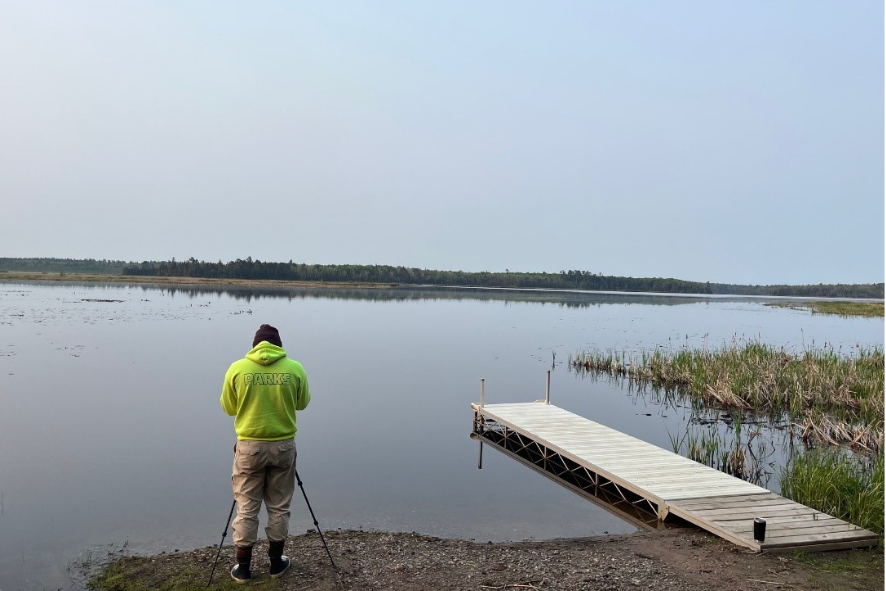 Frank Schroyer scanning the marsh at Lower Ninemile Lake in Vilas County. Photo by Troy Walters
Local Bird Conservation Engagement
Nonprofit organizations, bird clubs, and Bird Cities can keep half the funds their teams raise for their own bird conservation efforts. Many teams enjoy the annual tradition of their staff and volunteers getting together and sharpening their bird identification skills.
The NWLTurkeys opted to keep half of their funds raised to support the Northwoods Land Trust's mission of protecting land throughout their service area. "Land protection does and will continue to play a critical role when it comes to supporting bird conservation!" said Schroyer.
Team Up North Hammerheads are affiliated with the North Lakeland Discovery Center (NLDC) in Manitowish Waters. Half of their team funds raised support for the NLDC, a non-profit environmental education center dedicated to promoting the awareness and importance of birds and their habitat. In previous years, the team has used their Birdathon funds to bring bird experts to the Northwoods to speak at monthly meetings that are free and open to the public. They also used funds raised to enhance a bird viewing area on the grounds of the NLDC.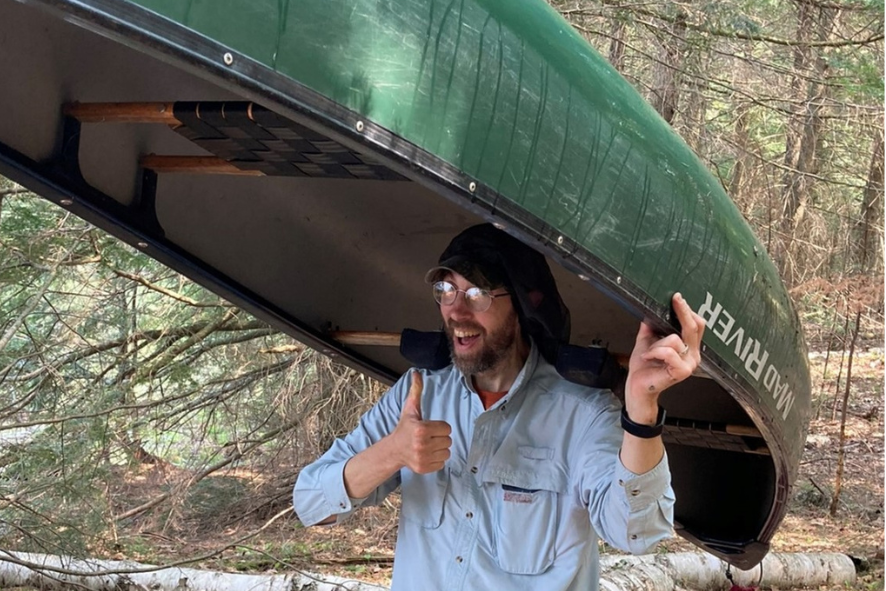 Troy Walters portages a canoe at Bittersweet Lakes State Natural Area while birding in the Northwoods. Photo by Frank Schroyer
NWLTurkeys Big Day of Birding
"Our team, NWLTurkeys, took to the woods and waters of Vilas County on May 23rd for our Big Day. The early birds among our group were up and at 'em at 6am. We had an incredibly productive first stop, seeing and hearing many different birds at Lower Ninemile Lake, including not one but two yellow rails. Additionally, we heard American bittern, Virginia rail, and sora, all in the same spot.
We walked the roads nearby and found many species of warbler, including the somewhat hard to find black-throated blue warbler. From there, we picked our way through various birding hotspots around Eagle River. We stopped at several places with very different habitats than our early morning spot. We didn't find many grassland species (which can be tough to do in the Northwoods). But we were successful at finding a few birds that prefer coniferous forests, including a yellow-bellied flycatcher.
At noon, we all met up at the Bittersweet Lakes State Natural Area. There, we paddled on 3 of the 4 lakes. We added bald eagle to our list, and enjoyed great views of broad-winged hawks. It was a beautiful day to be on the water, and we couldn't have asked for a more quintessential Northwoods experience. We ended our day with 101 different species," narrated Schroyer.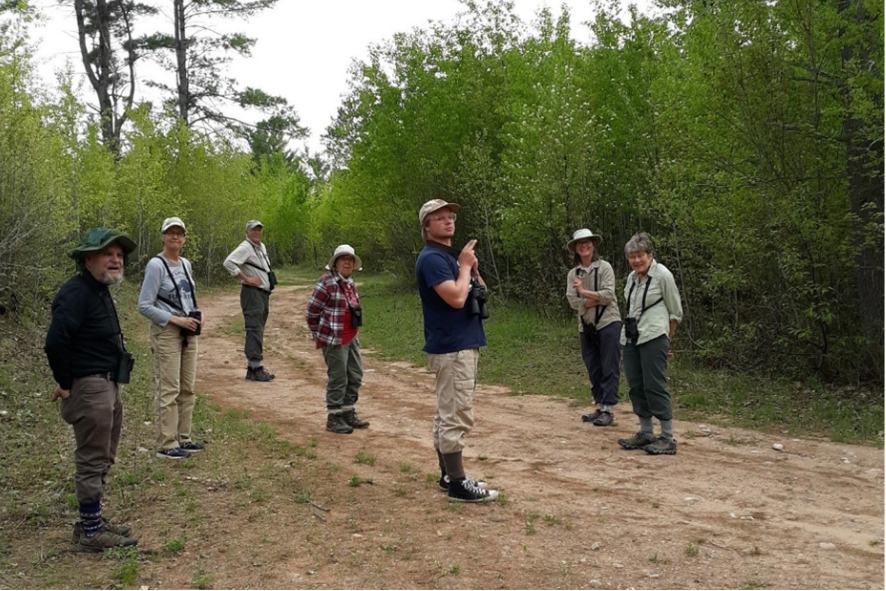 Members of the Up North Hammerheads looking for golden-winged warblers in the Arbor Vitae area. Photo by Donna Roche
Up North Hammerheads Big Day of Birding
"On May 22nd, eight birders joined together as the Up North Hammerheads to participate in the 2023 Great Wisconsin Birdathon. The team is made up primarily of members of the Discovery Center Bird Club, but we welcome anyone who wants to join us for a fun day of birding. The day was sunny, there was no wind, it wasn't too hot or too cold, the leaves weren't all the way out yet — but yikes, the bugs! As in past years, we started out at Powell Marsh.  It was a treat to listen to a morning chorus of songbirds, the winnowing of several Wilson's Snipe and the BLOONK-Adoonk song of the American bittern. We kept on picking up new species so we kept hiking the dike roads through the marsh. By 8:30am, someone on the team announced that we had already reached 10,000 steps.
100 species
"Our goal was 100 species and after 12 hours of birding, we hit that mark!  We were thrilled to have accomplished our goal because our list was a bit light on warblers and shorebirds.  On that last stop of the day in Minocqua to hopefully spot chimney swift, rock pigeon and house sparrow, we missed out on house sparrow. But we did see several house finches. Some of the species highlights were watching a small flock of black terns while listening to two Virginia rails calling back and forth, watching two spotted sandpipers chasing each other around a mud flat, and a green heron that flushed up right in front of us and in unison we all called out "green heron!"
They'll be back
"As we shared our highlights for the day, there was a common theme: how much fun it is to bird as a group and work together to ensure everyone sees as many birds as possible that were added to our checklist. Delightful birding for sure! We're already looking forward to next year to help raise funds for the birds that bring us so much joy," shared Besadny.
Support Birds in the Northwoods and Across the State
Support the NWLTurkeys, the Up North Hammerheads, or another one of our 70+ teams at WIBirdathon.org! Donations are accepted through June 30th online or via check.
Written by Soumika Gaddameedi, Event & Donor Relations Coordinator