At the Natural Resources Foundation we look forward to the announcement of the inductees for the Wisconsin Conservation Hall of Fame every year. In 2018 we were so proud to see a few familiar faces getting some much-deserved recognition for their work in Wisconsin.
Roy and Charlotte Lukes, George Meyer, and Arlie Schorger join the Wisconsin Conservation Hall of Fame in 2018. While Arlie Schorger made his impact long before the Foundation came into being, we've been incredibly fortunate to have worked closely with the Lukes as well as George Meyer.
Roy and Charlotte led Field Trips with the Natural Resources Foundation near their home in Door County. Roy led trips exploring the beauty and ecology of Toft Point State Natural Area, a Door County gem. Charlotte led trips teaching about the wild mushrooms growing in Door County—a hotbed of mushroom diversity where over 550 species have been identified.
George Meyer served on the Board of Directors of the Natural Resources Foundation of Wisconsin from 2002 to 2009 and served as Vice Chairman of the Board for part of that time.
The following biographies are excerpts from the Wisconsin Conservation Hall of Fame's inductee announcement.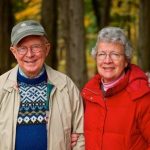 Roy (1929-2016) and Charlotte (1944- ) Lukes
Door County naturalists, Roy and Charlotte Lukes, spent their lifetimes protecting the natural beauty of the peninsula and sharing its magic through their teachings, writings, and personal charm. As "Partners in Nature," they build the Ridges Sanctuary into a center for conservation education, research, and advocacy. They educated and inspired citizens of Door County and the State through their many research efforts, lectures and nature walks, books and newspaper columns.
They were also instrumental in protecting many of the county's most scenic gems and ecologically valuable habitats. Roy and Charlotte saw their scientific research on the flora and fauna of Door County as a cornerstone to their work in conservation related education, policy and public leadership. In recognition of their lifelong collaboration, the couple received nearly thirty awards from numerous educational, literary, civic and environmental organizations.
George Meyer (1947 – )
A highly respected and influential Secretary of the Wisconsin Department of Natural Resources, George Meyer was instrumental in creating and advancing major conservation and environmental policies affecting all of the State's natural resources. During his three-decade career with the DNR, Meyer worked on many of the most challenging, and often controversial, policy issues affecting Wisconsin.
In addition to his years in public service, Meyer spent much of his life promoting citizen participation and the advancement of conservation organizations. Since retiring from the DNR in 2002, Meyer has led the Wisconsin Wildlife Federation, serving as its first Executive Director. With 200 affiliate organizations statewide, the Federation promotes sound resource management through its educational and advocacy programs. Throughout his career, he has been respected for his integrity, leadership, and unassuming personality.