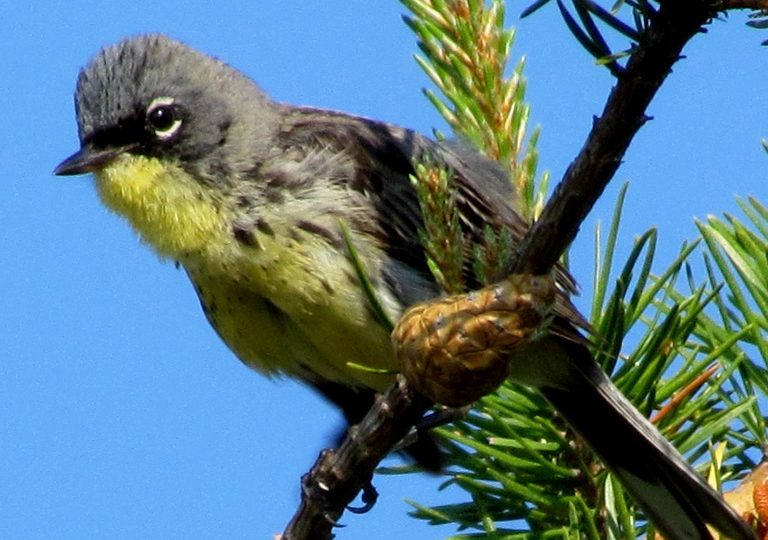 The US Fish and Wildlife Service has proposed to remove the Kirtland's warbler from the federal endangered species list. Most of us in the conservation community greet news of a species being removed from the endangered species list with mixed emotions. We celebrate the work that has been done to help a species rebound and start on the road to recovery. But we worry that de-listing may threaten their prospects going forward by reducing the investment and protections that got them to this point.
You can rest assured that while we are celebrating hard-earned progress, we aren't calling "mission accomplished" anytime soon.
The Natural Resources Foundation of Wisconsin has supported Kirtland's warbler recovery work since 2007, when they were first discovered in Wisconsin. Since then the Foundation has contributed more than $226,400. This funding has supported monitoring surveys, habitat restoration management, banding, nest monitoring, graduate student research, and general conservation support for Kirtland's warbler work in Wisconsin.
According to the Wisconsin Department of Natural Resources, in the last decade, the Kirtland's warbler population in Wisconsin has grown from just 11 birds and three nests in 2007 to 53 birds and 20 nests in 2017. Even more exciting, between 49 and 63 young Kirtland's warblers fledged in 2017 – a promising sign for the future. The population has spread from Adams County to include Marinette and Bayfield counties as well.
It's important that we maintain this positive momentum by continuing to prioritize the Kirtland's warbler recovery through the Foundation's Bird Protection Fund – a fund held by NRF and managed in partnership with the Wisconsin Bird Conservation Initiative and the Department of Natural Resources.
You can help continue recovery efforts in Wisconsin by donating to the Bird Protection Fund, participating in the Great Wisconsin Birdathon (the primary fundraiser for the Bird Protection Fund), or by joining us on a Bird Protection Fund Field Trip this year. Find the right Field Trip for you by viewing our map of open Field Trips and look for the ones that benefit the Bird Protection Fund.