We are excited to announce that Cait Williamson, NRF Director of Conservation Programs, is a recipient of the 2023 Rising Star Alumni Award from the Nelson Institute of Environmental Studies! This blog post recognizing her work was originally published on the Nelson Institute's blog, written by Chelsea Rademacher.
In her work at the Natural Resources Foundation of Wisconsin, Caitlin Williamson makes sure that the Wisconsin conservation show goes on.
Pretend, for a moment, that you're in the audience for Taylor Swift's highly talked about Eras Tour. There's state-of-the-art videos playing on enormous screens around the stadium, perfectly timed to the perfectly balanced audio. There's choreography. There are costume changes. And somewhere in the stadium — behind the stage, or perhaps beneath it — there's the stage manager, making sure that all of the pieces are working together, and that everything goes off without a hitch. In the equally complex and impressive arena of Wisconsin conservation, that person is Caitlin Williamson. "Stage manager?" Williamson asks. "Yeah, I'll take that!" she says with a smile.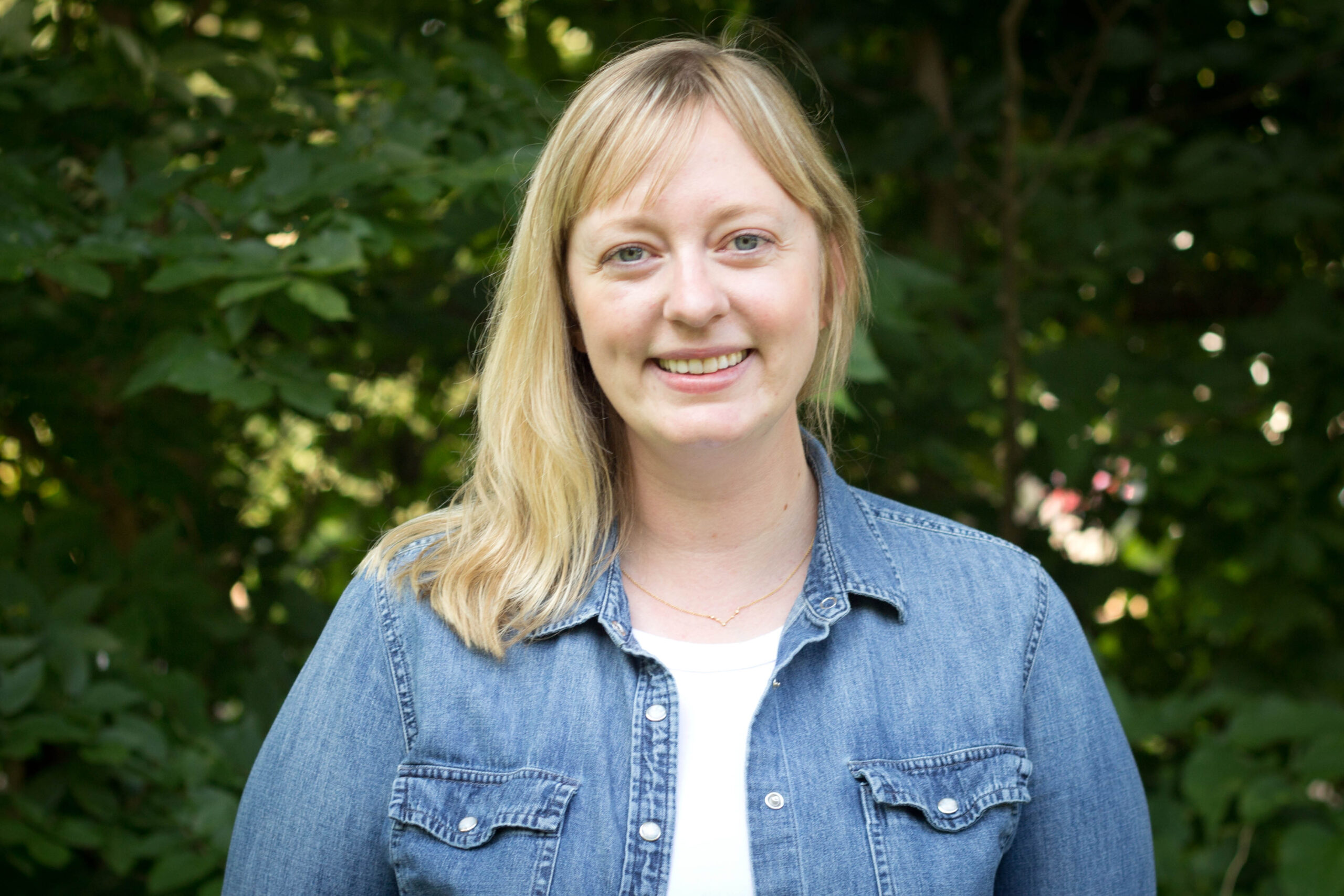 Caitlin Williamson. Photo by Shelly Torkelson
It's a timely metaphor: Williamson, the Natural Resources Foundation of Wisconsin's director of conservation programs, had just gotten back from a road trip to Kansas City, Missouri, for Swift's concert. A long drive from Madison, to be sure, but it was a short trek from Williamson's hometown of Omaha. The Nebraskan metropolis is where Williamson first developed an interest in nature. Her parents weren't the most outdoorsy folks, Williamson recalls, but recognizing her love for animals and nature, they signed her up for nature day camps at Fontenelle Forest every summer. When she aged out of camp in high school, she went from camper to counselor — a role she continued throughout college. "That was a huge part of my life, and also part of why environmental education is a really special and important part of the work I do," Williamson says. "I've grown into my career because of those experiences I had as a kid."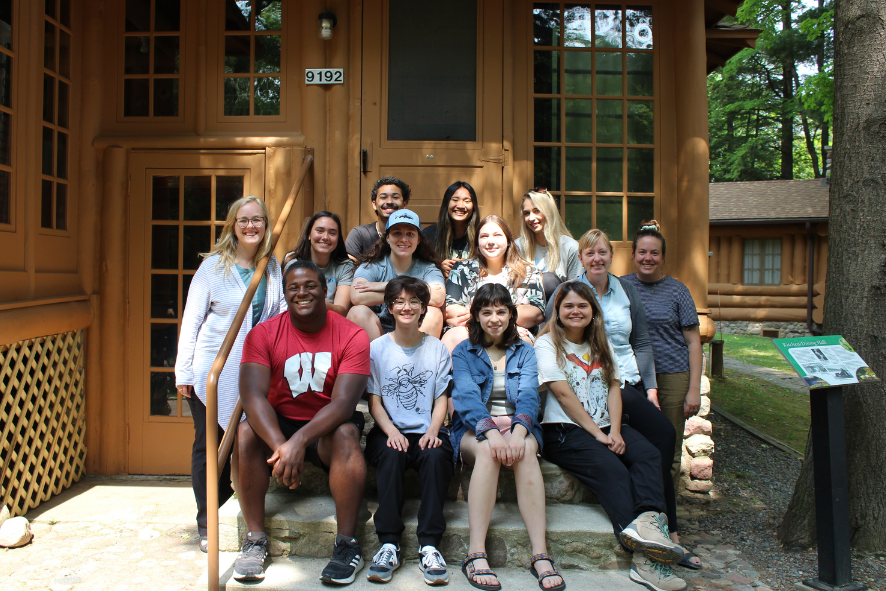 Williamson with the 2023 cohort of the Diversity in Conservation Internship Program. Photo by Tim Van Deelen
When Williamson left Nebraska, it was to study biology and environmental studies at Lawrence University in Appleton, Wisconsin. "For a long time, I thought I wanted to be a wildlife biologist and do field work," she says. While in college, she interned with the wolf management team at the Wisconsin Department of Natural Resources (DNR). She loved making a difference for the animals … but realized she missed working with people. That's one of her superpowers, she says: networking and making connections. The realization helped her look at the field of conservation differently. "There are other types of conservation work that support wildlife in our lands and waters in different ways [than] being in the field all the time."
Looking for her next step, she came to Madison and started working as a research assistant for Erik Olson, a PhD candidate in the Nelson Institute's environment and resources program. Through that, she met Nathan Schulfer, the institute's current director of international and professional programs. This was around 2012, and Schulfer — then a teaching and program assistant — was helping to create a brand-new Nelson program: environmental conservation, a fast-track, professionally focused master's program that would take the place of the now-former conservation biology and sustainable development master's program. "That sounds exactly like what I'm looking for," Williamson said when Schulfer told her of the program that was starting the following year. "I didn't want to do the traditional research route. I wanted to build off the skills I had in my first job with more professional experience." Williamson applied, was accepted, and joined UW–Madison's first cohort of environmental conservation students. She'd always planned on going back for a master's degree, but like her preconceptions of what conservation work looked like, she thought she'd end up in a traditional wildlife or natural resources master's program. "The professional program was way more aligned with my interest, my passion, and doing direct actionable work," she says.
During her first week as a Nelson student, Williamson flexed her networking superpower at the program's welcome reception. There, she met Ruth Oppedahl — the Natural Resources Foundation of Wisconsin (NRF)'s then-director. From that encounter, she nabbed a part-time position at the NRF. "Very serendipitous, I suppose," she reflects. Or perhaps not, considering her superpower. It's how she got the research assistant job ("I knew it'd be important to build some connections, especially in a new city," she says of moving to Madison). It's how she met Schulfer and became one of the first graduates of the environmental conservation program. And it's how she got her foot in the door at the NRF, where she's now been for nearly a decade.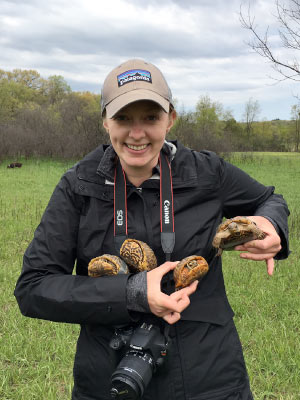 Williamson holds a group – or a bale – of ornate box turtles, a state endangered animal, during an NRF project site visit. Photo by Rori Paloski
Formed in 1986, the NRF is a statewide nonprofit that, through funding, partnerships, and education, helps protect the state of Wisconsin's lands, waters, and wildlife. Williamson joined during her master's studies as a part-time program and development coordinator, which grew into a full-time position after graduation. In 2017, she was named the foundation's director of conservation programs. It's her dream job, even though she didn't always know this type of conservation work was possible. "A lot of my work is, by its nature, partnership building," she says. "That's surprisingly been a big piece of my job that I love the most. Yeah, it's benefiting so many amazing critters, but getting to support the people who support those wildlife species is really amazing, too."
Enter Williamson, Wisconsin conservation stage manager. She finds the bigger picture and makes sure all the pieces fit. Take, for example, Wisconsin's Rush Creek State Natural Area, nearly 3,000 acres of land along the Mississippi River. It's home to rare and migratory birds, a trout stream, and some of the last remaining goat prairies in the state. The DNR has managed the property for decades with a small but mighty crew. Williamson helped build and support partnerships with the NRF, the Northern Institute of Applied Climate Science, the Wisconsin Initiative on Climate Change Impacts (a Nelson Institute partner organization) — and a $300,000 grant from the Wisconsin Conservation Society to create Wisconsin's first climate adaptation site. "We have so much science and knowledge, but there's a lack of connecting that to what the people on the ground can actually do to make a difference," Williamson says. "I help to support Wisconsin's conservation field and catalyze that work. [Rush Creek] is an example of a project that's going to have a really big impact."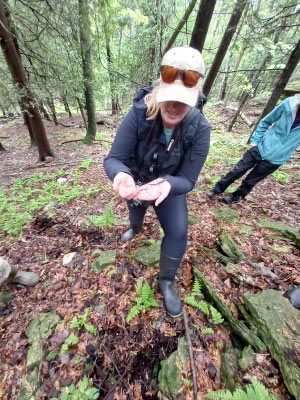 Williamson searches for salamanders on an NRF Field Trip to Red Banks Alvar State Natural Area near Green Bay, Wis.
When it comes to producing the future of the state's conservation efforts, Williamson doesn't only look at land, water, and wildlife resources — she looks at people. More specifically, she empowers the next generation of conservationists. Over the summer, she's been hard at work managing and coordinating the third cohort of the NRF's diversity in conservation internship program for college students. Interns are paired with a specific NRF partner organization, where they work throughout the week. Then on Fridays, the cohort comes together for programming at the NRF. Williamson leads these Friday activities, which range from field trips to Milwaukee to learn about environmental justice and urban conservation to tours of the former Badger Army Ammunition Plant and the Ho-Chunk Sacred Earth Reservation to Williamson's own area of expertise, networking.
"That's something that we really designed this internship program to help with … whether it's networking or creating your resume or how we communicate. I think those are equally, if not more important than the actual expertise in ecology or wildlife," Williamson says. "So many of us get into [conservation] because we love wildlife. But it all comes back to people and bringing people together towards a common vision for how we can help care for what we love about the state."
Caitlin Williamson is one of six Nelson Institute alumni award winners. Their stories are featured throughout the Commons magazine and online.
Congratulations, Cait!