Have you gazed across the ocean-like blue vastness of our country's "third coast"? Gone barefoot on the beach and touched the cool clear water? Lake Michigan is a big part of what makes Wisconsin… well, Wisconsin. NRF and the Wisconsin DNR are teaming up to protect water quality and wildlife habitat at seven priority sites along the coast.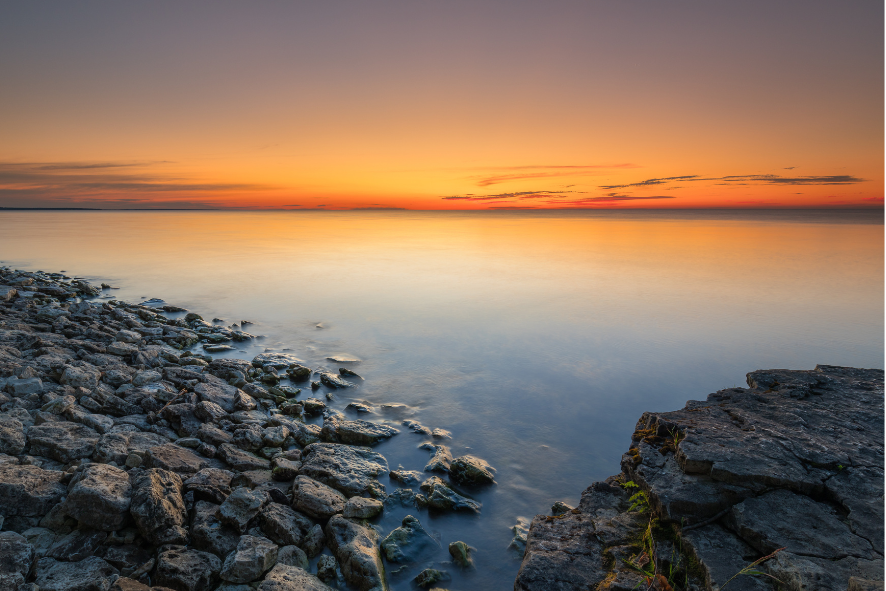 The sun rises over the rocky shores of Lake Michigan. Photo by Dave Hoefler
Coastal Lake Michigan: A Wisconsin Treasure
Lake Michigan, the largest freshwater lake in the U.S., is a big part of Wisconsin's identity. Its beautiful shoreline – from Racine's sandy beaches to Door County's rocky shores – is home to Milwaukee and many other communities. It's also home to unique coastal ecosystems that provide habitat for countless wildlife and plant species.
However, human activities have severely impacted Lake Michigan. Invasive species, habitat destruction, and pollution have reduced water quality and decreased habitat for fish and wildlife. Climate change is intensifying the impacts of these threats by affecting water temperatures, weather patterns, and water levels.
Significant efforts are needed to protect this magnificent body of water. Many different organizations across the state are working to address these issues.
Thanks to support from the Fund for Lake Michigan, NRF is working with our conservation partners to restore habitat along Lake Michigan's shoreline. We're working to improve water quality, enhance wildlife habitat, and improve accessibility in key places along the coast.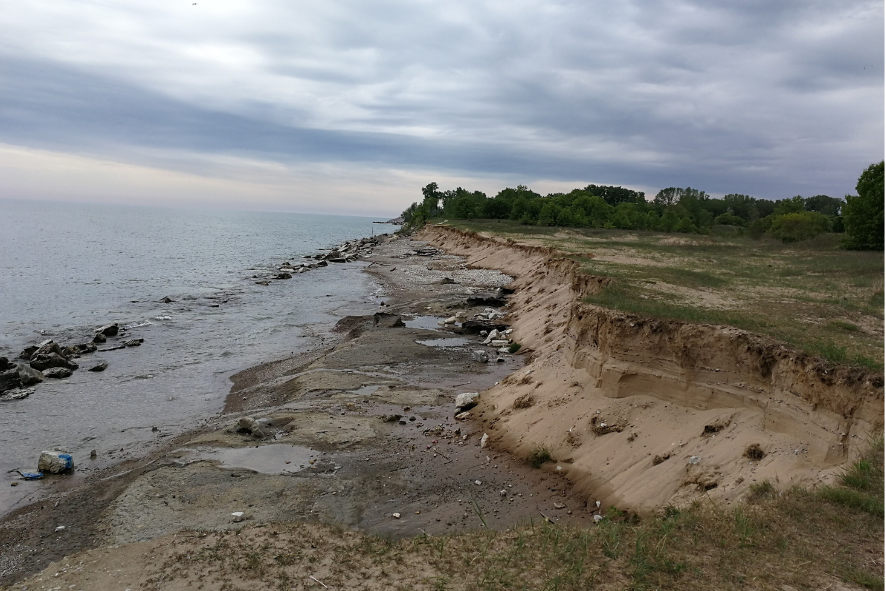 With support from the Fund for Lake Michigan, NRF was able to help fund a vital coast assessment from 2015 to 2018. The assessment covered a 5-mile stretch of southeastern Wisconsin's Lake Michigan shoreline, including Kenosha Dunes (pictured). It also created recommendations for addressing the area's water quality and erosion issues. Photo by Dr. Chin Wu
Protecting the Third Coast's Biodiversity
Wisconsin's 400 miles of Lake Michigan shoreline feature a diversity of habitats. The coast has sandy beaches, majestic dunes, coastal forests, marshes, ridge and swale complexes, and alvars. Many of these natural communities are so unique, they're found nowhere else on Earth!
These special ecosystems provide important habitat for wildlife and plants, including some that are globally rare. More than 130 rare wildlife species live in coastal Lake Michigan habitat. This includes the Forster's tern, Blanchard's cricket frog, Blanding's turtle, Henslow's sparrow, yellow rail, cerulean warbler, cherrystone drop snail, and the federally endangered piping plover.
Lake Michigan's shoreline is critically important for migratory birds, such as loons, gulls, terns, waterfowl, shorebirds, raptors, and songbirds. The undeveloped habitat areas provide critical "stopover" sites, giving birds food and shelter during migration.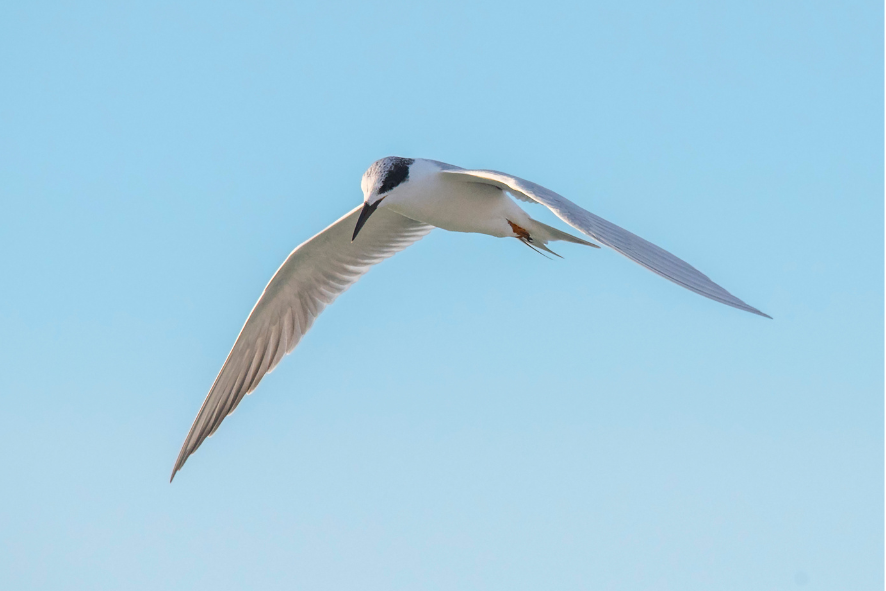 A Forster's tern, listed on the state's endangered species list, in flight. Photo by Warren Lynn
Teaming Up to Protect the Coast
Thousands of acres of coastal Lake Michigan's unique landscapes are protected as public lands. Some are very well known, like Lakeshore State Park in Milwaukee and Kohler-Andrae State Park, Wisconsin's second-most visited state park (after Devil's Lake). There are also some lesser known but critically important gems such as Red Banks Alvar State Natural Area in Brown County. All these state-owned properties are important places for people to experience Lake Michigan's natural features, and they protect Wisconsin's biodiversity.
NRF has been working with the Wisconsin Department of Natural Resources to care for our public lands along Lake Michigan's coast. We've improved water quality by reducing stormwater runoff, built cordwalk trails to increase public access and minimize erosion, and more. This work will soon encompass seven State Parks and State Natural Areas along the coast.
What is a cordwalk trail?
Cordwalk trails are made of a series of wooden boards strung together with steel cables, often used on sand. Be sure not to go off the cordwalk – the sand-dwelling plants are fragile!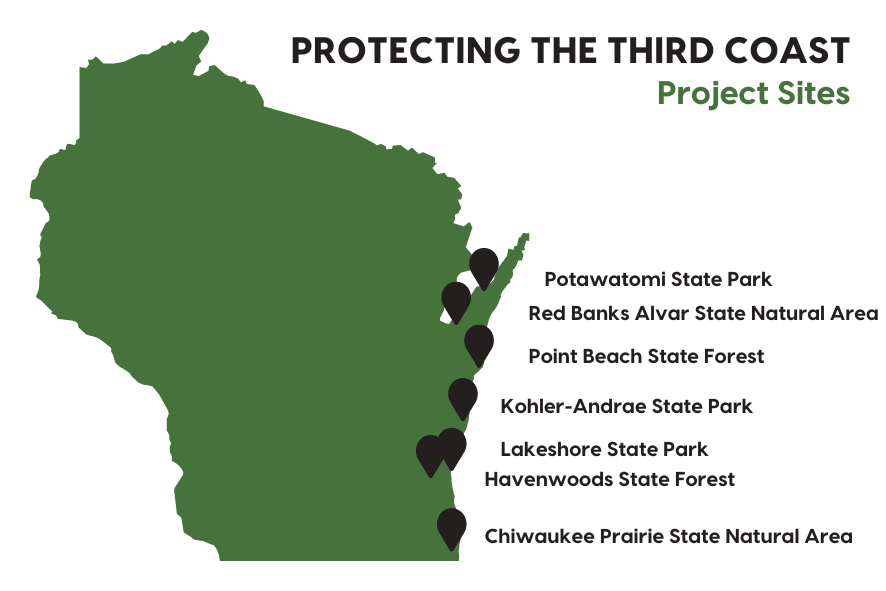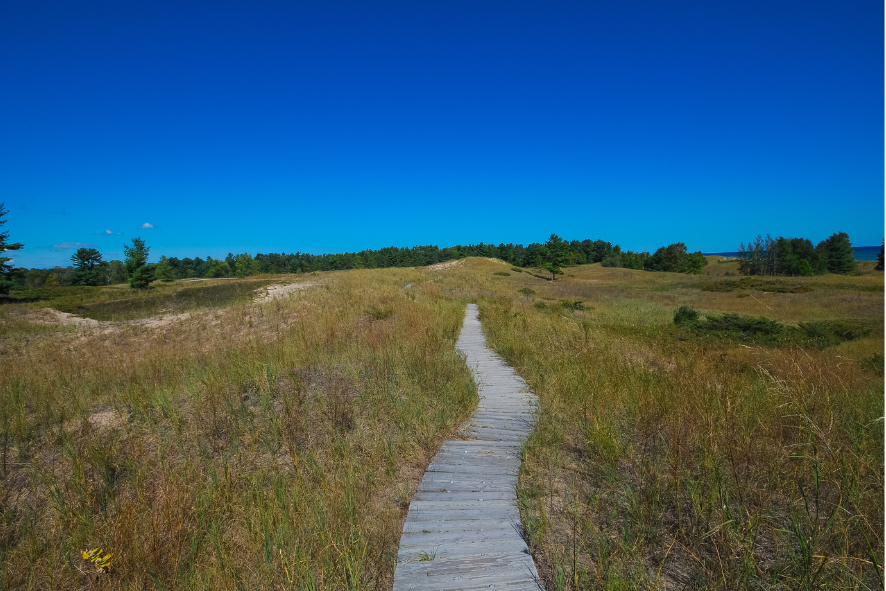 A cordwalk at Kohler-Andrae State Park. Photo by Joshua Mayer
NRF's most recent Lake Michigan project just finished at Potawatomi State Park, the gateway to Wisconsin's beloved Door County peninsula.
The park's upland hills and rugged limestone cliffs provide spectacular views of Lake Michigan. It also features two and a half miles of water frontage on the shore of Sturgeon Bay and Sawyer Harbor. More than 200,000 people visit Potawatomi State Park each year. It is a popular camping destination for Door County visitors. Also, it is home to the eastern terminus of the 1,000-mile Ice Age National Scenic Trail.
However, the park had been experiencing significant flooding during major storms, especially in the campgrounds. Stormwater had been running through campsites and dumping straight into Lake Michigan, depositing pollutants and sediment and lowering water quality. During significant storm events, up to 50 campsites were flooded (nearly half of the campground). Some had to close until the water had disappeared.
NRF and WDNR improved drainage from the park's nature center building and campground, reducing erosion and bettering stormwater filtration.
So, what does this actually look like in the real world? Next time you visit, you might notice a couple of new culverts in the campground and on Shoreline Road. These help slow and direct the water. You can also check out the updated campsites, which were built higher up and have new drainage features.
The project will provide double benefits: improving Lake Michigan's water quality, and improving access to this popular State Park by reducing flooding at campsites.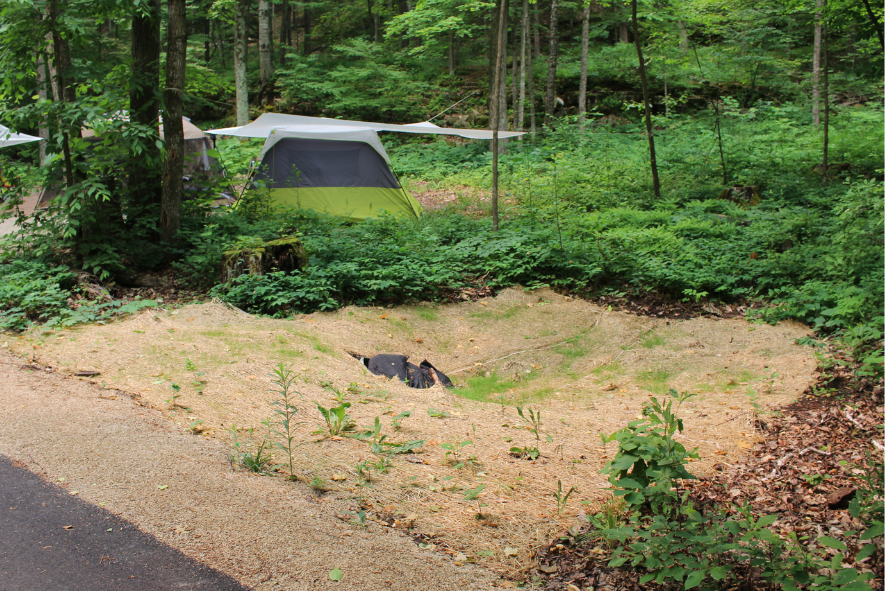 Thanks to a grant from the Fund for Lake Michigan, NRF and WDNR partnered on a project to address stormwater runoff and improve Lake Michigan water quality at Potawatomi State Park. Photo by Caitlin Williamson
We're excited to share that a new grant we have received from the Fund for Lake Michigan will build on these past efforts. The new grant supports coastal habitat restoration work across a network of public land properties along the Lake Michigan shoreline.
This project will enhance nearly 100 acres of rain gardens, prairies, wetlands, oak savanna, and woodlands across a mosaic of five properties: Havenwoods State Forest, Lakeshore State Park, Kohler-Andrae State Park, Point Beach State Forest, and Red Banks Alvar State Natural Area.
Set to begin later this year, this project will reduce stormwater runoff, improve groundwater infiltration, and reduce sediment erosion, nutrient transport and flooding – all to improve Lake Michigan's water quality.
It will also enhance valuable wildlife habitat, improve public access, and help build resiliency of globally unique and imperiled natural communities found in the region.
We're deeply grateful to the Fund for Lake Michigan for their critical support for these and many other projects that are caring for Lake Michigan. Thank you also to NRF's members for supporting conservation efforts all over our state!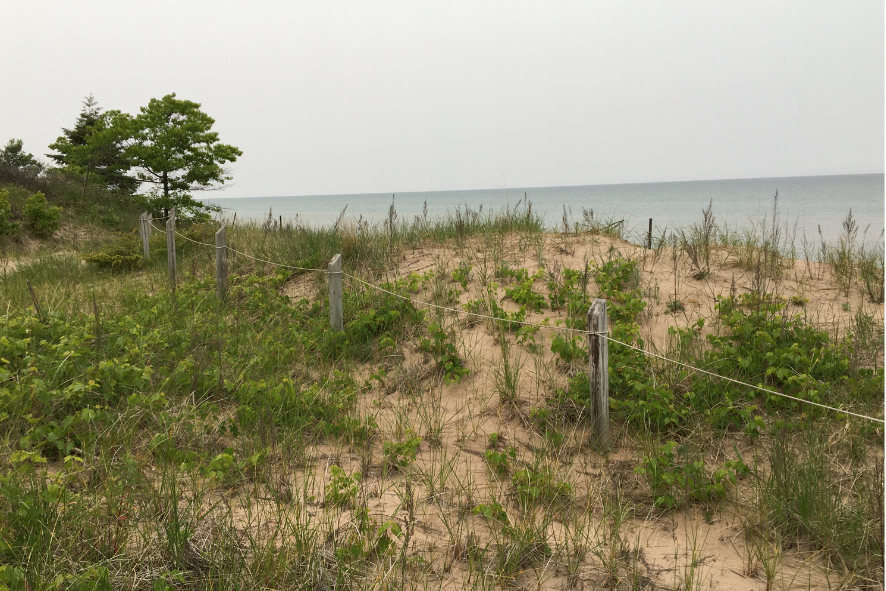 Grassy sand dunes on the edge of Lake Michigan at Point Beach State Park. Photo by Shelly Torkelson
Visit! Lake Michigan is one of the world's largest lakes – and it's right in our own backyard! Check out one of our project sites, such as the cordwalk trail at Kohler-Andrae State Park. Admire the nature center's new rain garden at Point Beach State Forest or camp at one of the updated sites at Potawatomi State Park.
Looking for adventure? Join us on a Field Trip to explore Lake Michigan:
168-F. Death's Door Adventure Rafting Tour on Sunday, July 23rd in Door County
Note: potential for bumpy ride. Adventure awaits! Enjoy a high-speed zodiac rafting trip to explore Door County's most scenic and remote sights: the Door Bluff Headlands, Death's Door Passage, and Plum and Pilot Islands. Learn local history, savor up-close views of lighthouses and an old Coast Guard station, and even see a shipwreck in 5 feet of water! Spy birds galore on Pilot Island, including cormorants and gulls. Fundraiser for NRF. Register now!
166-B. Pontoon Tour: History & Habitat of the Harbor District on Thursday, August 17th in Milwaukee County
Enjoy a pontoon cruise through Milwaukee's Harbor District to see where three ecologically important rivers meet to flow into Lake Michigan. Explore its changing history from rich freshwater estuary to industrial hub, and learn about current efforts to restore and revitalize this working waterfront. Register now!
Learn: NRF and WDNR teamed up to create A Planning Tool for Migratory Bird Conservation along Lake Michigan, thanks to support from the Wisconsin Coastal Management Program. Take a look and learn what sites on Lake Michigan's coast are the most important for birds.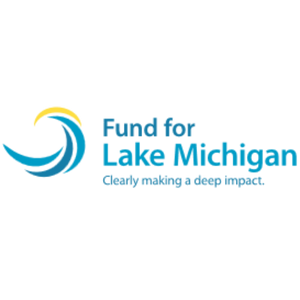 Written by Caitlin Williamson, Director of Conservation Programs