Join us in welcoming the Natural Resources Foundation of Wisconsin's new Grant Writer, Brenna Holzhauer! Brenna will be facilitating fundraising with institutional donors – identifying prospects, developing proposals, administering and reporting on grants, and helping to support NRF's strategic work protecting Wisconsin's natural resources and connecting all people to nature.
We sat down with Brenna so you could learn more about how her passion for lifelong learning has led her down many different paths in life, both personally and professionally. Welcome to the Foundation, Brenna!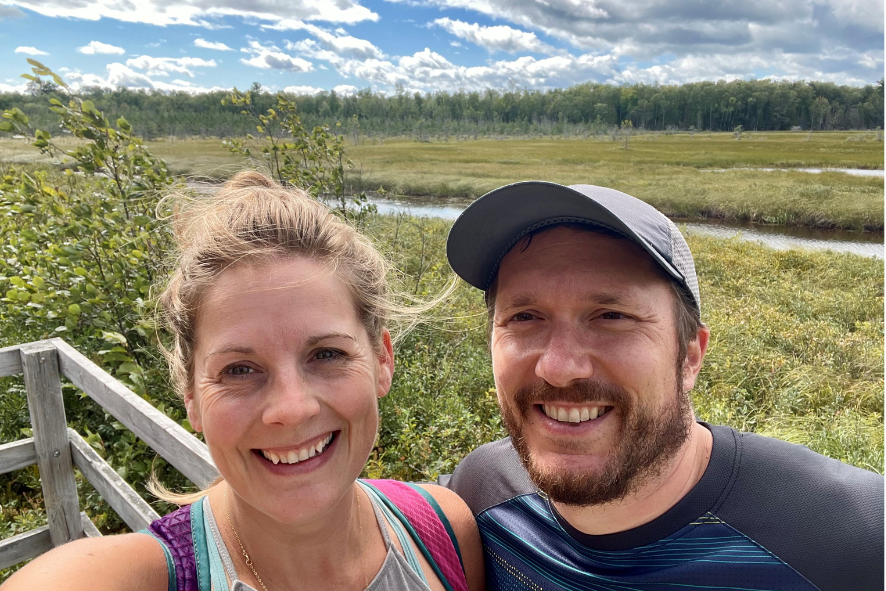 Brenna and her husband hiking at Big Bay State Park. Photo by Brenna Holzhauer.
One of my favorite poems is "When I Am Among the Trees" by Mary Oliver. It speaks to her need to be surrounded by nature on a daily basis in order to reconnect with her best self. As I get older, I find this poem to be more and more true, and I blame it all on my childhood.
I grew up around Milwaukee and regularly spent time in the Northwoods and Driftless areas of Wisconsin. My parents encouraged my brothers and me to run wild in the woods, prairies, and wetlands of each of these places. I've come to realize how much these experiences taught me about myself, my family, and the world around me. I'm now "spoiled" to the point that getting outside is the only way I can recharge and reconnect with my true self. Just ask my husband what I'm like if I don't get my regular dose of the outdoors! Ha. But seriously, being immersed in nature as a child was such a foundational experience for me, and what I want most in this life is for my own and ALL children to have the same opportunities.
Realizing that these early positive experiences among the trees are a privilege not enjoyed by all, I have tried to support every person's right to reap the benefits of time outdoors connecting with nature. I am also passionate about lifelong learning, which drives me to continually try new things, learn new skills, and seek diverse experiences. This has guided my personal life and my career path as I have traveled, studied, and explored.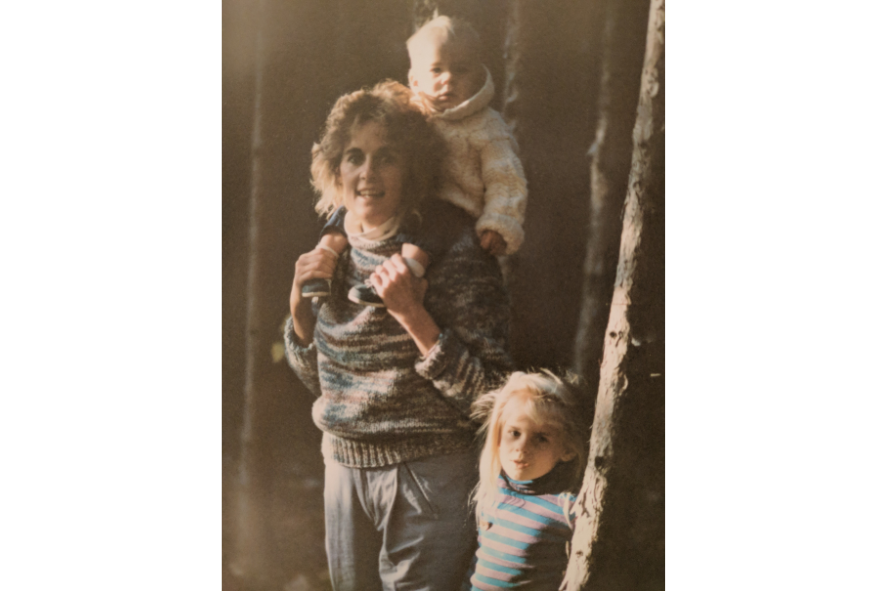 Brenna standing in a forest with her mom and youngest brother. Photo by Pete Holzhauer.
Passions and Hobbies: Travel, Music, and Family Adventures
I have lived in Milwaukee, Gays Mills, Washington DC, and Madison. I have traveled throughout North and South America, Europe, Africa, and New Zealand… and there are so many more places I'd like to see! I'm addicted to music: listening to various genres, discovering new artists, seeing live shows, and occasionally dusting off my piano or ukelele. I also love trying new foods, exploring new places, and attempting new activities and craft projects. And of course, I am always up for anything that involves being outside…biking, hiking, kayaking, canoeing, paddleboarding, skiing, snowboarding, camping – you name it, I'll do it! My husband and I started our family a few years ago, and my life is very full these days with two young children. This doesn't leave much time for hobbies, but currently, my favorite thing is getting outside with them and watching as they explore our world.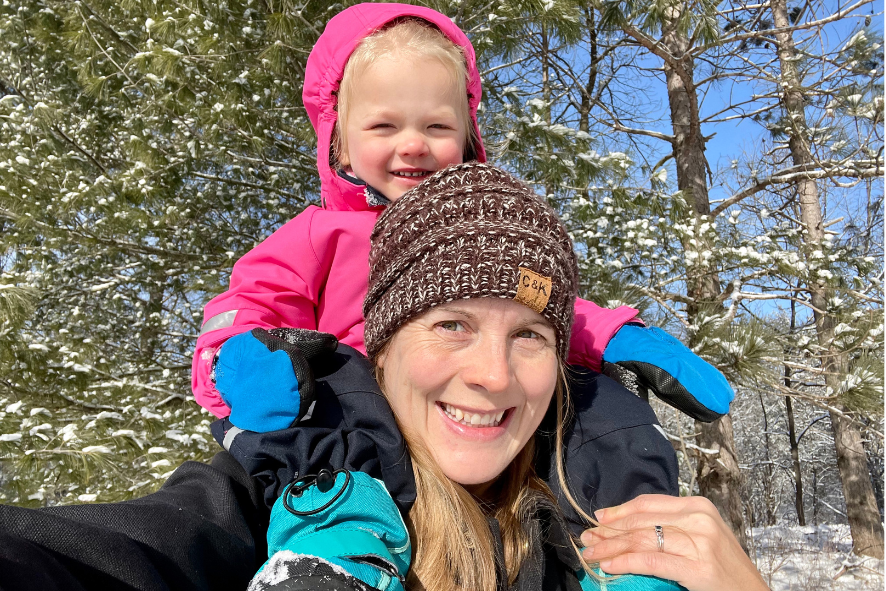 Brenna and her daughter on a winter hike. Photo by Brenna Holzhauer.
My Career: Connecting Education, Conservation, and Hope
My professional life has similarly run the gamut. I have developed large-scale exhibitions and educational events, overseen garden and solar panel installations at schools across the U.S., and taught all kinds of programs to all kinds of students and audiences in the halls of the Smithsonian, schoolyards and riverbanks of DC, and the prairies, forests, and wetlands of Wisconsin. Along the way, I have created interactive displays, immersive theaters, curriculum, hands-on art and science activities, and various educational programs and experiences. I have conducted prescribed burns and other land management practices and directed strategic initiatives from facility renovation to fundraising to equity & inclusion work. All told, my favorite parts of all my jobs are when my work reconnects with my environmental education roots, and I am able to spark a sense of wonder about and connection to our world in a child or adult.
I am so excited to be contributing to the great work of the Natural Resources Foundation as the new grant writer. The conservation and education programs are top-notch, and I already know the whole staff is working each day to include and connect Wisconsinites of all backgrounds with the incredible habitats and resources our state has to offer. I decided years ago that I must dedicate myself to mitigating the environmental crises we face in order to have hope for the future.  This work is more important now than ever before, and I'm proud to be a part of the team.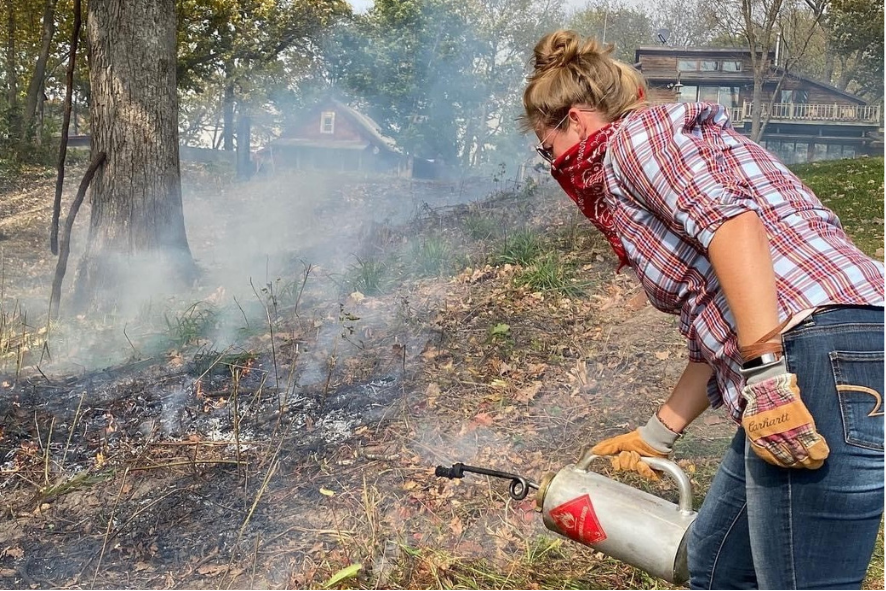 Brenna conducting a prescribed burn to restore oak savanna at her family's farm. Photo courtesy of Brenna Holzhauer.
When I Am Among the Trees
by Mary Oliver
When I am among the trees,
especially the willows and the honey locust,
equally the beech, the oaks and the pines,
they give off such hints of gladness.
I would almost say that they save me, and daily.
I am so distant from the hope of myself,
in which I have goodness, and discernment,
and never hurry through the world
but walk slowly, and bow often.
Around me the trees stir in their leaves
and call out, "Stay awhile."
The light flows from their branches.
And they call again, "It's simple," they say,
"and you too have come
into the world to do this, to go easy, to be filled
with light, and to shine."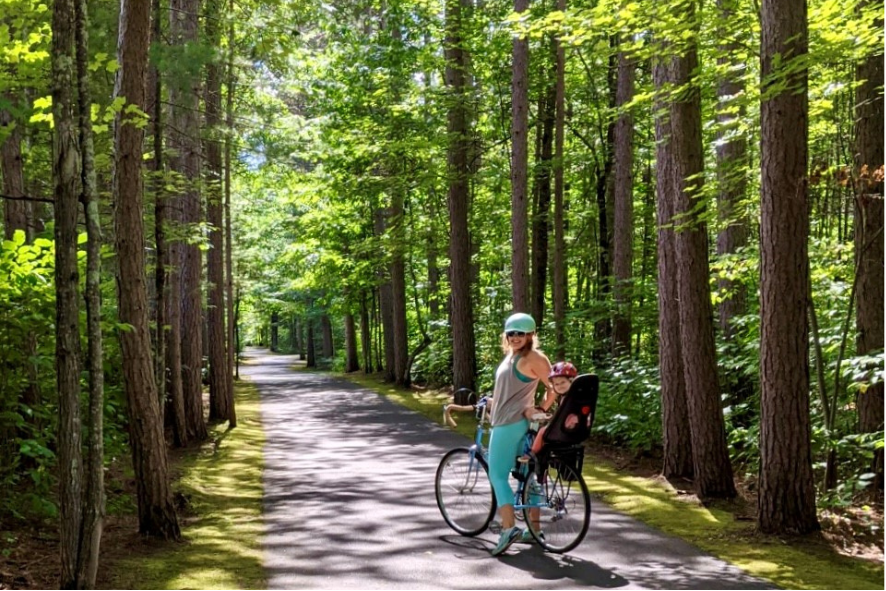 Brenna enjoying a Northwoods bike ride among the trees with her family. Photo by Pete Schroepfer.
Please join us in welcoming Brenna!
Written by Brenna Holzhauer, Grant Writer