Join us in welcoming the Natural Resources Foundation of Wisconsin's new Digital Communications Coordinator, Emma Schatz! Emma will be focusing on our social media, blogs, and other forms of storytelling to increase engagement between the Foundation and its supporters. 
We sat down with Emma so you could learn more about her background and her passion for communications and the outdoors. Welcome to the Foundation!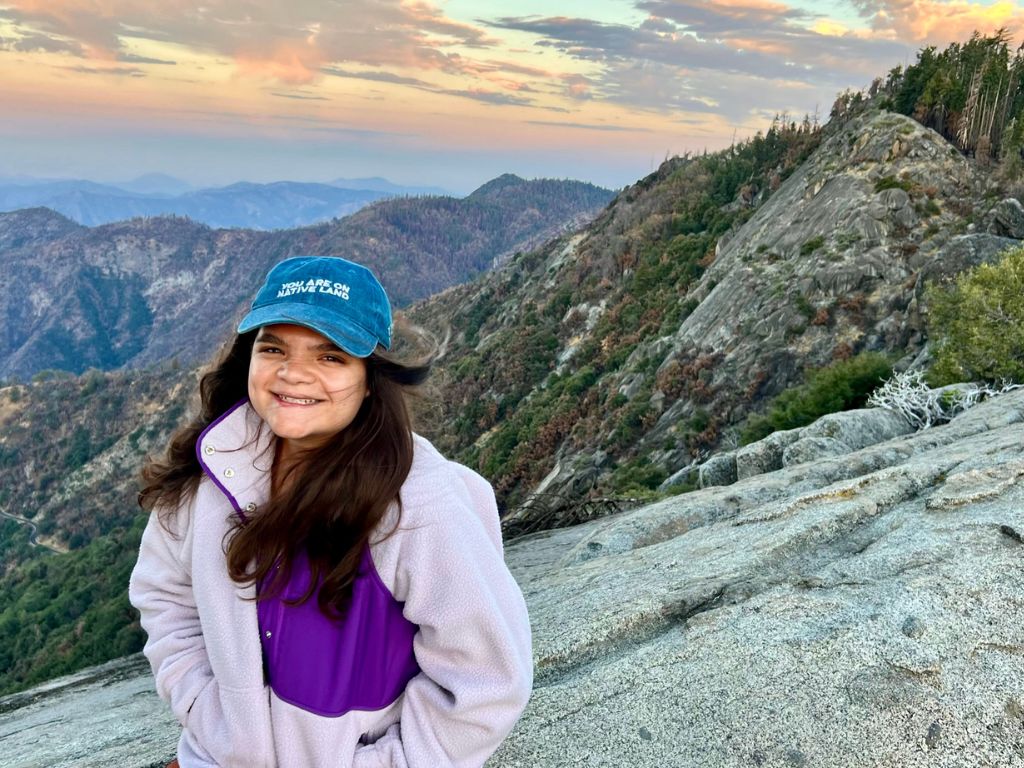 New Digital Communications Coordinator Emma during a hike up Moro Rock in Sequoia National Park. Photo: Fernando Rivera
I will always be enough for nature
My love of nature certainly grew when I had opportunities to backpack in places like the Bob Marshall Wilderness and Gila National Forest, but I am even more grateful for the local nature that has inspired me to get outside from a young age.
Growing up in Racine, Wisconsin I was able to attend school on the shores of Lake Michigan. I have fond memories of admiring the changing leaves at local nature preserves, learning how to fish at park ponds, and spotting different bird species while driving along Highway I-94. My love for nature and the outdoors comes from my dad, an avid hunter and fisherman, who was always bringing me and my sister along on his day hikes and adventures.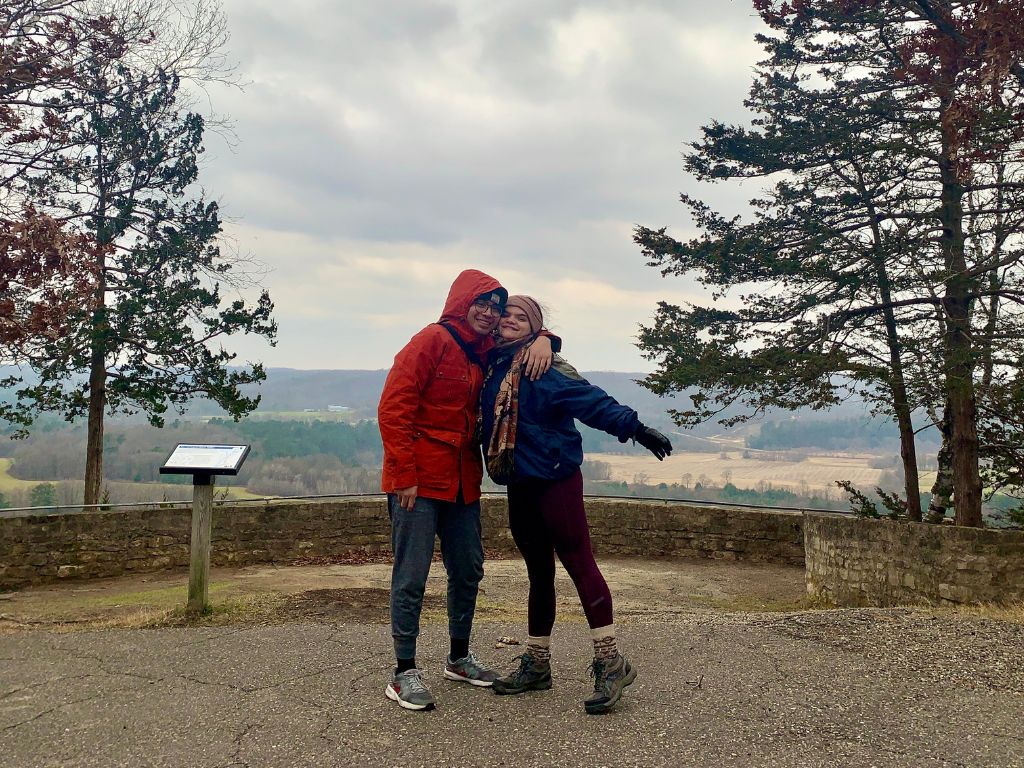 Emma Schatz at Wildcat Mountain State Park. Photo: Courtesy of Emma Schatz
Not only has nature given me happy memories, but it has also shaped the person I am today. Nature forces you to push yourself out of your comfort zone and I am grateful for the opportunities I have had to try different outdoor activities. Backpacking, kayaking, and horseback riding, to name a few, all helped grow my personal confidence on and off the trail.
Of course, one's journey with self-identity is not without struggles. I grew up in a predominantly white community, and as a young mixed-race Latina woman, I have always struggled with my racial identity. During difficult times, I tend to turn to the outdoors for comfort because it has always been there for me. When I wasn't "Latina enough" or "white enough" I was enough for nature. Always.
Combining communications and the environment
In May of 2022, I graduated from the University of Wisconsin-Madison with a degree in Environmental Studies and Life Sciences Communication along with a certificate in Chicanx & Latinx Studies. I am passionate about increasing diversity in the outdoors and believe that everyone should feel welcomed and safe while in nature. During my final semester of undergrad, I completed a WordPress research project which features significant BIPOC leaders in the outdoors, both historical and present. I also discuss barriers to accessing the outdoors and initiatives currently fighting for change. Additionally, I am currently a Midwest ambassador for SheJumps, a nonprofit organization working to get more women and girls involved in outdoor recreation.
During the summer before my senior year of college, I completed a three-week backpacking trip across the state of Montana through the non-profit organization Wild Rockies Field Institute. I received college credit for environmental ethics, strengthened my backpacking skills, and made life-long friends.
The Bob Marshall Wilderness challenged me in many ways, from flooded tents to grizzly bear encounters (yes, multiple…) and my time there taught me an important lesson: when we are in nature, we are guests in someone else's home. This mindset has stuck with me since and has strengthened my relationship with nature to be just that, an actual relationship between two beings. While I do believe we have a right to experience the outdoors, I equally believe in our responsibility to protect it.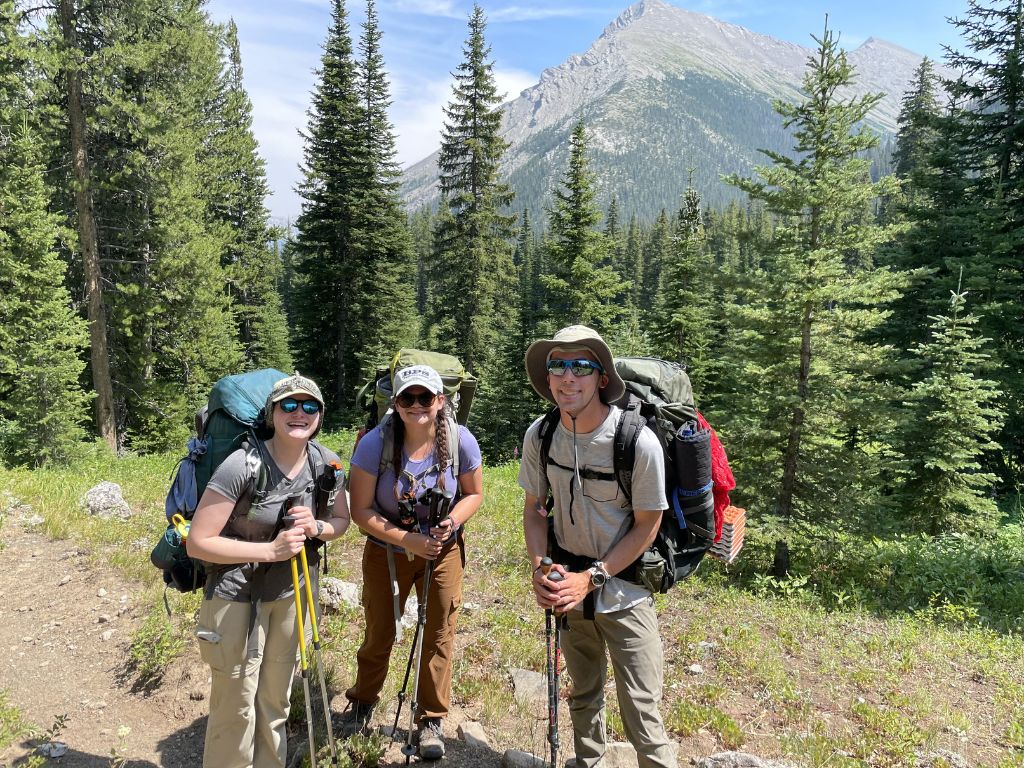 Emma (middle) and her friends, Molly and Lane, backpacking through the Bob Marshall Wilderness during a summer backpacking trip with Wild Rockies Field Institute in 2021. Photo: Courtesy of Emma Schatz
With my free time after graduating, I have been enjoying discovering new restaurants throughout Madison, exploring off-campus hiking and biking trails with my new puppy, Luna, and traveling with my friends and family to new places. I was able to visit my sister in California and adventure in Sequoia National Park, and in November I will be visiting my life-long friend in France while she completes a teaching program there. In the future, I hope to road trip across the US and continue exploring new places.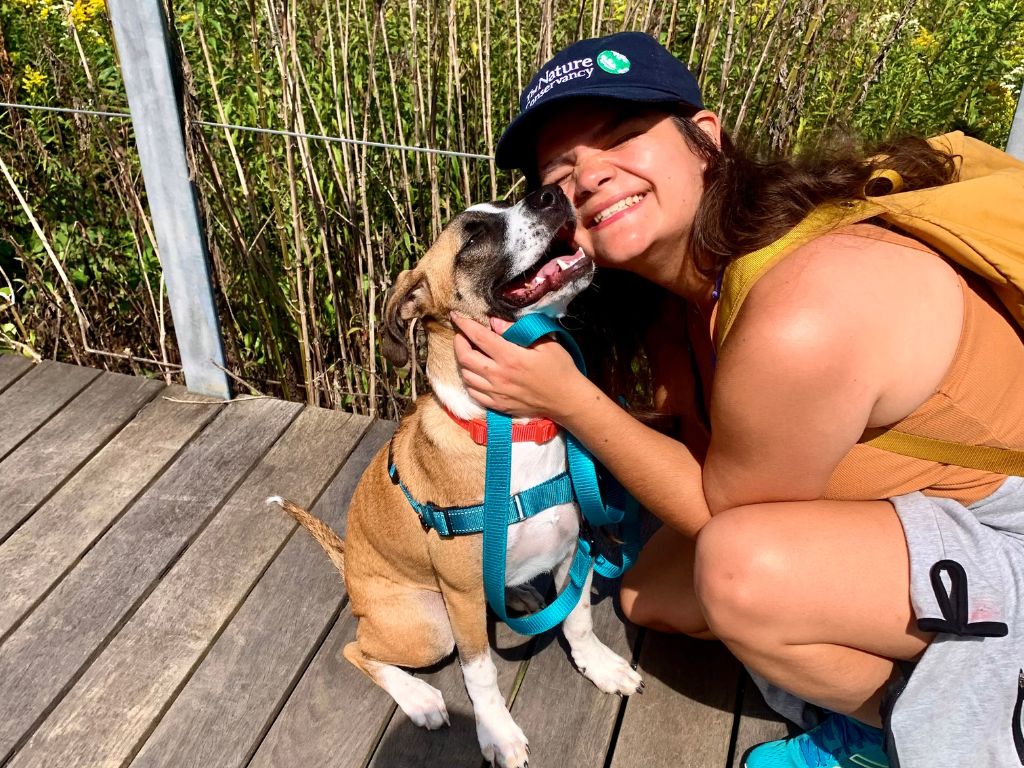 Emma and her puppy, Luna, have been exploring local trails around Madison. Photo: Fernando Rivera
Engaging with the Foundation
For the longest time, I have been a passionate communicator about nature and the outdoors. Through my degree in Life Sciences Communication, I have tailored my educational career towards combining storytelling and educational information to help connect people with nature. I am eager to continue this work at NRF and help grow our engagement on social media to draw more people into the amazing work happening at the foundation.
Please join us in welcoming Emma!
Written by Emma Schatz, Digital Communications Coordinator