Join us in welcoming the Natural Resources Foundation of Wisconsin's new Executive Assistant, Michaela! Michaela will be providing administrative support to the Executive Director, Director of Philanthropy, and Board of Directors. She will arrange meetings and events, organize board communications, and assist with office management.
We sat down with Michaela so you could learn more about her love of nature and her passion for helping organizations run smoothly. Welcome to the Foundation!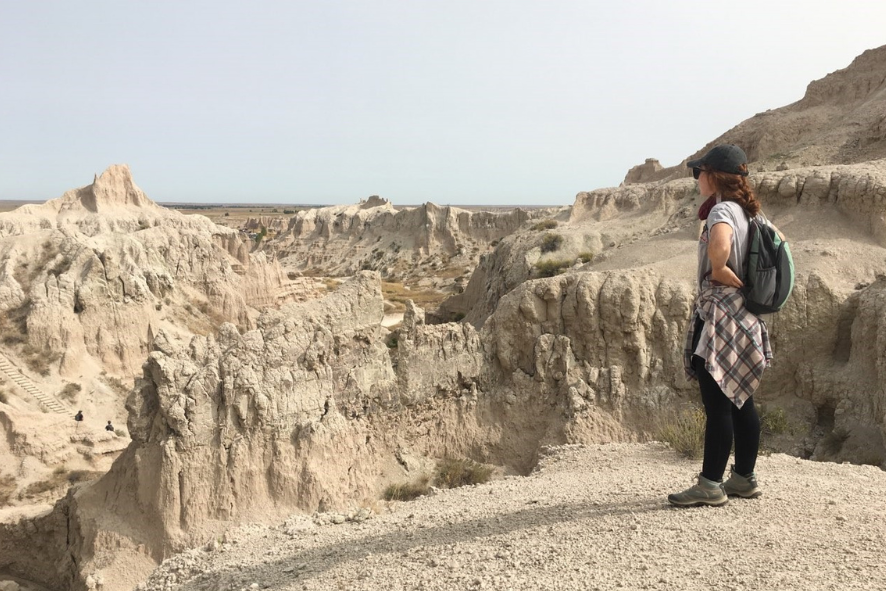 Michaela on a hike in Badlands National Park. Photo by Avenash Pernankil.
Midwest heart, wanderer's soul
The Midwest will always hold a special place in my heart. I grew up in northcentral Illinois in a rural community with plenty of open space and cornfields. Small town living for the first 18 years of my life taught me a lot – the importance of sustainable agriculture practices, how to tend a garden, and the beauty of eating locally and seasonally. And although my family had strong roots, my parents instilled in me the importance of travel, with road trips to National Parks, yearly treks to the Wisconsin Northwoods, and flights to warmer climates for a week in the winter. When I wasn't adventuring outdoors, I was often curled up with a book somewhere.
For college, I moved to the Chicago suburbs where I studied English writing and journalism at North Central College. I continued to find joy in being outdoors (even if I had to study there) and travelling any chance I got. From the Maine coast to the Gap of Dunloe to the glaciers of Iceland, my husband and I hiked, biked, and ate our way across countries and states. The more I travelled and read, the more passionate I became about conserving the environment. But I was on track to work in libraries, where I could spread my love for reading to my community. And so there I began my public service career.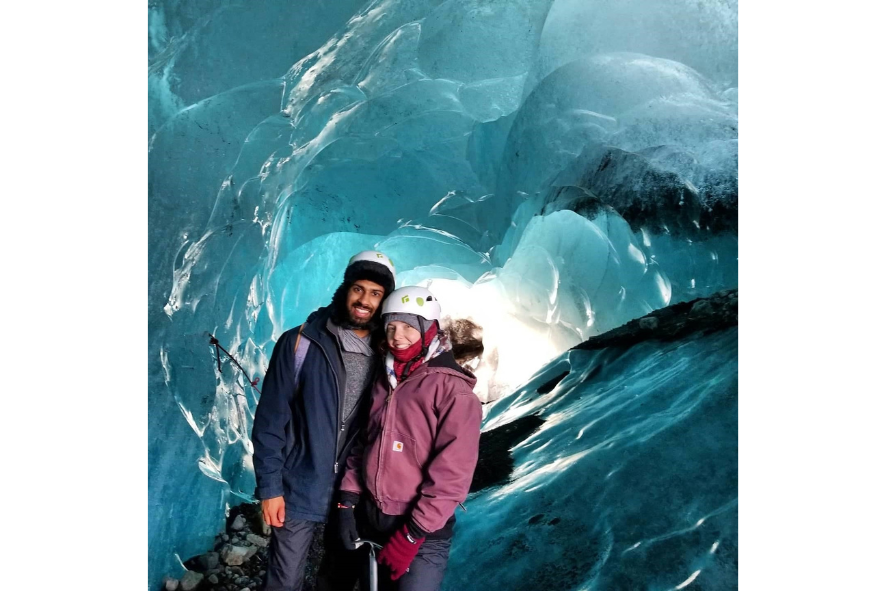 Michaela and her husband standing in a cave in Iceland. Photo by Akhilesh Pernenkil.
As the world shifted in 2020, so did I. My husband and I relocated to Madison to pursue new work and education opportunities. With my desire to work in the environmental field growing, I found a job working for the City of Madison Parks as a park ranger. I learned a lot but found myself more interested in the larger-scale conservation efforts happening around me. So, I began looking for ways to transfer my skills in writing, service, and organization to a conservation nonprofit. When a coworker mentioned NRF, I knew it was the place for me.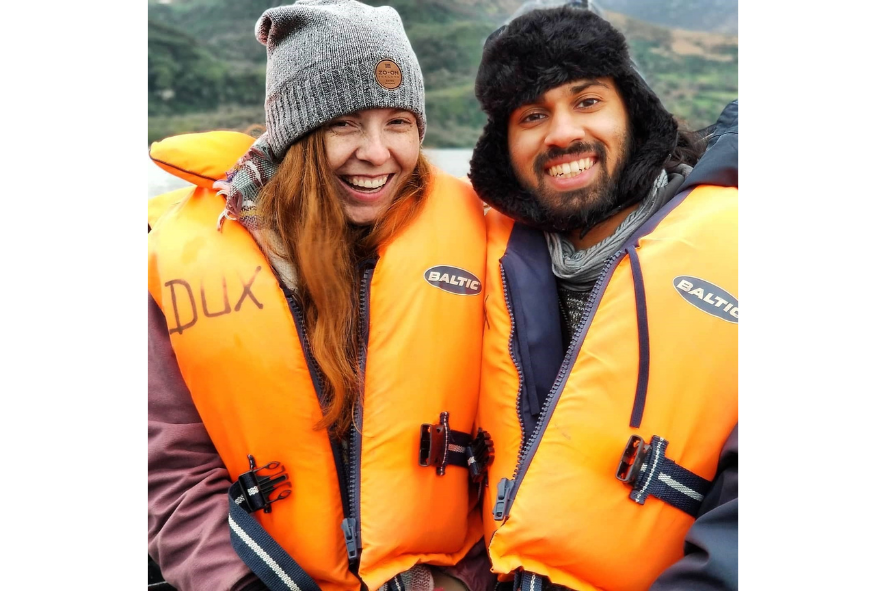 Michaela and her husband in Ireland wearing life jackets. Photo courtesy of Michaela Daly.
Having worked in public service jobs for more than 8 years, I was excited to transition into a different type of service: assistant work. I have always been someone who loves to help and organize things, so becoming the executive assistant at NRF felt like the perfect way to do that while advancing a conservation mission I truly care about. I'm ecstatic to be working with NRF to support executives, the board of directors, and staff in order to advance our mission in protecting Wisconsin's lands, waters, and wildlife.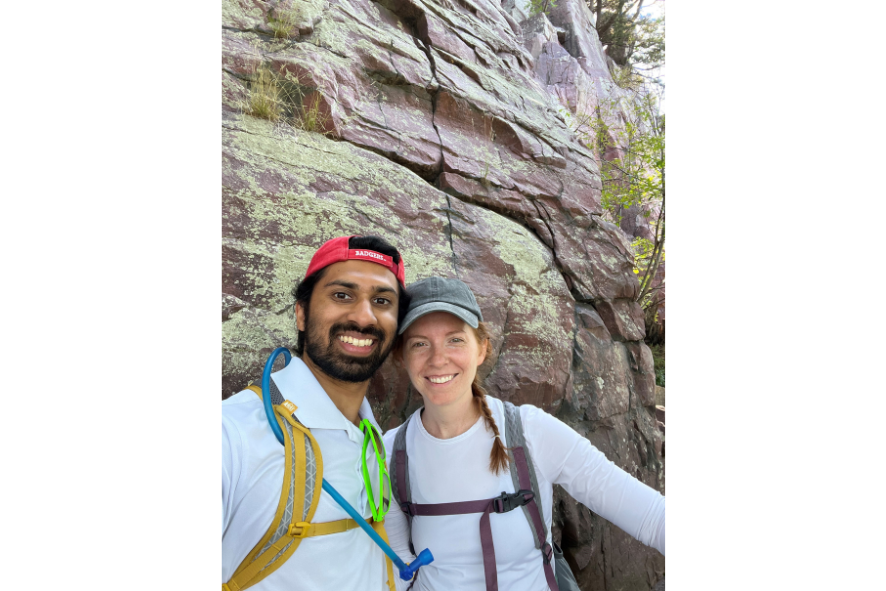 Michaela and her husband in front of a rock while on a hike at Devil's Lake State Park. Photo by Michaela Daly.
Outside of work, I love to be a jack of all trades and master of none. Beyond reading and writing, I am often out birding, walking, hiking, or biking around Madison with loved ones. Although Madison is home to us now, we still make the drive to Chicago for concerts, festivals, and friends. And I love to eat – on any given day I can be found baking or cooking a new recipe at home or trying out a new restaurant. I can't wait to learn even more skills and hobbies from staff, Field Trip leaders, and members of NRF.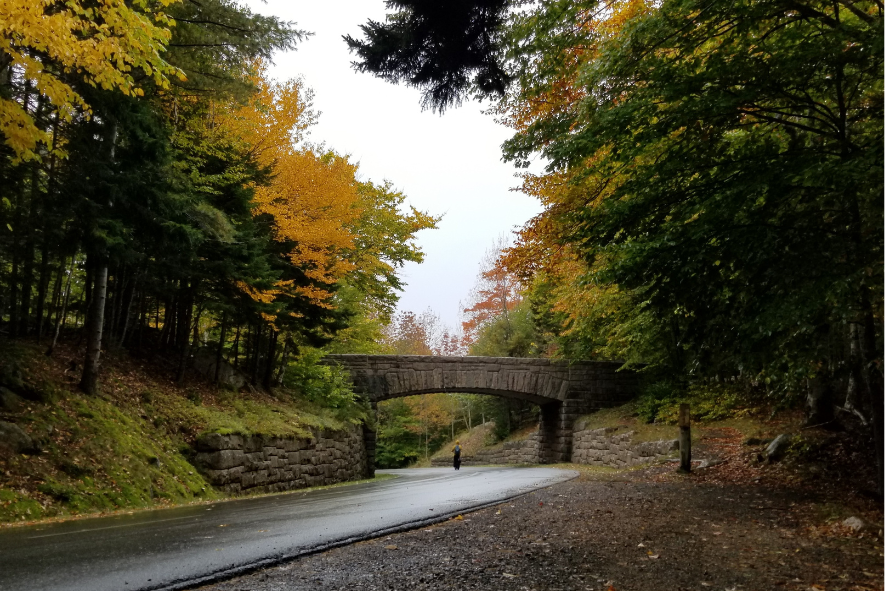 A wet road in Maine, with tall yellow and green-leafed trees on either side, winding underneath a stone bridge. Photo by Michaela Daly
Please join us in welcoming Michaela!
Written by Michaela Daly, Executive Assistant