Our logo and branding have changed! But our work helping protect Wisconsin's lands, waters, and wildlife and connecting generations of people to nature remains the same.
We believe our updated logo better communicates what we do, and it reflects our ongoing commitment to Wisconsin's incredible diversity of life.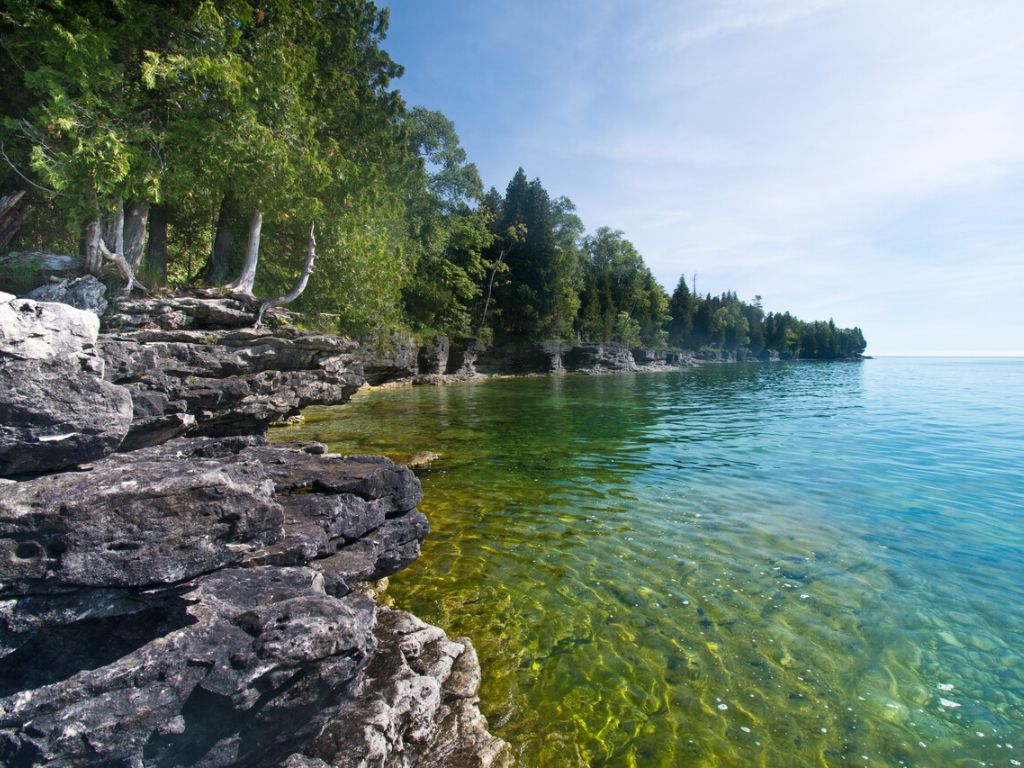 NRF's new branding better reflects our commitment to nature in Wisconsin. Pictured: a rocky tree-lined shoreline with clear blue water in Door County.
What does the new logo mean?
The new logo communicates the statewide nature of our work. Our projects, members, and partners are located all over Wisconsin, from the pine forests of the Northwoods to the oak savannas of the Driftless Area, from the Mississippi to the Great Lakes. We focus only on Wisconsin, and we care about all parts of Wisconsin.
It also communicates the breadth of our work. The shapes of wildlife, land, and water show that our conservation work is holistic, and that we understand that all life is connected. Its multiple colors show how we value our state's biodiversity.
Lastly, it communicates what we believe. Nature has inherent value and people can – and do – make a difference. The arched shape of a bridge shows our commitment to connecting all people with the natural world in our state.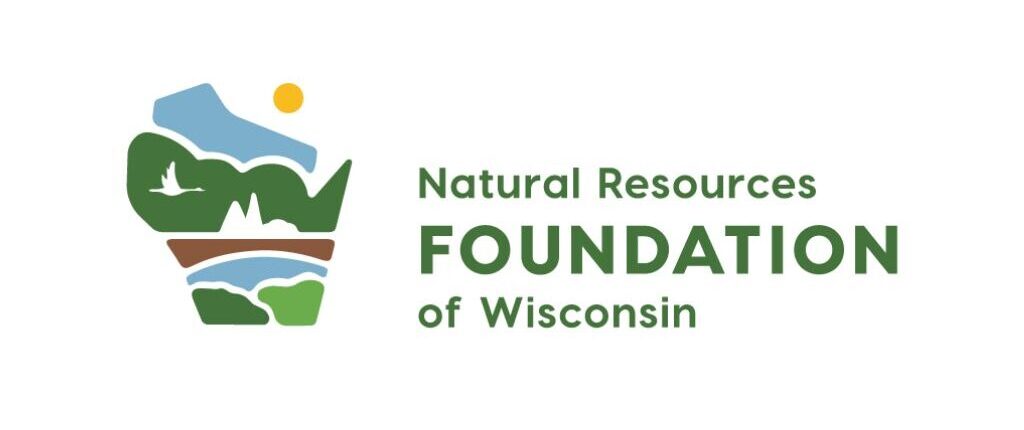 The Natural Resources Foundation of Wisconsin's new logo
Helping protect Wisconsin's lands, waters, and wildlife
Our new logo is the culmination of a two-year rebranding process. We took the time to really ask ourselves what is at the very heart of what we do – and how we can quickly express that visually through our logo and brand.
What We Do: We help protect Wisconsin's lands, waters, and wildlife by providing strategic funding, leading conservation partnerships, and connecting all people with nature in Wisconsin.
Strategic Funding
We focus on Wisconsin's most imperiled species and unique landscapes. We bring together experts to determine the most critical conservation needs. And we put over $1 million each year into restoring habitats and environmental education, from huge projects that protect whole landscapes to community-level, grassroots efforts.
Conservation Partnerships
In conservation, we can accomplish more together than we can separately. We have hundreds of partners – from the Wisconsin DNR to land trusts, national, regional and local foundations and nonprofits, small community-based organizations and clubs, and more. We bring partners throughout the state together to work toward common goals.
Connecting all people with nature in Wisconsin
Outdoor experiences can be life changing. Our Field Trips get people of all ages outside, exploring Wisconsin's natural wonders. We help kids get their hands dirty through our environmental education grants. We also lead several Diversity, Equity, and Inclusion efforts to work to make the outdoors more accessible and welcoming to all people in our state.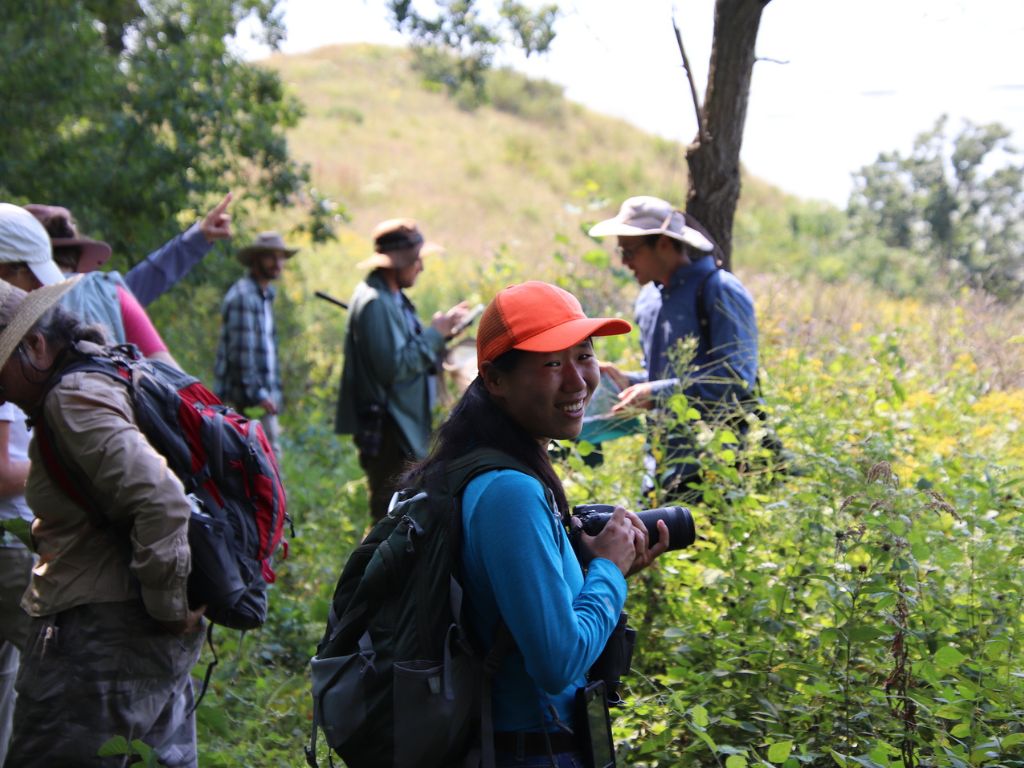 A photographer smiles during a 2022 Field Trip to Rush Creek State Natural Area. Photo by Marc Williams
Our mission is to connect generations with Wisconsin's lands, waters, and wildlife through conservation, education, engagement, and giving.
We still connect people with nature in Wisconsin. We still conserve, educate, engage, and give – and provide ways for people who care about Wisconsin to do the same.
NRF still has all the same programs you value – robust grant programs, unique Field Trip experiences, the Great Wisconsin Birdathon, and all the rest.
Our passion for nature is the same as it was last year, the same as it was last time NRF's logo changed (in 1998), and the same as it was 35 years ago when NRF was created.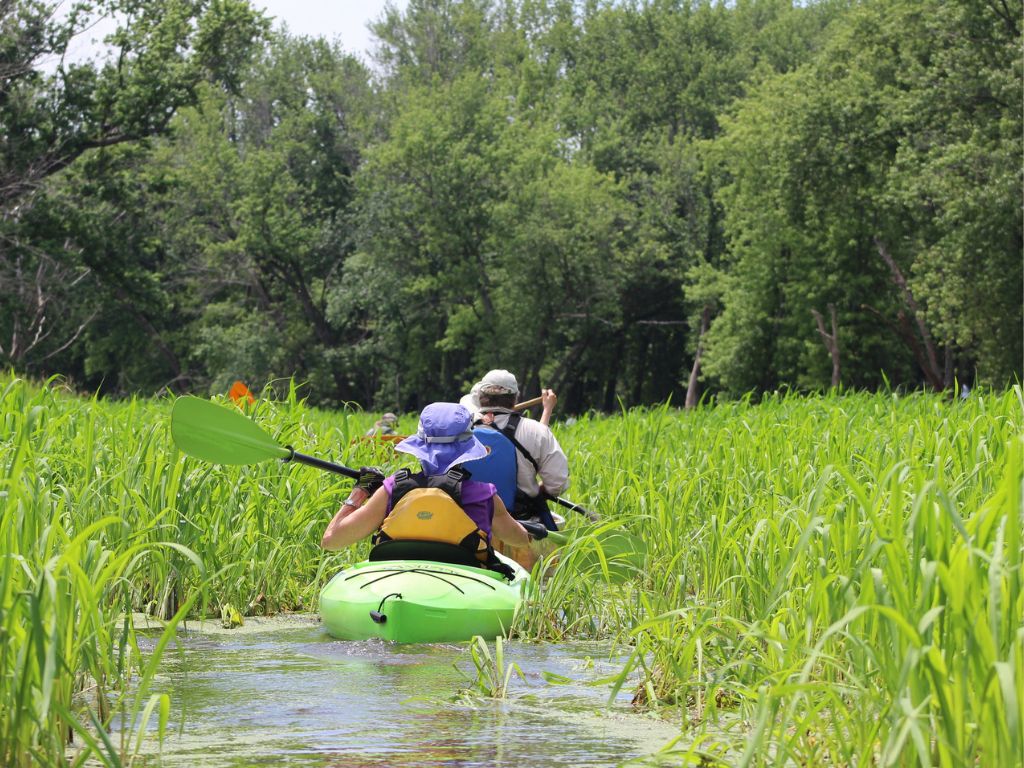 Exploring the Mississippi River by kayak on an NRF Field Trip about reptile and amphibian conservation in 2022. Photo by Andrew Badje
Our new tagline says it all. It's what we do, and it's what we invite YOU to do.
We invite you to explore Wisconsin. Go outside for a hike, or join us on one of our Field Trips. Let those experiences connect you to your love for the beautiful state we call home. And let that love inspire you to look for ways to make a difference.
We hope you're as inspired by our new look as we are. We're proud to continue our important work together!
Thank you to Cricket Designworks for their work on the new brand. And a big thanks to our Board of Directors, staff, and members like you who have supported our work over these past 35 years!
Protecting Wisconsin together
This video provides a brief overview of what we do and why.
Thank you to Bridget Rathman (Wisconsin Department of Natural Resources), Victoria Rydberg (Field EDventures) for lending your voices along with our executive director, David Clutter. And a big thank you to Robert Jarzen, NRF member and videographer!
We're proud to announce the Natural Resources Foundation of Wisconsin's new branding!
Our work remains the same, but the new logo better reflects what we do: help to protect Wisconsin's lands, waters, and wildlife and connect generations to nature.
In many ways, we're doing the same work we've been doing for 35 years. But we're also innovating: protecting biological diversity in the face of a changing climate, introducing diverse professionals into the conservation field, and getting more kids (and adults!) outside.
We believe that the new branding will help us tell our story of shared commitment to each other, and to Wisconsin's lands, waters, and wildlife.
Thank you for being a critical partner in making our important work possible. I look forward to exploring, loving, and protecting Wisconsin – together.
Written by Shelly Torkelson, Director of Communications