Exploring the Unique Landscape of Red Banks Alvar: A Conversation with Julie Hawkins-Tyriver
Written by Mira Johnson, NRF Communications Assistant
The only alvar in Wisconsin is on the edge of a growing metropolitan area. It's worth trying to preserve as much of it as we can, or it will be gone.
Picture a flat expanse, sparsely populated with shallow-rooted grassland, carpeting a limestone plain. This landscape is dotted with exposed bedrock and thin patches of soil.
You might not think a place like this could be full of life. But these places, known as alvars, are some of the most biodiverse habitats on the planet!
Alvars are unique geological habitats found only in a handful of places across the world. They can be found in the Baltic region of Northern Europe, the Clare and Galway counties in Ireland, and the Canadian Shield. And we have one right here in the Great Lakes region, too.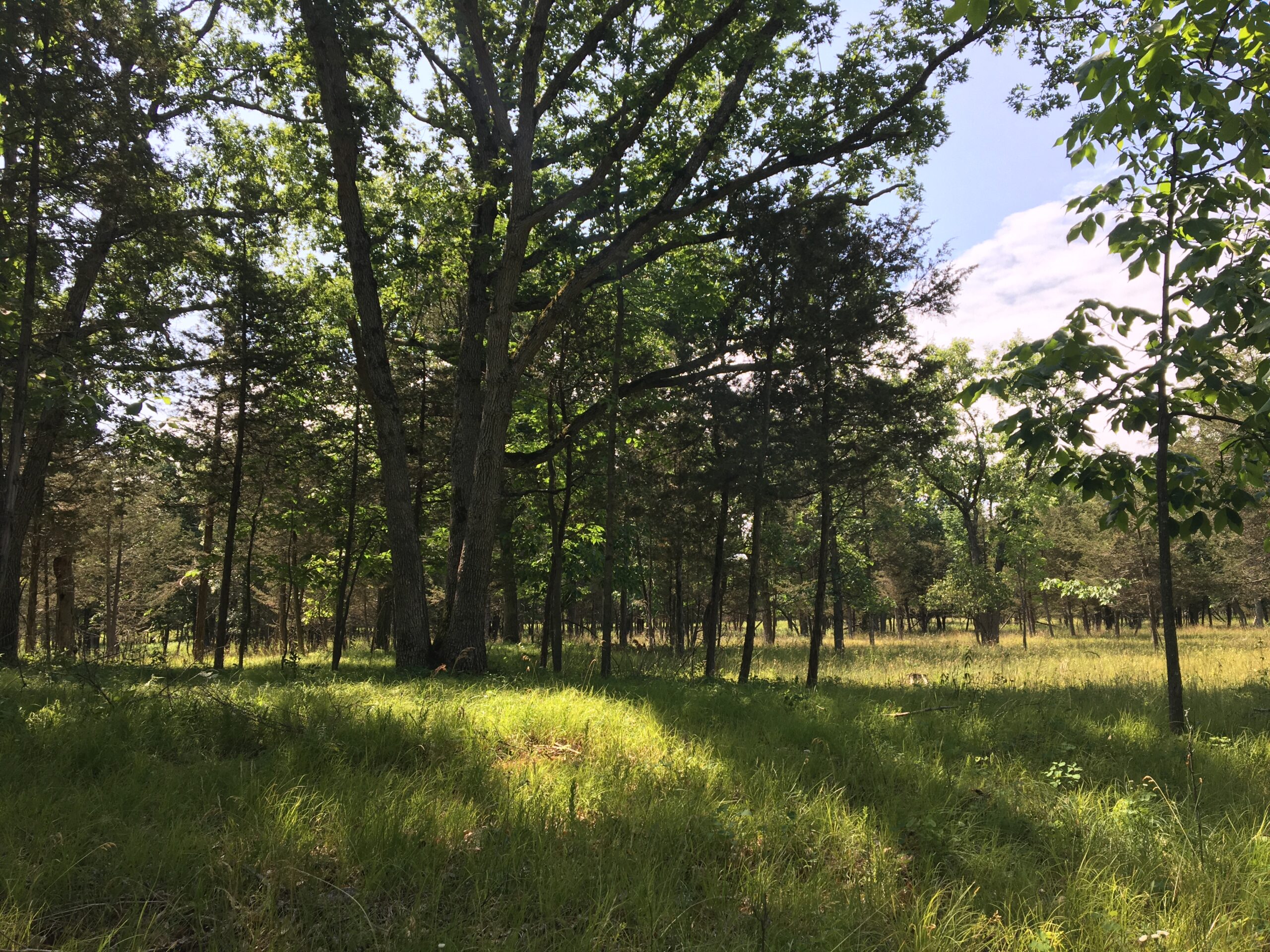 Red Banks Alvar State Natural Area. Photo by Shelly Torkelson
An alvar in your own backyard
Red Banks Alvar is located in Brown County, Wisconsin, just up the freeway from Green Bay. It is an exemplary model of an alvar community and the diverse array of organisms they support.
"An alvar is a native community with shallow soil on top of bedrock, near a large body of cold water [in this case, Lake Michigan]. Alvars have microclimates which create good habitat for many different groups of species. Red Banks Alvar is a very neat spot because it's the best example of an alvar in the state of Wisconsin." -Josh Martinez, WDNR
This alvar is home to many unique and rare species. The federally threatened dwarf lake iris, a variety of pollinator-friendly goldenrods, and bottle gentian are found here.
Around the globe, alvars face threats from invasive species and human encroachment, putting them at high risk of extinction. The species-rich communities that alvars support are also put at risk.
The alvar is a "relict"—a community that used to have a wide distribution but now survives in only a few small places.
View a detailed map of Red Banks Alvar here.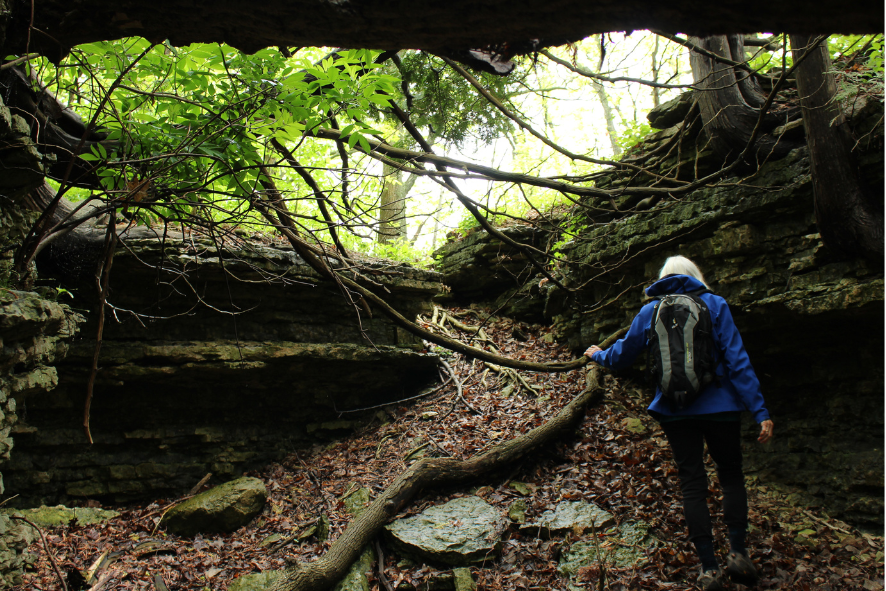 An NRF Field Trip participant explores the Niagara Escarpment at Red Banks Alvar State Natural Area. Photo by Caitlin Williamson
Protecting Red Banks Alvar and its biodiversity
Red Banks Alvar has been one of NRF's priority sites for many years because of its biodiversity.
Thanks to a recent grant from the Fund for Lake Michigan, NRF can continue supporting these rare natural communities. Projects will control invasive species, implement prescribed burns, and reintroduce native forest understory species. This work will help restore and protect the unique microhabitats at Red Banks Alvar. The project will specifically benefit native pollinators, Wisconsin's most diverse land snail communities, and grassland and forest-edge nesting birds.
Red Banks Alvar also contains one of the most diverse land snail communities known in the Midwest! It's one of the most important areas in Wisconsin for snails. The tiny cherrystone drop snail (threatened in Wisconsin) is one of the rarest snails here.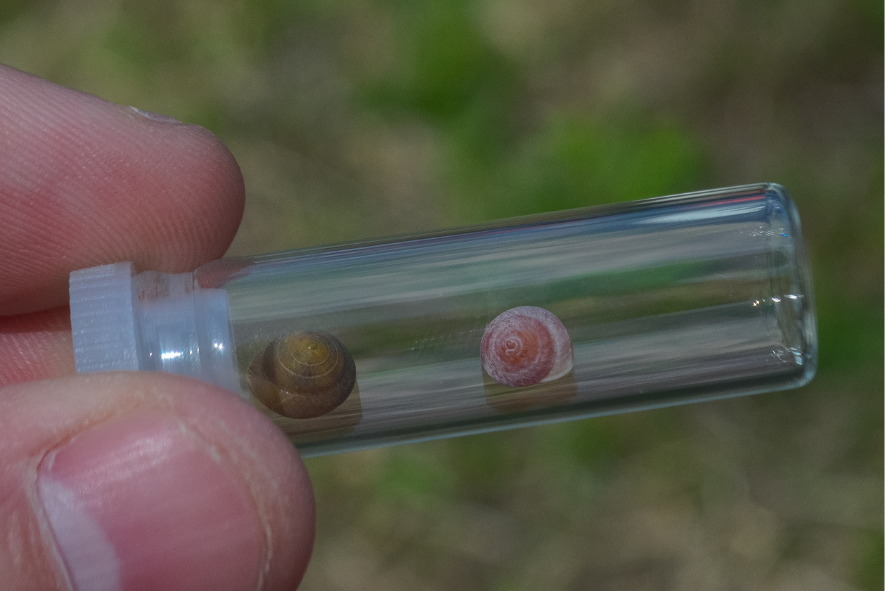 Two cherrystone drop snails in a clear tube. Photo by Joshua Mayer
The Land Conservation Director for the Northeast Wisconsin Land Trust (NEWLT), Julie Hawkins-Tyriver, recognized the unique beauty of the Red Banks Alvar from early on. She also recognized the need to protect it. Julie has led many NRF Field Trips to Red Banks Alvar. As NEWLT's conservation director, she manages land acquisition projects and coordinates activities on all NEWLT-owned preserves. I wanted to know how Julie got involved with the Red Banks Alvar and what makes it such a special place. Here are her responses to some of my questions: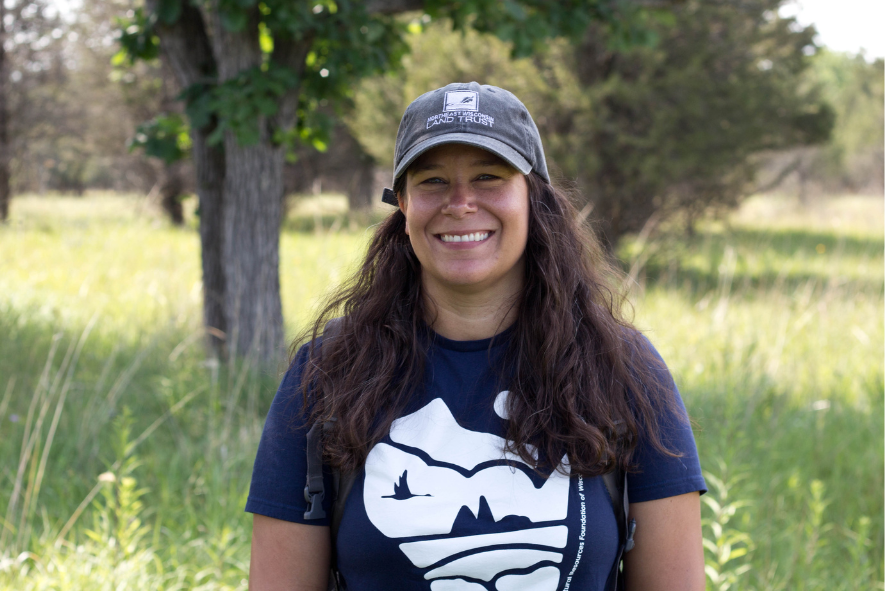 Field Trip leader Julie Hawkins-Tyriver of NEWLT. Photo by Shelly Torkelson
Interview with Julie Hawkins-Tyriver
MJ: What is it about the Red Banks Alvar that first spoke to you?
JHT: The complexity of alvars is what's most interesting to me. They exist on a spectrum from a flat rock surface without vegetation, to a little vegetation, to a grassland, to a savanna, to a woodland. You have these small yet old trees growing on very little soil, and a combination of prairie species and boreal (northern forest) species. Part of the year it can be flooded, but in the summer the plants often have to withstand drought. It's a fragile community, but made up of hardy, individual species. It can seem perplexing and that's what I think is so fascinating.
I knew nothing about alvars before I started working at NEWLT in 2007. I looked up whatever I could to learn about them and was thankfully able to learn a lot from Joe Henry at the DNR about this unique natural community.
Now, it is my favorite natural community. The Red Banks property on Gibson Lane is the property I am most proud of acquiring for conservation.  There is a lot to learn so I know I will continue to learn new things every year.
Like many places, maps, photos, and articles can teach you a lot, but seeing a place in person usually is the best teacher.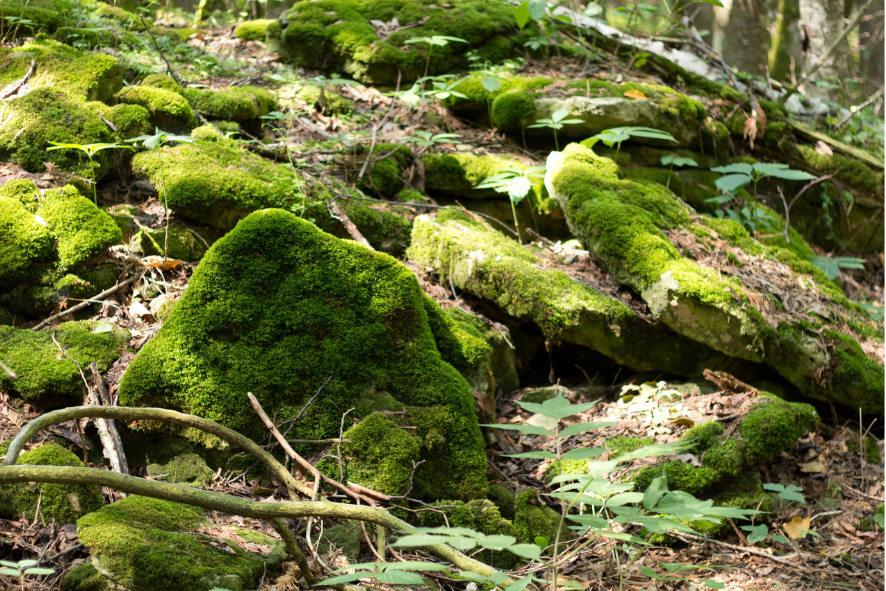 Niagara escarpment moss and ferns, habitat of the rare cherrystone drop snail. Photo by Shelly Torkelson
MJ: How did you get involved in conservation of the Red Banks Alvar site?
JHT: Northeast Wisconsin Land Trust (NEWLT) was founded as a Land Trust in 1996 with a focus on water quality. We are a regional land trust with a 12-county territory that started prioritizing conservation in Red Banks in 1999, along with the other portions of the Niagara Escarpment. Most of the land we own in Red Banks now (five properties) came from those early relationships.  In addition to funding, land conservation is often dependent on building relationships and the best timing for families.
MJ: What is your favorite activity while you are at Red Banks Alvar, and what do you think is the best way to see and appreciate it?
JHT: I like to simply walk the property. Early spring is a nice time to visit for visibility because I think it highlights the bedrock and some of the more unique plants. In the summer, there are a lot of prairie species blooming in the grassland portion. The DNR has been doing an impressive job restoring this area by removing some of the junipers and invasive species like buckthorn, honeysuckle, Queen Anne's lace, and yellow sweet clover to name a few. I think fall is one of the most aesthetically pleasing times to visit. The contrast of the orange-hued prairie grasses to the green of the junipers is enjoyable in early October.
Wearing knee boots (if you have them) will allow you to go through some of the wetter areas, especially after a recent rain. There are numerous apps that can be used to help you navigate from the parking area on HWY 57 to Gibson Lane.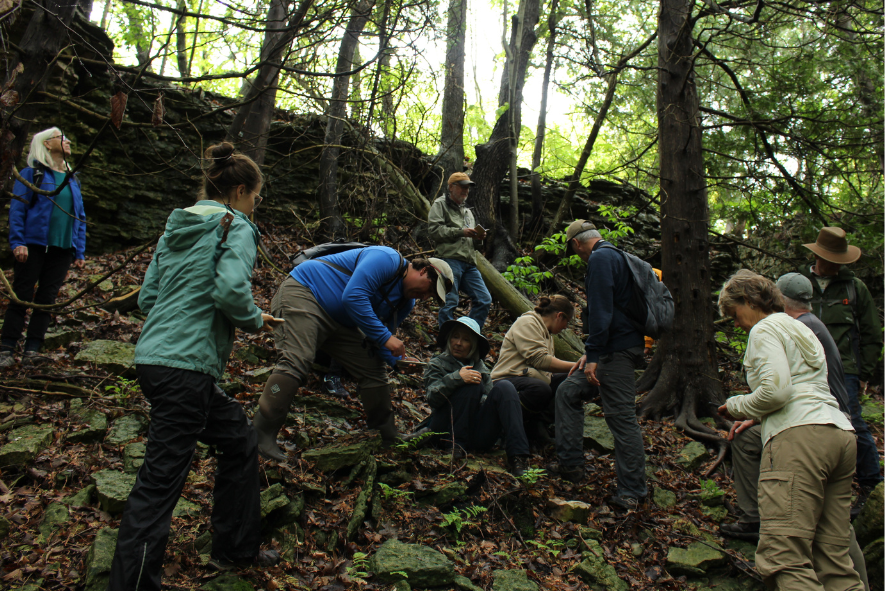 Field Trip participants explore the Niagara Escarpment at Red Banks Alvar State Natural Area. Photo: Caitlin Williamson
Want to visit Red Banks Alvar? Like almost all other State Natural Areas, it's open to the public! Visit the WDNR site for more information about visiting Red Banks Alvar and other State Natural Areas.
You can also join NRF on a future Field Trip to Red Banks Alvar. Hike to discover uncommon plants, natural wonders, and one the most diverse land snail communities known in the Midwest.
Or, learn more about Red Banks Alvar by visiting this interactive StoryMap!
Support Wisconsin's most unique biodiversity
Red Banks Alvar's unique biodiversity is globally significant, and critically imperiled. It's one of NRF's priority sites for conservation efforts and funding.
The large grant from the Fund for Lake Michigan will help NRF and partners to tackle some of the third coast's most pressing conservation needs. This grant supports extensive restoration work at Red Banks Alvar in partnership with the Wisconsin DNR.
Thank you to the Fund for Lake Michigan and NRF's members for helping protect this important and unique habitat!