Carpenter St. Croix Valley Nature Center provides unique opportunities to learn and explore the outdoors. With property on both the Minnesota and Wisconsin sides of the scenic St. Croix River, the nature center preserves 725 acres of wildlife habitat while also providing educational opportunities for over 7,000 K-12 students annually. Hiking trails wind through restored and prairie habitat and mixed deciduous forest on the 300-acre Wisconsin campus. So how does one organization manage so much territory? Internships provide critical staffing and research support to the Nature Center while also offering important career experience for students.
With help from the Natural Resources Foundation of Wisconsin's C.D. Besadny Conservation Grant Program, Carpenter Nature Center was able to hire two natural resource interns. In the following blog, Megan Orthmann writes about her hours spent performing mammal and plant surveys for the Carpenter St. Croix Valley Nature Center.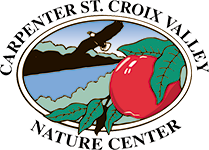 My Wild Summer Internship
Blog contributed by Megan Orthmann
This summer started off better than most. By May, the weather was already beautiful, sunny, and glowing with life. It seemed to be an omen declaring how great the summer would turn out. Much to my delight, it came true!
These past three months spent at Carpenter Nature Center were filled with new adventures, learning experiences, and hard work. There are two campuses at Carpenter Nature Center, one of which is in Hudson, Wisconsin. This landscape is a beautiful 300-acre mix of remnant prairie, restored prairie, and woodlands. Since the Wisconsin Campus is a more recent edition to Carpenter Nature Center, there is a lot of work to be done on the property, much of which requires surveying. In order to preserve and protect this gorgeous piece of land, it is important to know what species inhabit it. Therefore, much of the work I did on the Wisconsin Campus for the duration of the internship related to plant and animal surveys.
Surveying everything on the Wisconsin property is no easy task, so I decided to focus on mammals and plants to begin. Eventually, I was working on mushroom, bird, insect, and reptile surveys too! In order to do mammal surveying, I utilized many different methods to catch these creatures on camera.
One of the most important pieces to my mammal survey was a game camera, or as I liked to call it "The Mammal Cam". I set up a common game camera in various locations around the Wisconsin Campus that allowed me to catch both prairie and woodland mammals on tape. Often, I would set up a type of "bait" for the mammals such as various berries and pieces of leftover meat in front of the camera to see if any animal was interested enough to stop by and take a look. Most of the time, no animals were interested in my bait! Luckily enough, I still caught quite a few animals on camera. Many deer took notice of the device and came up to check it out, sniffing and licking the lens. This made for some laughs in the office, when another intern and I reviewed the footage.
In addition, I studied mammal presence by identifying scat, tracks, holes/burrows, bones, and in-person sightings. These methods took a lot more studying and observation and it took quite some time to correctly label this evidence as one mammal versus another. At the end of my survey, the mammals documented at CNC include coyotes, foxes, deer, skunks, opossums, minks, and more!
Also, I worked hard on a plant survey for the Wisconsin site. Only a few plants had been listed as existing there, but after my additions there are more than 120 plants documented. Since there are so many plants present on the site, it will take more than one season to identify and list them all. As a plant identification novice, I worked with a few plant experts to help identify these plants correctly. These experts were awesome and have been involved with Carpenter Nature Center for quite some time; I thank them for all of their advice and assistance.
An important piece of this internship was meeting with professionals in the Natural Resource world. Between all the events, outreaches, and educational opportunities there was more than enough opportunities to meet awesome people who worked in various sectors of the field. Other interns and I had the chance to meet a wildlife technician, a falcon bander, a bird-safe advocator at the Audubon, members of the Hastings Park and Recreation Department, Naturalists, Water Quality Inspectors, a Dragonfly expert, and more. Additionally this summer, I tagged along as the University of Minnesota Monarch Lab conducted a survey on the reconstructed prairie of the Wisconsin Campus. The purpose of this study is to evaluate how Monarch butterflies respond to the plant species in reconstructed prairies. Their study will help to determine how these ecosystems play a role in the survival of the Monarch butterfly.
Although surveying was my main task, I also assisted with Wild Parsnip removal, kestrel box mounting, volunteer projects, and various bird surveys. All in all, lots of tasks were completed this summer at Carpenter Nature Center Wisconsin campus.
Thanks for all the memories, Carpenter Nature Center!
And a huge thanks to Natural Resources Foundation of Wisconsin for the grant to make this all possible!