Accessibility is a privilege
At the end of every summer, my high school sends its students to Camp Manito-wish in Boulder Junction, Wisconsin. There I learned how to backpack, canoe, and kayak for the first time. I credit so much of who I am today to those experiences. They strengthened my confidence and inspired me to spend more time outside. Since then, I have been able strengthen my skills thanks to other outdoor education programs I had access to.
It is important to connect people with the outdoors in a safe and welcoming way, especially from a young age. As such, I am extremely proud of NRF's work connecting children to Wisconsin's outdoors. Specifically, this happens through the Go Outside Fund and Teachers' Outdoor Environmental Education Fund. Both provide funding to connect youth to outdoor, nature-based learning experiences.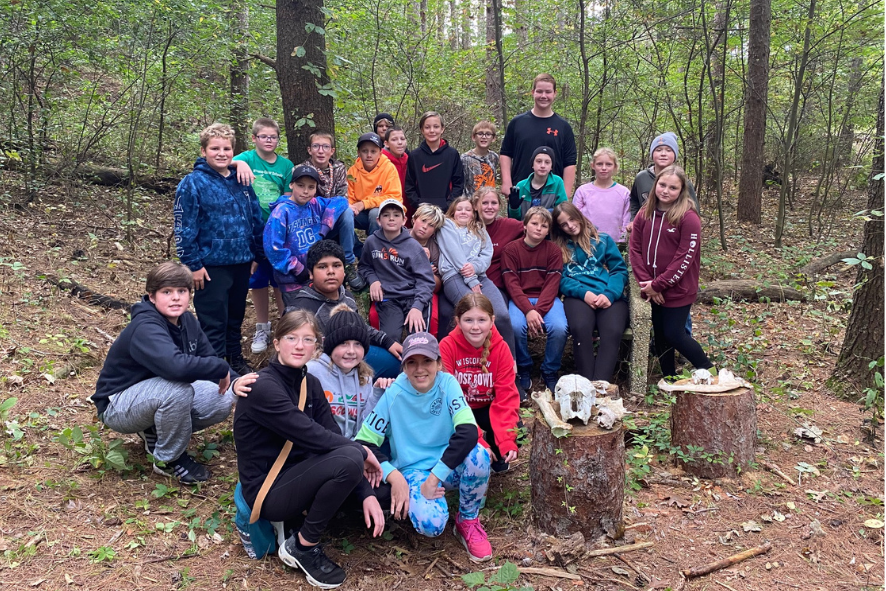 A 2022 grant from the Go Outside Fund supported Wonewoc-Center Junior High students to visit Summer Outdoor Adventure Club. There they did a low ropes course outside to build teamwork skills and went on a nature hike to learn about local ecosystems. Photo courtesy of Wonewoc-Center Middle School.
However, this access to nature is a privilege and not the case for many people. Outdoor recreation in the United States has historically lacked diversity and inclusion. According to an article published by JSTOR Daily in 2022, 22% of National Parks visitors identify as people of color.
In my own experience, I noticed early on that not many people look like me on the trail. Still, I sometimes feel out of place in the outdoors. When passing someone on the trail who looks like me, I can feel my mood lift a bit. I always make an extra effort to say hello and give a comforting smile. These gestures can make someone feel safer or more welcomed in a space they have been historically excluded from.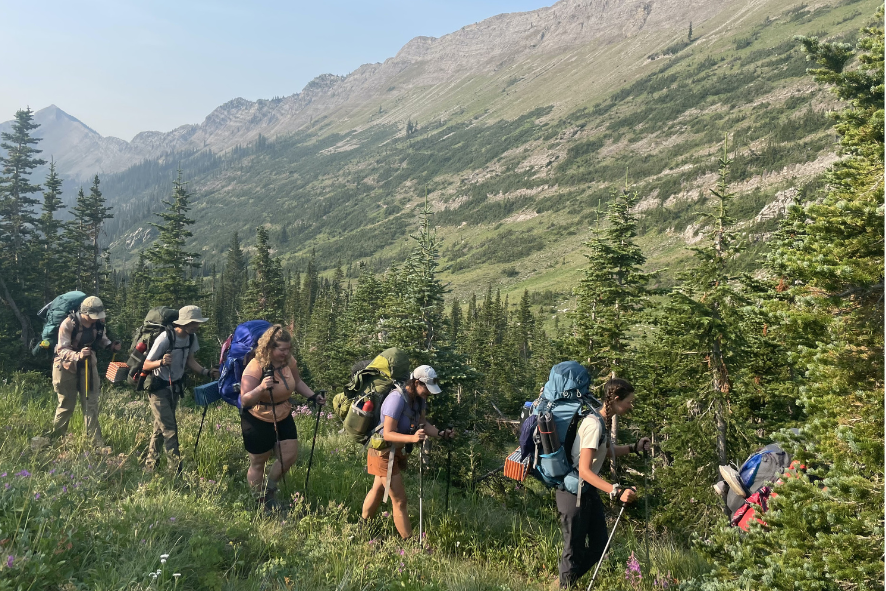 During the summer of 2021, Emma participated in a three-week backpacking trip across Montana with Wild Rockies Field Institute for college credit. Photo courtesy of Emma Schatz.
Barriers to Accessible Outdoor Recreation
Discrimination and Representation
Have you ever had to consider if you felt welcomed or safe in a space where no one looked like you? Discrimination and feeling unwelcomed in the outdoors because of how you look, what language you speak, or your experience level, are some of the biggest barriers felt by underrepresented populations. Unfortunately, the lack of representation among park workers only further fuels this barrier. Seeing people that look like you in outdoor spaces makes all the difference, especially when you have historically been excluded from certain spaces.
Transportation
If you didn't have access to a car, how would you get to your favorite state park? Unfortunately, many National and State Parks are far from bus lines and other forms of public transportation. Undoubtedly, this distance from many densely populated cities also means day trips to established parks can be challenging.
Site Development
Have you ever thought about how a certain place may be designed for a certain group of people? This occurs when overnight camping and trail maintenance is prioritized over day-use park resources. Of course, outdoor recreation will look different for someone who can't take as much time off work, or doesn't have the equipment to head out into the backcountry. Therefore, day-use park resources, such as picnic areas and facilities, should be developed with equal priority to off-grid park resources.
Language
How would it make you feel if you went to a park where all the signs were written in a language you didn't know? A major deterrent to using outdoor recreation areas, specifically for Latinx groups, is the language barrier and lack of Spanish-language brochures, signs, and notes used at established parks.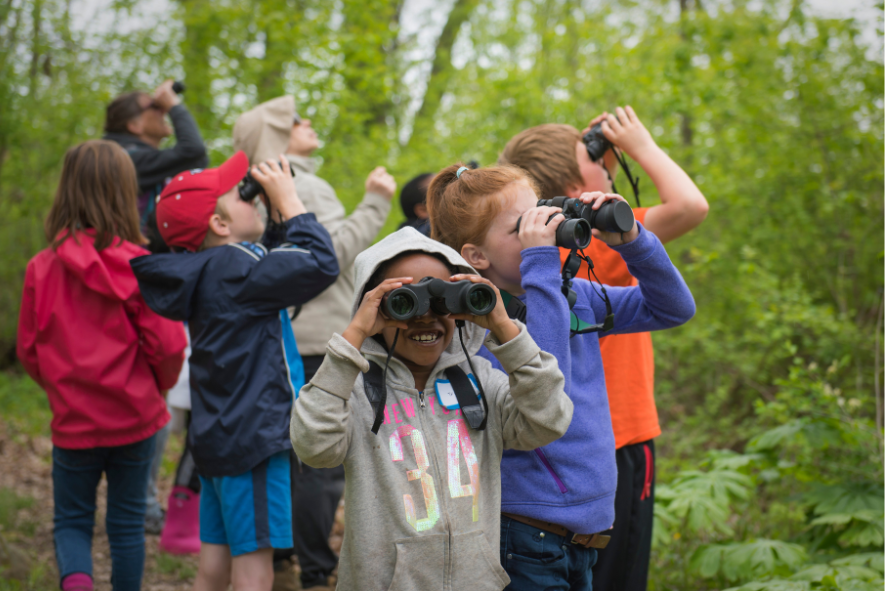 A Teachers Outdoor Environmental Education Fund grant funded local elementary schools in Madison (Muir, Lincoln, Wingra) to host an Outdoor Education Summit. Photo courtesy of MSCR.
Connecting All People with Nature – NRF's Mission:
As part of NRF's 2021-2023 Strategic Plan, we are committed to building bridges to Wisconsin's natural wonders. We believe healthy natural resources are key to healthy communities, and essential to people's well-being. Therefore, NRF is committed to creating safe and equitable access to the experiences and benefits of time spent outdoors. By expanding our programming, outreach, and partnerships, we are working to connect with and serve broader, more diverse audiences. Because everyone deserves an opportunity to get outside and feel comfortable in nature.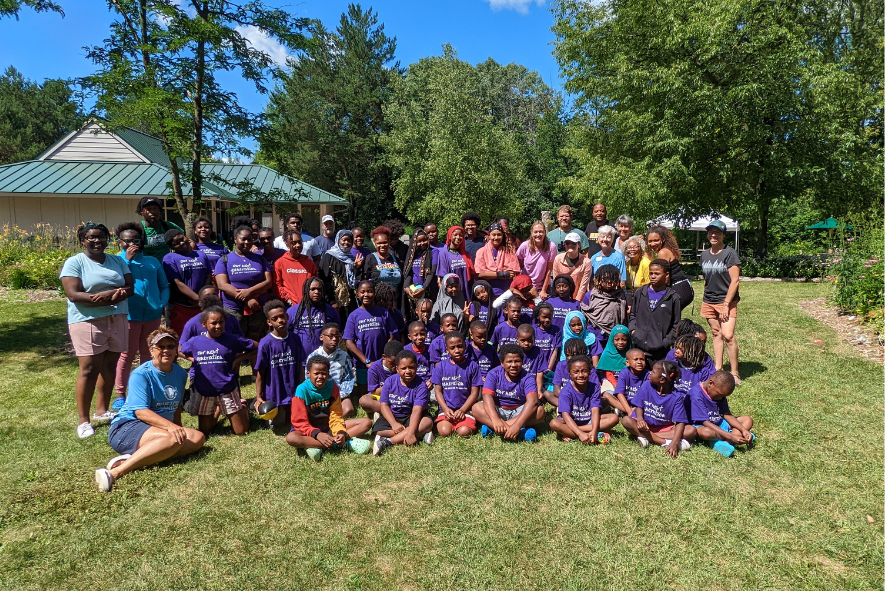 Thanks to a 2022 grant from the Go Outside Fund, students from Our Next Generation visited the Blue Lotus Center. There they gained a positive outdoor experience in a rural environment with opportunities they would not otherwise have access to in their typical urban setting. Each day they learned different skills, such as paddling a canoe or kayak. Additionally, it was the first time most of these students had ever been in a boat, caught a fish, or enjoyed a campfire and s'more. Photo: Lisa Starke.
Here's what that work looks like for us:
Building partnerships with organizations working with underrepresented communities to provide equitable access to Wisconsin's outdoors.
Expanding our programming to create more accessible, inclusive experiences to connect to new and more diverse audiences.
Providing DEI trainings to board and staff, ensuring the understanding of and commitment to DEI across all areas of NRF.
Leading the DEIJ Community of Practice, a network of Wisconsin conservation and environmental education organizations committed to advancing diversity, equity, inclusion, and justice. As of 2023, we are proud to have 190 participants from over 80 organizations.
Growing the Diversity in Conservation Internship Program to support more students from diverse backgrounds exploring careers in natural resource conservation.
Identifying and addressing barriers to participation in NRF outreach programs (financial, physical ability, travel, etc.).
Photos courtesy of Access Ability Wisconsin.
Accessibility (and Access Ability)
We're proud to work with Access Ability Wisconsin (AAW), an organization created to provide the means for individuals with mobility challenges to access and enjoy Wisconsin's natural resources. They work to provide recreational opportunities for all physically challenged people. This includes not just wheelchair users, but anyone with a permanent or temporary mobility challenge who wants to enjoy the Wisconsin outdoors.
AAW has all-terrain Outdoor Wheelchairs (OWC) which use rubber tank-like tracks available to reserve and use free of charge at several locations throughout the state. You can reserve an OWC through AAW and tow it to other locations using an AAW enclosed trailer.
Additionally, you can use the chair on your own outdoor excursion or on one of our Field Trips (contact us to discuss options). Or, attend the NRF Field Trip led by Access Ability Wisconsin! #230 Birding for Everyone with Access Ability Wisconsin – see this and our other trips in the Field Trip Guidebook here.
This year, NRF will be offering 26 Field Trips that are accessible to people using standard wheelchairs or other mobility devices. Accessible trips are listed with purple trip titles in the Guidebook!
Tales From Planet Earth: An Event with Emily Ford
NRF was proud to partner with the Nelson Institute for Environmental Studies, UW-Madison to host Emily Ford at the Lussier Family Heritage Center. This event consisted of hiking, community building, and a double feature film screening. Ford is the first woman and person of color to complete the Ice Age Trail in winter. Now, she spreads the message that everyone deserves to discover the outdoors, regardless of race, gender identity, or upbringing.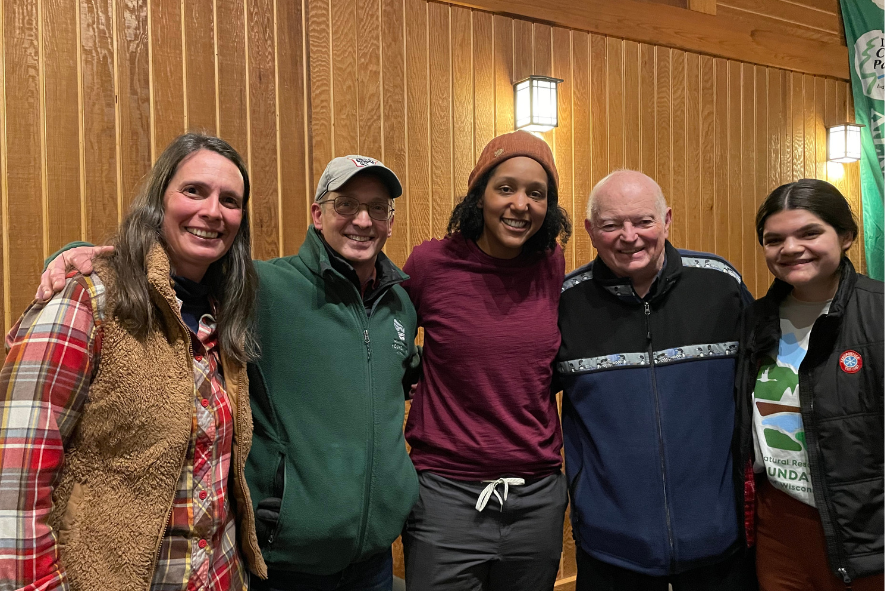 Group photo from left to right, Christine Tanzer, David Clutter, Emily Ford, William Lunney, and Emma Schatz Photo: Courtesy of David Clutter.
Diversity in the Outdoors Resources
To learn more about diversity in the outdoors visit this research page written by our Digital Communications Coordinator, Emma Schatz. The following resources were chosen to be featured either due to NRF's connection with the organization, their presence in the Midwest outdoors space, or both. Note that the following are a few of many resources on diversity in and access to the outdoors. We encourage you to do your own research, too!
Christopher Kilgour created Color in the Outdoors (CITO) to provide space for underrepresented groups to feel comfortable in the outdoors. Furthermore, CITO is an outdoor adventure organization, providing skill-building workshops, events, and treks outside for community members. CITO helps break down these barriers in multiple ways, from providing gear for outings and opening up the conversation about who is welcome in the outdoors.
Attend Christopher's Field Trip with NRF this summer!
Field Trip #181 – Diversity in the Field: Intro to Hunting & Fishing for Beginners From All Backgrounds – learn more here.
James Edward Mills, journalist and Community Partnership Liaison for the Nelson Institute, created The Joy Trip Project to report on outdoor recreation. Through this, Mills also offers a podcast to share stories related to outdoor and sustainable living. NRF is grateful to partner with James on some of our diversity, equity, and inclusion efforts.
SheJumps is a nonprofit organization connecting women and girls to the outdoors through outdoor education, community building, and various events. Join the SheJumps Midwest Region Facebook group to stay up to date with any upcoming events!