Efforts are underway to save one of Wisconsin's last wild lakes. A partnership between the Natural Resources Foundation of Wisconsin and the Wisconsin DNR is restoring Inch Lake State Natural Area, a gem of a lake in northern Wisconsin.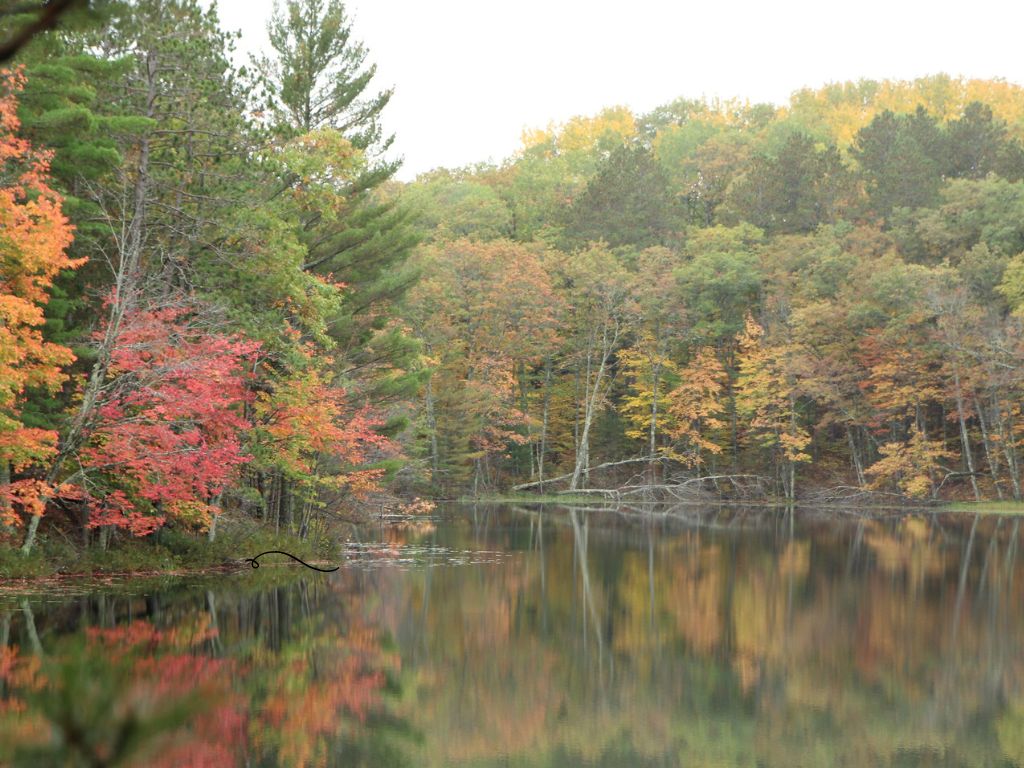 Restoration and management efforts at Inch Lake will preserve healthy ecosystems for years to come. Photo: Caitlin Williamson
Saving one of Wisconsin's last "wild" lakes
A true natural gem is nestled in the forest in Bayfield County, Wisconsin.
Quiet, clear waters are surrounded by nothing but trees. To the south, a forest full of red pine, red oak, aspens, and paper birch borders the lake. Some of the pine trees are more than 100 years old. American hazelnut and sugar maple saplings spread throughout the understory, along with Indian pipe, sweet fern, and blueberries. The small nearby wetland also supports nesting common loons.
Inch Lake is what we call a "wild" lake. According to the Wisconsin Department of Natural Resources, there aren't many of them left in our state. The lake is undeveloped, does not allow motorboats, and requires artificial fishing lures instead of live bait.
Inch Lake is designated by the DNR as a State Natural Area, an "outstanding example of Wisconsin's native landscape of natural communities." Compared to many other State Natural Areas (Wisconsin now has nearly 700!), Inch Lake is fairly new. Jill and Jerry Martin donated the property to the DNR, and it became a State Natural Area in 2006.
Its wild lakes, diversity of wetlands, and pine forests protect some of the last remaining high-quality natural communities in the region. Though the lake remains undeveloped, invasive species are now putting the biodiversity of this special place at risk.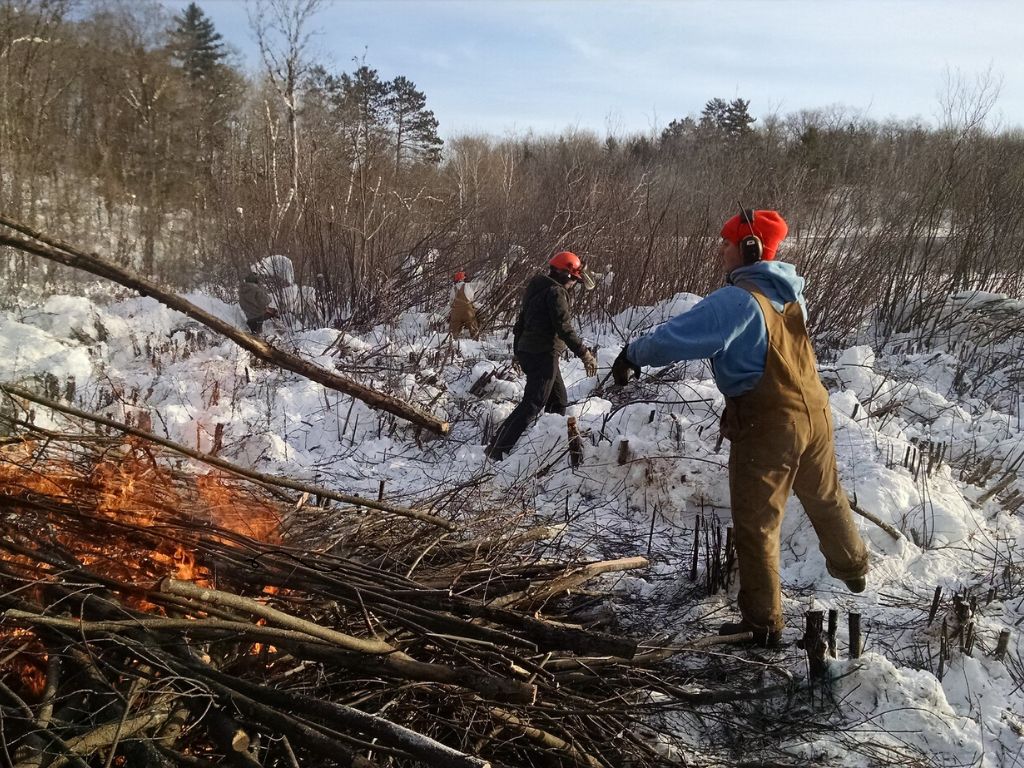 SNA Crew Member Maria Otto loading buckthorn onto the burn pile at Inch Lake State Natural Area. Photo: Ryan Magana
Removing invasive buckthorn
Glossy buckthorn, an invasive species, threatens Inch Lake's wild lakes, wetlands, and 100+ year-old pine stands. Buckthorn rapidly takes over a landscape and prevents native species from growing by out-competing and shading out other plants. At Inch Lake, the original infestation covered more than 50 acres of the shoreline.
Thanks to a partnership with the Natural Resources Foundation of Wisconsin, the DNR has received funding to conduct a large restoration effort at the property. This work is removing glossy buckthorn from the property by applying herbicide treatment mid-summer and hand pulling buckthorn from wetlands around the lake.
Once the work is complete, crews will survey and identify native and invasive plants in the area to better plan for future restoration efforts. This will also help the DNR understand how effective their efforts are and how to improve the quantity and quality of native plant diversity.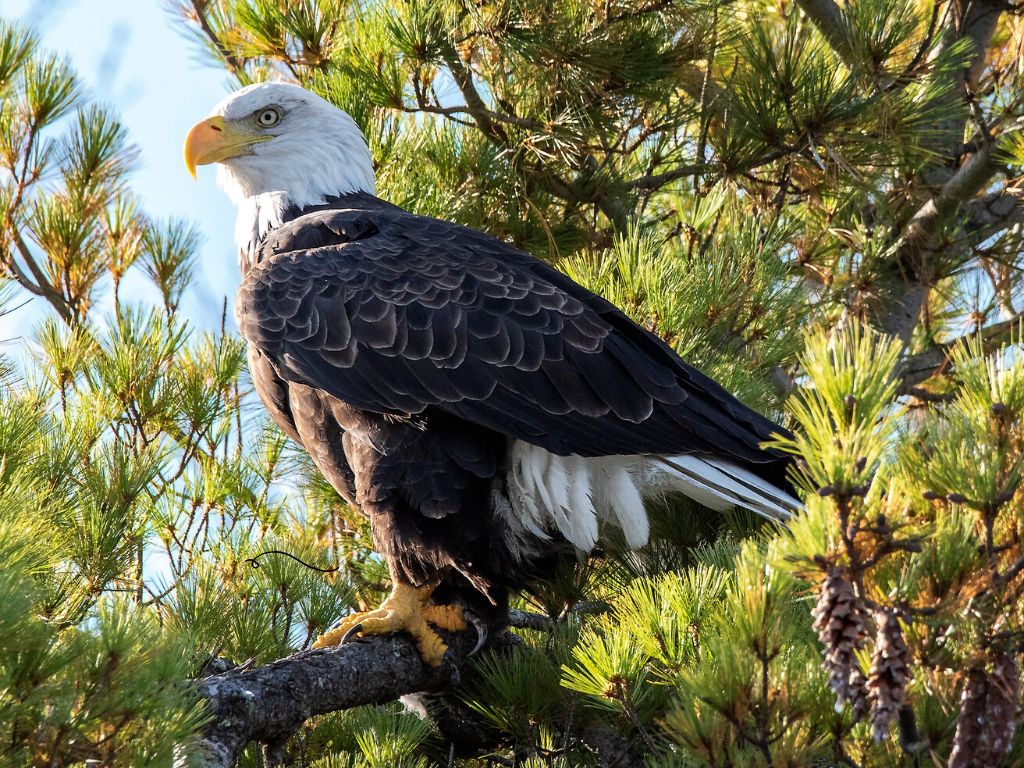 A bald eagle, one of the many species that call Inch Lake State Natural Area home. Photo: Warren Lynn
Saving the lake's "wildness"
By combatting the threat of invasive species around the lake, crews are working to restore diverse sedge meadow-alder thicket and northern mesic forest natural communities. This will improve habitat for wildlife, including loons, bald eagles, turtles, trumpeter swans, and otters. It will also help make Inch Lake more resilient to a changing climate by restoring its high-quality mosaic of natural communities.
Ryan Magana, the Wisconsin DNR's ecologist for northeastern Wisconsin, shared this:
"The glossy buckthorn at Inch Lake SNA had created a nearly impenetrable wall by the time the state acquired this area in 2007. But we are pleased to report that the wall has been coming down!
We've been methodically dismantling the wall with chainsaws and the results are stunning. Once dark, muddy, and shaded out by 10-foot-tall buckthorn, the shoreline now boasts a diverse mix of native shrubs, sedges, grasses and wildflowers.
The Natural Resources Foundation of Wisconsin has been a key partner in bringing down the buckthorn wall, providing funds to cover the cost of this labor-intensive but worthwhile project. To date, nearly ½ mile of buckthorn wall (about 5 acres) has been converted to high-quality sedge meadow."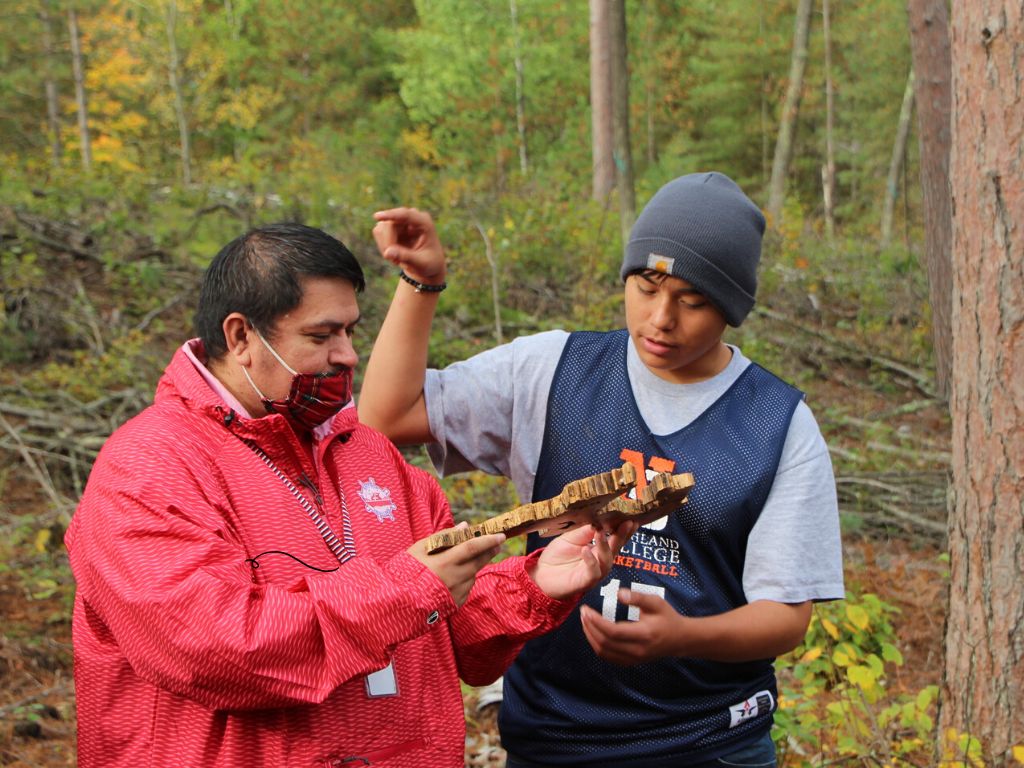 Brian Boyd, the Ojibwe culture teacher with Bayfield High School, with a student during a tour of Inch Lake State Natural Area led by WIDNR. Photo: Caitlin Williamson
Local Tribal Youth Connect to Inch Lake
Inch Lake is in Bayfield County, within the ceded territory of the Ojibwe people where they have retained the right to hunt, fish and gather.
To help build connections between local tribal youth and this special place, a trip supported by NRF's Go Outside Fund brought high school students from Bayfield School, which is made up predominantly of tribal members from the Red Cliff Band of Lake Superior Chippewa, to Inch Lake.
During the outing last fall, students from Rick Erickson's classroom (who previously received a NRF C.D. Besadny Conservation Fund grant for their Sugar Bush project) learned about the ecology and natural history of Inch Lake. The students also learned about the traditional use of fire by native peoples to spur the growth of miinan – blueberries – an important and culturally significant food to the Ojibwe.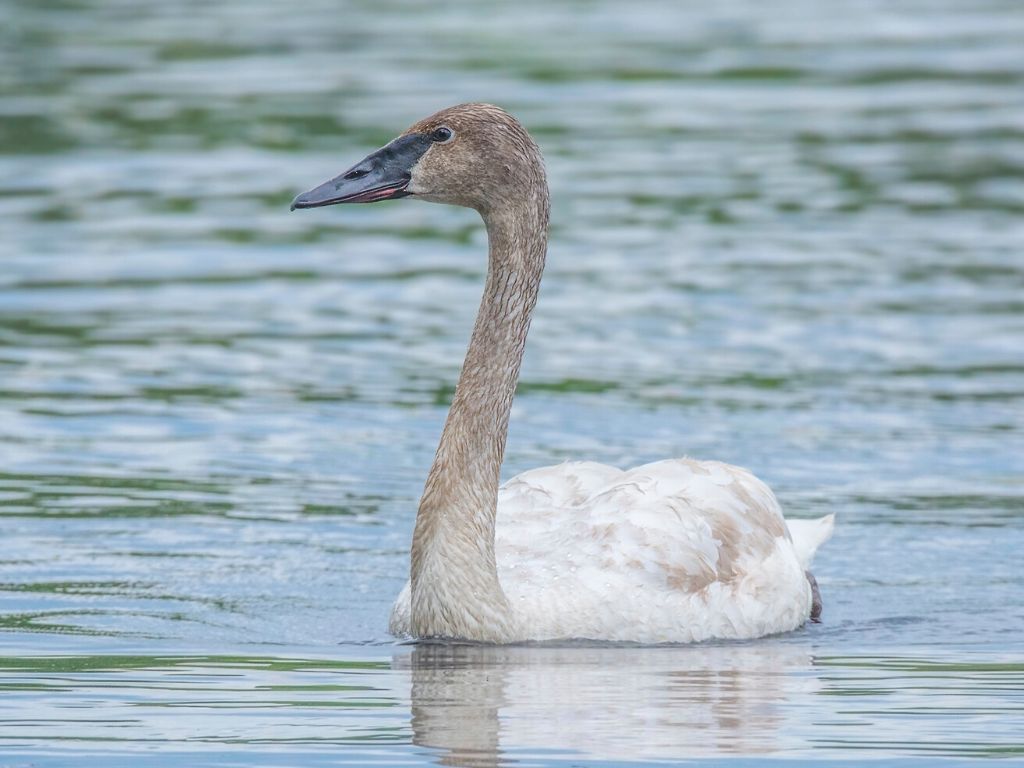 A trumpeter swan, a species that frequents Inch Lake, floats on the water. Photo: Warren Lynn
Thank you for saving one of Wisconsin's last wild lakes
Thank you to the Duluth Superior Area Community Foundation, the Derse Foundation, and NRF Member Robin C. Buerki for their valuable support of the work at Inch Lake. Additional support comes from multiple funds held by NRF's Wisconsin Conservation Endowment: the Camp Rita Doris Conservation Fund, Hussin Family Natural Areas Fund, James J. Schwabe SNA Fund, and SanDretto Family Natural Areas Fund.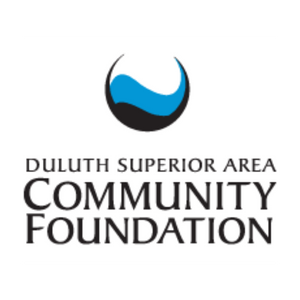 By Lindsey Taylor, Conservation Programs Coordinator