NRF funds projects that have a significant and positive impact on Wisconsin's lands, waters, and wildlife, and that connect people to Wisconsin's natural wonders. Through our grants for conservation, we supported hundreds of projects in 2022.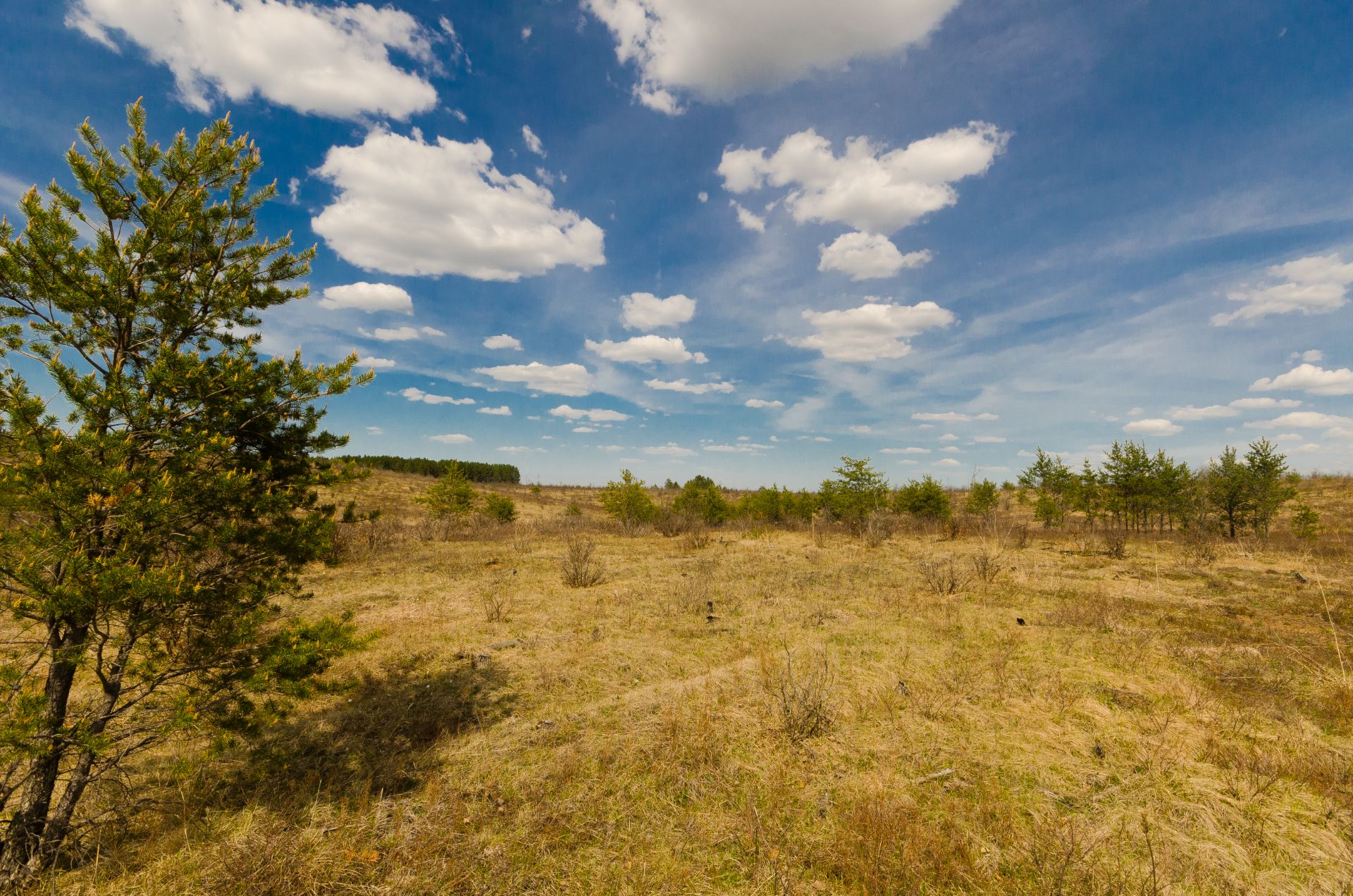 A landscape shot of Motts Ravine State Natural Area, which recieved a 2022 grant from NRF to support restoration and management practices. Photo by Joshua Mayer
The Natural Resources Foundation's Impact on Wisconsin in 2022
In 2022, the Natural Resources Foundation of Wisconsin granted $1,030,650 to support 241 conservation and environmental education projects across the state. The Natural Resources Foundation supports efforts to protect our state's natural resources and connect people with nature.
NRF's three primary impact areas are lands and waters conservation, wildlife conservation, and environmental education. We also support projects that build climate resiliency for Wisconsin's natural resources, and projects that help make the field of conservation and access to the outdoors more diverse, equitable, and inclusive.
2022 Grants for Conservation StoryMap
The Natural Resources Foundation of Wisconsin's 2022 Grants for Conservation StoryMap shows all the grants made throughout the year.
Thank you to NRF's generous members and donors for making these 241 projects possible!
Off the iPads and into the woods
In late September, 53 sixth graders at McKinley Elementary experienced a special field trip to Central Wisconsin Environmental Station (CWES). CWES is an environmental center located 17 miles east of Stevens Point on glacial Sunset Lake. The activities enhanced the school's regular Science and Social Studies curricula and were a great experience for McKinley students. Activities and lessons at CWES included survival skills, canoeing, challenge course, archery, aquatic pond study, an owl adaptations program, and a campfire program.
Support from NRF allowed more students to travel to the station, who normally may have been unable to afford the field trip fee. Without the grant, these students would not have been able to attend this special trip. This grant was funded by NRF's Go Outside Fund which connects youth to outdoor, nature-based learning experiences.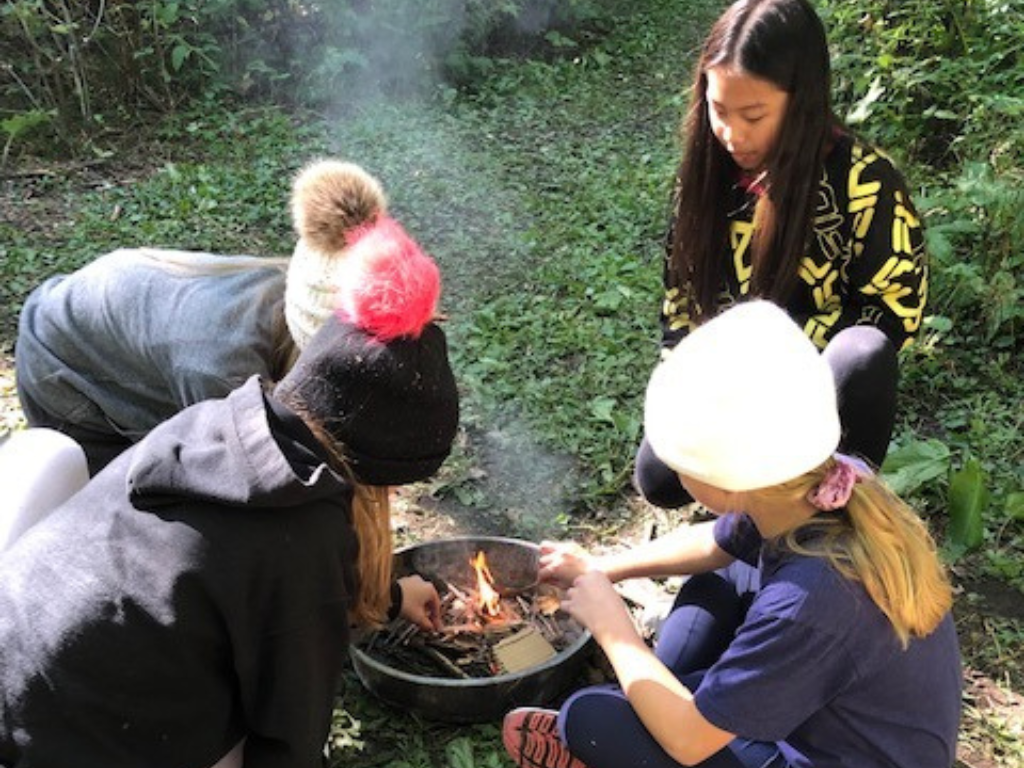 Students starting a campfire. Photo by Dean Hodsdon
Our hope is that students that experience this unique field trip become lifelong lovers of the outdoors and continue to have a positive impact on our environment.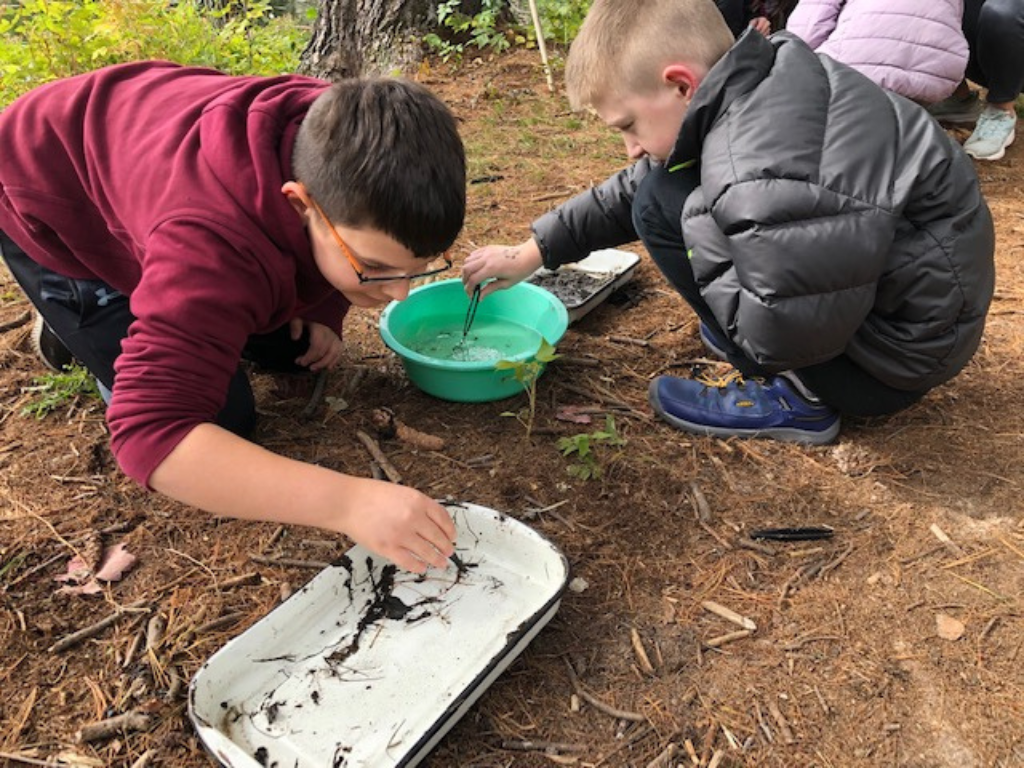 Students examining the environment in a water sample during a pond study. Photo by Dean Hodsdon
Featured Grants: Lands and Waters Conservation
Friends of the Blufflands - Lookout Prairie Restoration
Friends of the Blufflands received a grant from the C.D. Besadny Conservation Fund to support the restoration of an important remnant prairie in La Crosse. The C.D. Besadny Conservation Fund was established to invest in grassroots conservation and education projects and prioritizes projects that benefit imperiled natural communities and species, support diversity, equity, and inclusion efforts, and/or build climate resiliency. Photo: Courtesy of Friends of the Blufflands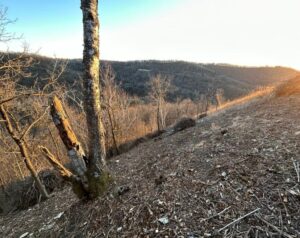 Friends of Copper Falls State Park - Rustic Cabin Accessibility Improvement Project
NRF's David & Joyce Weizenicker Fund for State Parks helped improve access from the cabin to the picnic table and campfire area which is used by seniors and other individuals with limited mobility. This past July, a young man in a wheelchair made the trip with his family all the way from Omaha, Nebraska to visit Copper Falls State Park and take advantage of its accessibility. NRF is a proud supporter of Wisconsin State Park's accessible cabins, which can be reserved online. Photo: Lindsey Taylor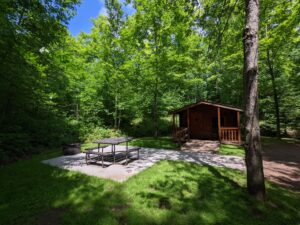 Wisconsin Department of Natural Resources - Spur Lake State Natural Area
Thanks to support from the Brico Fund, the Wisconsin DNR, Sokaogon Chippewa Community – Mole Land Band of Lake Superior Chippewa, and other partners including the Great Lakes Indian Fish & Wildlife Commission are continuing efforts to bring back wild rice and build climate resiliency at Spur Lake State Natural Area. Spur Lake historically was an important manoomin (wild rice) lake in northern Wisconsin used by local Ojibwe tribes, who would travel to the lake to harvest wild rice. However, climate change has significantly halted wild rice growth at Spur Lake, and threatens the overall ecological health and cultural heritage of this important site. Partners are working to make the site more resilient to changing climate conditions and bring back wild rice. Photo: Kathleen Smith, Great Lakes Indian Fish and Wildlife Commission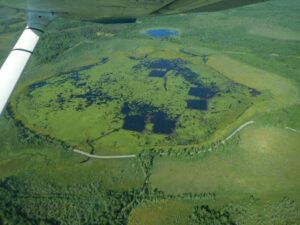 Featured Grants: Wildlife Conservation
Wisconsin Department of Natural Resources - Wisconsin Bat Program
NRF provided important support for the Wisconsin Bat Program, which monitors and manages bat populations in the state. Much of the data collected for the program comes from citizen scientists, who volunteer for acoustic or roost monitoring. Photo: Heather Kaarakka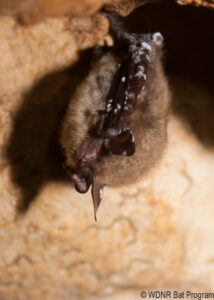 Wisconsin Department of Natural Resources - Mudpuppy Monitoring
NRF's Wisconsin Amphibian and Reptile Conservation Fund supported research and conservation efforts for the mudpuppy salamander. The mudpuppy is a "species with information needs", meaning scientists don't know how rare it actually is in Wisconsin. This project hopes to answer some of these important questions, such as its distribution across the state, which will inform future mudpuppy conservation efforts. Photo by John Kubisiak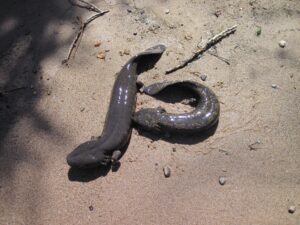 Wisconsin Department of Natural Resources - Piping Plover Conservation
Through the Bird Protection Fund, NRF supported federally endangered piping plover conservation and management efforts at Cat Island in Green Bay, one of the only remaining nesting locations in Wisconsin for these rare birds. Photo: Joel Trick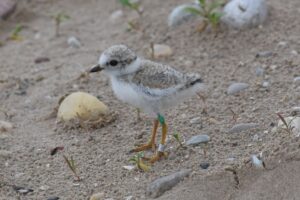 Featured Grants

: Environmental Education
FIELD Edventures - Place-based learning in Green Bay Schools
NRF supported the FIELD Edventures Program at Green Bay Area Schools, specifically at Wequiock Elementary and Baird Elementary. This innovative program works side-by-side with teachers to co-plan and co-teach place-based lessons outdoors, connecting classroom learning with the known mental and physical wellbeing benefits of spending time in nature. FIELD Edventures builds equitable, place-based environmental education holistically and sustainably into a school, ensuring relevant learning that is rooted in the local community. Thank you to the Greater Green Bay Community Foundation for supporting this important project's continuation into 2023! Photo: Connie Allen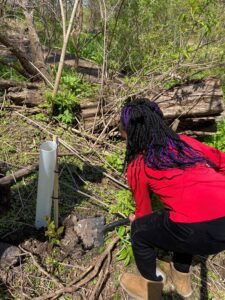 Blue Lotus Farm & Retreat Center - ONG Trail Blazers
A grant from the Go Outside Fund supported 50 at-risk students from Milwaukee with a nature-focused one week camp, with an emphasis on outdoor skills and conservation education. Students were provided with a broad variety of experiences that fostered a love of spending time outside while also understanding the importance of caring for our planet. Photo: Lisa Starke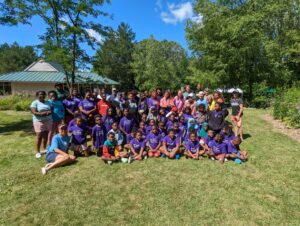 UW-Madison Extension - Wisconsin Master Naturalist Program
NRF supported Wisconsin Master Naturalist, a network of well-informed citizens dedicated to conservation education and service within communities across Wisconsin. To become a Master Naturalist, individuals complete 40 hours of expert-led training. Equipped with new knowledge, they go on to serve stewardship, citizen sciences, and education efforts across the state. Photo: Colleen Robinson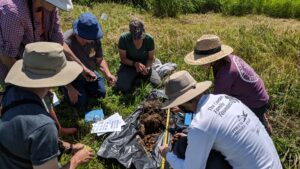 Who is the Natural Resources Foundation of Wisconsin?
The Natural Resources Foundation of Wisconsin helps protect Wisconsin's lands, waters, and wildlife by providing strategic funding, leading conservation partnerships, and connecting all people with nature in Wisconsin. Through our grant programs, we partner with hundreds of nature centers, schools, land trusts, and other organizations to support conservation and environmental education projects in Wisconsin.
NRF's grantmaking is made possible through the support of our donors, supporters, and members. We are grateful to everyone who supports our work to conserve Wisconsin's lands, waters, and wildlife and connect generations to nature. Lastly, thank you to our grant recipients for the important work that you do for Wisconsin!
Written by Emma Schatz, Digital Communications Coordinator