Join us in welcoming the Natural Resources Foundation of Wisconsin's new Event & Donor Relations Coordinator, Soumika Gaddameedi! Soumi will be coordinating the Great Wisconsin Birdathon and other special events to engage and inspire our statewide conservation community.
We sat down with Soumi so you could learn more about her background and her passion for event planning and wildlife conservation. Welcome to the Foundation!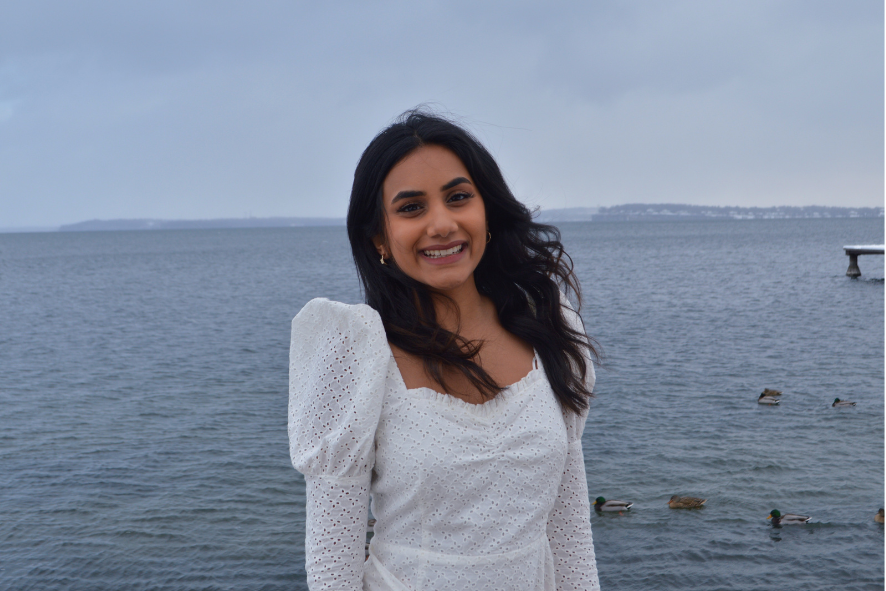 Soumi at the beloved terrace on Lake Mendota in Madison. Photo by Elena Price
It feels like an anomaly that I fell in love with the outdoors when many of my family and friends growing up didn't share this enthusiasm. Yet, my family always made it a point to explore National Parks on vacations. Even if we only visited the popular sites rather than doing extensive outdoor activities, it was certainly enough for me to come to appreciate unique landscapes.  
I grew up in New Berlin and have lived in Wisconsin my whole life, so I made it a goal to visit all the local parks to cherish nature right where I lived. Once I moved to Madison for college, I was charmed by the joyful lake culture. Oftentimes, I found myself studying anywhere where I could hear birds chirping and water splashing. 
Surprising to some in the conservation field, I've still never gone hunting, fishing, or camping. However, in the past few years I've been inspired by my peers who've had many more outdoor experiences. Recently, I've gone horseback riding in the Great Smoky mountains, ziplining and snorkeling with turtles in Hawai'i, and parasailing in Miami!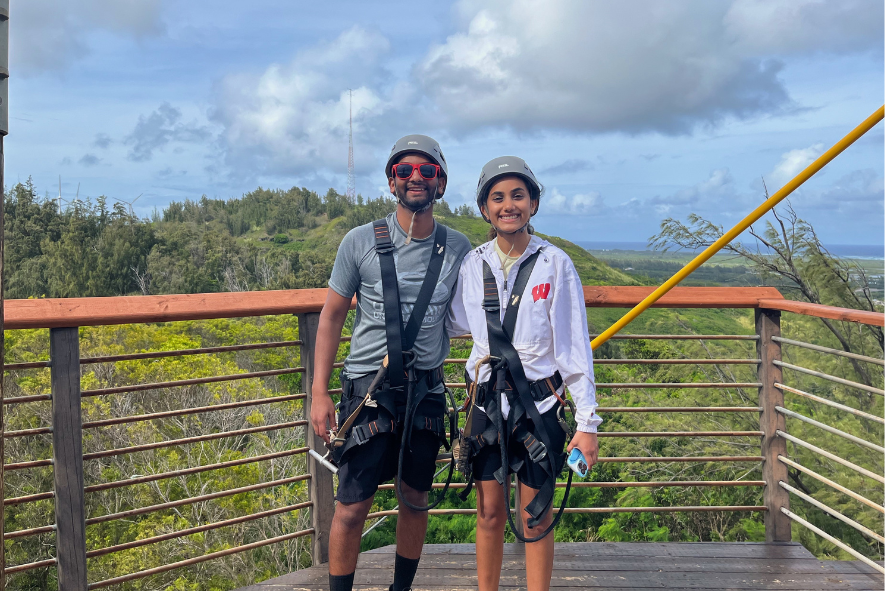 Soumi and her brother Vilas ziplining in Oahu, Hawai'i. Photo courtesy of Soumi Gaddameedi 
I graduated from the University of Wisconsin-Madison in December of 2022 with a Bachelor's degree in Zoology and Environmental Studies with a Sustainability certificate. During my time on campus, I enjoyed getting involved with the student chapter of the Wisconsin Society for Conservation Biology as secretary, vice president, and president in consecutive years. Through this organization, I realized how much I loved planning the nitty gritty details for meetings and events. It all felt worth it to see our student members connect and grow their careers. 
Before taking many environmental classes at UW-Madison, I had mistakenly believed that my only option to work with animals was to become a veterinarian. While I was on that track, I was lucky enough to intern in wildlife rehabilitation at the Wisconsin Humane Society in Milwaukee during the summer of 2021. I had the chance to work with many incredible urban species, from newborns to adults – including raccoons, opossums, red squirrels, and hawks! Closely caring for the baby birds of more than 20 different species trained me to easily name the species of all the birds I passed by every day. My family often laughed at my newfound obsession of pulling out my binoculars every time I saw a bird hiding up in a tree. That is to say, I'm glad to have found other bird lovers who can relate!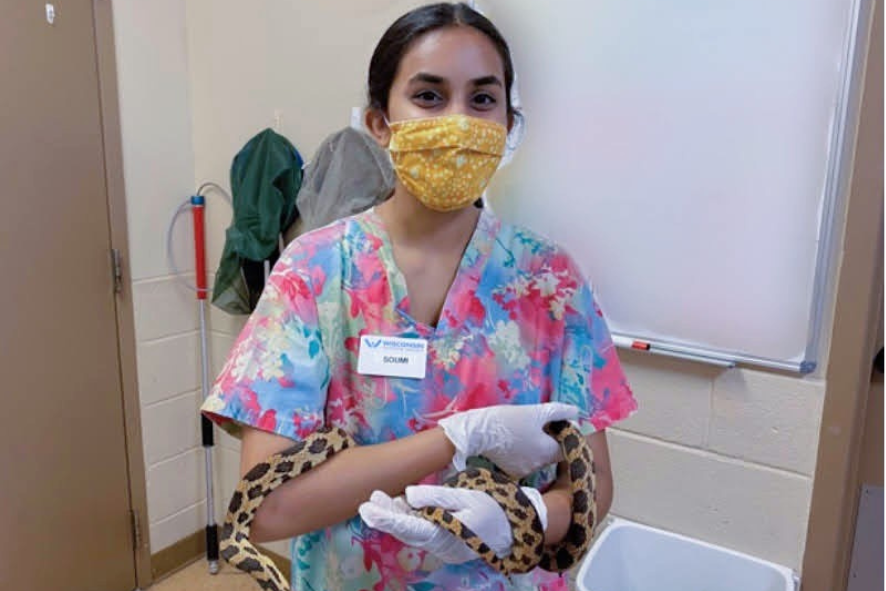 Soumi getting over her fear and holding Roxy the snake, an education animal at the Wisconsin Humane Society Wildlife Center in Milwaukee. Photo courtesy of Soumi Gaddameedi
Advocacy Through Fundraising
I thoroughly enjoy advocating for and teaching my family and friends about all the wonders of wildlife and the environment. So, in high school I created a website and fundraiser for an organization that helps stray animals in India. Initially, I was drawn to this issue because on my trips to visit my extended family in India I noticed numerous stray dogs and cats that people didn't seem to care about. For having no prior experience with website design or fundraising at the time, I was surprised to have raised more than $3,000 for this cause! 
Aside from my many environmental and animal interests, I often cram my calendar full of social events. Specifically, I love trying new restaurants and artsy hobbies like pottery and woodburning with friends. As a recent graduate, I'm still on the learning curve of remembering how to have free time. In the future, I hope to read and travel more.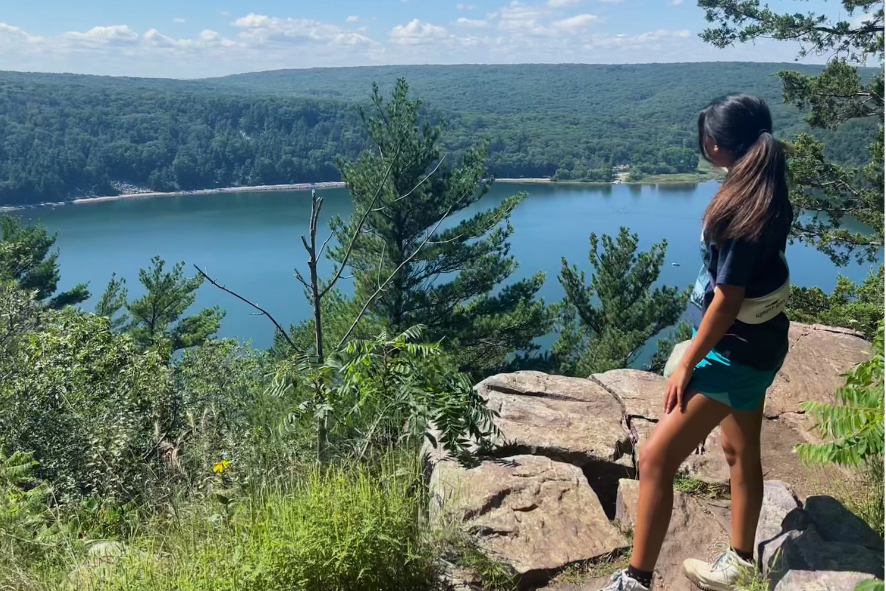 Soumi hiking at Devil's Lake State Park with friends. Photo courtesy of Soumi Gaddameedi 
I was fortunate enough to spend the summer of 2022 in NRF's Diversity in Conservation internship program. My host organization was the Bureau of Wildlife Management within the Department of Natural Resources. I had been interested in this communications internship because of my previous experience in wildlife rehab and was familiar with all the joy and challenges that come with people and wildlife interactions. At the DNR, I was eager to write social media posts and press releases focusing on wildlife education.  
The NRF internship program opened my eyes to all the career opportunities within the environmental field through field trips and seminars with various professionals. Additionally, it gave me hands on experience that helped me discover which areas of the field I was most interested in and which I wasn't. I certainly am not cut out for fieldwork! Overall, the program jumpstarted my career in conservation while I was still in undergrad. I had the opportunity to connect with countless individuals all very willing to help me in any way they could. I am very grateful to have continued as an intern working directly at NRF the following fall. During this time, I learned all the ins and outs of working at a small nonprofit, including how to secure funding for critical natural resources.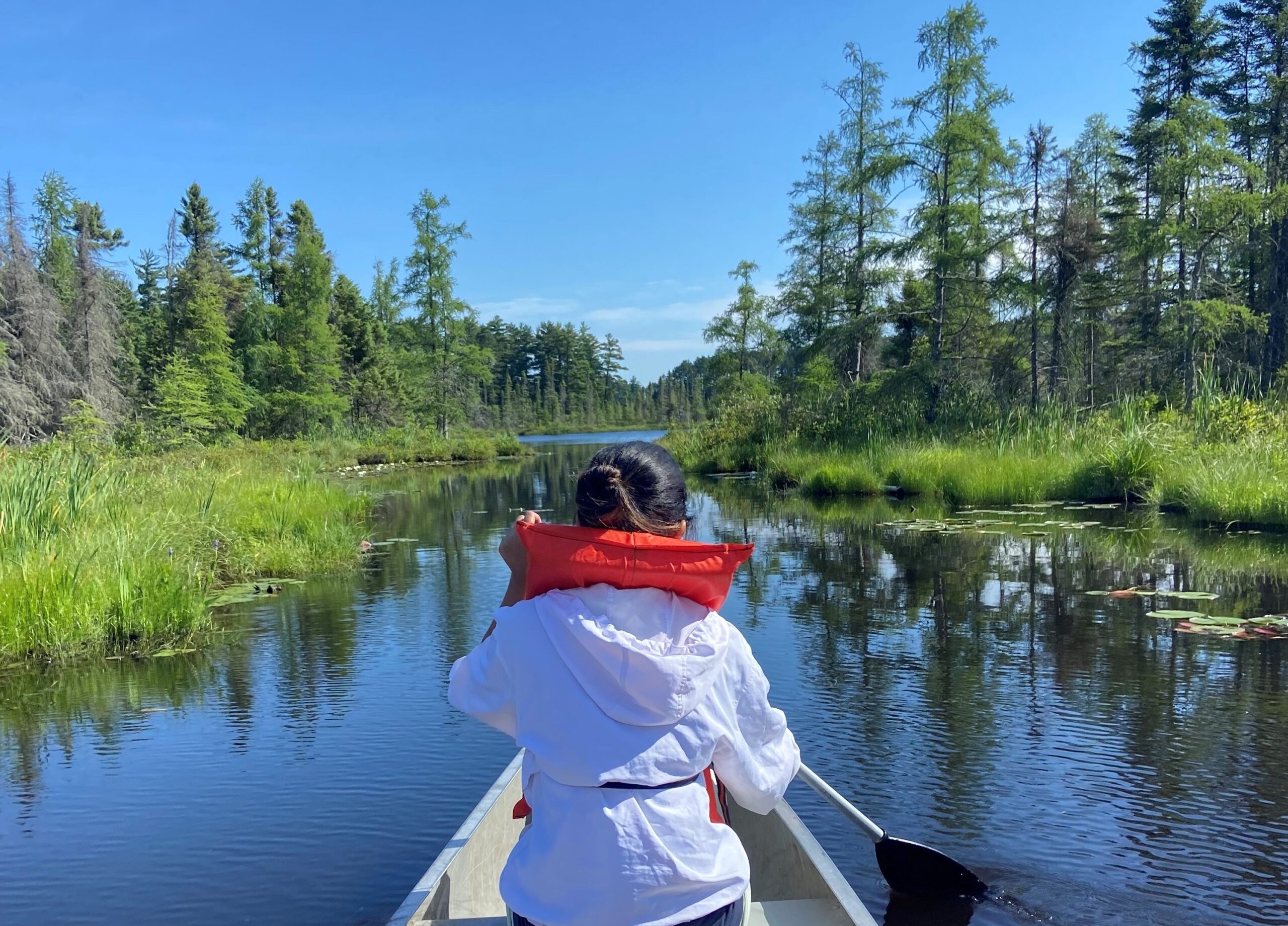 Soumi in a canoe at Kemp Natural Resources Station during a weekend retreat for the NRF Diversity in Conservation internship. Photo by Kayla Okla
I am delighted to be able to connect my passion for conservation and my event coordination skills to NRF's mission. I couldn't have asked for a more thoughtful and dedicated team to work with. Some of my main priorities will be overseeing the Great Wisconsin Birdathon and Wayfarers group. I'm thrilled to join these strong communities and am certain I will learn plenty from my fellow birders and environmental enthusiasts! 
The Great Wisconsin Birdathon is Wisconsin's largest fundraiser for bird conservation. Each year bird enthusiasts from across the state form teams with the goal of finding as many bird species as possible within a 24-hour period while raising important funds for bird conservation. Gather your flock because registration for the #WIBirdathon begins March 15th!
Please join us in welcoming Soumi!
Written by Soumika Gaddameedi, Event & Donor Relations Coordinator