The Great Wisconsin Birdathon is an annual fundraiser that brings together hundreds of birders, conservationists, and outdoor enthusiasts. Coming from all over Wisconsin, our supporters cherish our state's wildlife and natural wonders. The Birdathon is one of our largest fundraisers and has raised over $500,000 for bird conservation since it began in 2012!
As we look forward to the next chapter,
we are thrilled to welcome our new Great Wisconsin Birdathon Coordinator,

Sarah Cameron

!
We sat down with Sarah so you could learn more about her background and passion for conservation.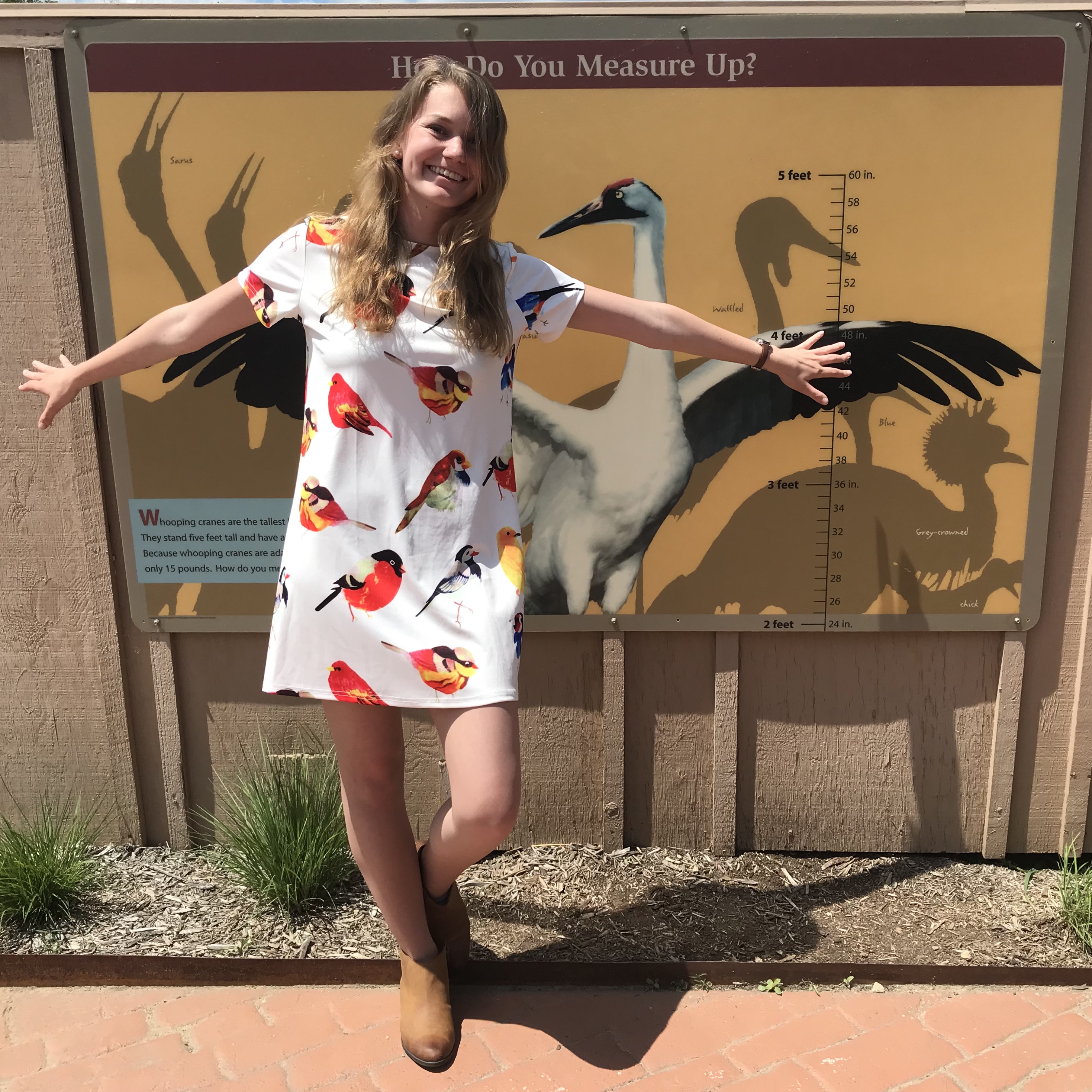 Sarah measuring herself up to a whooping crane. Photo from Sarah Cameron
Tell us more about you background in conservation, how did you get started?
My interest and appreciation for the outdoors began at an early age. Growing up in Driftless Wisconsin, how can you not be in awe at all times?
I completed my undergraduate degree from the University of Wisconsin – Madison with a B.Sc. in conversation biology and environmental studies. What really piqued my interest was how conservation and public engagement intertwined. Getting people excited and involved in protecting our treasured natural resources is so important.
While in school I completed internships in volunteer coordinating and environmental education. Since graduating I have worked as a team member of the DNR Snapshot Wisconsin Project, a volunteer-based project using a statewide network of trail cameras to monitor wildlife. I am excited to be working with some familiar names and faces through the Birdathon!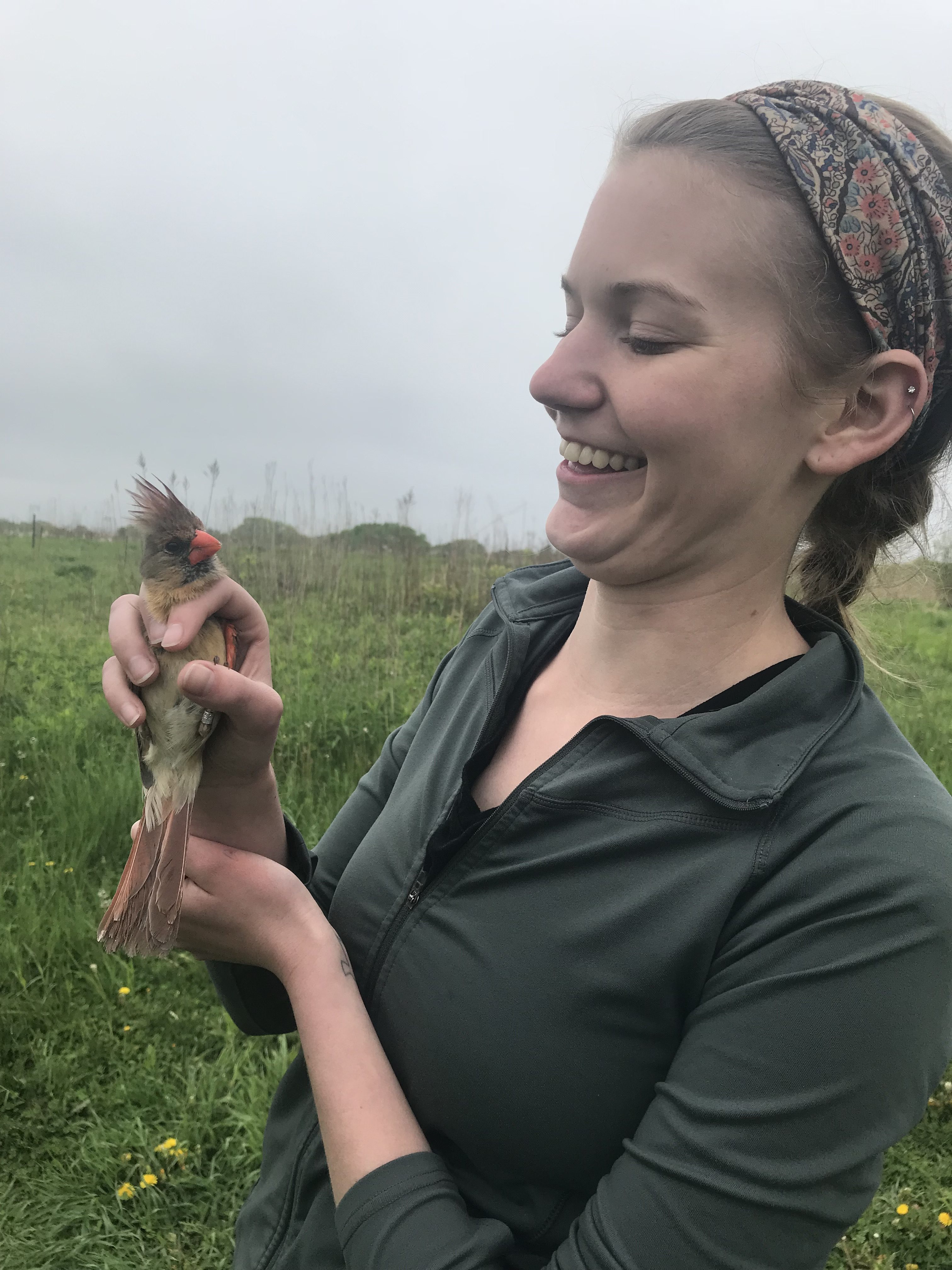 Sarah bird banding at Picnic Point. Photo from Sarah Cameron
What made you want to pursue the position of the Birdathon Coordinator?
Everything! I have long admired the work done by the Natural Resources Foundation. From their field trip program to grant programs, the staff and volunteers continue to make a huge difference.
Applying for the Great Wisconsin Birdathon position presented the opportunity to use my background in public engagement while also rallying people around bird conservation. It truly was a perfect fit.
What are you most excited for as the Foundation's new Birdathon Coordinator?
The Great Wisconsin Birdathon is a cherished tradition with teams coming back year after year. People really enjoy participating and raising funds for bird conservation. What excites me the most is the opportunity to energize new audiences and spread the Birdathon to even more people across our state so they can enjoy it too.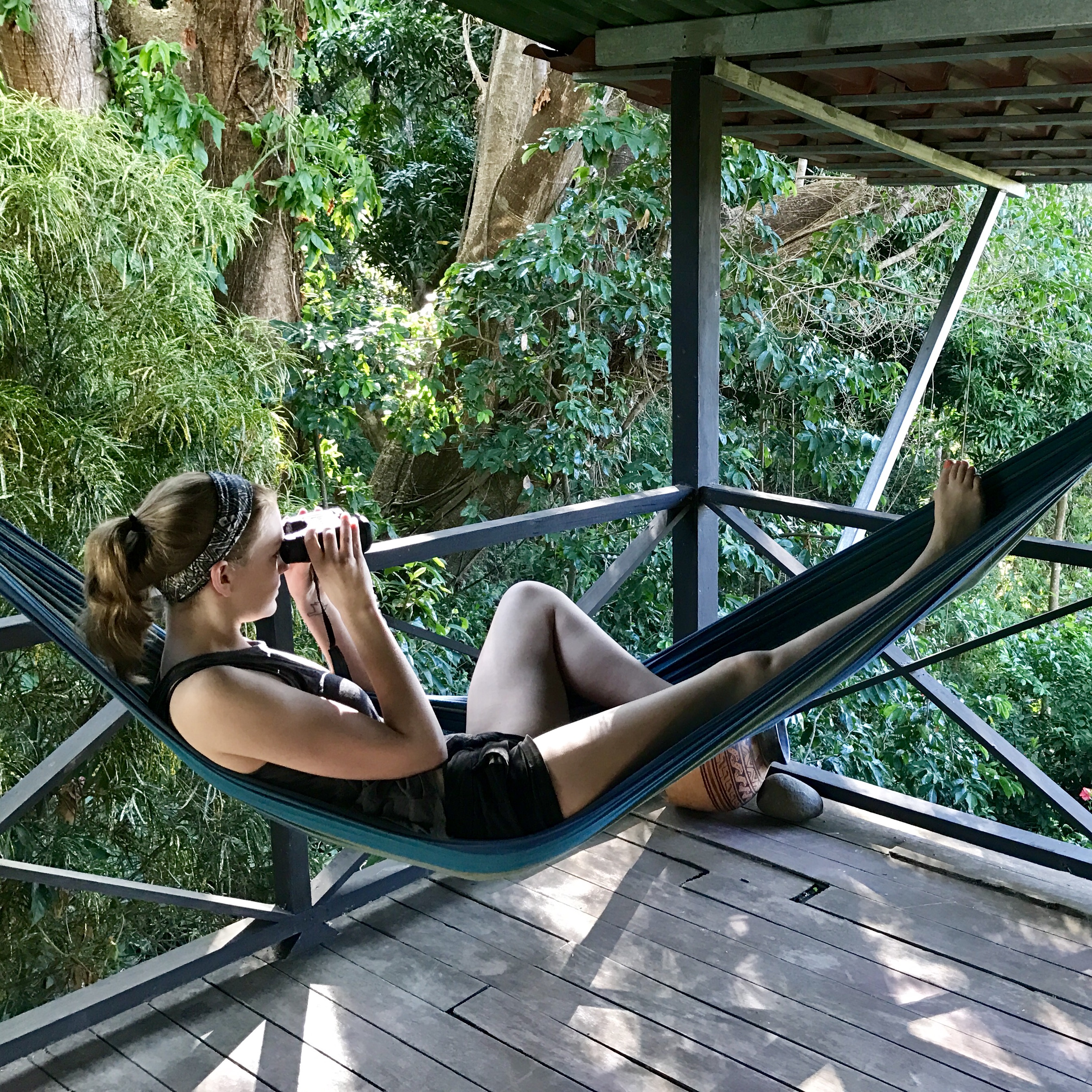 Sarah enjoying some free time birding. Photo from Sarah Cameron
Why do you think people should get involved and participate in the Birdathon?
The Birdathon presents the opportunity for teams and individuals to turn their "Big Day" into something even bigger. It's about selflessness and making a real difference in the opportunities for research and conservation here in Wisconsin (and beyond!)
What are some of your favorite things to do outside of work?
Outside of work, I enjoy every opportunity to get outdoors, whether it be hammocking along Lake Monona or trekking around our Wisconsin State Parks. I also enjoy practicing yoga, baking, traveling and (of course) birding!
Written by Hannah Schroepfer