More teams, more birds, and more funds raised for bird conservation!
Read on for highlights and results from this year's Great Wisconsin Birdathon.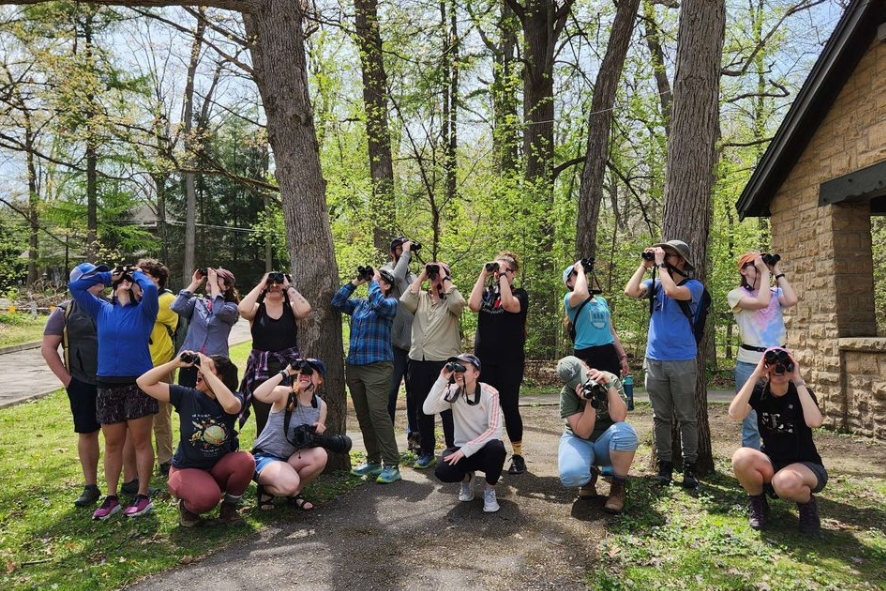 Team Yes We Pelican!, representing the Feminist Bird Club Madison Chapter, participating in the 2023 Great Wisconsin Birdathon. Photo by Caitlyn Schuchhardt.
Wisconsin's incredible birding community has done it again! This year's Great Wisconsin Birdathon saw more than 500 birders come together to raise a record-breaking $122,162 to protect Wisconsin's birds. These donations support the Natural Resources Foundation of Wisconsin's Bird Protection Fund, which supports Wisconsin's highest-priority bird conservation projects.
Our birders, team captains, donors, and sponsors are the reason the Birdathon soars each year. We are grateful to our amazing "flock" for supporting our mission to bring birds back.
The 2023 Birdathon Report showcases some of the fun stories and successes of the 12th annual Great Wisconsin Birdathon. Enjoy these highlights from our amazing season together. Mark your calendars for the Birdathon to return next spring from April 15th through June 15th!
The Birdathon is a really lovely way for our bird club members to come together for a great cause! It's become a yearly tradition that our members look forward to each spring.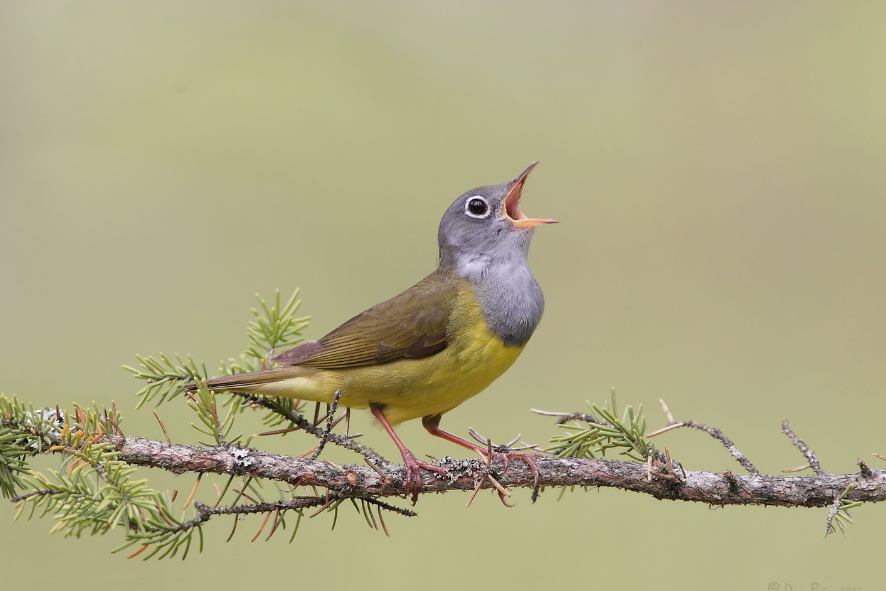 The Connecticut warbler was our 2023 Bird of the Year as part of our efforts to raise awareness about this rapidly declining species. Photo by Dan Behm.
Announcing the 2023 Bird Protection Fund recipients
The Great Wisconsin Birdathon supports NRF's Bird Protection Fund. The funds our birders raise protect Wisconsin's threatened and endangered birds by creating and protecting habitat, supporting research and monitoring projects, and making bird education and outreach initiatives possible. The Bird Protection Fund Committee, made up of a group of Wisconsin bird conservation experts, helps determine where the funds will have the most positive impact on our birds. We are proud to share this year's funding recipients:
Advancing Bird Conservation within Wisconsin's Important Bird Area (IBA) System — Wisconsin Bird Conservation Partnership
Audubon Conservation Ranching — Audubon Great Lakes
Bird Conservation for All — BIPOC Birding Club of Wisconsin
Change is Hard: Making Bird-friendly Actions Easy in Lakeside Communities — Lake Michigan Bird Observatory
Grassland Expansion at Mounds View Grassland Preserve — The Prairie Enthusiasts
Lincoln Creek Habitat Research and Restoration — Nearby Nature
Long-term Bird Monitoring at Restoration Sites on the Oneida Nation Reservation — Northeast Wisconsin Audubon
Neotropical Flyways Project — SELVA
Piping Plover Conservation — Wisconsin Department of Natural Resources
Taking Action to Save Birds — SOS Save Our Songbirds
Whooping Crane Reintroduction — International Crane Foundation
$26,000+ to Local Bird Conservation
Birdathon teams that represent nonprofits, bird clubs, and Wisconsin Bird Cities are also eligible to keep 50% of the funds they raise to support bird conservation projects at their own organizations. $26,842 of the 2023 Birdathon funds are going back to local communities – and of course, local birds! 34 of our teams are putting birding backpacks in libraries, building and installing nest boxes, funding bird tracking projects, putting binoculars in the hands of new birders, planting native plants, restoring habitat, and much, much more!
I'm thrilled to dedicate an entire day to do what I love most — birding — all while raising funds for bird conservation.
Friendly Birding Competition
Not only did this year's Birdathon break fundraising records, it helped grow the birding community, too.
More than 500 birders made up 72 teams and spotted a record-breaking 274 bird species across Wisconsin!
The Birdathon is for everyone: from classrooms and nonprofits, to friends and family, to Bird Cities and bird clubs. The following four teams were lucky enough to spot the
Connecticut warbler, our 2023 Bird of the Year
: River Raptors, WARBling Vireos, West High Whip-poor-wills, and WI BHA Bird Nerds. Not much is known about the Connecticut warbler due to its mysterious behavior and remote habitat. One of the 2022 Bird Protection Fund grants supported awareness and outreach of this
rapidly declining species
. Special congrats to those on our team leaderboards!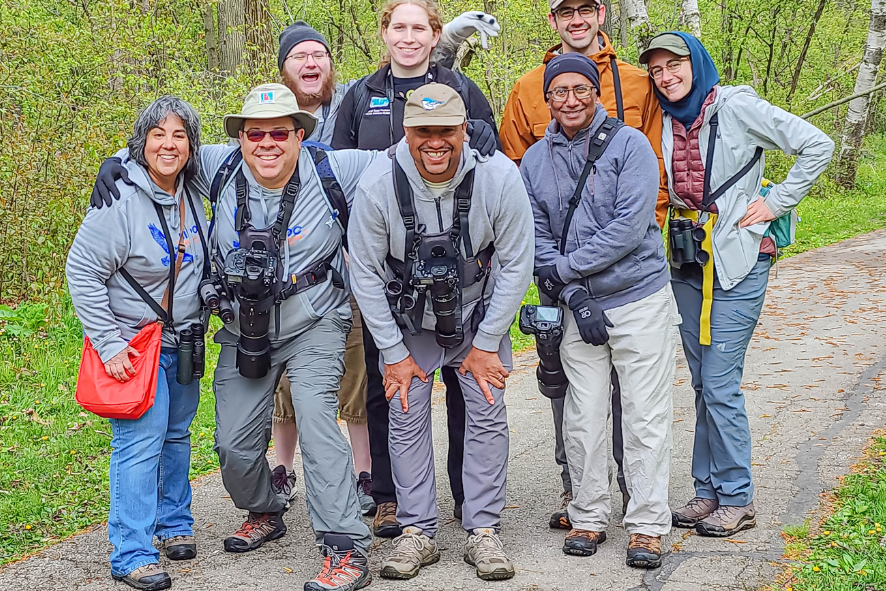 The BIPOC Flock team, representing the BIPOC Birding Club of Wisconsin, in the 2023 Great Wisconsin Birdathon. Photo courtesy of Jeff Galligan.
Top Fundraisers
Cutright's Old Coots $26,219
Lake Superior eBirders $10,024
River Raptors $6,570
The Motmot Crew $6,282
Finch Gang $4,869
Most Species Seen
WARBling Vireos: 208 species
Good Godwits: 203 species
MuirLand Merlins: 178 species
Lake Superior eBirders: 164 species
Driftless Birders: 158 species
Thank you to all our birders and donors for making the 2023 season another record-breaking success!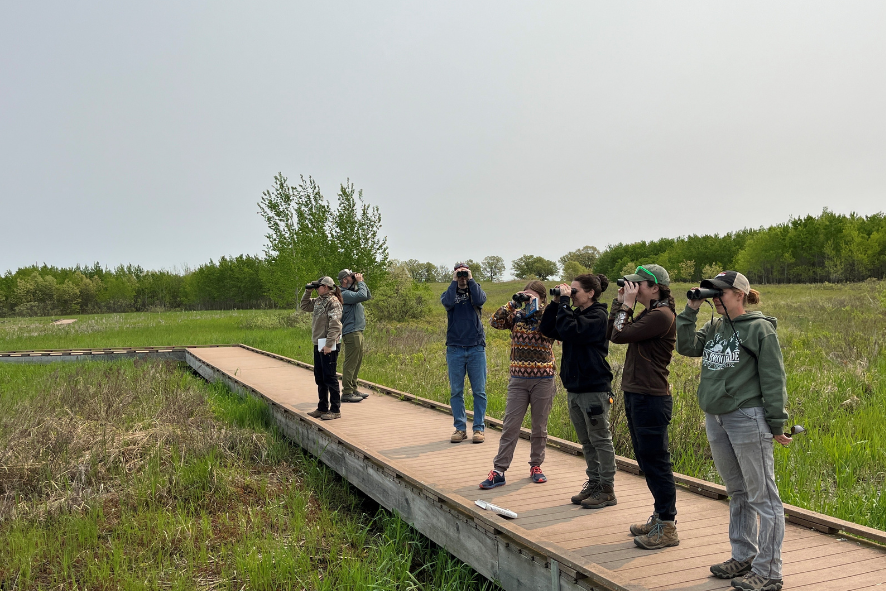 Team Funky Pheasants, representing Pheasants Forever, in the 2023 Great Wisconsin Birdathon. Photo by Britta Petersen.
By Soumika Gaddameedi, Events and Donor Relations Coordinator (and coordinator of the Birdathon!)