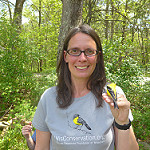 Christine Tanzer has been coordinating the Foundation's Field Trip Program since 1997. Since then the program has expanded from 30 trips a year to well over 200 trips a year! Christine poured through her emails from Field Trip participants like you to create this resource answering some of your most frequently asked questions.
Frequently Asked Questions
I hear you are changing your online registration system for 2018, and I am concerned about knowing how to navigate the new system.
Yes, we do have a new registration system this year that has a more cart-like feel. We think you will like it! We have posted tutorials on our Registration Information page to help prepare you for your registration.
Can I pre-make an account before I register?
I am sorry, but pre-making a registration account as written on page 3 of the Field Trip Guidebook will NOT be available. When writing text for the booklet in January, it seemed like an option, but diving deeper into programming the new registration site since then, we found that it just won't be possible.
The great thing about the new registration system is that the moment you add trips to your cart, they are secured as yours, so there is no time-pressure when you are adding guests names and information (which was not the case in our old system). You will create an account when you check out with your Field Trip registration this year. By creating an account at the end of the registration process, your and your guests' information will be saved in the system for you to use in the future.
We apologize for the confusion. Please know that we are working hard to make the best possible experience for you.
I am a member. When will I receive my 2018 Field Trip Guidebook?
Field Trip Guidebooks were mailed to our members in early March. Registration opened to our members on March 28th. If you do not have a hard copy of the Field Trip Guidebook you can contact Christine (contact info below) and request a guidebook be mailed to you. You can also view the entire guidebook online.
Some trips in the Guidebook each year are indicated as fundraisers. Are they tax deductible?
Yes, there are some select trips where a portion, or majority, of the trip fees are tax deductible. In early December I will send you a letter in the mail, or an email you can print out, to use as a receipt for your tax filing. We appreciate your support of these important projects. Only those indicated as such in the booklet are tax deductible; your regular Field Trip registration fees are not tax deductible.
What do my registration fees cover?
We do our best to keep our fees to a minimum, while offering a great value for your money. Your fees cover the online registration software, printing and mailing of the Field Trip Guidebook, program staff and other administrative costs. Some trips have higher costs that cover bus or boat rentals, or are fundraisers for important ecological programs, properties, or research.
Where can I find the Liability Waiver?
You can view, download, and print the liability waiver here.
I have been going on your Field Trips for years and I'd like to get more involved.
We hope our Field Trips inspire you to do more for our natural resources! You can get involved with citizen-based monitoring, where people help our state's scientists gather information about a wide variety of species and places–from frogs to fireflies and forests to fens. You can also become a Wisconsin Master Naturalist and gain skills in education, stewardship and citizen science.
I love going on Field Trips. What can I do to support the Field Trip Program?
I am delighted to hear this! If you'd like to make a donation to support the Field Trip Program, you can do so through our online donation system. Just select Field Trip Program from the menu in the Special Purpose section.
Or, if you are able, consider joining our Sojourners Society with an annual gift of $500 dedicated to support the Field Trip Program. This Society will provide sustainable funding to ensure that Field Trips remain accessible and affordable for all members. In appreciation, Society members receive guaranteed Field Trip registration, and first chance at registering for our international excursions.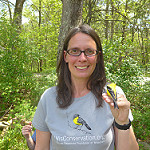 Christine Tanzer
Field Trip Director
(608) 264-8548
[email protected]
Christine coordinates the many facets of the Foundation's vibrant Field Trip Program. Passionate about showcasing Wisconsin's amazing natural treasures, she has organized well over 2,000 Field Trips since joining NRF in 1997.