Essential tips for the new registration system
Be sure ALL your trips are in your cart, and quantities updated, before you click the orange "Continue" button.
Use the calendar function to most easily find your Field Trips (calendar button is in the top middle of your screen).
If you don't know guest's birthday, or uncomfortable entering real birthdays, use the b-day: 01/01/2000.
Members*, answer YES for the question "Are you a current member?" and enter your member code. Answer the same for all guests in your party and use your same member-code.
*Only members of the Natural Resources Foundation can register for Field Trips. You may either become a member before you register or, if you are not yet a member, during your registration process, answer NO to the question "Are you a current member?" and the system will add a $25 membership to your transaction.
Written Step-by-step Tutorial
We know everyone learns differently, so in addition to the video above, we also created this illustrated, written step-by-step tutorial so that you can explore and learn at your own pace. Click here to view it in your full screen.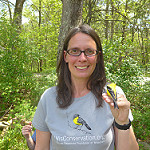 Christine Tanzer
Field Trip Director
(608) 264-8548
[email protected]
Christine coordinates the many facets of the Foundation's vibrant Field Trip Program. Passionate about showcasing Wisconsin's amazing natural treasures, she has organized well over 2,000 Field Trips since joining NRF in 1997.