Learn all about Wisconsin's natural wonders right from your living room through our Virtual Field Trips!
Join us for favorite highlights of past Field Trips or webinars on interesting natural resource topics. It's a great opportunity to discover Wisconsin, virtually! 
May 7, 2021
Bog Walk with Friends of Cedarburg Bog
Trip Leader: Jim Reinartz and Danielle Bell, Friends of Cedarburg Bog

Take a bog walk with Field Trip leaders Jim Reinartz and Danielle Bell as they explore this picturesque State Natural Area gem! Learn to identify unique plants and spring wildflowers as you wander the boardwalk in the most southern string-bog in the nation.
April 8, 2021
A Walk with Cranes
Trip Leader: Ben Lam, Education Program Coordinator

Explore cranes in Wisconsin and beyond with the International Crane Foundation! Take a virtual tour of their newly renovated visitor center and exhibits while learning about Wisconsin's two native crane species – the Sandhill Crane and the Whooping Crane.
January 8, 2021
Banding Saw-whet Owls
Trip Leader: Gene Jacobs, Director of Linwood Spring Research Station

Meet Wisconsin's tiniest owl – the Saw-whet Owl! Learn how and why hundreds of these birds are banded and released each year during their fall migration on this virtual field trip led by Director of Linwood Spring Research Station, Gene Jacobs.
October 30, 2020 
Kickapoo Caverns: Home to hibernating bats – PART ONE
FEATURED PARTNER: Mississippi Valley Conservancy Land Trust
Trip Leader: Jennifer Redell, WDNR bat biologist and cave specialist 

This week we're featuring a virtual tour offered by our friends at the Mississippi Valley Conservancy. In PART ONE of the two-part video tour, Ms. Redell shares insights into the beneficial role of bats – the world's only flying mammals – and information about what's being done to protect them, including ways that everyone can help. View PART TWO here. 
Did you know?
June 25, 2020
Planting for Pollinators with the Prairie Nursery
Trip Leader: Neil Diboll

This week we're joined by Field Trip Leader and Consulting Ecologist, Neil Diboll, from Prairie Nursery, Inc. on a tour of native prairie plants. Learn what types of plants are best to attract native Wisconsin pollinators to your property, and how to choose plants that support monarch butterflies from spring to fall.
Did you know?
0:34 Common Milkweed
1:33 Red or Swamp Milkweed
2:00 Butterfly Weed
2:30 Prairie Plants for Pollinators
4:21 Bergamot
June 19, 2020
Midwest Conservation Dogs, Scent Detectives
Trip Leader: Laura Holder

This week we're learning all about the four-legged team members of Midwest Conservation Dogs, Inc. and how their superior scent detection supports conservation efforts. Join MCDI Executive Director Laura Holder as she shares more about how her canine field crew partners are trained to identify invasive species, and even endangered species like the rusty patched bumble bee.
Did you know?
0:29 What are conservation dogs?
0:57 Meet the dogs!
1:32 Superior sniffers
2:04 Scent detection training exercise
June 12, 2020
Wildflower Walk in Schmidt Maple Woods
Trip Leader: Ruth Forsgren

This week's Virtual Field Trip brings us out in the field with Ruth Forsgren, Naturalist with Beaver Creek Reserve. Join Ruth as she hikes the woods of Northwestern Wisconsin in search of blooming wildflowers. Learn ID tips and tricks and how your smartphone can help you identify plants.
Did you know?
0:53 Plant ID apps
1:30 False Rue Anemone
2:18 Red Baneberry
3:21 Spring Beauty
4:09 Dwarf Ginseng
5:07 Surprise Visitor!
6:26 Jack-in-the-pulpit
7:39 Trillium
8:59 Yellow Violet
9:38 False Solomon's Seal
10:52 Wild Geranium
June 5, 2020
Nature Writing Workshop
Trip Leader: Lauren Koshere

Join author and writer Lauren Koshere to learn about and practice nature writing. Lauren leads us outside for a few fun and simple writing exercises to get our creativity flowing in outdoor expressive writing.
View more writing prompts & resources 
May 29, 2020
Who Croaks There? Frog ecology at The Ridges Sanctuary
Trip Leaders: Jane Whitney and Julie Knox

Join us out in the field at The Ridges Sanctuary in Door County with leaders Jane Whitney and Julie Knox. Learn interesting frog facts, how to identify some of Wisconsin's frogs, and listen to the calling of spring peepers and gray treefrogs.
1:42 Wood frogs, spring peepers, toads, leopard frogs
3:22 Tree frogs, green frogs
4:14 What do frogs do in the winter?
8:29 Northwoods Frog Call Phenology chart
May 22, 2020
Archaeology of Silver Mound
Trip Leaders: Danielle Benden & Ernie Boszhardt, Driftless Pathways LLC

This week's Virtual Field Trip brings us out in the field to Silver Mound, Wisconsin's oldest and largest archaeological site. Learn the craft of flint-napping, see ancient quarry pits, and explore rock shelters with relic carvings and paintings.
Please note, Silver Mound is privately owned and not open for public access.
1:02 About Silver Mound
5:08 Flint-napping
11:17 Dwyer rockshelter
12:55 Hixton Silicified Sandstone
14:08 Geske rockshelter and pictographs
15:36 Rainy Day rockshelter
May 15, 2020
Springtime foray for frogs and turtles
Trip Leader: Andrew Badje

This week's Virtual Field Trip brings us out in the field with conservation biologist Andrew Badje as he searches for frogs and turtles just emerging in this springtime warmth.
0:28 How to find amphibians and reptiles
0:59 Leopard frog egg mass
1:57 Snapping turtles
2:59 Spiny softshell turtle
3:14 Wood turtle
4:17 More photos
May 8, 2020
WEBINAR: A virtual tour of State Natural Areas we know and love
Location: Southern Wisconsin
Trip Leaders: Jared Urban, WDNR conservation biologist 

Enjoy a special presentation hosted by WDNR conservation biologist Jared Urban sharing highlights of his favorite State Natural Areas of Southern Wisconsin, how to explore them, and the unique plant life you'll find there.
3:33 Intro to SNAs
6:53 How are SNAs cared for and SNA volunteer program
9:25 How SNAs are funded
20:16 Cherish Wisconsin Outdoors Fund
22:28 Visiting during a pandemic
23:42 Lulu Lake
31:52 Rocky Run Oak Savanna
40:10 Maiden Rock Bluff
45:55 Blue River Sand Barrens
51:49 Blue River Bluffs
56:59 Cassville Bluffs
59:18 Dewey Heights Prairie
1:02:23 Q&A
1:06:33 More Resources
May 1, 2020
Discover Wildlife at Mounds View Grassland
Location: Iowa County, WI
Trip Leaders: Eric Preston

This week our Virtual Field Trip tours the Mounds View Grassland in Iowa County of southern Wisconsin. Watch a compilation of trail camera footage that shows the amazing biodiversity of this prairie ecosystem, including badgers, coyotes, upland sandpipers, yellow warblers, and more!
1:37 Start of trail highlights footage
4:14 Badger
April 24, 2020
A Tour of Hoo's Woods Raptor Center
Location: Milton, Wisconsin
Trip Leaders: Dianne Moller, Executive Director of Hoo's Woods

This week our Virtual Field Trip tours Hoo's Woods Raptor Center in the town of Milton in Southeastern Wisconsin. See raptor education birds up close and tour the facility where they house and rehabilitate injured birds. Fingers crossed we can visit Hoo's Woods together on our scheduled Field Trip if/when we open the Field Trip program this year.
See time stamps below to jump to specific parts of the tour!
1:41 Meet Clark, a Barred Owl
2:15 Meet Wesley, a Snowy Owl
2:46 Tour the outdoor aviaries for larger birds
3:19 Tour the Eagle aviary
3:52 See "the Clinic," the first stop for the birds when they are admitted to the center
April 17, 2020
American Kestrels: Ecology and Banding
Location: Jackson County, WI
Trip Leaders: Beaver Creek Reserve Scientists

Learn about Wisconsin's smallest falcon—the American kestrel! Enjoy this video footage taken on a field trip led by Beaver Creek Reserve scientists in 2018. Watch as they discuss the distinct markings of an adult female kestrel and get a close-up look at banding a young kestrel chick.
Banner photo by Barb Barzen.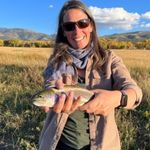 Christine Tanzer
Field Trip Program Director
(608) 409-3123
Christine.Tanzer@WisConservation.org
Christine has been at the helm of NRF's Field Trip program since 1997. She has coordinated over 3,000 trips, helping tens of thousands of people explore Wisconsin's most special places.